Back in time, dookie braids were primarily seen on the playgrounds as they were a go-to style that mothers would choose for back-to-school days.
But, they have evolved and turned into a major trend that even adult girls and women can pull with ease. Basically, these are large braids that hang freely, but they can also be multiple individual braids.
Dookie Braids
Dookie braids have come a long way, and now you have tons of options to choose from. To show you just how awesome these braids are, we're going to list 30 amazing ideas you can rock.
Boxed Braids
If you want something that keeps your hair monochromatic but still chic, try some boxed dookies.
The braids are separated, making boxed partitions that look very chic and trendy. You can try these exotic braids, which will look good on both long and short hair.
Slanted Brownies
Who does not love brownies??? They are as fine as this style over here. Slantly braided dookies are just the perfect dessert to complete your outfit.
The delineated sections add coolness to the braids. Surely, you can use this as a casual daily style from something meant to be for a special occasion.
Beige Bliss
To add a little oomph factor to your braids, add bits of color to them. Beige has many shades, but this particular dark beige can blend in without giving a bold look.
This beige bliss is cute and adds light to the dark braids. You can take one braid from the front and tie it at the back, giving you a semi-crown look.
Box Braid Lob
Lob Cuts are on top of the trend now; add a vintage look to it by braiding dookie braids. Add hair accessories to the braids if you love to have a little more fun.
Ensure to nourish your hair properly before getting braids on it because they will stay inside it for some time now.
Mustard And Hot Sauce Hairdo
If you're on the edgier side, you'll want to undertake striking, vibrant yellows and hot reds. Just imagine the amount of spotlight you will have once you are in these hot colors.
Depending on your skin tone, choose the number of colors accordingly. For example, if you have a fair tone, add more red hue; if not, stick with more mustard ones.
Signature Dookie Braids
There it is, the signature dookie braids hairstyle for long Afro hair. That alone is stellar style, but adding chocolate ends is a bit of extra coolness.
You can wear it casually or on any occasion; it also does great with formal outfits.
Dookie braid is easy to maintain, and it protects hair while allowing it to grow. Black women have perfected this type of braid to the extent they now add various threads and accessories to make their style pop. One way of styling your braid is to use colorful threads. A combination of dark hair and pretty colors is mesmerizing.
Lavender Braids
Everybody loves lavender for its great and relaxing scent. But, this plant also has a great color which has become a huge hair trend lately. Lavender purple hair color is strong but timid, feminine but edgy, and cool yet chic at the same time. If you want to have unique dookie braids, then you may want to consider coloring them in lavender.
Every woman should feel like a golden goddess on a daily basis. You're smart, confident, capable of doing anything you set out for yourself. One way to show off your empowering golden goddess vibe is through golden braids. The mix of golden hue and dark hair is truly outstanding, don't you think?
Braided Lob
When it comes to dookie braids, we immediately think of long hair. But, you can look absolutely fabulous with medium box braid as well. For instance, longer bob or lob made entirely out of these braids is a unique, yet super chic take on the popular hairstyle. Isn't it fantastic?
A combination of red and dark hair is truly unmatched. Regardless of the hairstyle and even length of your hair, you can never go wrong by pairing these two colors together. As seen in the photo below, your individual braid can have an amazing look when you opt for red and black.
Channeling Summer Vibes
Summer is almost here, and it's highly likely you already have a bunch of outfit options ready for parties and what not. Take any outfit to a whole new level with dookie braids and a flower combo. Look at the photo below to see how pretty this hairstyle truly is.
A huge benefit of these individual Fulani braids is that you have the liberty to use various hair accessories in order to accentuate their strength and beauty. The choice of these accessories depends entirely on you and your personal preferences. While likes and dislikes may vary, one thing is for sure – this is a super cute look.
Is Blue your favorite color? Then you should definitely rock blue dookie braid. Of course, you can opt for blue braids even if this isn't your favorite color or if you just want to do something edgy and adventurous. Different shades of blue can work, but you'll have the best effect of electric blue.
Spider Braids
Blonde comes in many shades. As a result, you can be any kind of blonde woman you wish, whether a platinum lady or icy queen. But, if you prefer warmer tones, then sandy blonde hairstyle is definitely a solution you're looking for. Sandy blonde braids are adorable, right?
Huge Braids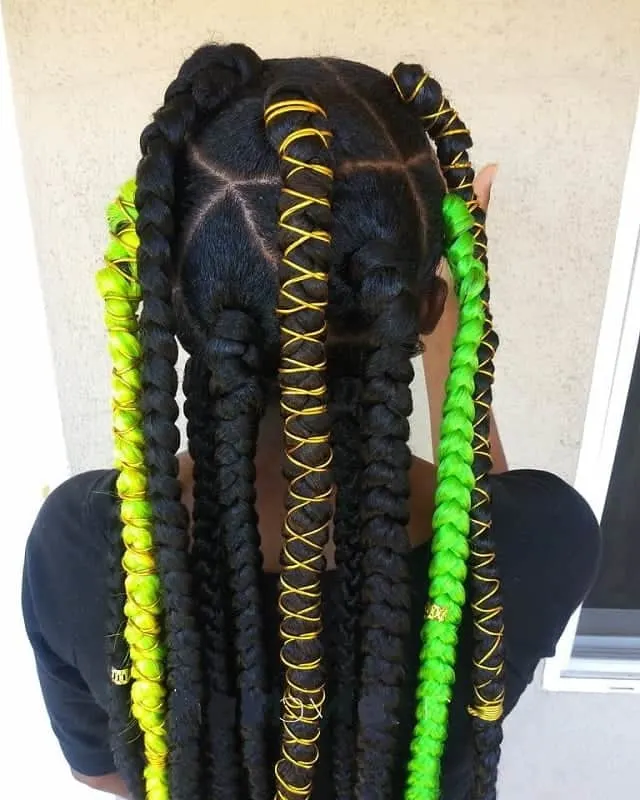 Dookie single braids with weave allow us to be creative, and that's why we love them. Bring out your inner artist with huge braids and different colors and patterns. There are no rules here! Just close your eyes, imagine perfect braids, and go ahead and create them.
Lava Braids
We've already established that black and red are a wonderful combination. If you're on the edgier side, you may want to try a striking, vibrant red shade that resembles lava. Just imagine how awesome it will look when you combine these red braids into a truly amazing hairstyle.

The easiest way to style dookie braids is to let them be free and flow down your back simply. But, you can step up your game by creating a top knot. Topknot will give your hairstyle a whole new dimension, and it's needless to mention it's one of the most casual styles around. Use colorful threads to make your braids pop.
Rihanna's Braids
Rihanna is the ultimate style icon. Everything she wears is fashionable, and every hairstyle turns into a major trend instantly. It's safe to say RiRi rocked every hairstyle under the sky and looked fabulous, of course. Channel Rihanna with these unique and super sexy individual braids.
Burgundy Braids
Red comes in a wide range of shades and hues, and burgundy is one of them. Draw the attention to your lovely braids with burgundy hair color for black women. This shade is ideal for women who love subtle changes, nothing too wild.
Gold and black are a good combination as well. For example, gold accessories and threads bring out the darkness of your hair and accentuate the dookie braids. You can rock this style longer or shorter, depending on your personal preferences, of course.
Brown Braids
One way to make your braids pop is to make sure they're the same shade as your complexion. If your complexion is darker, then opt for darker braids. On the flip side, if your complexion is medium or lighter, then your braids should match. Take a look at the photo below, and you'll want these individual crochet braids immediately.
Different colors and designs are okay, but if you want something simple? Not a problem! If you're a fan of minimalistic style and fashion, then plain black braids will certainly do the trick. You can use the upper portion of your braids to create a ponytail that will gently flow over the remainder of your hair.
Green Dookie Braids
If you looked for hair inspiration online, you're probably seen tons of photos showing women with emerald green hair. This isn't such a surprise; green is trendy. Nothing is stopping you from doing the same. Go green and have fun.
Here's a hairstyle that edgy women will absolutely adore – burnt orange hair. Short dookie braids that resemble a bob haircut dyed in orange will blow your mind (and everyone else's). These braids are cool, unique, and cute – you should definitely try them out.
Top knots, buns high and low, all these hairstyles are popular lately among women who love the combination of elegance and casual vibes. Give your dookie style braids a new dimension with a cute bun that will also give you a little bit of drama.
As mentioned above, two buns are super awesome. Therefore, there's no need to limit yourself to one bun when you can do two. You can use all your hair, but if you prefer not, then you can allow your braids to remain still free and fierce.
One of the most fashionable trends lately is a combination of top knot and long hair. You can achieve the same (or even better) effect with your single braids. They can be blonde or any other color you'd like.
Isn't one color enough for you? Then opt for two or three different shades. Colorful hair is a symbol of freedom, power, and creativity. Be brave and give it a try.
Dark and Light Contrast
Get more contrast in your hair with one light braid among darker dookie braids. Light and dark go together like two peas in a pod.
The same way lighter and darker braids go together, different sizes are a good match too. Get two thicker dookie braids in the back and two thinner braids in the front. Cute!
Dookie-braided hairstyles are versatile; they can be in the form of an updo, top knot, or ponytail. The Barbadian singer Rihanna nailed many styles of these braids. These braids are more than just a style statement. They are protective, easy-to-maintain styles. Finding your perfect variation is effortless with so many colors, lengths, and styles.
You can customize a dookie braid style for your own. It is easy, and we have also listed some superb styling options to step up your hair game. Be open to trying different styles; these are not permanent so taking it off is not a big deal.