If you're looking for a hairstyle that isn't quite as short as a pixie but isn't long enough to be considered a bob, then you've come to the right place! Long pixie bobs are that dreamy in between style that keeps your hair from looking too short while using long layers and pieces to shape and compliment your face.
Pixie bob styles are great because they can work for you however you need them to. Layers can frame your cheekbones and jawline. Short and shaved portions work with longer pieces like swooping bangs to create gorgeous style. Finally, thin hair can appear thicker and thick hair can be thinned for movement. Take a look at our top 5 long pixie bob hairstyles and see for yourself.
1. Long Pixie Bob with Bangs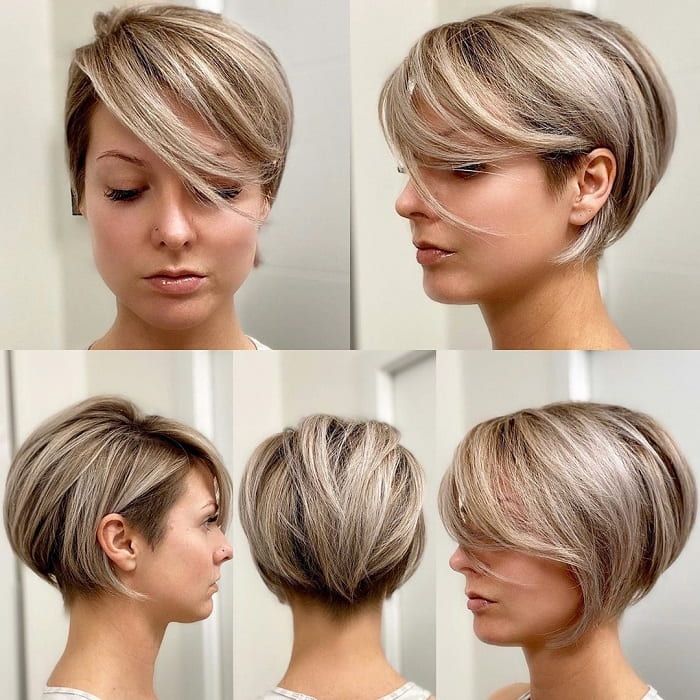 What are pixie bobs without long, gorgeous side bangs? This in between hairstyle gives us the best of both worlds, and that includes sweeping bangs for added movement and style. We love the way the long bangs and layers provide the perfect compliment to the undercut and side shave detail of this long pixie bob with bangs.
2. Long Layered Pixie Bob
The beauty of pixie bobs is in the layers. Short, choppy layers gives your pixie bob that sexy, messy texture that is easy to wear and even easier to maintain. To create this long layered style, cut long, side sweeping bangs and cut layers with a razor in front of the ears.
3. Pixie Lob for Fine Hair
Believe it or not, pixie bobs are actually a perfect hairstyle for babes with fine hair. Instead of letting thin hair fall flat, add style and volume-boosting texture. Swooping side bangs and subtle layers create shape and give life to your locks.
4. Long Thick Pixie Bob
If your hair is thick, put pixie bobs at the top of your hairstyle list. Because pixie bobs have a lot of shape, it's easy to remove bulk in unwanted places. Thick hair helps to create a gorgeous stack at the back of the head and razored layers remove weight so your thick hair moves beautifully.
5. Long Shaggy Pixie Bob

Shags are so versatile, you can even rock the style on a long pixie bob. This look is all about tapering bulk so that hair is thick on the top of the head and thins out by end of each layered piece. Don't forget the signature bangs, either. Shag bangs on long pixie bobs should be long and curtained so that they part in the middle.
For a short, sassy hairstyle that has plenty of length to frame your face, try a long pixie bob. Use layers to boost volume, create movement, or give your hair tousled texture that you've always desired. Now that you've seen the best of the best pixie bobs for long hair, which one will you choose?