Man bun fade is one of men's hairstyles' most stylish and sought-after looks. It is one of the most versatile fashion trends that any man can rock, from a teenager to someone in his 60s.
However, depending on the occasion and event, there are certain ways to do a man bun. In addition, other factors such as undercut, faded cut, bearded look, and long hair also come into play when deciding what kind of man bun will suit you the best.
Let's delve more into how you can pull off this look.
How to Do A Man Bun
There are a couple of ways to style a man bun based on the type that suits your face, your vibe, and the length of your hair. Here are the most popular styles:
Half-bun: Also known as the messy bun, this hairstyle will suit you best if you have shoulder-length hair or shorter than that. All you need to do is collect your hair from the front and back and tie it up in a knot with a hair tie. However, pull out only half your hair from the tie forming a knot in the second loop. Half-bun on men is an excellent choice for mid-length hair. This bun doesn't sit well with very long hair since your half-bun may come drooping down.
Topknot: The top knot serves as an excellent choice for a bun. The top-knot needs to be placed exactly in the middle of your head, right on top. Pull your hair out of the hair tie, making a small pony. This bun works perfectly well with 6-7 inches long hair.
Classic bun: This bun is meant for long hair below your shoulders and down to your back. For this, tie your hair in a knot at the back of your head in 2-3 loops.
Remember to pull out your hair only halfway in the last loop. Then take another hair tie and secure the bun to your head, resting it in place.
Watch the Following Video to Learn Quick Man Bun Hairstyles
For a faded man bun haircut, it is best if you decide to sport a beard along with it. A beard is one of your best bets to rock a man bun fade. The reason is that fading of a hairstyle creates the illusion of lesser hair around the head.
This vacancy can then be complemented with the beard. A fade hairstyle mostly favors only a high bun or a top-knot. When you place a bun atop your head or high behind your head, ensure that you fix it firmly using 2-3 hair ties, depending on the length of your hair.
A top knot with a faded hairstyle works wonders for a full-bearded
A slight stubble compared with a low bun is quite contrastingly fashionable. This look works for both professional as well as casual occasions.
Low bun undercut coupled with a light beard is just the look you need for a messy and casual appearance.
Semi-bun is also quite recommended with a bearded face. Just tie a bun behind your head, a little higher than usual, pull out only half your hair from the tie in the last loop, and you're good to go!
Coolest Man Bun Fade Hairstyles
Men love bun! Try these man bun fade variations this season to add an extra edge to your man bun hairstyle!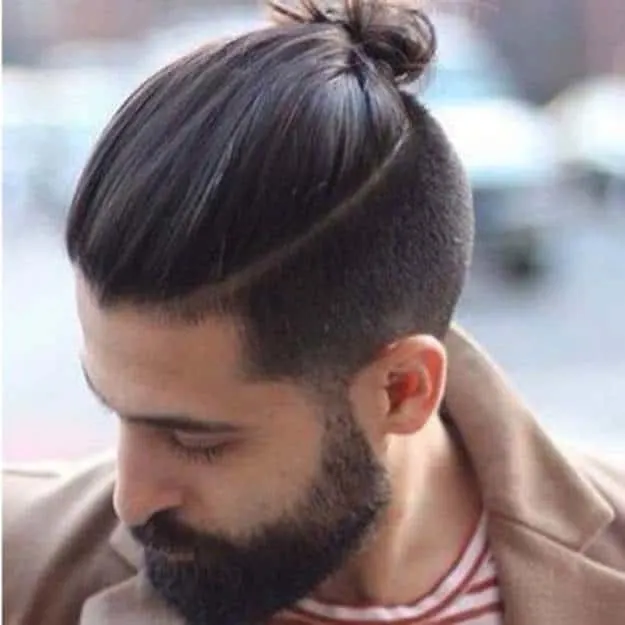 With your hair all gelled and held at the back in a neat bun, the sleek man bun fade is just what you need to make an amazing first impression. It gives a classy and elegant vibe, especially with a faded undertone. Complete this look with a sharp and groomed beard, and you'll have all the ladies swooning over you.
2. Long Hair with Taper Fade
This hairstyle is made exactly in the shape of your ponytail undercut and is even clipped accordingly. In addition, some men may even consider leaving a couple of strands loose from their tapered man bun along their face only to complement the overall look.
The undercut is an extension of the taper cut bun. In this style, the hair is styled in such an ay that they fade fast and leave behind only an undercut. The bun is placed behind the head and the overall man bun haircut with fade look is finished off with a beard.
4. High Bun
This works exceptionally well with faded undercuts. You need to hold your hair high up and tie it up in a high bun, but not necessarily a top of your head. A slight stubble or a full beard go well with a high man bun with low fade.
5. Top-Knot Bun
A top-knot gives out an important and badass vibe. To do justice to this look, always pull it off with a fully groomed and polished faded beard, the longer the better.
A top-knot placed high on your head and long beard gives out the impression of an elongated face which is just what you want if you have an oval or round face type.
6. Semi Bun
In this man bun fade style, you'll be wearing your hair in a semi-bun right behind your head with a faded look all over the sides and the back. Complement this hairstyle with a full beard, and you'll totally be pulling off this trendy and carefree style.
7. Asian Man Bun
For Asian men with exceptionally long hair, this bun is quite recommended. In this Asian fade hairstyle, you only need to collect your hair like in a top-knot and tie them with 2-3 hair ties. However, this man bun with fade will be a tad bigger than a normal top-knot but definitely worth the effort.
Do we need to say more? Your low fade man bun needn't necessarily be high or low or a top-knot. Any kind of bun placed anywhere on your head does the trick if you pair it up with a long-enough groomed beard. Also, brownie points if you have a hint of bright hue or a streak in your hair.
This style is one of the most promising and outgoing ones of today's generation. Get a hair design on the faded part of your haircut in order to take your look up by several notches.
You can supplement the lack of hair around your head by adding an inch or two or extra of beard. However, this man bun haircut with fade is only limited to casual settings and is not at all recommended for professional environments.
True that a faded hairstyle is widely recommended for high buns only, you can still pull off a low man bun hairstyle with fade if only you add a hint of beard to your face. You needn't go all put with a long beard. Just keep a minimal beard sharpened and tapered at the sides or, better still, fading towards your temples.
If you have plenty of hair to spare, you can use it to style a braid along the lines of your hair for an added stylish effect. This braided man bun fade looks even better if you have a loud color to the sport in your hair.
The braided Mohawk tie only works for men with long hair. For this look, get a bun as per the norm a top or at the back of your head, preferably high, while leaving out a thick streak of hair loose. Using this streak of hair, braid it up and tie it around your hair tie which holds your bun in place. Voila! You have a totally new man bun braids with faded hair look!
Man buns are quite the trend these days. You can experiment with different variations of lengths and undercuts in order to try out a variety of styles before settling for the etc.
Contrary to popular belief, man buns are not just limited to some styles but have a world of the versatility of their own. Therefore, if you're looking to sport a man bun fade, grow your hair a little out, and you can get started right away!