Women with round faces who are lucky enough to have curly hair need to make sure that they opt for the best haircuts. These cuts are designed to make women look and feel their best.
Choosing the right curly hairstyles for round faces can be overwhelmed, but with a little effort, any woman can easily look her best.
Curly Hairstyles for Round Face
These are the 31 most ravishing hairstyle ideas for women with curly hair and round faces.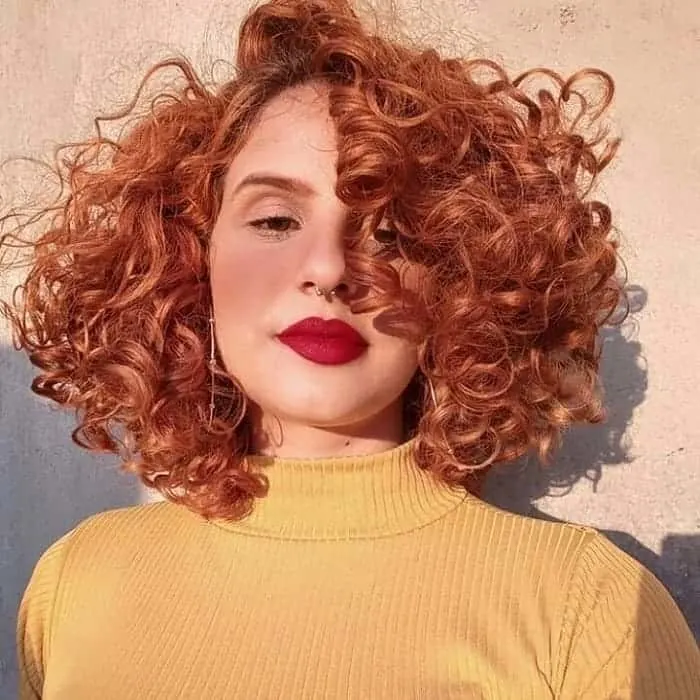 One of the best things about this copper red hairstyle is that the curls are allowed to flow freely around the head and in the face.
Instead of being cut into shorter bangs or pulled back from the face, the curls are allowed to be much freer. It's a very relaxed look that is great on round-faced women of all ages.
Gorgeous Mid-Parted Curly Hairstyles for Women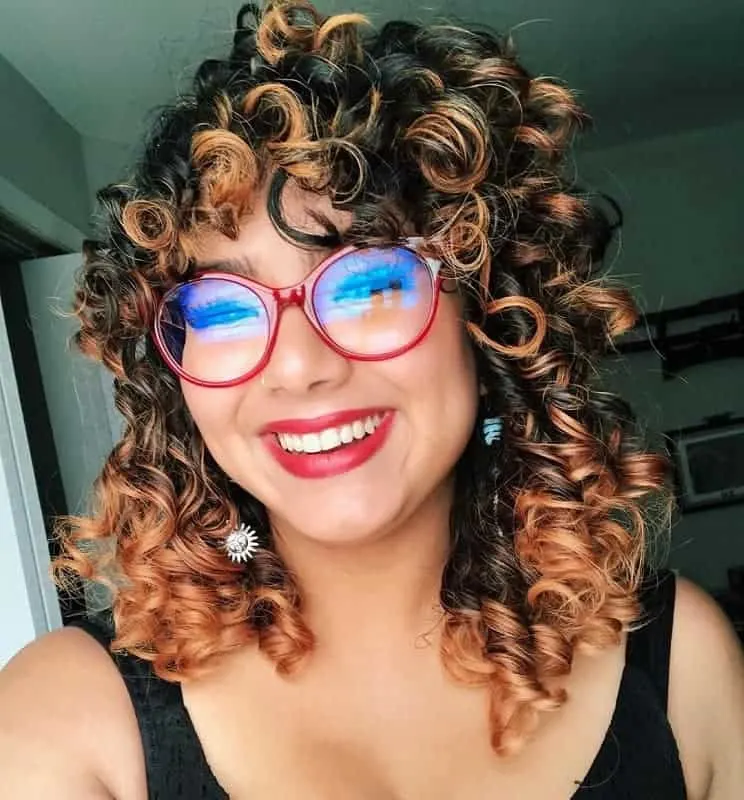 Curly hairstyles for women don't need to be boring, as this look clearly shows. The copper highlights are bold and big, and cutting them so that they frame the round face and look incredibly attractive. It's a bold look that does take a bit of work in the morning, but is worth it.
This long curly hairstyle for women women with round face is incredibly bold, and the way that the hair is allowed to flow freely down the back is incredibly attractive. Rather than cutting bangs, the hair is allowed to grow long and free, which gives it a ton of body and movement.
This curly look is a great option for any woman who works in an office and needs to make sure that she looks her best.
The curls are pulled across the forehead just a little bit, which helps to frame the face and ends up being very attractive. Because the color of the curls perfectly matches the color of the eyebrows, it looks very chic.
Dazzling Curly Shag Haircuts for Women to Rock
5. Natural Black
Shiny black curls that are natural and free look healthy and make any woman look great. These curls reach to the shoulders and have plenty of volume and movement.
Regular trims to keep the ends neat and to prevent split ends ensure that this style looks its best and ensures that the hair looks nice and healthy.
Amazing Curly Haircuts for Black Women
6. Gray Fluff
African-American ladies getting on in years can embrace their grays with elegance by dying their afro curls in a light gray hue with hints of silver in between. Ask the hairstylist for a short round bob to accentuate the face shape and use an afro comb to style it daily.
7. Drawstring Ponytail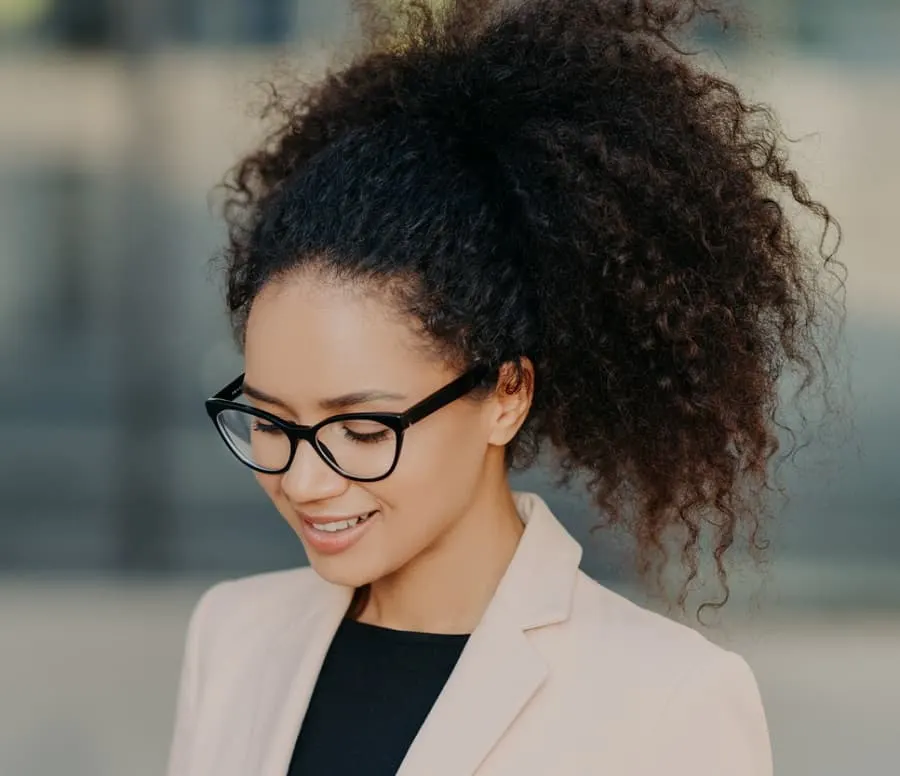 Drawstring ponytails are effortless to achieve and are an ideal everyday style. If your hair is long enough just slick it back in a high ponytail and fluff it up with your hands. The short-haired ones can use a synthetic wig to achieve a similar look. Easy breezy!
8. Short and Sexy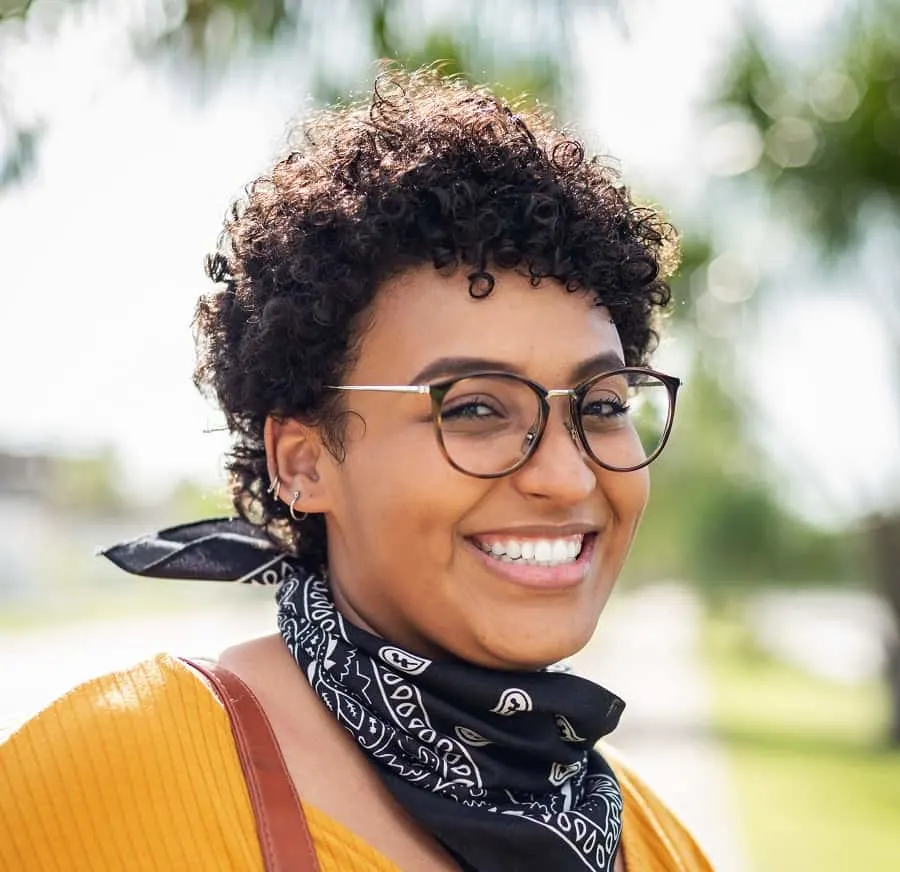 The lazy ones can take a break from the hassle of styling their mane daily with this low-maintenance hair look. Chop off the curls at the same length all over the head. Apply some curl-enhancing product on the fingers before running them through the strands to further enhance the curl pattern.
9. Half-Up Bun
Keep it simple and elegant by adding bouncy curls to the medium-length locks and brushing them out resulting in loose waves. The front is styled in a puff with a half-up bun sitting at the back. This look is suitable for both casual days and formal events.
10. Curly Bob
Brides and bridesmaids with round face shapes can consider a round bob to flaunt their natural curls on their big day. Ask for as many layers as possible to create some movement on the head. Finish off with a simple side parting and an embellished headband.
11. Pineapple Puff
A pineapple puff comes in handy on busy days. Black women can try out a warm medium auburn hair shade to turn around some heads. Flaunt the curls by gathering them at the back with a claw clip to fall over on the face flawlessly. Accentuate the look with hoop earrings.
12. Messy Top + Undercut
This short curly hairstyle is ideal for round faces. The undercut along the sides keeps all the attention on the long top with messy curls falling everywhere. This style demands minimal styling. A hand-tousle and you are ready to rock!
13. Top Knot Bun
The top knot bun has been trending for some time and looks gorgeous with natural curls. Put the hair in a high ponytail and wrap it around into a nice round fluff to be secured with pins. Pull some strands loose to accentuate the face and done!
14. Frontal Cornrows
These cornrows are perfect to flaunt a round face shape. The braids are restricted towards the front only creating a braided headband while the remaining curls fall forward on the shoulders. An additional benefit is that this hairstyle can be kept for some days.
15. Golden Locks
Bored of those dark kinky curls? Make a bold move and dye them in a rich golden blonde tinge to contrast against a dark skin tone. Amp up the look further by layering the coils and sport them confidently with a bandana or head scarf.
16. Princess Appeal
Look like a princess with these golden curls. Add subtle layers and use plenty of a curl-defining product for a wet look. Side-tousle the strands and plait them in a messy braid falling on one shoulder. Pull some strands loose with a pearl headband peeking through the gorgeous mess.
17. Side Updo
Ladies looking for something easy can try this hairstyle as their next look. The front is braided from ear to ear while the remaining hair is gathered on one side and wrapped around creating a chic side updo that is sure to attract some attention.
18. Hint of Blonde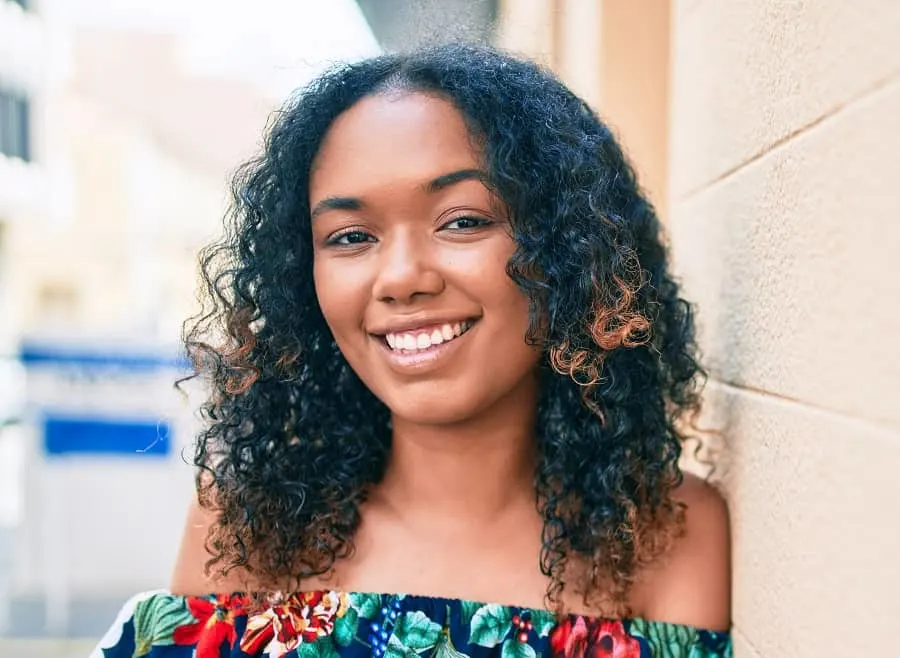 A middle parting looks the most flattering on ladies with round faces and this style proves it. The shoulder-length black curls are layered softly with a chin-length fringe framing the face at the front. Spice up the look by adding a hint of warm caramel blonde on the tips. Simply wow!
19. Tribal Braids
Inspired by African tribes, this look is sure to drop some jaws. The front is braided into cornrows that are wrapped into a half-up bun at the back. Don't forget to add shiny hair cuffs as those are what set this style apart from others.
20. Killer Dreads
Be bold, be beautiful! Dreadlocks are easy-maintenance and never go out of style. This look features long curly dreads that transition from a black top to a caramel blonde hue reaching the tips. Show off the locs with a half-up ponytail tilting on one side. Tada!
21. Two-Toned Afro Curls
Give those kinky curls a makeover by opting for a shoulder-length deva haircut where each curl is styled individually to fall flawlessly around the face. Try a sandy blonde hair shade keeping the roots dark for a two-toned appeal. Fluff up the mane with a middle or side parting and off you go.
22. Colorful Bubble Ponytails
Go for a lively appeal by sectioning the hair and styling it in several ponytails. Colorful hair ties are added along the length of each pony to achieve the bubble effect. Accessorize further with small clips and hair thread resulting in a funky style that stays intact all day long.
23. Vintage Vibes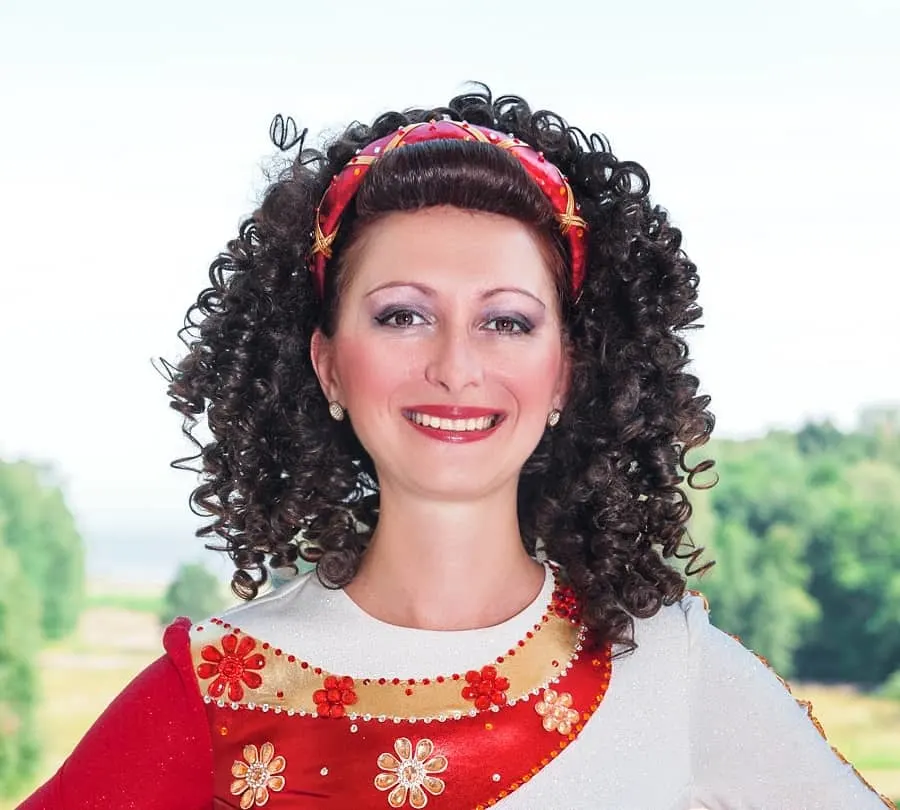 Old is gold! Those who love vintage-inspired looks can check out this curly hairstyle idea for round faces. The bouncy spiral curls are pushed away from the face with a hairband while the front fringe is rolled inwards and pinned down creating retro bumper bangs.
24. Funky Space Buns
Playful and versatile, space buns look perfect with all hair textures and face shapes. They are also ideal to save an oily hair day. Detangle the hair with a middle parting and wrap the strands into two funky buns sitting on the top of the head.
25. Platinum Love
Can't get your eyes off right? This style features a short round bob haircut with a load full of layers. The mane is dyed in an icy platinum blonde shade with curls framing the face. Try gray lenses and matching eye shadow to complete this alluring look.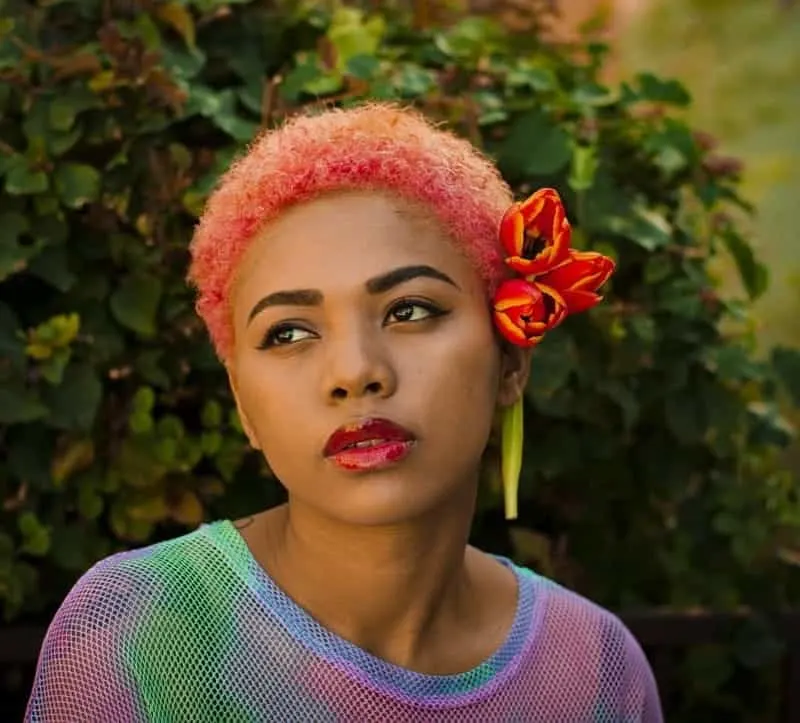 Curly hairstyles for round faces don't have to be in natural hair color, as this bold look shows. The hair is dyed a gorgeous peachy orange, which really pops against the skin.
Paired with a flower in the hair, dark and natural eyebrows, and bold and bright red lips, this short curly hair look is ideal for any woman who wants to stand out in a crowd.
Best Short Curly Haircuts for Women with Round Faces
The short bangs on this curly cut help to soften the look and make it a great option for all women with round face shape. The rest of the curls are longer, but there are plenty of layers cut into the hair to give it body and movement. This prevents the curls from falling flat and from looking tired.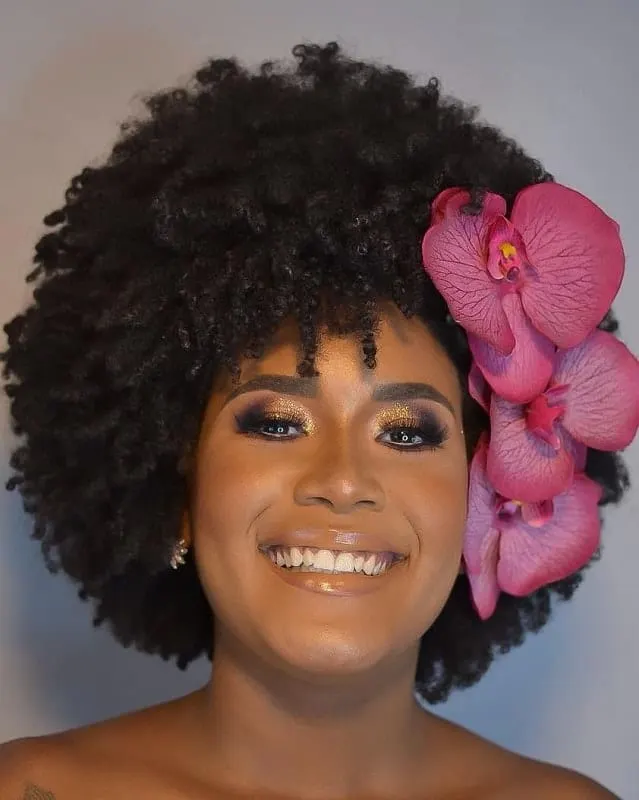 One way to really make a curly cut shine is to add a gorgeous flower to the style. This short bob is the perfect way to finish a look and make it something really special for an event.
Here, three orchids are neatly tucked by the ear, which helps to not only control the hair and keep it out of the way, but also to add a pop of color.
Alluring Half-up Curly Hairstyles for Women
One thing to remember about curly haircutsis that they often look best with a bit of color added to them.
There is just some light pink added to the ends of these curls, which really makes the style stand out for round faces. It's a great way to draw attention without being over the top.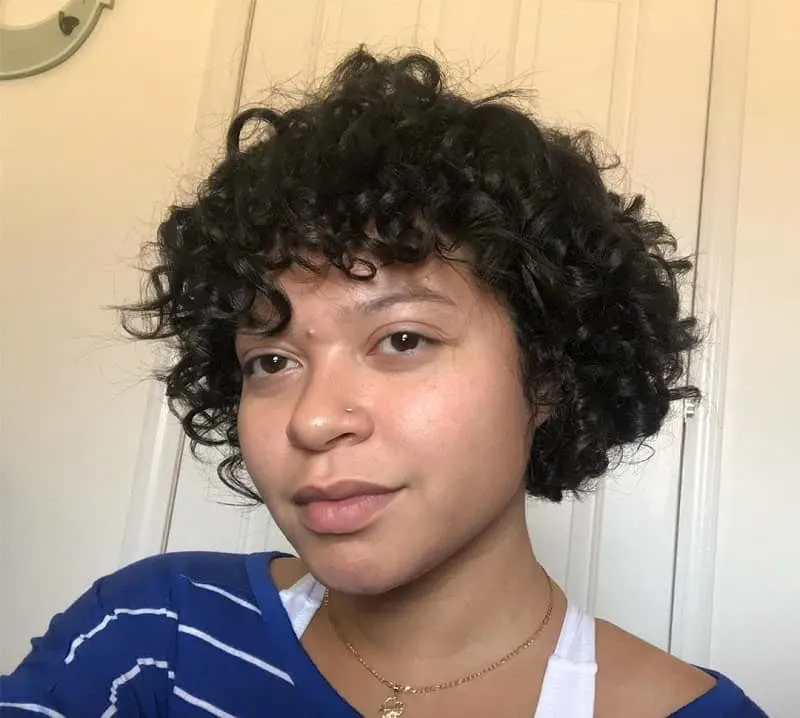 Sometimes curly hair can get out of control, and decreasing the volume of the hair is the best way to combat this.
With this great shorter cut, the curls are cut so that they will hang down by the head instead of having a ton of volume. The curls still look great but are less in your face.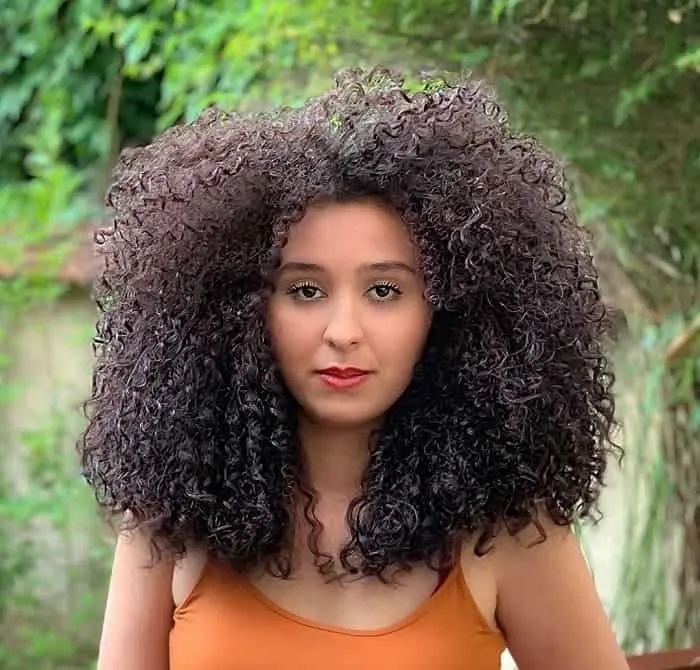 Women who have curly hair and want to really show it off will love this free and flowing look. Long locks are left incredibly curly and are allowed to flow out from the head. Taming this hair can be tricky, so regular care is key, but the end result is worth the work.
Frequently Asked Questions
Curly or straight hair – what suits round faces best?
Curly and straight hair both look nice on round faces. Regardless of hair texture, it is helpful to get a haircut that emphasizes your eyes and cheekbones, as this will elongate your face and flatter your bone structure.

As a general haircare rule, it is a good idea to find ways to style your natural hair texture, since your hair will get heat damage if you curl or straighten it every day.
Does curly hair make round faces look fatter?
Curly hair does not make round faces look fat. Textured hair flatters a round face shape by adding depth and structure. Curls can also be styled to draw attention to your cheekbones, which will help elevate the beauty of a round face.
What curly hairstyle is better for round face shapes?
Many curly hairstyles look nice on a round face, but the best hairstyles are ones with plenty of layers and face-framing pieces. Aim for a hairstyle that features front pieces that hit your cheekbones, as well as layers that prevent your curls from being weighed down.
These 31 great curly hairstyles for women with round faces are all wonderful options for women to consider. When looking for the right curly hairstyle, women need to think about their hair color, hair length, and how much effort they are willing to put into their look each morning.