Women with round faces who are lucky enough to have curly hair need to make sure that they opt for the best haircuts. These cuts are designed to make women look and feel their best.
Choosing the right curly hairstyles for round faces can be overwhelmed, but with a little effort, any woman can easily look her best.
Curly Hairstyles for Round Face
These are the 11 most ravishing hairstyle ideas for women with curly hair and round faces.
One of the best things about this copper red hairstyle is that the curls are allowed to flow freely around the head and in the face.
Instead of being cut into shorter bangs or pulled back from the face, the curls are allowed to be much freer. It's a very relaxed look that is great on round-faced women of all ages.
Gorgeous Mid-Parted Curly Hairstyles for Women
Curly hairstyles for women don't need to be boring, as this look clearly shows. The copper highlights are bold and big, and cutting them so that they frame the round face and look incredibly attractive. It's a bold look that does take a bit of work in the morning, but is worth it.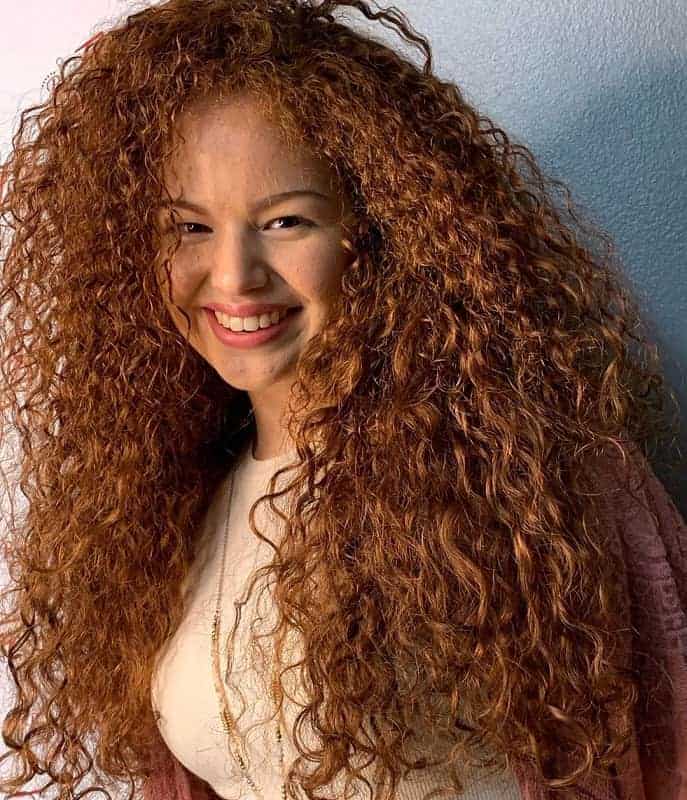 This long curly hairstyle for women women with round face is incredibly bold, and the way that the hair is allowed to flow freely down the back is incredibly attractive. Rather than cutting bangs, the hair is allowed to grow long and free, which gives it a ton of body and movement.
This curly look is a great option for any woman who works in an office and needs to make sure that she looks her best.
The curls are pulled across the forehead just a little bit, which helps to frame the face and ends up being very attractive. Because the color of the curls perfectly matches the color of the eyebrows, it looks very chic.
Dazzling Curly Shag Haircuts for Women to Rock
5. Natural Black
Shiny black curls that are natural and free look healthy and make any woman look great. These curls reach to the shoulders and have plenty of volume and movement.
Regular trims to keep the ends neat and to prevent split ends ensure that this style looks its best and ensures that the hair looks nice and healthy.
Amazing Curly Haircuts for Black Women
Curly hairstyles for round faces don't have to be in natural hair color, as this bold look shows. The hair is dyed a gorgeous peachy orange, which really pops against the skin.
Paired with a flower in the hair, dark and natural eyebrows, and bold and bright red lips, this short curly hair look is ideal for any woman who wants to stand out in a crowd.
Best Short Curly Haircuts for Women with Round Faces
The short bangs on this curly cut help to soften the look and make it a great option for all women with round face shape. The rest of the curls are longer, but there are plenty of layers cut into the hair to give it body and movement. This prevents the curls from falling flat and from looking tired.
One way to really make a curly cut shine is to add a gorgeous flower to the style. This short bob is the perfect way to finish a look and make it something really special for an event.
Here, three orchids are neatly tucked by the ear, which helps to not only control the hair and keep it out of the way, but also to add a pop of color.
Alluring Half-up Curly Hairstyles for Women
One thing to remember about curly haircutsis that they often look best with a bit of color added to them.
There is just some light pink added to the ends of these curls, which really makes the style stand out for round faces. It's a great way to draw attention without being over the top.
Sometimes curly hair can get out of control, and decreasing the volume of the hair is the best way to combat this.
With this great shorter cut, the curls are cut so that they will hang down by the head instead of having a ton of volume. The curls still look great but are less in your face.
Women who have curly hair and want to really show it off will love this free and flowing look. Long locks are left incredibly curly and are allowed to flow out from the head. Taming this hair can be tricky, so regular care is key, but the end result is worth the work.
These 11 great curly hairstyles for women with round faces are all wonderful options for women to consider. When looking for the right curly hairstyle, women need to think about their hair color, hair length, and how much effort they are willing to put into their look each morning.