Have you reached the half-century mark of your age? You have just entered the golden era of your life, and it's the perfect time to explore new hairstyles!
Short hairstyles are not only chic and modern but also low-maintenance. Pixie, bob, or shag—such low-maintenance short brunette hairstyles will flatter and refresh your look. So, let's take a look at some of the hottest short brunette hairstyles for ladies over 50.
Lovely Short Brunette Hairstyles For Over 50
When you're over 50, it's just the perfect time to change your look, especially your hairstyle. Short hairstyles will be your best shot as they are low-maintenance and will make your thinning coarse tresses appear healthy.
From pixies to bobs to carefree curls and wispy cuts, here is a little of everything to revamp your look. Let your brown mane, whether natural or not, stand out with the following short brunette hairstyles ideal for women over 50.
1. Pinned-Back Curls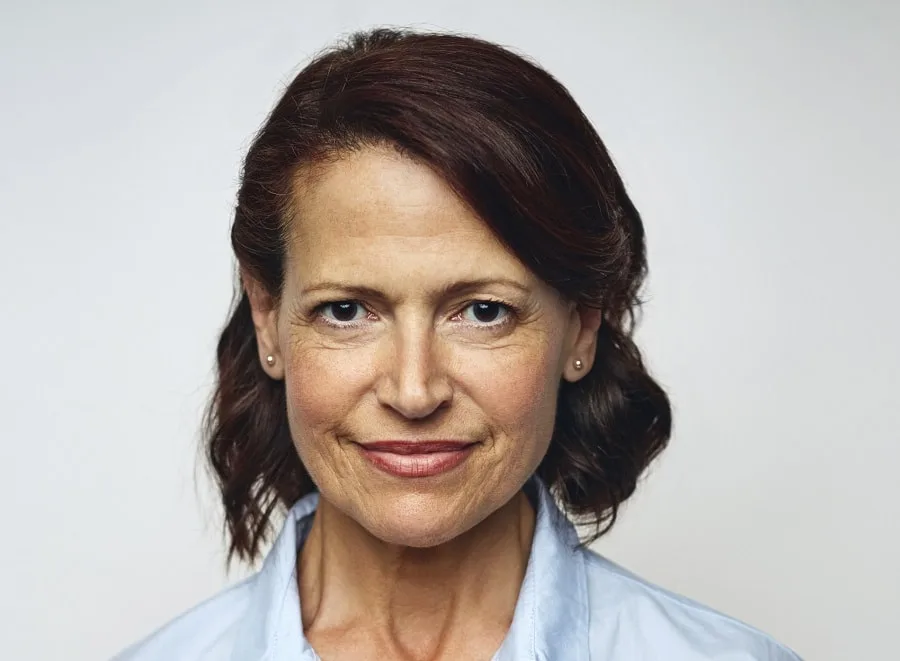 Let your face stand out by keeping all the hair away from it with an elegant pinned-back short hairstyle.
Opt for beach waves or curls with a side part and sweep the front strands towards the back. Fix them in place with pins and loosen the hair for a soft finish.
2. Sassy Pixie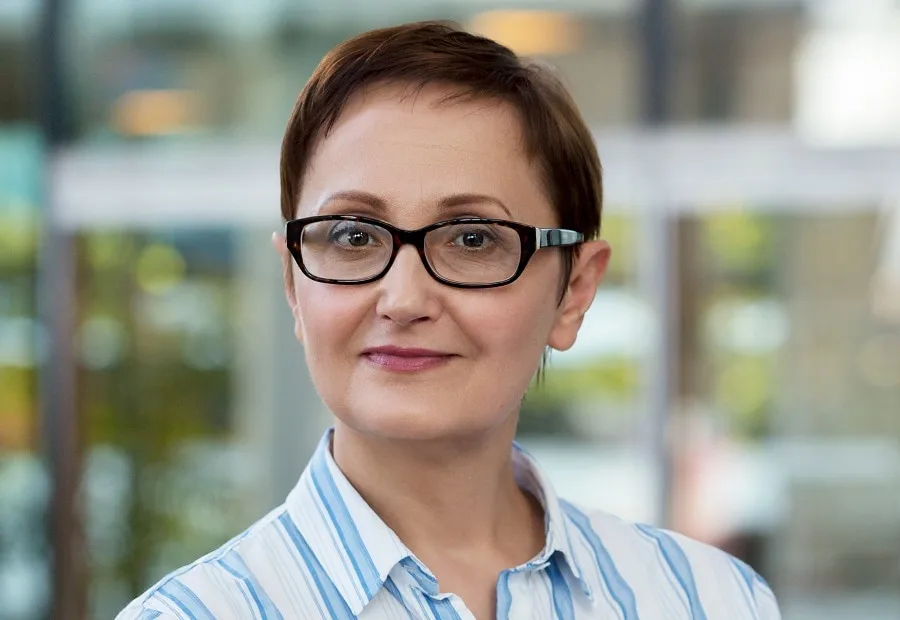 A super short pixie can be the ideal short brunette hairstyle for office-going ladies over 50. Go with a textured top that tapers gradually towards the sides and back.
Finger brush the tendrils sideward and you are ready to rock. Chic and easy to maintain, what more to ask for?
3. The Hair Tuck
The tucked-in hair look is one of the hottest trends of the winter season. Recreate this street-style brunette hairdo by adding loose waves to the mane and tucking them inside a turtleneck or high-collared sweater.
The result will be a carefree bob look-alike that is sure to drop some jaws.
4. Curly Crop
Curls can be difficult to manage when getting on in years. Instead of pulling them into a tight bun or ponytail all the time, chop them off into a liberating crop.
Go for short layers on the top and sides and hand-tousle the strands for an undone look.
5. Razored Chop
Razor cuts work best with coarse hair that most senior ladies end up with after years of heat styling.
Ask the hairstylist for a medium-length pixie with jagged layers and wispy tips. Set your fine tresses in place using some pomade. A little mess is just what you need!
6. Soft Wolf Cut
A mullet may seem a little over the top, especially if you don't want a rock star appeal. A soft wolf cut will be your best alternative in such a case.
It features heavy layers on the top that elongate towards the sides and back. Add highlights and let your curls sway with the wind.
7. French Bob
Consider getting a French bob to maintain a high-class look at your mature age. The strands are snipped at the chin or ear level resulting in a smarter-looking face.
Cover those forehead wrinkles with wispy bangs grazing the brows and you are all done!
8. Side-Swept Mushroom Cut
Mushroom cuts have stood the test of time and all for the right reasons. Try a traditional blunt version with thick straight bangs at the front that extend all around the back.
On the contrary, an ear-length top with minimal layers, a side part, and an undercut at the back won't disappoint either.
9. Bang It Up
Whatever older women's brunette hairstyle you opt for, throw in some bangs to frame the face in the most flawless manner.
Consider getting a short shag with wispy bangs or a bob with curtain fringes. Your receding hairline will be concealed in no time!
10. The Wedge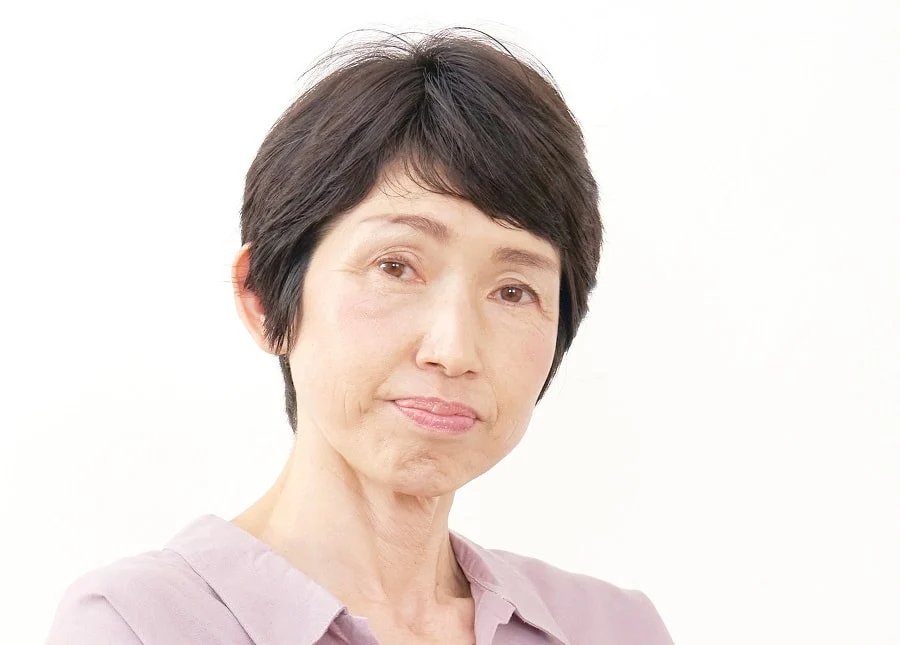 Wedge cuts resemble bob cuts but feature stacked layers that become super short just above the neck but remain long around the face at the front.
The result is a softly rounded back with a bob-like look at the front. This style is a must-try for thin-haired ladies.
11. Classic Bob
Nothing can compete with the beauty of a classical bob. Choose the length of your liking with side-swept bangs and barely-there layers.
Flip the tips inward for a healthy look and let your fresh haircut shine with delicate babylights on a brunette base.
12. Curly Lob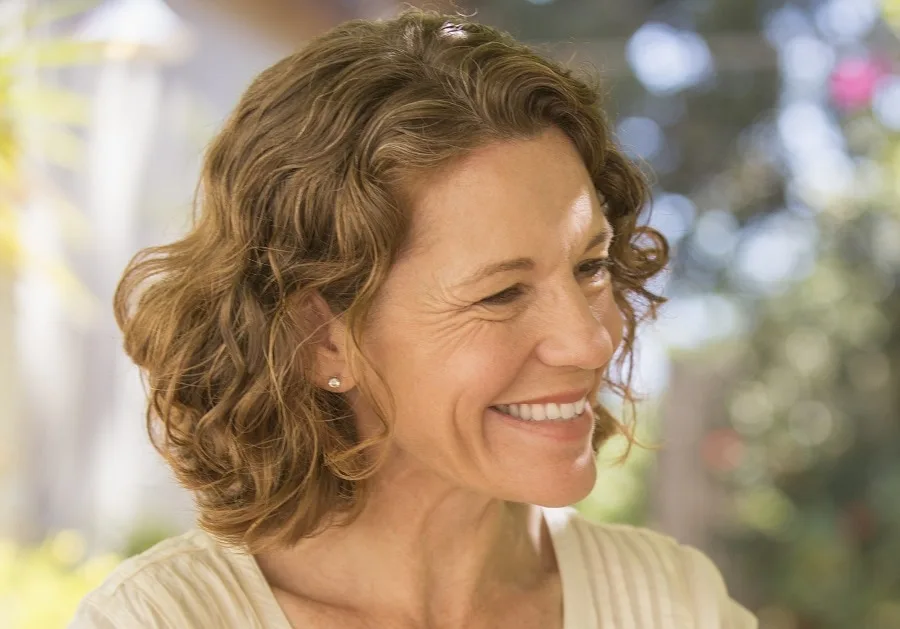 Although there is no limitation, natural brunette curls tend to look better with long bobs instead of shorter ones.
Snip the tresses just above the shoulders with choppy layers and spice them up with some highlights. Apply a curl-defining product regularly to keep your coils bouncing!
13. 70s Feathered Hair
Feathered tresses became popular in the 70s and have never really left the fashion industry ever since.
Feathering is ideal for removing excess bulk from a straight to curly mane as the strands are snipped in a way for the roots to remain thick but with lighter wispier ends. Don't forget to get a good blowout!
14. Chic Bixie
Couple the defining features of both of these haircuts to end up with a super chic bixie. It is short and rounded softly to hug the head. Highlights will make everything better!
Copy this brunette hairstyle for short-haired women over 50 who can't decide between a pixie and a bob.
15. Headband Style
Headbands prove to be useful when you can't think of any other hairstyle.
Prevent those short strands from getting into the eyes by rocking any hairband of your choice and tousle the hair at the back for an unkempt appeal. Don't worry you won't look childish!
16. Wispy Layers
Avoid choppy layers in the case of delicate fine tresses. Go for wispy layers instead that thin down towards the ends to add some movement and volume to the hair.
Try the technique on a super short bob with light feathery bangs and you won't go back ever!
In the above-mentioned list of short brunette hairstyles for over 50, there is a look for every hair texture and thickness.
Level up your style further by accentuating your brown hair color with highlights, lowlights, or a balayage instead. You are sure to appear much younger for your age once you leave the salon!