An under braid is also commonly known as a backward braid or a reverse French braid, and it is an unusual style of braid that is rising rapidly in popularity.
Braids are bang on trend this season and there is a hugely rich variety of different types of braids currently available on the market. If you're looking for a fun and eye-catching hairstyle that will tame your unruly locks and that is easy to create in the morning then the under braid is definitely the perfect style to explore. It's surprisingly simple to create this style if you follow these five easy steps:
How to Create An Under Braid
If you are familiar with braiding, then you will know that you usually lift one hand over the other, however, to create an under braid you simply reverse this technique, moving your hands under each other to create a very different and distinct braid shape.
Divide each chunk of hair that you wish to braid into three sections of even size. In a rhythmic pattern, bring each section of hair into the middle of the hair where the braid will sit, but rather than add the hair over the top of the braid, create a sleek and smooth line by drawing it under and up into the plait.
You can create under braids on any section of your hair, but if you wish to create a reverse French plait in an under braid style working from the nape of your head then hang your hair upside down (the most comfortable way to do this is to lie down with your head slightly off your bed) and then reach plait from your nape in exactly the same way as you would from the front of your hairline.
Whilst this technique may seem tricky at first, practice really does make perfect, so keep repeating these steps in the mirror to really get the hang of it. Soon you'll be able to create your under braid so quickly each morning that you'll be able to spend a little longer in bed!
Top 30 Under Braids We Really Love
Looking for some inspiration on the many different styles you can experiment with once you've mastered the under braiding technique? Here are 30 of the best under braids that we are coveting right now:
1. An Under Braid in Short Hair
Hair of any length can be under braided: in fact, under braiding is perfect for short hair because it creates a sleek and smooth finish and needs less length to hold it's shaping. To create this look use a texturizing spray to create grip in your hair that will help to hold it in place, then finish your style with a high shine hairspray.
2. Under Braided Angel Braid With an Afro
Of course, there's no need to under braid all of your hair! You could choose to create a under braided halo around your head and use this to create a frame to show off the natural texture of your hair. This will look particularly effective if your natural hair is textured and has plenty of volumes.
3. Twisted Under Braided Updo
If you want to create as much visual impact with your under braids as possible then why not create a beehive-style up do using under braiding techniques? This is a style that will work best if you have ultra-long hair or are wearing long hair extensions. Separate your hair into six even sections and underbraid each section, before winding and twisting these on the top of your head to create a tall and impactful up do.
4. Two Tone Black and Blonde Under Braids
If you have dip dyed or bayalage hair then you can use this to your advantage when creating a duo of stylish under braids. Create braids in your hair using the underbraiding technique and it will ensure that the colored or highlighted sections of your hair will really pop.
5. Under Braided Mohawk With Purple Detail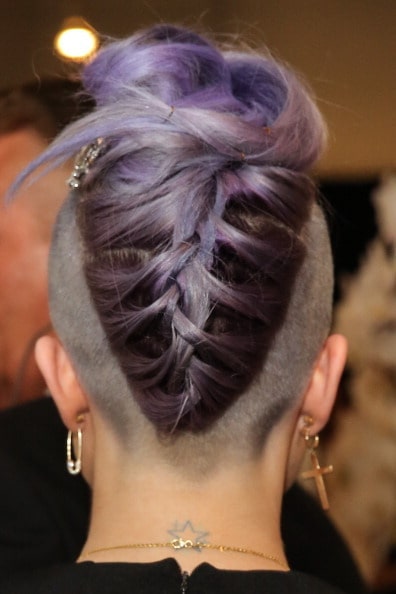 Work a single under braid from the nape of your neck, working to the top of your head, then secure your hair in a chic and feminine twist. This is a great way of showing off playful colored hair, such as the purple and lilac hair shown here. Shaved sides will emphasize the mohawk feel of this look, and really help to show off your under braided style.
6. Under Braid Halo With Twisted Bun
Use the underbraiding technique to create a halo braid with a difference. This will make your halo braid look much neater, and sit much closer to your head making this the perfect style for workwear or for formal occasions.
7. Side Swept Under Braid with Pin Up Curls
Under braids are becoming increasingly popular for wedding both for guests, bridesmaids and brides. Team under braids at the side of your head and nape of your head with a mass of curls to create a show-stopping styles. Pin in extra hairpieces and hair extensions to give the style more volume, and to create a bigger visual impact.
8. Under Braid with Ultra Straight Ponytail
This is a simple but show stopping way to incorporate an under braid into your everyday style: this is a great hair style to wear both for work and play and is incredibly easy to create. Work a single under braid from the nape of your neck, and then simply stop and add a hair elastic when you reach the point where you like to wear a ponytail.
9. Double Under Braids With Curls
Section your hair and work from your nap to create three separate under braids. Pin them into place and then use curling tongs to create tight curls on the top of your head, which you can pull forward to lie over your forehead like a faux-fringe. This is a great look for formal occasions and will suit any face shape.
10. Sweet and Girly Under Braid With Bun and Bow
This is a sweet and feminine way to wear an under braid, and nods subtly to the cute-as-pie hairstyles worn during the 1950s. The key to getting this look right is to pull your braid tightly to ensure it looks as neat as possible, then add a cute and oversized gingham bow.