Bridesmaids are a very important part of a wedding. A group of closest friends will follow the bride wherever she goes, so the bridesmaid hairstyles will grab attention from everyone. If you are chosen as a bridesmaid, here are some beautiful short bridesmaid hairstyles.
Short Bridesmaid Hairstyles
If you are attending a wedding soon, or you want to get inspired by your best friend's wedding, we have prepared some beautiful hairstyles.
Short hair who cares? You can style it into wonderful hairstyles that will make you look wonderful on your bestie's wedding day. Be prepared for a dozen photos with your bride and the other part of bridesmaids.
Looking for bridesmaid hairstyles for short hair? From chic bobs to flower crowns, there are plenty of options to choose.
1. Bridesmaid With Short Wavy Ombre Bob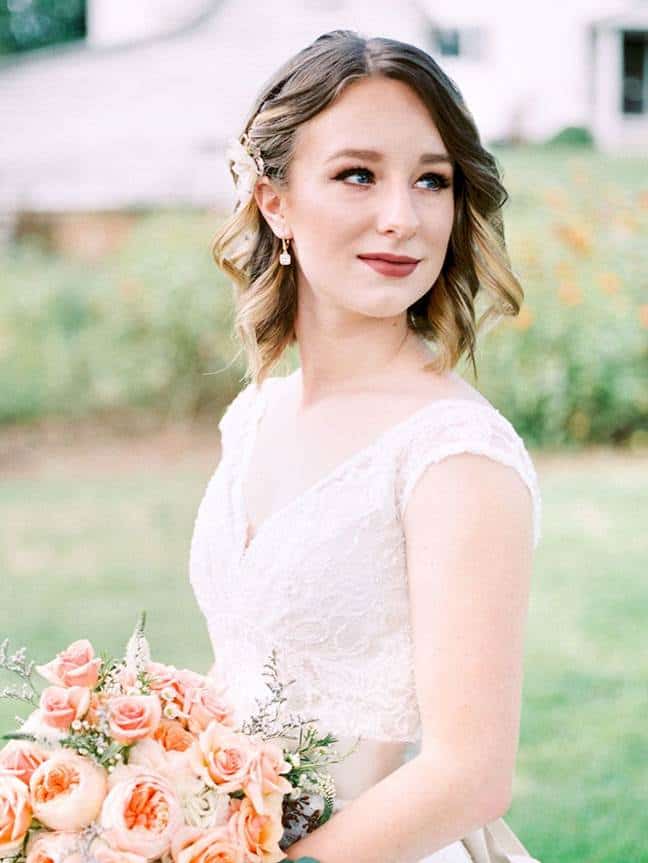 Elegant waves are perfect for your best friend's wedding day. To make it look even more glamorous, add a hairpin in the form of a flower. Ombre hair will make this short bob haircut for bridesmaids even more eye-catching. It doesn't have to be some drastic change, simply dye your hair ends in some lighter shade than your natural one.
Bridesmaid hairstyles with short hair can be so inspiring. Whether your hair is straight or you want to make it curly, go for both. However, don't ever hesitate to add some front braids to this equation. They will look extremely cool.
Pixie bob haircuts look so chic and beautiful. However, you have to admit that not everybody can wear it. This short haircut is for the brave girls only! Style it as bridesmaid hairdos and enjoy in comments and views you will get. By making it look messy and a bit braided, you will get an even better look.
Gorgeous Short Wedding Hairstyles for Brides
4. Twists Updo
Twists and updos for bridesmaids look nothing less than perfect. When your hair is highlighted, it will look even better. This is a great inspiration for bridesmaids looking for something special and elegant.
5. Bob for Bridesmaid
This sleek and glamorous short haircut is perfect for the bridesmaid on the wedding day. It is so elegant and polished that it has to be matched with the same dress. If you want to add it to the final touch, just pick some classy and shiny hairpins that will make this haircut pop out.
Fresh flowers in your hair won't only look extraordinary. They will invoke the nice weather and greenery around you. It surely will look perfect in combination with your lovely locks. This is one of the most famous short bridesmaid hairstyles.
There is nothing better than waterfall braid in your curly hair. It will make even the most casual hairstyle for bridesmaids with short hair look gorgeous. The braid looks even better if your hair is dyed with the balayage technique.
Enjoyed these lovely short bridesmaid hairstyles? Let us know which one you're going to try. They are achievable, chic, and most of all so stylish for all bridesmaids.