Summer is around the corner which signals for bringing some changes in your dress up. But first things first, this seasonal shift is the perfect time to update your hair color and flaunt it on beach days and picnics later on.
Whether you are searching for a DIY hair look or something more complicated to show your hairstylist, we have scouted through the latest hair trends and brought you these hottest summer hair color ideas to try.
Hair Color Ideas for Summer
Without further delay dive into the following summer hair colors to keep up with the heat of the forthcoming days.
1. Soft Caramel Melt
Nothing screams summer more than this soft caramel hair shade. This style is ideal for brunettes who can add further detail to it by going for blonde babylights adding a glimmering radiance to the face. Top off the look with loose bouncy curls.
2. Bubblegum Pink Hair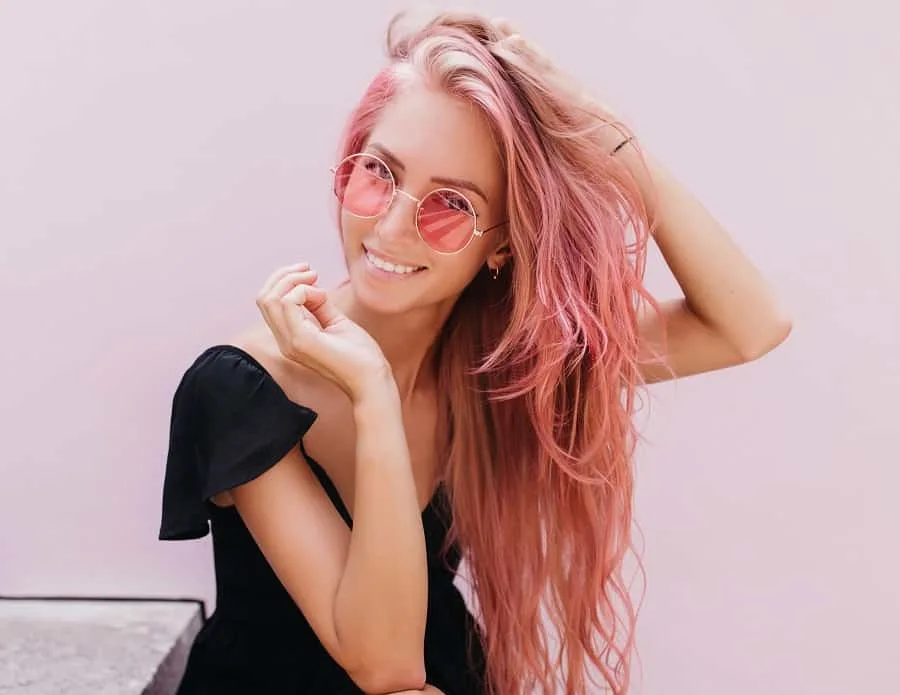 Fond of Pink? Then why not try it on the hair too? Color the long locks in a light bubblegum pink shade with subtle salmon pink streaks in between. This summer hair shade fades into a softer hue and will surely turn around some heads wherever you go.
3. Barely-There Ombre
An ombre hair look does not surprise anyone these days but is enough to spice things up this summer. Go for a golden ginger top that darkens into the deep copper hue midway to the ends. Keep the hair loose showing off this subtle hair color transition.
4. Ginger Afro
Black ladies can change their black kinky curls into a lighter ginger shade for a noticeable change this summer. Make a visit to the salon asking for a layered haircut framing the face and a ginger hair shade to leave as a completely new person.
5. Platinum Blonde Hue
Keep the heat down in the upcoming days by dying the hair in an icy platinum blonde hue. Complete the hairstyle with face-framing bangs and a top knot bun. This look is low-maintenance as the emerging dark roots add up to the style.
Classic Winter Hair Color Ideas for You
6. Light Chestnut Mane
Asian girls can keep all their eyes on themselves by dying their side-swept bangs and long mane in a light chestnut brown shade. This monochromatic look is easy to achieve at home and needs a root touch-up every few weeks.
7. Curly Money Pieces
Flaunt those bouncy curls with confidence by going for luscious light blonde money pieces falling along the sides of the face. The curls darken from light to medium blonde hue and ultimately become light brown reaching the back of the head resulting in a fun three-toned look.
This hot hair color idea is a must to try out this summer for curly-haired ladies. Choose a deva haircut with curly bangs covering the forehead and highlight the tips of the black curls with a golden caramel hue. A hand-tousle is enough to style this look.
9. Two-Toned Appeal
Those who are looking for a bold ombre look can try out this summer hairstyle. The ashy brown hair merges into the yellow blonde hue creating a gradient effect. Recreate the style by braiding the middle-parted hair and wrapping it around into two space buns.
10. Pop of Blue
Here is another summer hair color idea to keep all the eyes on you this season. Add chunky streaks of powder and denim blue to stand against the naturally dark base shade. This look is ideal to liven up a wavy layered lob with middle-parted bangs.
Cinnamon Brown Hair Color Ideas
FAQs
What's the best blonde shade for summer?
Warm, natural blonde shades are perfect for summer. However, if your skin tends to tan easily or you have a naturally dark complexion, you may want to choose a lighter, cooler shade of blonde for contrast.
Why does hair change color in the summer?
UV rays from the sun bleach your hair, causing it to become lighter. If you spend time in the water, particularly pool water that contains chlorine, the sun will bleach your hair even more.
Is dying hair in summer damaging to hair?
Dying your hair in the summer is not more damaging than any other season. However, this tends to be a season when your hair will experience more damage from the sun, seawater, or chlorine from pool water.

If possible, it may be better to avoid the hot months and plan to dye your hair in the spring or fall. If you choose to dye your hair in the summer, give your hair some extra care.
What's the summer hair shade for brunettes?
Sandy or mushroom brown are popular choices if you want a cooler brown tone. But if you want some pizzazz, options like ribbon highlights, ombre, or balayage can give you a sun-kissed, youthful look and still appear natural.
These were the freshest hair shade ideas for this and the upcoming summers that included both classic shades and unconventional colors. Having gone through the list we hope that you have found at least one hair look to try out next. So what's the waiting for? Show it to your hairstylist and give it a go!
You May Also Like