Never heard of a barbershop haircut? Well you're in luck because there are 30 styles here to inspire you and there are many great reasons to try one. A barbershop haircut is simply that: a haircut a man goes straight to a barber for. Barbers are becoming more known for the bold way they trim and shape men's hairstyles for an edgy result.
Barbershop Haircuts
You can't go wrong with these 30 barbershop haircuts!
1. Fade with Design
The best barber haircuts have designs in their fades. Allow your barber to go rogue and style his own creation in your cut or choose a pattern that you like.
2. Crew with Fade
One of the easiest ways to get texture is by cutting your hair short like a crew cut. When paired with a fade, you can connect it to your facial hair and even flatter those neck tattoos you have going on.
3. Smooth Medium Hair
For men with medium length hair, try the combed back barber haircut. Use fingers or a comb in dry hair to get this styled do perfect for a handlebar mustache and the office.
4. Natural Black Hair
Your natural black hair deserves a dapper style. Opt for a barbershop cut that leaves about two inches of natural hair on top and pair it with a medium fade.
5. Side Part Barber Cut
A gradual fade livens up a side part on this barbershop haircut. This is a great choice for men who want to retain most of their current style but try the new trend as well.
6. Hard Part and Fade
For those date nights where you need to look extra spiffy, you'll love how this hard part barbershop haircut makes you feel with its sleek, smooth locks combed heavily to one side.
7. High Buzzed Fade
Put an entirely new spin on your current haircut just by taking a buzzer to your fade. The key is only adding the fade to one side while keeping the other half of the hair ear-length.
8. Hard Curved Part
Normally a hard part is thin and shaved, but this barbershop haircut features an unexpected shape to separate the two lengths of hair.
9. Curly Hair
If you have naturally curly hair, rock that luscious texture but edge it up with a barbershop haircut featuring a soft fade.
10. Mid Fade + Slicked Back
With a barbershop haircut that is slicked back and a medium fade to narrow the face, you'll always look fresh-faced and handsome.
A crew cut is a classic barber hairstyle that is timeless as well as low maintenance.
Ideal for: Square faces as it does not add unnecessary volume to the sides of the head which can make the face look boxy.
How to Style: Very little styling needed due to the short crop.
22. Undercut
The undercut is fast becoming a stalwart in men's hair fashion as it is versatile and can work with almost any hair type.
Ideal for: Oblong, oval and rounded faces.
How to Style: Be aware that oval and round faces are better suited with some length on the top, so if you are opting for an undercut style, make sure you add volume to the top of the head.
A fair amount of upkeep is required to keep the sides short and neat. For daily styling, you will likely need a smoothing product or straighteners to keep your remaining hair smooth and dramatic.
23. Fringe
Fringe is a great way to add a dramatic feature to a barber haircut and particularly good for framing the face. They will not suit everyone so seek advice from your stylist first.
Ideal for: Diamond shaped faces.
How to Style: Bangs look better when they are not loaded with the product so either use a light serum, blow-dry or straighten your bangs into position.
24. Low, Mid and High Fade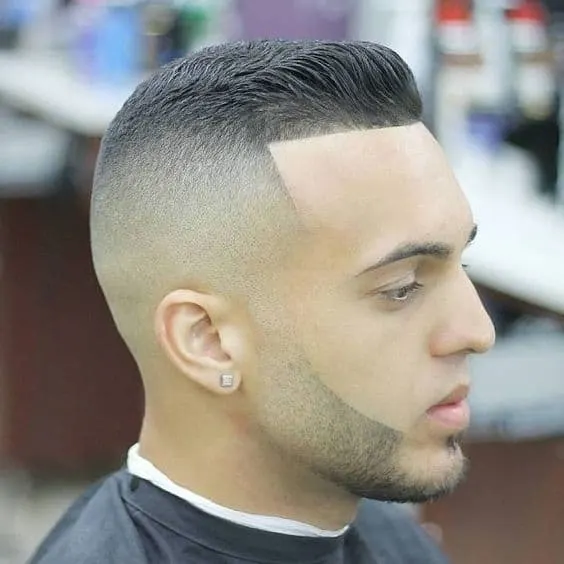 Fade cuts are continuing their boom in popularity and the options available are endless. Fade or tapered cuts can have any length on the sides and top which means you can play around with the look to suit you perfectly.
Ideal for: Great for round faces but only when there is a reasonable length at the top. Square faces suit a high fade. Oblong faces also suit a high fade but with bangs.
How to Style: A fade cut is about the definition and a sharp clean look, so you will need to ensure you keep on top of your regular barber visits and you will likely need a styling product to tame your locks into place.
25. Buzz Cut
This cut continues to be hugely popular among men as it is very low effort and great for a cooling summer look.
Ideal for: Good for most face shapes, unless you have a rounded face. Avoid if you have a lumpy head!
How to Style: The beauty of this barber cut is that it doesn't require daily styling. It truly is the ultimate get up and go style!
This haircut for barbers is great for men of all ages, the Caesar cut is cropped the same length all around the head but with brushed forward bangs which are blunt against the forehead.
Ideal for: Diamond and square faces
How to Style: You will need to decide how long you want your bangs to be before having the style cut. Use a thick bristled brush to achieve the stark lines through the hair and set with a high-shine pomade or wax for a dramatic look.
27. French Crop
The French crop is similar to the Caesar-style but has more texture within the longer section at the top of the head and generally has a lengthier fringe.
Ideal for: Looks good with most face shapes but excels with diamond faces.
How to Style: Run some pomade or wax through the hair when styling to add shine and control, however very little effort is required here.
28. Pompadour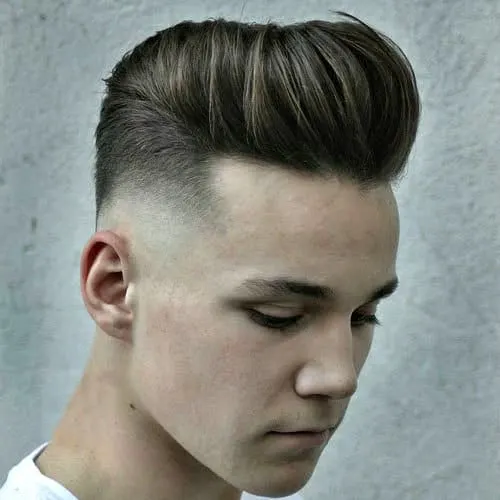 To achieve a great and bold pompadour style you will be looking to have at least 4 inches of hair length at the top of the head. This look does take some styling and effort but is worthwhile when mastered.
Ideal for: Oval and round faces
How to Style: Run a stronghold wax or pomade through damp hair, then blow-dry with a large barrel brush to create volume. You will need to roll the brush backward when drying so that the hair gets height and direction.
The slicked back barber's haircut is a timeless look but can take some 'training' of the hair to help it stay sleek.
Ideal for: Oval, round or oblong faces.
How to Style: With damp hair use a comb to brush the hair backward towards the nape of the neck. Add wax or pomade through the lengths and then comb through. Leave hair to dry naturally or blow dry into place.
Around since the 1950's the quiff continues to be one of the most popular hairstyles for barbers. Ideal for short, mid or long hair – it is a super versatile and trendy look.
Ideal for: Oval or round faces
How to Style: Use a fine-toothed comb to part the majority of your hair against the way it naturally falls. Blow dry the hair, using a barrel brush to add volume at the roots, ensuring that you maintain the parting that you created. Once dried, add pomade or wax to provide structure or control.
21. Comb Over
This classic barbershop haircut was first popular in the golden age of Hollywood and still continues to be a very trendy look.
Ideal for: Oval, round and square faces
How to Style: The comb over is about being sleek and neat so you will want to keep on top of maintaining this style. Use a fine-toothed comb to define the parting which will help emphasize the clean and defined look. A high-control wax or pomade is a must.
A less dramatic and stark version of the Mohawk, the faux hawk is a very versatile and sometimes intense look!
Ideal for: Diamond and round faces
How to Style: You will need a good quality styling product to get the definition and volume. Blow drying the hair with a large barrel brush can also help with this. If you are lucky enough to have thick curly hair, then leaving it dry naturally can create an unkempt and messy mo.
23. Messy Waves
Messy waves are really only achievable if your hair has a natural kink or curl. This shaggy barber's haircut is definitely a personality type and not suited to all.
Ideal for: Diamond shaped faces.
How to Style: You can run some mousse or styling product through the hair however it is best left unkempt and natural.
24. Naturally Long
Leaving natural hair to grow long is definitely a statement but it doesn't mean that you should not keep on top of your barber's visits to make sure your hair remains in top condition. Wash, condition and trim frequently to avoid unsightly split ends.
Ideal for: Every face shape but if you have a long or oblong face then you should avoid or add layering.
How to Style: Very little styling is required with this very natural look. However, having long hair means versatility so you can also play around with ponytails, man buns, half-updos and more!
25. Poker Straight
This barber haircut is a great option for those with very fine and thin hair as it adds much-needed body and volume to an otherwise limp look.
Ideal for: Diamond and round faces.
How to Style: To get this sharp and choppy style you will need blunt layering cut through the hair. Depending on your hair type it is likely that hair straighteners will be required to add lift at the roots, and sharp definition on the ends.
Long hair for men has seen a huge boom in popularity in 2023, and it looks set to continue for some time yet. Aside from being a quick and easy alternative to styling long hair, the ponytail is actually a look in its own right.
Ideal for: Oval faces.
How to Style: Simply tie hair back with product for a slick look or leave more relaxed and natural with face-framing loose pieces.
27. Man Bun
The man bun has been around since 2014 but has firmly found its place in fashion this year.
Ideal for: Oval and long faces should add a beard.
How to Style: Hair length is a must for this look however you will probably only need around 6 inches in order to tie the hair back. You can opt for the semi bun, which is usually a top knot accompanied by an undercut, or the full bun which uses all the hair on the head pulled into one single bun.
Be aware that if you have layering in your locks then this will have an effect on how your hair ties back.
The top knot was originally a traditional look toted by Samurai in order to hold their helmets in place. The style is often replicated today by Sumo wrestlers and it actually quite a symbolic style for barbers as well.
Ideal for: Oval or round faces.
How to Style: Top knots are commonly paired with an undercut and are a perfect variation on a man bun for those who do not have the required length for such a style. It can be worn slick and neat or casual and messy.
29. Side Part
Around since the 40's, the side part continues to evolve with modern fashion. You will need to decide what sort of part you are after – whether it be a natural relaxed part or a hard part which can provide extra volume and definition.
Ideal for: Oval, round and square faces
How to Style: A fine-toothed comb is essential here to keep the part sleek and neat. You will likely need to blow dry the hair into position to set the part and add volume. Once dried a wax or pomade will hold the part and add texture.
30. Half Up
Great for medium to long hair this barber hairstyle has undergone a huge popularity boom with men during 2018.
Ideal for: Oval faces. If you have a strong jaw, then you may want to consider adding a beard
How to Style: Starting with clean hair, section off the top from the ears around the to back of the head using a comb. Secure with a band or pull the hair half-way through for a small bun.
How to Pick A Barber Haircut?
There are a variety of different face shapes and every cut can either highlight great features or exaggerate aspects you may not like. So, it is worth deciding what category your face falls under to choose a suitable barber haircut.
Face Shapes
First thing first, you need to consider your face shape and structure to decide on your haircuts and styles.
The Oval Face
Features: Lack of definition along the cheeks, chin, and forehead. The forehead tends to be wider than the jawline.
Go For: Oval faces look better with classic and shortcuts. Aim to have the hair shorter at the sides and slightly longer at the top. By creating angles and volume it sharpens the face to stop it looking so oval.
Avoid: Flat fringes or flat hair across the forehead as this will accentuate the face shape. Buzz cuts are not ideal as they do not provide the much-needed volume on top.
The Round Face
Features: The face tends to have an equal width and length without any defining features such as sharp cheekbones or a defined jawline.
Go For: Round faces crave height and angle so aim for length and volume at the top of the head. By tapering the sides of the hair and adding interest around the crown it can elongate the rounded face. Messy styles, side parting, and layers are great for drawing attention away from the rounded features.
Avoid: Buzzcuts and flat bangs.
Features: A very sharp and masculine face, with a wide and defined jawline and cheekbones. Generally, the widest part of the jawline and cheeks will be equal in width.
Go For: Square faces can suit almost any style. The cuts that really set off the features of a square face are an undercut, slicked back or messy and curly. Side parts and bangs can also look great.
Avoid: Barber haircuts that add too much width to the head as this will not help balance out the shape of your face. Aim for short sideburns or add high fades to your style.
The Long Face
Features: A very proportionate shaped face with the cheekbones, jawline, and forehead all being equal in width. Generally, a long and narrow shaped head.
Go For: A buzz or crew cut. Comb overs, slicked back or side parts also work very well. If you want to shorten the length of your face, bangs are a great option too.
Avoid: Styles that add length to your head, this includes anything with an excessive volume on top or a long beard.
The Diamond Face
Features: Long and angular with high defined cheekbones and a pointy chin.
Go For: Full volume hair with layering. Messy bangs can highlight the cheekbones and soften the jaw. Consider a faux hawk, comb over or slicked back.
Avoid: Cuts that are super short or highly shaved at the sides as they can narrow the top of the head which makes the jawline more pronounced.
Hair Texture
Aside from your face shape, hair texture should also not be overlooked when considering a new barbershop hairstyle. There are a variety of hair types that need consideration before a chop.
Wavy Hair: It can look good with most styles and cuts as the hair type provides volume and movement.
Thick Straight Hair: Can look bulky when slicked back and therefore difficult to tame and keep sleek. Aim for simple and shorter cuts and condition well to make the hair easier to style.
Thin Straight Hair: Fine hair needs much-needed volume and movement. Consider a slicked back pompadour, short choppy and textured or a side part. Avoid growing the hair long as this can often just look lank.
Curly Hair: Can be a little unruly but looks great with an undercut or simply left a little messy.
Receding Hair: All is not lost if you find yourself losing your locks! Grow hair longer on top and wear it messy to give the impression of thicker hair. Or embrace your changing looks and wear the hair slicked back or go for a bold buzz cut!