How many of you think that your hair will discolor as soon as you turn 50? Let alone the worry of getting old, the fashion these days is speaking volumes. No matter how old you are, the beard shading business is booming and men are all for it.
And guess what, it's not just about covering those salt tips found in the pepper, but it is about coloring the whole beard with a youthful color! On the contrary, some men think coloring the beard is not easy, or that it's just not worth it.
Of course, dying your beard is not as easy as applying mascara to lashes is for women. Worry not! Here is a short guide for you followed by a list of trendy beard colors of 2023.
How to Color Beard Naturally
Let us start with an overview of some facts. The facial hair color changes due to the change in the levels of the hormone i.e. testosterone. Not to forget, genetics plays a key role too. A lot of young men only in their 20s start observing white hair.
What can you do to color your beard naturally? Natural remedies have fewer cons than synthetic dyes. Say no to grey hair gel and anti-grey hair shampoos first.
If you're really interested in dyeing your beard naturally and not ready to give in to the chemical dyes, you might want to try one of the following remedies:
(All of the following must be used at room temperature. Apply for an hour and then rinse with water. Do not use shampoo)
Infusion of black tea leaves and water
Sesame seeds paste
A mixture of henna, lemon juice, vinegar, curd and coconut oil (make the paste and leave it overnight, use it next day)
Other tips
Take meals that are rich in vitamins, especially vitamin B and E. For example nuts, fresh vegetables, and
Drink at least eight to twelve glasses of water a day. The more hydrated you are the better will be the color of your beard.
Alcohol, smoking and junk food items; keep their intake to a minimum level.
Exercise on a regular basis to flush out stress and tension
Coolest Beard Styles for Modern Men
How Long The Color Will Last?
With the never-ending shelves packed with beard dye colors, it's hard for you to pick out the perfect one for you. You fear about the quality, results and most importantly how long until you'll have to recolor? Here's what you need to know:
Progressive coloring: These colors are composed of "Grecian formula". It consists of lead acetate, once your beard is exposed to the atmospheric air; the color of your hair darkens. Once you feel your beard is of the exact color that you wanted, you may stop coloring.
Direct Dyes: These dyes are composed of the molecules of colors, the actual pigments. The application is easy and doesn't take long. The only setback is that only after 7 to 12 washes, the color will fade away.
Semi-permanent color: It's better than direct dyes but then again it fades away in just 12-15 washes.
Regular permanent color: This type of beard color actually causes the natural color of your beard to fade away, which means bye grey, hello new color!
How to Dye Beard
Why go to a salon when you can easily do it on your own?—that is what the majority of you think. Truth to be told, you sure can dye your beard if only you have to touch up the grey tips. Otherwise, it's best if you hit a salon and get your beard dyed there by a professional.
Trendy Beard Colors for Men in 2023
Here are the 35 beard coloring ideas for men to get the funkiest looks in 2023.
1. Hot Red
Looking for something to add to your hotness? Consider this vibrant red beard color idea for this year.
Ideal For: Verdi Beard
How to Style: Dye the beard and moustaches red to contrast with the black hair. Don't worry about the black strands peeking through the red ones as they set off the look.
2. Vivid Green
Keep your cool this summer by going with a vivid green color for your beard.
Ideal For: Full Beard/ French Fork
How to Style: Color the beard and moustaches one streak at a time to leave no hair uncovered.
3. Whatever You Want
For the men who can't decide on a single hair color, try a bit of every shade with this look.
Ideal For: Anchor Beard
How to Style: Dye the beard in a rusty orange hue followed by dying the eyebrows emerald green. Finish off the look by coloring the head in a cool aqua blue shade.
4. Silver Fox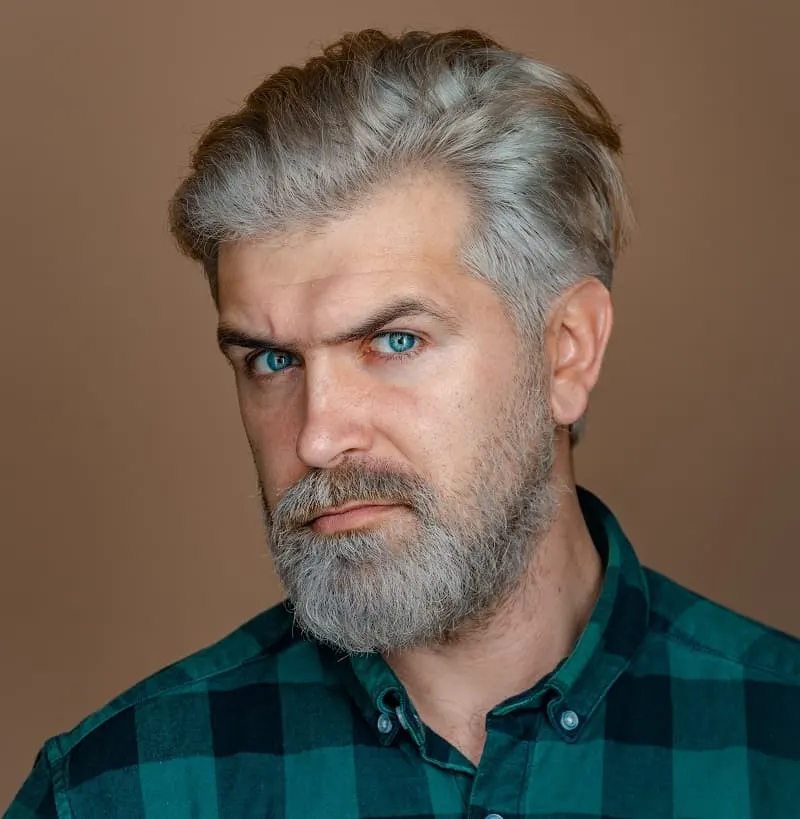 This style is ideal for the blonde guys who want to keep it subtle.
Ideal For: Medium Stubble
How to Style: Visiting the salon is a better option to cover the head and beard in a way to leave some blonde strands peeping through the silver ones.
5. Pastel Colors
Another toned-down version that incorporates different colors on a single beard.
Ideal For: Short/ Medium Stubble
How to Style: The detailing on this look will not be easy to be done at home rather pay a visit the hair salon to add a touch of pastel yellow, green and pink to the facial stubble.
6. Ivory/Silver
Youngblood but mature likes? We've got you covered.
Ideal for: Half beard.
How to Style: Either you can cover the full beard with the dye and leave the mustaches out or you can cover the beard and mustache like that of a French with dye.
7. Golden Streaks
This is a fresh look for young men.
Ideal for: Goatee.
How to Style: You just have to lightly coat the tips of your beards.
8. Purple Beard
To add a little more vibrancy to your life, color your beard purple.
Ideal for: Full beard with mustaches.
How to Style: Fully coat your beard with the dye.
9. Coolest Teal Green
The trendiest beard color of 2023 is right here.
Ideal for: Tapered beard.
How to Style: Make sure to apply the dye on the beard as well as the mustaches. It'd be cool to dye your hair the same!
10. Golden Highlights
Who said you can get highlights to your hair only?
Ideal for: Medium length beard.
How to Style: It'd be best to visit the salon for this kind of coloring because it involves highlights.
Sometimes you're just bored with your natural facial hair color and want to wear a new one.
Ideal for: Goatee/French beard.
How to Style: Apply the color to your beard, one stroke at a time.
12. Dark Blue Shade
Anybody up for a sassy beard color?
Ideal for: Balbo beard.
How to Style: This beard style has a little multi color touch to it. Better drive to the salon for best results!
13. Funky Yellow Color
This color has made its name in the clothing department and now it's here. Blad guy with beard will rock this one best.
Ideal for: Stubble/full beard.
How to Style: You don't need a professional for this at all. This color needs to be applied all over your beard thoroughly.
14. Sea Green
It's never too late to experiment with buoyant colors.
Ideal for: Full beard/short beard.
How to Style: You can get yourself this look at home by applying dye to carefully across your beard.
15. Burgundy Vibes
No wonder, burgundy is the color of life.
Ideal for: Medium length scruffy beard.
How to Style: For this colored beard look, only cover the chin area with dye.
16. Rainbow
Looking for a regular rogue style? This might be the one for you.
Ideal for: Classic full/ bushy beard.
How to Style: It is up to you which color you'd like to use first. Divide the beard into seven sections and then apply the dye.
The reason to get the beard dyed in ginger shade is to look suave.
Ideal for: Darwin beard.
How to Style: This dyedd beard has two tones; a darker and a lighter one. If the salon isn't far, feel free to go there.
If your hair and beard are already grey and you wish to keep them that way, then this one's for you.
Ideal for: Full/ Lumberjack beard.
How to Style: There's nothing to do with color dyes here. All you have to do is trim and shape your beard to make it look slick.
19. Blue, Purple and Green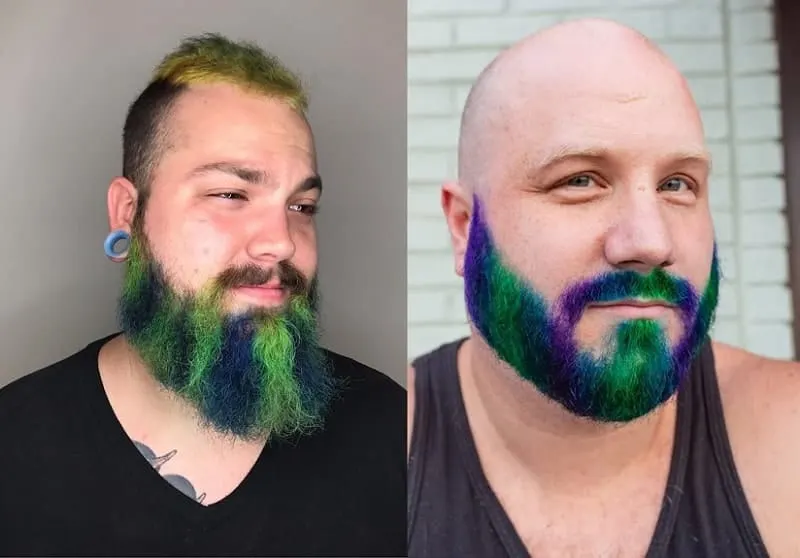 For your bohemian love, here's a boho-chic coloring idea for men's beard.
Ideal for: Full/chin curtain beard.
How to Style: Refer to the picture above, divide the beard into sections, coat them with dye and you will have your desired color.
20. Dark Brown
Can you deny the hotness in these photos?
Ideal for: Bandholz/ Viking beard.
How to Style: On a free Sunday you can take time to color your beard fully with dark brown dye and get this fiery beard look.
21. Golden Brown
Are you ready to hit the beach? If not, try coloring your beard first.
Ideal for: Bandholz with handlebar mustache.
How to Style: Blonde beard looks best when paired with brown undertones, and that's what you can get done by a professional.
22. Earthy Pink
Pink hair for guys might be too much but they can still try the pink color on your beard. Fresh and youthful!
Ideal for: Garibaldi.
How to Style: No tricks involved. You can definitely color your facial hair pink at home.
23. Evergreen Turquoise
This is what we call an evergreen outlook.
Ideal for: Garibaldi/Stubble.
How to Style: Turquoise color on beard looks better with your hair of the same color too.
24. Gold Dark Brown
When you combine dope with genteel, you get this.
Ideal for: Bandholz/ long beard.
How to Style: Do you see the two tones of the color? Yes, you need a professional to assist you.
25. Chocolate Brown
Here's the ultra modish look for up to the minute men.
Ideal for: Full /Ducktail beard.
How to Style: You shall have no problem coloring your beard chocolate brown at home.
26. Red Beard with Orange Hues
Two bright colors featured in one; what could be more creative!
Ideal for: Verdi/stubble
How to Style: Cover the hipster beard and the mustache in red color, and the ends of long mustache and the part just below the lips in orange color.
27. Mauve
All the men, getting old, and feeling young, we got you covered.
Ideal for: Verdi/stubble.
How to Style: Apply the color to the front and neckline.
28. Red Ochre
This one also is an invigorating color for old men.
Ideal for: Extended goatee
How to Style: Make sure to cover the entire beard with the mauve color dye.
29. Black Purple
It's a funky color for beard but looks totally cool.
Ideal for: Full/thick beard.
How to Style: You can do this at home or you can hire a professional to help you with. If you do it at home, apply the blue color in a way that black undertone is visible.
30. Light Purple Hues
Another amazing color to appear like a teenager!
Ideal for: Circle Beard
How to Style: No need to coat the mustaches, only color the front and neckline.
31. Red Blonde
You might be thinking about school boys. But this one is for all middle-aged men too.
Ideal for: Ducktail
How to Style: It requires full coverage of the red color on the beard.
32. Rusty Look
It is a very spruce and dashing look!
Ideal for: French.
How to Style: Be patient while you color your beard rust at home, you wouldn't want the cheeks and jawline to catch the color too.
33. Royal Blue
This sensational color turns out to be really good.
Ideal for: Ducktail.
How to Style: Don't be afraid of the outcomes, confidently spread the color all over the beard and see the amazing results for yourself later.
34. Grey with Silver
Silver changes your personal into a dapper one.
Ideal for: Full beard with walrus mustache.
How to Style: A professional would know how to mix the two exquisite beard colors (grey and silver) to recreate this look for you.
35. Dark Purple
Swag always wins.
Ideal for: Garibaldi.
How to Style: To have a purple beard, spread over the color equally on all sides of it.
From pink and blue to green and silver, these unusual beard colors are becoming a thing for men. One shall never say never to anything, especially when it has to do with the contemporary beard styles evolving around you. Coloring your beard won't be a problem anymore.