If for some reason you don't know what a lob haircut is, the time has come to find out. Women all over the world like sporting bobs. They come in all shapes and sizes. A long bob is called a "lob" and is one of the most popular types of bob hairstyles out there.
Keeping a long bob neat might not be as easy as the short one but the impression it makes is much more interesting. There are regular, a-line and even stacked lobs out there. It is very important to consider the face type before choosing the right lob.
Women with long faces might want to avoid a-line lobs while girls with round and square faces should definitely go for them. Making a choice is never easy, that's why having several best options to browse is a good idea.
The Most Stylish Lob Haircuts for Women
If you have decided to get a lob hairstyle, you'll be amazed at the variety of choices. Most of them have to do with length and color. Before even trying to make a choice, it is important to consider your face shape and hair type.
Girls with fine hair can appreciate really angled bobs since they look most impressive on straight locks. Women with curly manes should forget about a-line lobs and stick to regular shapes. If your face is round, make your lob as elongated as you can. But if the face shape is long then the front part of your lob should be shorter than the back.
Experimenting is always fun. So take a look at these 70 wonderful options to make your lob choosing easier.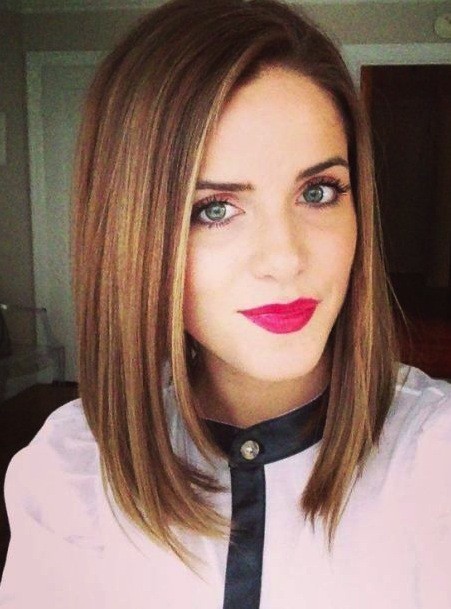 If you have straight hair then this pretty angled lob with a side part will be a great choice. Take a look at the length of this lob. The ends are falling down the chest. They should be styled inwards to make the hairstyle even more effective.
2. Red and bright
No matter which lob hairstyle you choose, try to pay a lot of attention to the hair color. If your own color is not too bright, consider dyeing it red. Red shades do a great job brightening up your look and are wonderful for making an image change.
The length of your lob can vary. Some women go for very long lobs that go down about 10 inches from your chin. It is important to remember that the longer your hairstyle is, the more care it will need. Especially if you like your lob neat.
If you have wavy hair, you can still get a very impressive lob. However, you should forget about a-line and angled bobs, since such lines will not be visible due to waves. Make a regular same-length bob and try to keep it neat.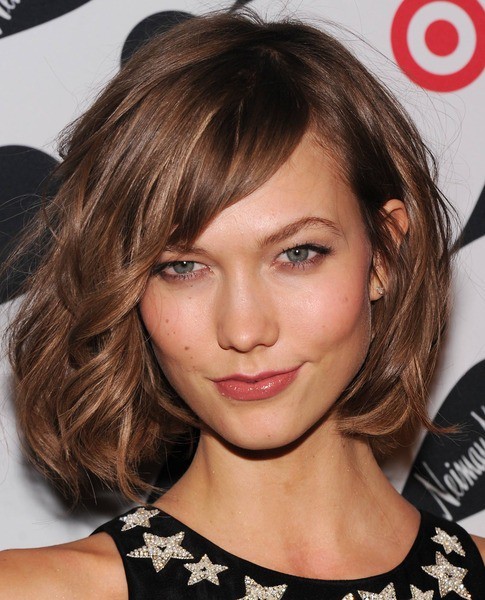 If you are tired of your simple and straight long bob, you can curl it up. Making soft curls is always a great idea to diversify your image. However, don't forget that curls can turn your lob into a regular bob since your hair will look shorter.
6. Blond waves

Blond and wavy regular lob hairstyle looks very impressive with side swept top. If your hair is thin and you need some volume, sweeping over the top part will help you do a complete makeover. You will need some hair spray to keep the style intact.

If you have thick and straight hair, you will love a layered lob. Make it as long as you wish, just don't forget that it will require some styling. Don't be afraid of the challenges such a lob brings. The result will be truly amazing.

If you have a long face shape and want a long Bob, then consider getting bangs. Bangs do a great job making your face seem more oval while giving your hairstyle a little zest. Side sweep your long bangs and hide the ends under the side strands of hair.

If you are a fan or stylish asymmetrical cuts then this lob is for you. Make one side of the a-line bob shorter than the other and you will really make a statement. Make sure to style this lob daily in order for the asymmetry to be outlined.
10. Windblown lob

If you like the windblown look, a regular lob haircut is for you. Make your hair all the same length and let it fall down your shoulders. Side sweep one of the top strands to make some volume without any effort. This is a great hairstyle for sexy hair tossing.

Make your lob hairstyle even more special by creating smart highlights. If you need to brighten up your image, use such colors as red and blond. If you are not ready for dramatic changes, pick a shade a little lighter than your natural color.
12. Curled ends

Give some diversity to your lob by curling up the ends. This hairstyle will look especially unique if you manage to keep it neat during the day. The top part is sleeked with the help of some hair gel in order to outline the wavy or curly ends.

Ombres are very popular nowadays and they look especially well with lobs. Have your hairstylist choose the right shade for your ombre. You can go from conservative to outrageous. Lob allows you to dye more than half of your hair length.

If you want to make an impression, change your hairstyle dramatically. Black girls with curly hair will look amazing with a lob after their locks are straightened out. Make the ends inverted for further impression.
15. Angled lob

Angled lobs are easy to make but hard to maintain. Any haircut with an angle needs very good styling to look neat. Otherwise, the angles will just get lost. The longer you make your bob, the sharper the ends can be and the more visible they will become.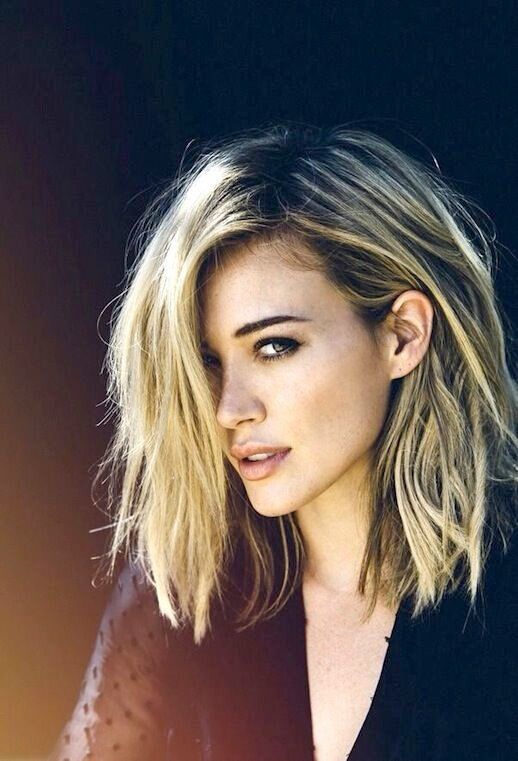 If you have long and wavy hair, it is very hard to make it look neat. So why not go for a messy lob hairstyle? The hair is cut all the same length except for the frontal strands that are made a bit shorter. No styling is required here. Just toss your head and go!
17. Hidden Bangs

Hiding bangs under the frontal strands of the lob is a great idea. First of all, the fringe looks very neat and second of all, face shape looks more oval for girls with long faces. Hidden bangs become that little zest that every hairstyle needs to look special.
18. Large Waves

Straight lob haircuts look very neat and are wonderful for an office look. But what do you do for special occasions? Curl them! Large curls will make any lob cut look impressive and will help you stand out of the crowd.

Adding long bangs to your lob is a terrific idea. Make them reach your eyes and your hairstyle will immediately become special. You can choose between wispy and blunt bangs. In any case, your lob will look amazing.

If you want to make a statement and have some heads turning your way, go for voluminous long hair bob. This hairstyle is achieved by lifting the top part of your hair with a hair dryer and using some hair spray to keep it neat.

If you want a special lob hairstyle, consider making a multicolored bob. You will need to dye different layers of your hair with different colors. Then sweep up the side strand over to another side to show the color difference.
22. Wavy asymmetrical lob

If you have wavy hair, you can still achieve a very impressive asymmetrical lob haircut. Women shouldn't forget about the great way hairstyle asymmetry makes them look. Make the ends blunt not angled.
23. Long and wavy

Lobs come in different sizes. You can make a very long lob that will look amazing. Grow your hair as long as you wish. If your locks are wavy, make the frontal strands shorter than the back. This will help keep your hairstyle neat.

The best way to flaunt your lob is to make it straight and neat. Angled hairstyles look their best on very straight hair. Such lob will need some maintenance on your part and frequent brushing. But the result will really turn some heads your way.
25. Messy and asymmetrical

Such messy and asymmetrical lobs as you see on the picture are not very popular but make a good statement. If you are not afraid of the messy appearance, these asymmetrical strands will help you look and feel fantastic.
26. Long and simple

This very simple lob haircut will look especially well on girls who are not after something too impressive. This hairstyle is great for women of all occupations. Such lob needs little maintenance to keep it straight and neat.

Styling your straight lob might be complicated. So what can you do to keep it neat with the least effort? Create a simple hairstyle by tying the side strands of your lob in the back with an elastic band. This is a quick fix for girls with time constraints.

If you want to achieve a dreamy and romantic look, don't go too hard on styling your lob. Just keep your locks straight and windblown. You can comb one of the side strands over to another side to add some flavor to your image.
29. Stylish lob

There is not much that you need to do to make your simple lob stylish. Just curl your hair and secure it with hair gel. Such sleek 1920's cut will be a great idea for a special occasion and can become an everyday hairstyle for girls with wavy hair.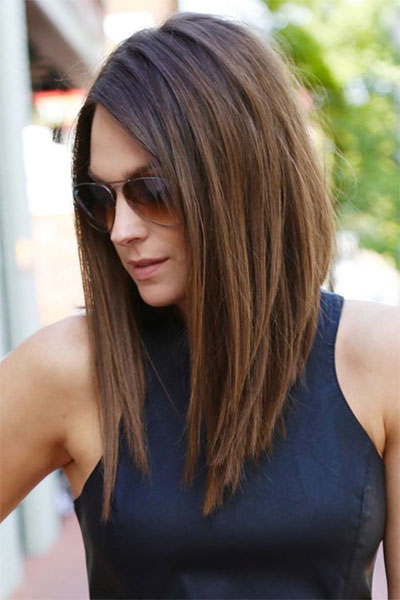 If your hair is long, you have a lot of room for imagination. You can make really sharp long angles that will help you create a truly unique hairstyle. Before making the angles, please consider the time it will take to style them daily.
31. Neat Lob

This is a great lob idea for girls with fine hair. Since everyday hair lifting to make volume is usually not an option, sweeping some strands backwards will do the trick. It will seem as though the volume is reduced because of some strands being in the back.

Adding outrageous shades to your hairstyles is always fun. It is the easiest way to make a statement. Consider some light pink, green or blue shades. You'll be amazed at how just a little hair color can completely change your image.
33. Wispy ends

If your hair is fine, consider making the ends of your bob wispy. This way you'll get a stylish hairstyle that will not look dull. Wispy ends add a little volume and a lot of style to your image. Don't be afraid to use this trick.
One of the easiest ways to make your lob haircut voluminous is to tease the hair. Another way is the classical top side comb over. Don't be afraid to make your haircut a little messy. Windblown and messy looks are in style.
35. Color play

Knowing how to use hair color is imperative for making a very impressive and unique hairstyle. Consider dyeing your hair in all the unusual places. You can dye the roots and the tips a lighter shade to make your lob really shine.

You are used to seeing blunt and wispy bangs but a curly fringe is hard to find? This is a great reason to go for wavy or curly bangs. Your hairstyle will definitely be one of the most unique ones on the block. Enjoy this stylish lob as long as you wish.
37. Wavy Classics

One of the classical ways to create a lob hairstyle is to make the ends slightly wavy. Such haircut is great for women with wavy locks who don't like bothering with straightening them out. A natural look is often the best.
38. Layered and unique

You can easily create this lob if your hair is thick and long enough for it. The side part is made and the long bangs are lifted up and styled into neat waves. The rest of the lob is also styled in swept-back waves.
39. Go Natural

If you are not into much styling, you can easily keep your lob very natural. This is especially true for women with wavy and hard to manage hair. Just add a little zest to your natural lob by brushing one of the strands over the top and to the opposite side.

Blunt bangs are a great idea for girls with long faces. So, if you are sporting a lob haircut and want your face to look more oval, create blunt bangs. Leave the ends of your lob blunt as well since angles elongate the face.
41. Lob Hairstyle for Weddings
When wedding seasons are on peak then, why not to wear a hairstyle that will absolutely give you an elite winning look! It features ash blonde highlights and a half up hairstyling. Turn the long lob into a soft wavy texture for an uber-dazzling look.
If you are looking for ethereal attire then, this messy half bun with lob haircut is particularly for you. Experiment a light lavender Ombre if you have a light skin tone. The soft wavy structure of lob hairstyle will make the whole look even more magical.
43. Red Hair Sensation
You can experiment any color with a long bob hairstyle, but if you have natural red hair then you do not need anything else to achieve a sensational outlook. You can pair up the red hair with blonde balayage to add more fascination, as shown in the above image.
Braids add more femininity elements to women's overall appearance. The above look features Brunette base, French braid, and pink highlights.
Asian women can add a dramatic element to her lob hair by getting a razor cut layers for sharp angles. It is ideal for sleek, straight and wavy hair. Whenever you go with soft curls or wavy texture, we would suggest you keep the hair ends straight for voguish aesthetics. Style the front hair into side bangs for an edgy look and to hide your broad forehead as well.
46. Natural Curls
Natural curls are often difficult to style and maintain that most of the women get irritated easily during styling the stubborn kinky tresses. In such cases, long bob hairstyle will make you love your adorable curls again!
47. Razor Cut Lob Hairstyle
It is an incredible and trendy way to give texture to your mane. The warm strawberry blonde hair color is a perfect choice to wear for the summer season because of its uber soft and polished aesthetics.
A style that requires very low maintenance and has super-textured features! It is ideal for those women who are looking for vibrant color contrast in the form of lowlights as the choppy lob haircut will make the lowlights uber-expressible. Short blunt bangs will enhance your cuteness.
The blonde balayage adds extra dimensions to the long bob hairstyles that women love to wear for a chic look. Sweep the front bangs on the side slightly for sharp features and turn the locs into the tousled wavy structure in an inverted direction for face-framing purpose.
50. Keep it Messy
Embrace your natural gorgeous curls, sprucely. Keep your tresses moisturized after every single wash, but during styling apply a matte finish hair product to maintain natural kinky features.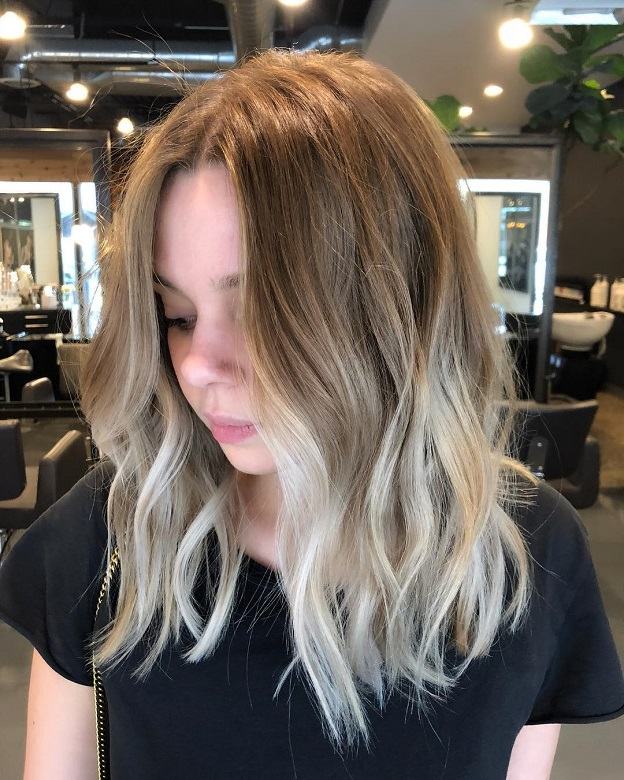 Platinum blonde lowlights are definitely making a statement on natural blonde Lob hair! Add extra fun and edginess to your looks by turning your hair into soft waves.
Long bob haircuts provide extra volume and texture to fine hair. To get this look keep one side long and another side shorter for the angled feature. Separate the hair into two sections through muddled side partition. Highlight the locs with smooth and warm color for modish looks.
Pair the long bob hairstyle with delightful rainbow colors with black undertone for multidimensional features. Turn your lobs into the wavy texture by curling iron to give extra definition to the layers and vibrant colors.
54. Shoulder Length Sophisticated Lob
What can be more sophisticated and graceful for working ladies to wear than this lob haircut to get a dominant appearance which will scream out their inner confidence! You can keep it simple and straight, but for an uber-appealing look, you can apply golden blonde on your locs.
55. Bold and Chicly
Women with lob hair can bring out her bold personality by going with floral sleeve tattoos and vibrant peach hair dye. If you have this bold element in you, this chic attire is surely for you!
56. Casual Lob Hairstyle
Most of the women love to wear long lob hairstyles along with asymmetrical layers as it provides extra texture and lively flow to the hair. You can carry this look as casual attire for an effortless daily routine. You can dye your hair as well to add a class to your appearance.
57. Frozen Vibes
Ever wonder, how would Elsa look in a lob haircut? This look will help you to imagine her in trendy attire. Dark roots with blonde hair create an alluring outlook altogether. Sure, it is a glamorous choice to wear for winters. Keep your tresses slightly tousled for a casual look.
58. Choppy Long Bob Hairstyle
When nothing goes right, wear a long bob hairstyle to get a swanky appearance without any flaw. Just tousle your lob haircut and exaggerate your looks with a professional make-over, you will surely get amazed with the end results.
59. Lob hairstyle for Plus Size Women
Plus size women often get worried about hairstyles that fit best on their round or chubby faces, giving them a fascinating appearance. The mid-parted lob haircut styled into beachy waves can help these women to frame their face shape. Go for pastel and blonde highlights to add more impression to your aesthetics.
60. It's Awl White
Women over 40's can achieve classily expressions by opting for a long bob with icy blonde hair shade. You can pair up the bob haircut with blunt bangs as well to hide your wide forehead. It is super easy to maintain especially when you have naturally straight hair.
So natural and sweet, this long lob hairstyle barely needs maintenance and styling effort. Simply, side part the hair and you are done! It is suitable for almost any face shape and hair texture.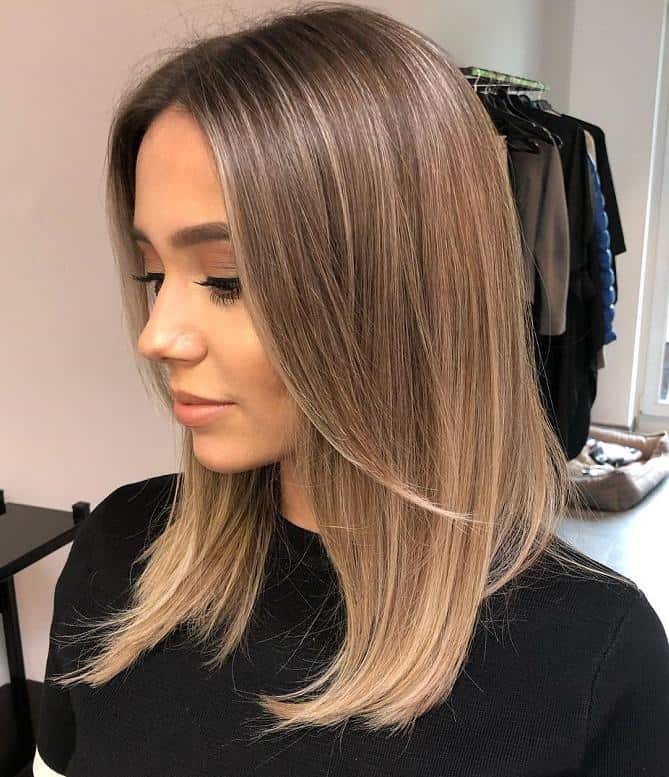 The best part of long bob hairstyle is that it can contour almost any face shape, especially when combined with some layers. The dark ash blonde base and platinum blonde lowlights will give you a natural yet vibrant appearance.
It involves the incorporation of various kinds of hair color and highlights which make the whole look ideal for the summer season because of its sassy features. You can keep it untie for face-framing purpose or you can tie it into a ponytail for a refined look. Keep the hairstyle a bit flattering from the front and blow dry the back hair for a puffy structure.
64. Blunt Lob with Hair Accessories
Straightened lob haircut along with half updo hairstyle and charming hair accessories can make you stand out in any occasion including weddings or prom parties.
Lob haircuts provide women enormous hairstyling ideas with limitless variations. Here, is the wavy lob hair styled into miraculous waterfall braid that will give you princess vibes.
Here is another splendid idea for women with fine lob hair. Take upper half portion of hair and turn it into a topknot; keep the remaining hair sleek with the ends rolled inward.
An uneven lob hairstyle can be so much fun as you can play it with so much creativity while maintaining the poised features as well. Side swept the long side of the lob while tying up the other shorter side with elegant hair accessories. Girls with round face shape can also rock with this look!
If you do not want to compromise on your hair length and natural hair straightness then, you should probably go for a long bob cut with blunt bangs and leave the rest on the romantic red color!
69. Beyond Elegance
Want to keep you lob hairstyle blunt, chicly and dignified at the same time? Ask your hairstylist for a long bob haircut with the incorporation of caramel highlights. It will give your jawline and collarbone even more prominence.
70. Black and Blue
Looking for something vivacious that will make you a stunner amongst your fellows? Wear a graduated long bob hairstyle and style it through a center partition. Turn one side into a vibrant blue hue and keep the other side black to maintain this entrancing transition.
We hope these stunning lob hairstyles have been useful for you. Take some time to consider your face and hair type and start choosing. You will definitely find what you've been looking for in this list. Just take a closer look.