Braid is a beautiful and elegant hairstyle that gives you a purely feminine look. No need to worry if you have short hair because the option of braids with weave helps you make your desired hairstyle. You can make different types of braids with weave as it doesn't depend on the length and health of your hair. Braids with weaves not only multiply the exquisiteness of your personality but also helps to grow hair. Let's check how you can get fun from these simple yet classy hairstyles.
1. Halo Crown Braid With Weave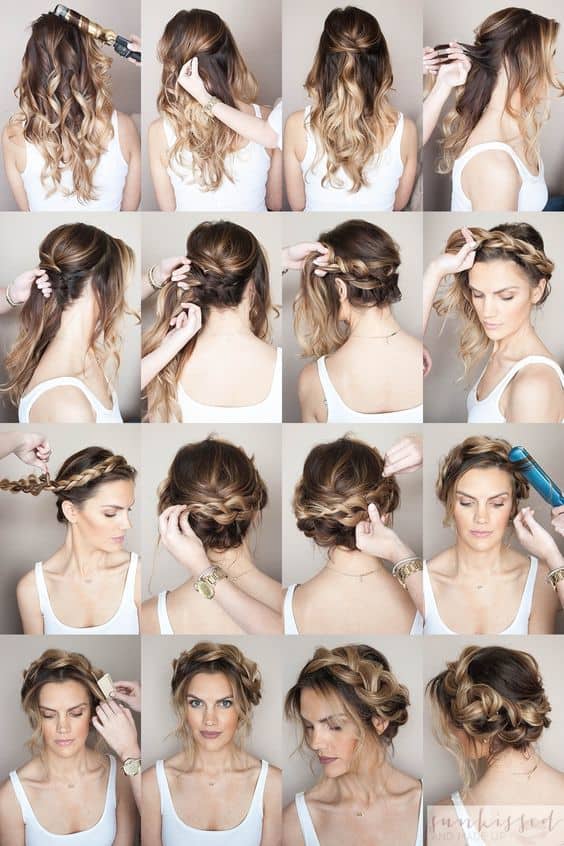 Halo Crown Braid is one of the best braid types with weaves. It's the last minute hair style and takes minimum time and effort. All you just need to do is to properly set and pin up the braid.
How to Style:
Make waves of the hair or leave them straight
Sprinkle some glitter on the braid
Make braid to the remaining hair
2. African Hair Braid
Growing African hair is difficult but making a hairstyle of such hair is really a tough job. Curly hair shrinks and gives a small hair look. A braid with weave option has solved this issue. Separate the hair from the center of your head and add weaves on the both sides. Make two braids separately and join the both braids in such a way that they make a crown at your forehead.
How to Style:
Leave flicks from both sides
Add beads on the braids
Apply narrow line of glitters on braid
3. Central Fish Pony Tail With Weave and Braid
Get a vibrant look with central ponytail even if you don't have appalling hair. Pick some hairs from the both sides and tie a knot with the weaves. Make braids from these hairs and loose it a bit.
How to Style:
Make semi-curls of the remaining hair
Best hairstyle for dye hair
4. Long Side Braid with Weaves
It's the most simple and classic hairstyle that gets ready in less than 3 minutes. Just Attach the under the layer of the weave with your own hair and make a simple side braid.
How to Style:
Put on a hair band on your head
Attach delicate flowers
Most Popular French Braids to Try
5. Braid with Loose Bun
Amaze everyone with your feminine looks and make loose bun hairstyle for the party. Attach weaves with your hair with the help of rubber bands and make four braids separately. Loosen them a bit with your hands and make a bun from them.
How to Style:
Add colored beads
Leave a flick and sprinkle glitters
Beautiful Princess Braid Hairstyles
Enjoy celebrities like looks in every party with different types of braids with weaves. Add value to your personality and amaze everyone with your dazzling hairstyle.