Drope fade haircuts are conquering the men's fashion world. There are so many of them out there, that you can lose count. The popularity of fades like drop fade is growing and the new variations are coming to light.
Initially, there were just two types of fades: skin and shadow. A skin fade implied some completely shaved area as a starting point of a haircut. The shadow fade starts with some hair on the sides and then grows into a longer fade. So which one is the drop fade haircut?
What is Drop Fade Haircut
A drop fade is one of the many variations of the skin fade. In fact, the skin part is what gives it its name. The main feature of a drop fade is that the hairstyle 'drops' behind the ear, creating a nice and neat arc which is appealing to many men.
Drop fade haircuts come in all shapes and sizes. They vary in the layer and the top part length. The drop fade on the sides doesn't limit you to a certain type of hairstyle. The longer you grow the hair on top, the more options you have to work with. Drop fades can be high, medium, and low.
It's possible to create such a haircut for men with all hair types. It looks great on thin and brittle hair as well as on thick and curly locks.
The main advantage of the drop fade haircut is low maintenance. Besides keeping the hair on the sides short, the back is also trimmed. Depending on how low you decide to go with a drop fade haircut, your barber appointment frequency will decrease.
The Best Drop Fades for Men
When you go to the barbershop, you might face a stylist that has a very vague understanding of what a drop fade is. You'll need to explain that you need the hair behind your ears to drop down in an arc.
In order to make sure you get what you are looking for, we recommend you to show your stylist one of the below 7 drop fade styles before getting into the chair.
1. Low drop fade undercut
This is a classic example of a low drop fade undercut for men with thin and straight hair. The skin part of a fade starts right above the ear and drops right behind it to create a neat arc.
The next fade layer is about half an inch long. The top part of this fade can be as long as you wish, but we prefer it to be long enough to create a stylish comb over as you can see in the photo.
2. Medium drop fade with high-maintenance top
This is a great medium drop fade haircut for men who are looking for something hassle-free on the sides but are ready to spend a few minutes a day on the top part.
The skin layer of this drop fade is about 3 inches wide while the top part is about 3-4 inches long. The long hair on top needs some maintenance on a daily basis and makes this fade more fashionable.
3. Fohawk drop fade
Drop fade haircut is often used to be a part of a fohawk. The farther the hair drops behind the ear, the more mohawk-like style is created.
Here you can see a medium fade hairstyle coupled with long and curly hair on top that creates a great mohawk without exposing too much skin. This is a great choice for men with thick and curly locks.
4. High drop fade with ocean waves
Ocean waves are a perfect way to style the top part of your drop fade. In order for the ocean waves to make the best impression, you need to use a high drop fade.
The skin should be exposed as much as possible to create a contrast with the top ocean waves. The only downside of this style is that not everyone can create these waves on their own since they require special styling tools.
5. High and layered drop fade
This is another classic approach to a drop fade. It's a good choice for men with thick and straight hair. The layers on top slowly turn into the faded layers on the sides.
The fade drops behind the ears and goes to the back. This is a high fade that is very close to an undercut. It's a great solution for guys who hate it when the hair gets into their faces.
6. Medium shaped-up drop fade
The fans of high hair and shaped-up drop fade will appreciate this drop fade haircut. It's created to take care of the hair on the sides and the bottom while keeping the top high and neat.
Usually, such high hair looks great with all fade levels, including high and low. We believe that the medium option is the most attractive, especially for black men with unruly hair.
7. High drop fade with shaved back
A high drop fade is exactly what you need to feel free and forget about heavy-duty maintenance. This drop fade haircut takes this approach one step further by shaving the back.
The more hair you take off, the more time you'll have until the next barbershop appointment. Don't hesitate to ask the stylist for the shaved back. The drop fade haircut looks perfect with it.
8. Drop Fade Wavy Haircut with Beard
It looks messy but it is an elegant hairstyle. The drop fade haircut makes a stunning combo with wavy hair creating a perfect motion. The beard along with drop hair adds styles and balance to the entire look.
9. Drop Fade Blowout
If you love blown-out hairstyles, then this one is definitely for you. The hair in this style is teased and brushed into a sleek finish while the drop fade focuses on an epic blow-dry.
10. Curly French Crop Along with Drop Fade
Wavy or curly hair are best for drop fade haircuts. They add a perfect definition along with a stunning contrast to the messy hair over the top.
11. Drop Fade with Long On Top and Beard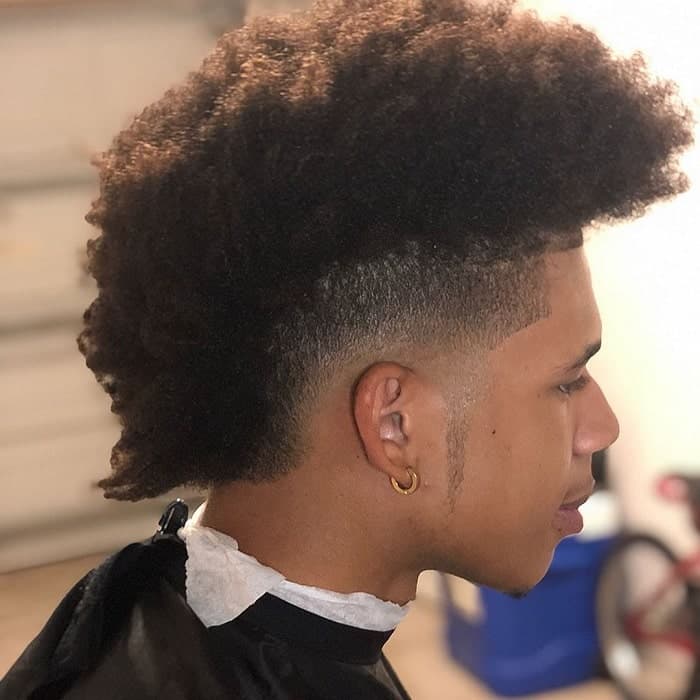 It's a head-turning drop fade with a perfect parting over the side and blended, layered top over the back. The gradual drop fade blends well with the beard and hairline offering a seamless look.
12. Thin Drop Fade with Pompadour
A perfectly finished pompadour and a classical drop fade offer a trendy twist to the entire elegant look. Variations of pompadours work well with thinner hair as well. Balance is extremely important for this cut in order to maintain the uniqueness of this hairstyle.
For a messy look, try this casual hairstyle with a shorter elephant trunk.
It is a unique hairstyle where the stunning peak is built with two sides meeting the top. The shaved lines on both sides add a fabulous depth to the entire look.
15. Low Drop Fade with Pompadour
It has a shiny finish with a unique look. It is a contemporary hairstyle as most pompadours are matte in look.
The combination of disconnected and faux hawk hairstyle offers an edgy and stylish look. This hairstyle has a perfect attitude.
This is a classic men's hairstyle that is a stunning updated version for people who love the combination of new and old hairstyles.
18. Low Drop Fade
The fade offers a sleek finish with gradually, blended and faded sides. It's perfect for men who have medium length and thick hair. It works well for those who need perfectly treated sides and the bottom of the hair while neatly done top. High hair looks great with a low drop fade.
19. Side Undercut with Drop Fade
If asymmetrical hairstyles are your favorite then this haircut is your ideal choice. In this haircut, there is a slight undercut that builds over the long fringe hanging on one side.
20. Drop Fade Faux Hawk
Fauxhawk with the dyed hair is the perfect combo. This hairstyle involves a perfect fade that strategically goes down, drawing the attention of the viewers over the colored top.
21. Side Shaved Drop Fade
Shaved designs on sides are trending these days. It shows the creative approach that you look at offering you an edgy look.
22. Angular Drop Fade
This hairstyle offers a unique twist to the entire drop fade haircut. All the hair in this style is taken to the back after which they drop down in a straight line.
23. Pompadour + Layer + Drop Fade
The matte pompadour with the hard part gives a subtle touch to your hair. It enhances the definition of your hairstyle with a perfect touch.
24. Faded Haircut And Tapered Neckline
This hairstyle is perfect for people with matte and curly hair. The tapered neckline along with the drop fade hairstyle gives a fuller look to the hair even if the hair is short enough.
This hairstyle has spiked with a casual type of faux hawk. The disconnected undercuts on the side give a perfect look to the faux hawk.
The dyed part of the drop fade looks very stylish with tapered hair on the back.
27. Drop Fade with Afro Undercut
This style looks perfect for men with curly hair. It gives an edgy look to the entire hairstyle with afro undercut on one side.
This hairstyle with drop fade on one side offers a sleek finish to the entire look. To add a stunning look to the entire haircut, the side-parted quiff is added.
29. Drop Fade with Messy Quiff And A Sideline
The drop fade hairstyle with messy quiff is very trendy and gives a stylish look to an individual. It is the perfect choice for people who love an edgy look.
30. Drop Fade with Short Chopped Hair
It goes well for people going to college or university. It is also one of the preferred choices for men who love short hair with a simple, minimalistic look.
31. Long Drop Fade
This fade is easy to handle hairstyle with a modern twist. In this haircut, the barber just needs to taper it around your ears and tone down the volume of hair giving you an edgy look.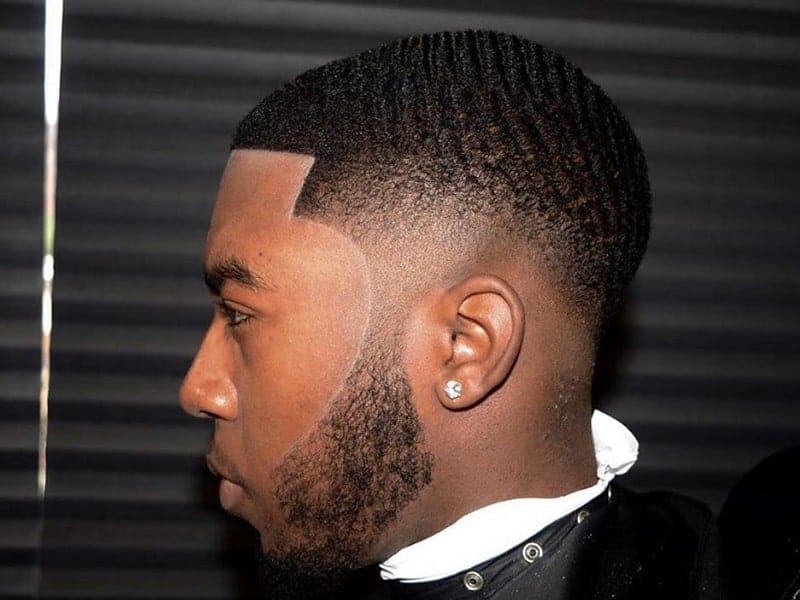 Waves on top of your hairstyle offer the best impression to your drop fade look. The skin on the sides us exposed to create a perfect balance of the ocean waves and drop fade. However, you can only style the waves if you have proper styling tools.
This haircut gives you a seamless look with a perfectly shaved beard. The sweep back style offers a sleek finish that you can carry to your office, outdoors or any other events.
If you have curly hair, then this hairstyle is definitely for you. Have a long beard with sides' shaved and curly hair on top with drop fade giving you a stylish look for the eve!
35. Short Curls And Drop Fade
If you have curly hair and you prefer keeping them short, then go for drop fade with short curls on top and a perfectly done shave by the barber.
36. Edge Up, Long Afro with Low Skin Fade
If you have curly afro hair, go for this low skin fade haircut which will definitely suit you. The edge up design with long afro enhances your entire look.
37. Drop Fade Hairstyle with A Textured Top
Additional layers over the top of your hair along with drop fade haircut gives your look a seamless finish. It is not one of the high-maintenance hairstyles but you'll need perfect hair styling gels for carrying this look.
38. Fringe Along with Drop Fade
If you plan on putting yourself in the spotlight then go for this trendy hairstyle. The fringe that hangs loosely with a perfectly cut drop fade hairstyle gives you a relaxed and chilled look.
39. Flat Top And Drop Fade
Shape up your drop fade hairstyle with a flat top that reminds you of 90's look. If your hair is thin, this hairstyle will give you more volume with a dense look.
40. Undercut Which Is Side Swept And Drop Fade
If you are in love with asymmetrical hairstyles, then side swept is one of the excellent hair choices for you. This hairstyle has a simple undercut with a fringe hanging on one side.
41. Irregular Top Mid Fade
This hairstyle is for those who love splendid appearance with a stunning look in public.
42. Furious Type Low Drop Fade
If you want an extremely astonishing look then go for this hairstyle. It gives you a stunning look with a furious edgy appearance.
43. Drop Fade with Undercut And Pompadour
Undercuts on the side with an epic styled pompadour on top is perfect for those who can carry such high-maintenance styles.
This haircut needs a perfect gel to style down the hair and make them look tame. You can carry this haircut easily for office, evening parties on weekends and everything in between. You need a blow-dry with a hairspray to get them properly in a finished look.
44. Line Up Low Fade for Short Curly Haired Men
Don't worry, you can definitely get drop fade hairstyle even if you have short and curly hair. This line up low fade haircut is perfect for you.
Some High Drop Fade Haircuts Are Worth to Try for
When it comes to fade haircuts, you often can't go wrong. If you are tired of the classics, you'll be glad to know that drop fade hairstyles are offering you a brand new world of fashionable images. By allowing the fade to drop behind your ears, you are making a regular hairstyle neater and more impressive.