In the year 2022, we couldn't be more excited to see amazing, creative pastel ombre hair replace the classical, plain blonde ombre looks.
How to Do Pastel Ombre
Step 1: Start by deciding which colors you want your pastel ombre to be. Keep in mind that for this technique to work, the ends of your hair must be bleached beforehand.
Step 2: Mix the colors you want your ombre hairstyle to be in separate bowls. If you want the top of your hair to be left blonde as it is, then dye only the section of the tips.
Step 3: Take an inch of hair on each side and pin it on the top of your head.
Step 4: Use the first color to dye your hair, starting from the lower section at the back of your hair from the roots to where you want the second color to start. Continue all the way around the back of your head.
Step 5: Before starting to apply the second color, make sure you use clean gloves.
Step 6: Apply the second color to the lengths and ends.
Step 7: Smudge your hair gently where the two colors meet in the middle.
Step 8: Take down the pinned section and apply the first color. That way the colors will blend better.
Step 9: Wait for a few minutes and rinse the color off.
Watch The Following Video to Learn How to Get Pastel Purple Ombre Hair
Mermaid Ombre vs. Rainbow Ombre
Both of these hairstyles are very bold and popular among girls. The biggest difference between these two techniques are the color palettes and hair sectioning. The most frequently used shades for a mermaid hair ombre are greens, blues, and purples that are applied in such a way that they create 2 or 3 horizontal sections on the hairstyle. With a rainbow ombre, it is important to add at least one warm color, such as yellow, and the sections are vertical to achieve the proper ombre effect.
Mesmerizing Pastel Ombre Hairstyles
Following are the trendiest pastel ombre ideas that our experts have carefully handpicked for you to explore.
If it is your first time trying a pastel ombre hairdo and you're still not sure if you're going to like it, you can always go for a safer option where the color of the ombre would blend with the natural color of your hair. For example, if you have cool-toned brown hair, you can try a dark grey ashy hair ombre.
Bleach the tips of your hair just like you would for a blonde ombre. When adding the gray toner, add it randomly to different strands so that it would stay longer on some parts than on others. That way you will get natural highlighted ombre that blends into your hair.
2. Strawberry Pink Pastel Ombre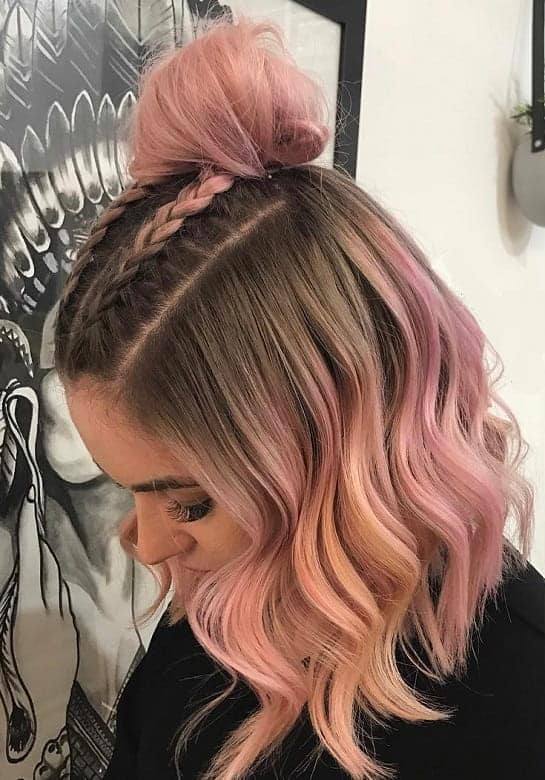 A gentle shade such as strawberry pink can look great and elegant even on brides on their wedding day. Use a toner to tone your ombre into strawberry pink. Then create a messy topknot that would emphasize the texture of your ombre. If you want it to be even more decorative, use an elegant hair accessory.
A great way to enhance the typically dull tips on bleached white hair is to do an ombre in a pastel color. Apply the baby pink dye to the ends of your white hair. If your hair is really long, curl the ends ever so gently to enhance the texture of the ombre.
A rose pastel pink ombre that starts with black roots mixed with deep purple highlights in the middle and ending with pastel lilac ends is absolutely mesmerizing. If you have black hair, add deep purple highlights to it. Then bleach the roots and tone them into a nice lilac color.
Being original and playful when it comes to your hairstyle really doesn't require as much effort as you would have thought. For example, this pastel ombre hair is not that hard to achieve on brown hair, and it blends so nicely.
If you want to mix soft colors such as pastel pink ombre with brown or black hair, it is important that you use an ashy pink color so that it would blend well with the rest.
Here's a slightly more daring version of an ombre hair with pastel colors. Use turquoise toner to turn your dull white ends into bright blue pastel ones. Style the hair into long beach weaves.
7. Pastel Green Ombre on Gray Hair
If you are a lover of cool gray and blue tones, you'll be amazed by this gray-blue pastel ombre hairstyle. Use bleach through the whole hair but leave it longer on the ends. The base doesn't have to be as light to achieve the gray hair shade on the top, but it does have to be as blonde as possible to tone it into the beautiful ashy blue on the ends.
If executed well, bright and pastel colors can be a great mix. For this hairstyle, your hair needs to be completely bleached. Use an electric, bright purple for the top part and a rose gold ombre for the ends, which will create this gorgeous pastel pink ombre look.
9. Ashy Blue Ombre
A dark and cool option is something that you really can't go wrong with. Dye the top part of your hair into a dark gray color, then tone the ombre into silver blue hair color that is only a few shades lighter than the top part. The ombre will fully come through if you style your hair into gentle waves.
This color combination of ash and pastel pink hair looks so great. But overall, even if you're going with different colors, you can always use this technique if you're not sure that it will turn out well, just so that you don't damage a bigger portion of your hair with excessive bleaching. This ombre with pastel pink shade covers only a small portion of the hair. Once you've bleached that portion, dye it into baby pink.
11. Lilac Ombre
A platinum bob is something we're all crazy for. A lilac twist can only make it look better. To enhance your white bob hairstyle, use a pastel lilac hair color on the ends to create this gorgeous lilac ombre.
A dream for all the pink hair lovers. Tone the roots of your hair into this bright ashy pink color and tone the ends just for a few moments, to get this light pink pastel ombre style.
A rainbow ombre doesn't have to look as crazy as it sounds. It can actually be really subtle and romantic. For a rainbow inspired pastel ombre hair look like this one, your ombre will actually consist of highlights in different pastel colors that don't start from the roots of your hair but instead only cover the tips of your hair.
This ombre is pastel and bright at the same time, and we're here for it. A turquoise pastel shade ombre works the same on black hair as it did on the white hair above.
Another safer option that blends well with natural, black hair is a pastel purple shade that also doesn't require bleaching your ends to the extreme. You don't have to bleach the ends all the way through. You can bleach them just enough to apply this pastel shade successfully.
The beauty of the pastel ombre hair is pretty underrated, but these 15 hairstyles are calling for your attention, and you should definitely try at least one of them.