Pixies have been popular for a long time. Hairstylists have come up with different interesting varieties. One of them is a long pixie hairstyle. Everyone knows that pixie means short. However, there ways to keep a pixie intact while adding some length. If you are tired of a short hairstyle, a long pixie can be your way out. Consider browsing different pixie hairstyles to find the long one which suits your taste.
Glamorous Long Pixie Hairstyles You Can Try
Long pixie hairstyles are an amazing way to diversify your style. Cutting your hair short is very fashionable, but sometimes you want to add some length. A long pixie will give you a chance to try out this amazing combination. In most cases bangs are made to make a pixie longer. Such hairstyle is middle ground between a pixie and a bob. However, bobs usually require more care than pixies, so the latter is a more worry free choice. Take a look at 10 long pixies we picked out for you to consider.
1. Volume on top
The length of this pixie is concentrated on the top part. Volume is created by making layers and giving the hair some texture. Long blunt bangs add some visual length, while the rest of the hairstyle look amazingly fashionable.
50 gorgeous short & long pixie haircuts
2. Pixie Haircut with Long bangs
This pixie is elongated by the bangs. In fact, this is the most popular way to make a long pixie. Wispy bangs are added to reach the middle of your ears. The fringe is side swept to avoid getting into your eyes.
3. Wavy strands
This long pixie haircut reminds a little of a bob. However it has a pixie shape and the length is achieved by adding wavy strands in the back. The fringe is also rather long to create an impression of a longer hairstyle.
4. Hair extensions
The easiest way to make a long pixie is to add hair extensions. Separating thin strands on each side of your head is a great way to create a fashionable asymmetrical hairstyle, which is bound to be unique in your neighborhood.
5. Side swept fringe
A long fringe is a worry free way to make your pixie longer. Grow your fringe as long as possible and side sweep it to create a sophisticated hairstyle which will fit a woman of any age or profession.
6. Messy and textured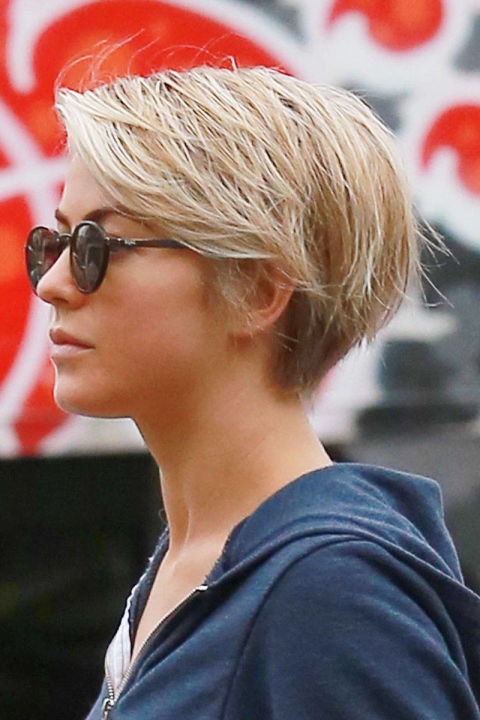 Messy styles are a great way to elongate your pixie. The volume on top is created due to textured long strands. Long fringe is swept side ways to create an impression of a crest on top. Make sure not to overdo the length. Otherwise a pixie will quickly turn into a bob.
7. Voluminous bangs
Another creative way to elongate your short pixie is voluminous bangs. Volume is created with the hep of some gel and a hair dryer. If you don't want to bother with long procedures, you can turn this fringe into regular straight side swept bangs.
8. Over the ears
This glamorous long pixie hairstyle is created by arranging strands in front and behind the ears. This pixie is perfect for women with fine hair. It looks very neat and doesn't require too much maintenance.
9. Brush them over
This stylish long pixie cut hairstyle is created by brushing the hair against the growth direction to make long side swept bangs. The longer the fringe, the more fashionable this hairstyle will look.
10. Eye-covering bangs
This sexy style is achieved by growing long eye covering bangs. This hairstyle is closer to the bob than a pixie, however, it is rather short in the back, so it is still considered such. No matter what you call it, it creates an amazing look!
We hope we gave you some useful assistance with making a choice. Browsing options is always a great help. So, take some time to contemplate your new haircut. Long pixies are in style! So give one a try.