When it comes to mohawks, not all women are ready to go for such a bold hairstyle. That's why hairstylists came up with an innovative new hairstyle called 'Mohawk braids'.
Most of the time, this hairstyle doesn't require you to shave off any hair or even cut it short. The part that is usually bold is braided instead. The effect that you get is almost the same as you would have with shaving.
The braided hair looks short and outlines the rest of the tresses. Usually, people go for making cornrows since they are very tight and give a good short impression. However, there are many ways to try mohawk hairstyles with braids.
Popular Mohawk Braids to Try
Mohawk hairstyles with braids are a great idea for women who are not ready to get rid of their hair but still want a Mohawk. They come in all shapes and sizes and can often be done on your own.
However, it is recommended to ask for a stylist's assistance when it comes to making cornrows. A braided mohawk is not necessarily a "safe" style. Some people are bold enough to go for shaving the sides and then braiding the top part. In any case, these hairstyles are worth browsing.
Take a look at the below 41 interesting mohawk braids we really love.
1. Blond and crazy
If you want a really stunning Mohawk, you can use a weave for the top braided part. Make regularly reversed braids on the sides and gather the ends on top. Then attach the hair extensions.
Wild & Fashionable Mohawk Hairstyles for Black Women
2. Go overboard
Make the best mohawk braids by starting with cornrows on the sides and going further to braid the top part. The more braids there are, the more fun the Mohawk is.
3. Natural Mohawk Braids
Express your feelings with this natural Mohawk. Make cornrows on the sides and leave the rest of the hair straight. Pump up the volume on top with some hair gel and you are done.
Short Spiky Hairstyles for Women
This example of a cornrow masterpiece is a great place to start when you want something different. You won't be able to create this on your own to ask for professional help.
5. The real deal
If you are going for a braided Mohawk, don't be afraid to go all out. Start with braiding the sides and then go further by arranging the cornrows on your head to create a Mohawk impression.
6. Braided top
This is an option for those who are not afraid of real mohawks that are tired of the way they look. Braid the sides of the top part of your mane to make a great impression.
7. Mohawk With Braided Sides
If you already shaved part of your head but don't want to go further, you can make simple braids on the sides of the top part of your Mohawk. They will look very interesting.
8. Mohawk Braids on Long Hair
Make an amazing braided Mohawk making cornrows on the sides, a beehive on top and letting your hair fall down your neck. You will definitely stand out of the crowd.
9. Multi-storied Braided Mohawk
When you are going all out with the braid, consider getting some fun accessories. Rings and artificial nails will look great asymmetrically stuck in your locks.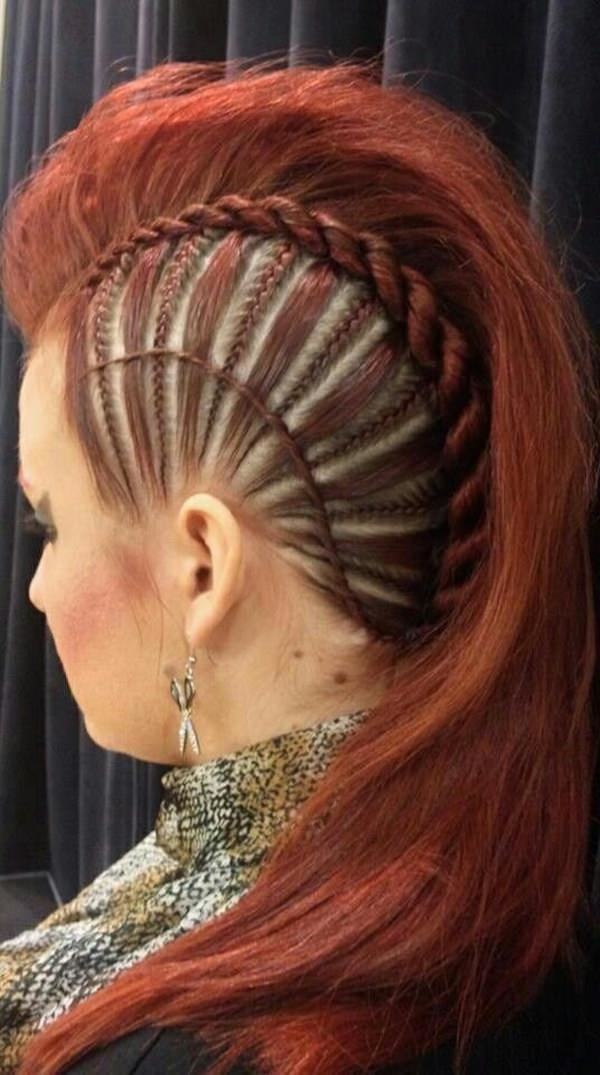 When you do cornrows on the sides of your braided Mohawk, consider alternating braids with strands of hair. This way you will create a unique hairstyle that is hard to overlook.
11. Spike +Braids + Mohawk
Spike up your Mohawk with the help of braids on the sides. You will need a lot of patience and hair gel. Don't be afraid of experiments. This Mohawk will allow you to make a real statement.
12. Fun Braided Mohawk Like Bun
Shave the sides as you would for a Mohawk and then go crazy with box braids to make an amazing braided bun on top. You can use a weave to achieve the most voluminous results.
Braid Hairstyles for Black Women
13. Wavy Mohawk + Braids
It's not necessary to make cornrows for the Mohawk to look its best. You can braid the top part your favorite way and it will definitely look amazing.
No need to shave or even braid the sides in order to get a fantastic Mohawk (Mohawk braids with shaved sides). A simple braid with the well spiked up top part will create an extravagant Mohawk for any woman who is not afraid of it.
15. Low braids
This braided Mohawk differs from a regular one by braided ends. Don't cut your hair too short for a Mohawk. Leave some locks in the back to make long and impressive braids.
16. Long and straight Mohawk
Make real Mohawk by shaving the sides and then straighten out the hair on top if needed. Start by making small braids on the bottom and perhaps you'll go further by braiding the whole thing.
17. Burgundy Mohawk With Braids
Become a real queen of the dance floor with burgundy hair color. This long and amazing Mohawk is easily created by making cornrows on the sides and fluffing up the locks on your head.
18. Mohawk Design + Braids
You can combine two styles by making ocean waves on your sides when trying to create a braided Mohawk. The results can exceed all expectations.
19. Reversed French mohawk
If you are tired of your simple Mohawk, experiment with different braids. A reversed French mohawk braid is a great choice to change your wild impression for a subtler one.
20. Mohawk + Braid Designs
A real professional can create amazing braid designs on the side of your braided Mohawk. Don't be afraid to let his imagination run wild. You'll love the results.
Don't stop with making cornrows on just one side. A cool braided mohawk can be done by braiding the locks all around your head and leaving just the top part hanging down freely.
22. Crimped Mohawk Hair with Braids
If you want to look different, then you might as well get your styling rod and style your top hair into a mohawk hairstyle with braids. Take the hair from the side and knit them into cornrows.
Style those cornrows with metal rings for a punk look. To upgrade your style, knit the lower half hair into three-strands box braids.
To look your best, style your hair by cutting them into mohawk hairstyle and then styling them by weaving a French braid that swings down to fall on your back. Add an undercut to the sides to complete the look.
If you like colored hair, then get your hair dyed a turquoise shade. Style your top hair by taking a wide strip of hair and then weaving them into a French braid. Tie the remainder hair into a low ponytail and connect the side hair with it for a clean look.
Ask your stylist to dye your hair and give them a brown ombre hairstyle. Once you are done with the hair color, take the top hair and tie them into a French mohawk braid. Tie rest of the hair into a half ponytail and let loose the other half hair on your shoulders.
If you want to look trendy and stylish, ask your stylist to take all of your hair and braid them into a thick merged braided mohawk. Knit the side hair into cornrows connecting with the thick merged braid. This hairstyle is perfect for afro hair with their unique texture and thick volume.
This is definitely an ideal look for you if you want something different for yourself. To get this look, take all of your hair and bring them towards the mid. Now, roll the midsection hair into multiple messy buns in a row and secure them with pins. You are going to rock this look for sure.
28. Knotted French Braid with Low Fade
If you want a super exquisite hairstyle, divide your top hair into multiple sections and then braid them all. Now, take the braids and weave them into a single thick French braid starting from the frontline and ending at the tips of the hair.
For the remaining hair on the sides and at the back, trim them low to the skin for a low fade hairstyle.
29. High Raised Golden-brown Bun with Cornrows
Dye your hair a golden-brown shade, leaving roots black. Next, knit all of your hair into cornrows and then twist them together and bring them up for a high raised mohawk braid bun.
For a super trendy hairstyle, go with thick curly Mohawk with cornrow braids. Ask your stylist to take your top hair and twist them into thick Mohawk curls that are then styled into a Mohawk hairstyle. Next, take your side hair and weave them into cornrows connecting with the Mohawk curls.
31. Triple Rainbow Braided Mohawk
Everyone loves a rainbow and if you do too, partially dye your hair into rainbow colors and weave them into merged triple rainbow Mohawk braid style. Take the remaining hair and style them into french side plaits for a cool look.
If you want to look trendy, it is time that you style your hair into a French braided mohawk. This hairstyle will make you look super elegant without a lot of fuss. All you got to do is secure your hair at one place and weave them into a Mohawk braid, leaving no tips astray.
33. Merged Multiple Blonde Braids
If you have got blonde hair, then we suggest that you opt for merged multiple blonde braids. Take all of your hair and raise them at the tip of your head. Next, weave your hair into numerous braids and give them the shape of the single merged braid.
34. Kinky Mohawk Curls with Punk Cornrows
To look as punk as you can, style your braids hair by turning them into kinky Mohawk curls. Now, take the side hair and turn them into stylish alternating cornrows for a punk style. That's all that you need to do for this hairstyle.
35. Blue Mohawk Braids
If you are a fan of dyed hair, but you also want a Mohawk hairstyle with braids, dye your hair in blue shade and twist them into a Mohawk.
With blonde hair black roots, you already have tons of style. But if you want more style then take your side hair and weave them into cornrows. Stretch the top cornrow into thick double braids for added awesomeness.
Multiple braids are the best thing ever. So, braid all of your hair into thin multiple braids and use some styling products to secure your top braids into a Mohawk style. Take the side hair and knit them into cornrows connecting with the braided Mohawk.
To get a unique hairstyle, take the middle hair and style them into a pull-through braid going all the way to the nape. Grab the side hair and weave them into a French plait. You are going to look absolutely beautiful with this hairstyle.
39. Braid Bun with Undercut and Headband
For a two-in-one hairstyle, take your top hair and twist them into a Mohawk braided bun. Ask your stylist to give your side and back hair an undercut. Style this hairstyle with a beautiful headband to complete the look.
40. Neat Cornrows
If you want perfect afro hair, weave all your hair into braids and style them into a Mohawk. Take the side hair and use some gel to part them neatly. Now, knit those her into cornrows connecting with the Mohawk style.
Ginger heads, use a styling rod to crimp your ginger hair. Grab the midsection of your hair and weave them into a thick Mohawk braid. Knit French plaits with the side hair. Next, connect the Mohawk and French plaits to a plain three-strands braid for a classy look.
Watch the below video tutorial on mohawk braided top knot style:
If you have found a mohawk braids hairstyle you really love, don't wait. Go to your hairstylist and show him/her the photo. The faster you make your dream come true, the more fun you will have with your new look.