Highlights have the power to give your hair a total makeover. They give hair an interesting color dimension and can even make fine hair look thicker. For this reason, girls of all hair types and hair lengths turn to highlights to jazz up their locks. Highlights can be done on any hair color, including black, blonde and brown. This post is ideal for those lucky women with dark brown hair who want to try light brown highlights.
Dark brown hair, caramel, honey or other light brown highlights are best for providing a gradual and cohesive color contrast that works well with any skin tone to jazz up your hair. These light brown highlights can be done at your local salons in a variety of styles – they can be a few random pops of color or a full-head highlight job depending on your desired look.
Popular Light Brown Highlights On Dark Brown Hair
Light brown highlights have been widely popular for many years because of their classic look. For those who aren't as daring to try more colorful highlights like red, purple or even blue; light brown highlights are a toned-down alternative that is just as attractive and require less upkeep.
They go well with virtually any skin tone, hair length and hair type. What's more, they're suitable for both casual and professional environments, unlike other colors.
When getting light brown highlights, here are a few things to keep in mind:
Light brown highlights are perfect for making brown or hazel eyes pop and stand out.
Well-placed highlights can add the perfect amount of dimension and 'pizazz' to your dark brown hair.
Your highlights don't have to start at the crown of your head. Random highlights throughout your strands are often much more appealing, and you won't have to worry about what happens when your roots grow out!
After you've gotten your highlights done, you may be at a loss as to how to style your new hair – but don't fear. To take your personal style and look even further, here are a few ideas on how to find the very best ways to showcase your beautiful light brown highlights. Switch up your hairstyle arsenal to make all heads turn with these hairstyles for dark brown hair with light brown highlights.
#1: The half-braided 'do
This hairstyle combines a braid with a free mane to make a creative, eye-catching hairstyle. The braid can be done in any style that you want, including fishtail, and works extremely well with your light brown highlights to complement your hair perfectly.
Depending on the pattern of your highlights, light brown and dark brown sections of your hair are interwoven with each other to create little pops of color throughout your braid.
Brown Hairstyles With Caramel Highlights
To achieve this style, simply divide your hair into an upper and lower section. Secure the lower section with a hair tie to keep it out of the way. Then, braid the upper section in your preferred style, securing the end of the braid with a hair tie as well to keep it from unraveling.
Pull at sections of the braid to loosen it and give it a more effortless and natural look, then release the lower section of hair and brush it through once or twice. It's that simple! A few steps and you've recreated this simple, artistic hairstyle.
#2: Honey-highlighted bob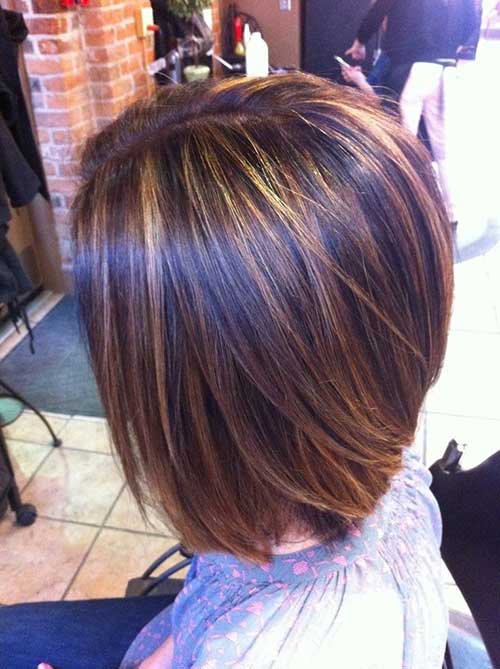 This style is a super-powered version of the highly popular bob. Bobs are chic and cute on their own, but simply adding a few light brown highlights to your dark brown bob can elevate it to a different level. The highlights in the hair catch the light and seem to almost glow, while simultaneously making your hair appear fuller and lighter.
When styling your bob, you can simply brush or comb it back into neatness every morning or, if you like a more tousled style, you can run your fingers through it and be out the door. This style is therefore not only easy on the eyes, but also on your time and schedule!
#3: Highlighted waves
These waves are a stunning mix of dark and light, and are perfect for a sunny day where your hair can reflect that light with brilliance, but definitely look amazing in any light. Perfectly blended, these highlighted waves show your hair's length and thickness and are sure to gain you stares everywhere you go, whether it's to the mall, to school or out with the girls.
This hairstyle seems as effortless as they come, but requires some technique to get the perfect results. If you already have wavy or slightly curly hair, this look should be a breeze for you, but straight-haired girls have a bit more effort to put out in order to reap this outcome.
Thankfully, there are a number of simple curling methods that you can try. Aside from the trusty curl wand or curling iron, you can experiment with flexi rods, perm rods, foil, straws and even bubble wrap!
Each of these produces curls of a different shape, so experiment with a few on different parts of your hair before you fully commit to one. For elongated waves like these, loosely wrapping your hair with big flexi rods may be the ideal choice.
#4: Braided pony with a twist
You may be quite used to the idea of a fishtail, Dutch or French braid on your hair, but this style may be a bit new to you. This braided style starts off as a typical braid, but instead of braiding all the way down to the end and securing it there, you stop braiding about 1/3 of the way from your ends and secure the braid, leaving the last ends of your hair loose.
With this style, you not only have a chance to show off your complex hairstyling skills, but you give your highlights the chance to shine as well. Little pops of light brown weave in and out of your dark hair's braid all the way down to the end, where they fall loose and mingle with the rest of your natural hair color in a simple but stylish way.
#5: Multi-toned braided bun
This hairstyle adds some spice to the typical bun with a braid thrown into the mix. With this style, your highlights take the spotlight. Whether you rock this bun messy or more elegant, your highlights are sure to enhance the look of your style with a pop of light brown in all the right places.
Whether you have a few highlights or a lot as shown in the photo above, they're sure to add just the right amount of depth to your style, taking it from typical to thrilling!
To recreate this style on your own hair, select two small portions of hair from both sides of your head, right above your ears. Create a loose braid on both sides, and then secure the ends with a rubber band. Gather the rest of your hair, starting at the top of your head, and pull it into a loose, messy bun.
Now, take the two braids that you made and pull them around the back of your head, crossing them over each other above your bun. Pin them in place using bobby pins, and use more bobby pins to tuck any stray pieces of hair into place. Voila! You now have a chic style that's perfect for a casual or formal setting.
#6: Sleek, straight strands
Wearing straight hair is one of the most carefree feelings that exist. If you have textured hair, you probably love to flat-iron your hair for a little versatility, and if your hair is naturally straight, leaving your hair free and in its natural state may be one of your go-to styles for convenience.
If you have light brown highlights, however, this style becomes more than just a lazy style. Your hair becomes a sleek sheet of silk, light and voluminous. When it moves in the wind, your highlights stand out brilliantly against the rest of your hair, and it's a sight to behold.
For the ultimate sleek look to bring out your highlights, flat iron your hair until it's as straight as possible. Use an anti-humidity styler to prevent your hair from frizzing up and swelling to get the most out of this jaw-dropping hairstyle that's perfect to wear to any event.
#7: Elegant updo
If it's prom season or you just need to doll it up for a formal event, this updo can be your best friend. Updos are always a great choice if you're going for a more sophisticated look, and an updo that's complete with flattering highlights can be the perfect finishing touch to your formal look.
With this style, your hair is sculpted into an intricate hairstyle that combines your natural dark brown color and your light brown highlights for a flawless result.
This style may a bit too difficult for you to do yourself unless you're really skilled with your hands, so it's best if you go to a salon, especially if you want to make an impact at your prom or wedding. Most hair stylists know how to work well with different hair types but make sure that you go to a trusted stylist who knows how to make your hair's highlights work with the rest of your hair to make you look and feel your very best.
Having highlights to jazz up your dark brown hair can be a definite step in the direction of self-confidence and style. With these 20 hairstyles added to your list of tried and true looks, you'll soon be feeling even more confident and enjoying the compliments and looks that come your way.