Pixie cut was adopted by many leading ladies of Hollywood and girls and women across the globe. We love pixie cut with long bangs as well for its simplicity and romantic side. In this post, you're going to see eleven pixie hairstyles with long bangs.
How to Cut A Pixie with Long Bangs
While pixie cuts are adorable, it's not that easy to cut them on your own. A tiny mistake can affect the shape and texture which can lead to the look you don't really want.
However, if you want to do pixie haircut with bangs or you're wondering how to cut it the first step is to divide hair into sections with diagonal parting so that the pixie gets its signature shape in the end. Repeat the same process on both sides of the head making sure hair is cut in layers so that pixie has its well-known elevation.
When you're done with the back and the sides move to the section you defined on the top of your head and work to cut it in layers that will drag the weight to the front and act as long bangs. Your hairdresser can give you the ideal type of pixie cut and shape of long bangs for your face shape, hair type, and personal likes or dislikes.
Watch The Following Video to Learn How to Cut Pixie Cut with Long Bangs in A Modern Way
Best Pixie Cuts with Long Bangs
Have you ever had a pixie cut before? If not, these 11 photos will inspire you to finally rock this hairstyle. Also, if you've already tried pixie and want to see how to style long bangs look, this article will show you how to make it happen easily. Pixie cut with long bangs suits everyone, check it out.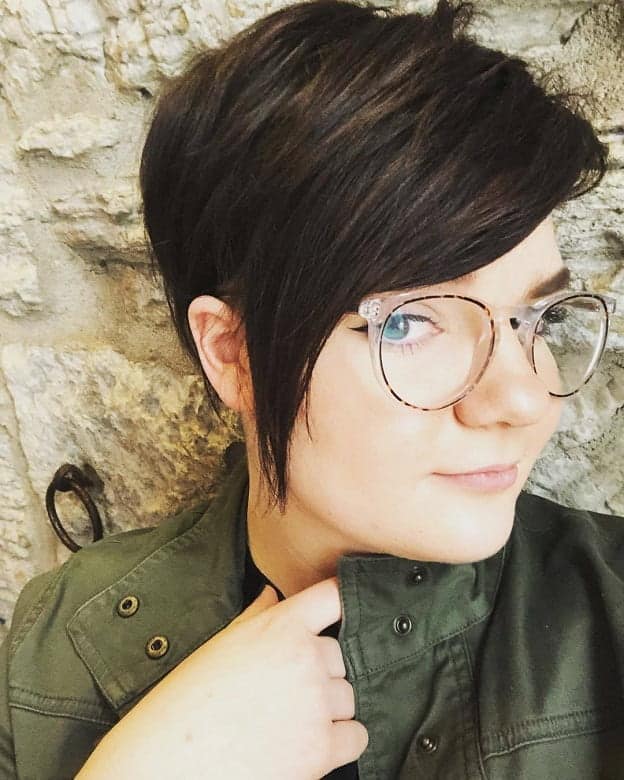 Simple and minimalistic hairstyle oozes confidence but with a gentle side. Pixie haircut with long bangs achieves that style easily. Girls with glasses will find that this particular haircut frames their face which is particularly important if we bear in mind that many girls and women with glasses tend to struggle to find an ideal hairstyle. Try out this one, and you won't regret it.
2. Voluminous Pixie
So your hair is thick, with a lot of density, and you think pixie cut won't work for you? Wrong! Actually, this haircut is perfect for you because it allows you to have big and voluminous bangs that you can style any way you want such as sweeping them to sides, parting them in the middle, you name it. As seen above, this is a great haircut to rock especially if you have an oval face.
Pixie cut with long bangs adds more volume to your fine hair. This look is elegant and sophisticated making you fit for even the most formal events and occasions. If you're looking for a style that you can rock with different outfits, then this is the one for sure.
Curly hair symbolizes freedom, and we love it. Girls and women with curls are incredibly cute, but they often feel deprived of different hairstyles because their hair is difficult to tame. You don't have to tame it, though.
Let your curls be free through a cute pixie haircut with long bangs. In fact, apply some mousse to give your curls a lovely shape and just let them be adorable as they are.
5. Undercut Pixie
There comes the time in our life when we want to start a new chapter and change something. We usually start with our hair. Somehow making a change or two in our hairstyle makes it official that we're ready to move on and start a new endeavor.
What's a better way to do something new than a pixie with long bangs and an undercut? Not only edgy, but this hairstyle is also feminine too.
6. Shaven Side Pixie
Girls who love wild hairstyles may want to try pixie cut with half shaven head. When you add long bangs into the combination, you get a dramatic cut that allows you to stand out and get all the attention you want wherever you are.
Pixie cut looks great on every face shape, and this is the perfect evidence. If you have round face long bangs and pixie cut adds the slimming effect thanks to the asymmetrical look. Sweep your bangs to the side, and you're ready to go.
8. Sexy Glasses Style
Glasses don't have to be an obstacle to rocking any style you want. As mentioned above, pixie cuts are ideal for girls and women with glasses, especially if you also have long bangs. This bangs style frames your face and puts your eyes on the display. Elegant, chic, and romantic – this hairstyle is truly one of the best choices you can make.
Here's a perfect hairstyle for girls who love to experiment with different colors. Instead of opting for one hair color only you may want to try getting pixie in pink and red, and yellow. So wild, yet so cute.
10. Pixie with Bangs for Square Face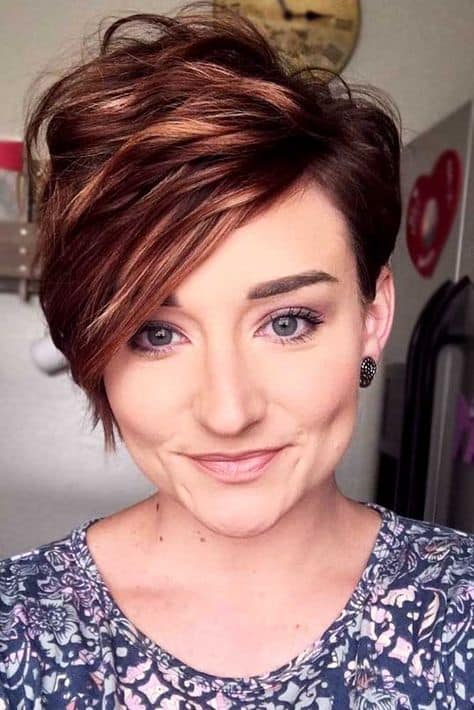 Girls with square face have a clearly defined jawline. While you want to accentuate your jaw a little bit, you don't want it to overly emphasize it. Pixie with longer bangs can help with that. While it softens the look, this cut still accentuates the jaw just enough to give you a sensual look.
Short hair doesn't eliminate the beauty of hair accessories that allow us to switch things up a little bit. For instance, you can use a bandana, scarf, headpiece, and many other accessories to turn your pixie cut with long bangs into a whole new look.
Pixie haircut with long bangs is a trendy hairstyle suitable for everyone. It's entirely possible to get a perfect pixie for your hair type and texture, face shape, and personal style. All you need is a good hairdresser or a high-quality pair of scissors.