Blonde hairstyles are more suitable for older women who use darker or black colors. There is no secret that highlights and warmer tones make you look younger, fresh, and cooler, so opt to become the best version of yourself instead of aging yourself with the wrong hair color.
Blonde Hairstyles for Older Women
Older women with blonde hair look classy, fun, and even rebellious. Depending on your face shape, texture, and thickness of hair, you can opt for several haircuts and hair colors.
Choose bobs if you want a chic, modern look and go platinum blonde. When you want a retro look, style your tips outwards. If you need to look elegant and glamorous, blonde waves and curls will make you step into the spotlight.
The options are limitless when it comes to styling blonde hair and getting new haircuts. If you want to feel modern and cool, maybe it's time to make a more substantial change. To find inspiration, here are the best blonde hair colors for older women!
Cut your bob just below your ears, do a middle part, and style short bangs that are one finger above the eyebrows. Wear them on one side, revealing a part of your foreheads. Opt for a blonde nuance that has a vanilla color.
2. Blonde Perm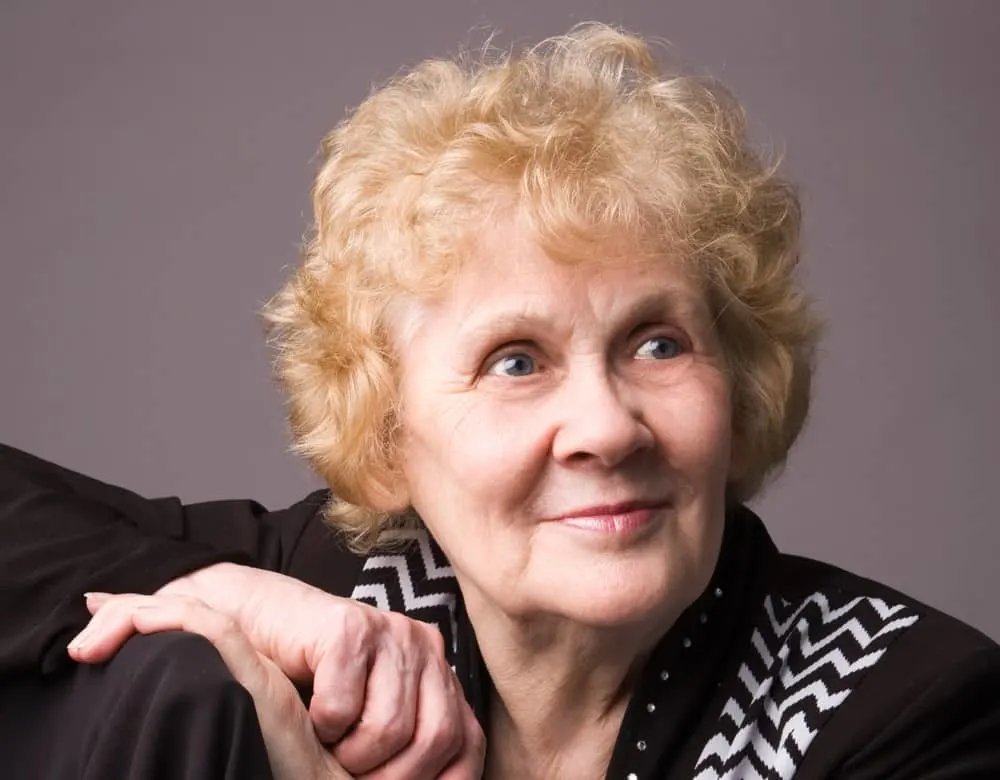 Short perm for older women is always a solution for those who want more volume. Get a short cut and slightly curl your hair. The effect is so suitable for someone who needs an elegant look, perfect for her age.
If you love curls, you have two options: styling your hair every day or going for a perm. But if you have this fabulous hair texture, get a pair of bangs and spread them on your forehead.
Opt for a slightly layered haircut that won't create that triangle shape for your hair.
4. Light Strawberry Low Pony
If you love simple looks, this is a great option for you. Choose a simple, layered haircut and opt for a light strawberry blonde shade. This color will suit your fair skin and make you feel so youthful, blurring your age.
5. Light Blonde Messy Hairstyle
Having short hair comes with so many benefits. Once you go short, you will probably love it so much that you won't go back to that long mane. Short hair dries and styles faster and it's so low maintenance.
6. Ashy Blonde Low Bun
An ashy blonde hairstyle for older women that features a low exquisite bun is a great idea for special occasions. It looks so elegant and glamorous and is the perfect hairdo for a wedding. Whether you are the mother of the bride or a simple guest, this hairstyle will certainly suit you.
Matured women can also try braids! We all know that there are certain hairstyles that make you feel and look years younger. And if that is what you're naming for, a forever fresh look, go for blonde hair color, bangs, and two ponytails. Braid them and tie them at a base with spiral hair ties.
8. Textured Pixie Cut
A textured pixie cut with layers will be such a game-changer for you. Keep the roots in their natural color and opt for a blonde nuance that will easily blend with the white hair. Instead of wearing the bangs on one side, spread them on the forehead and split them in the middle.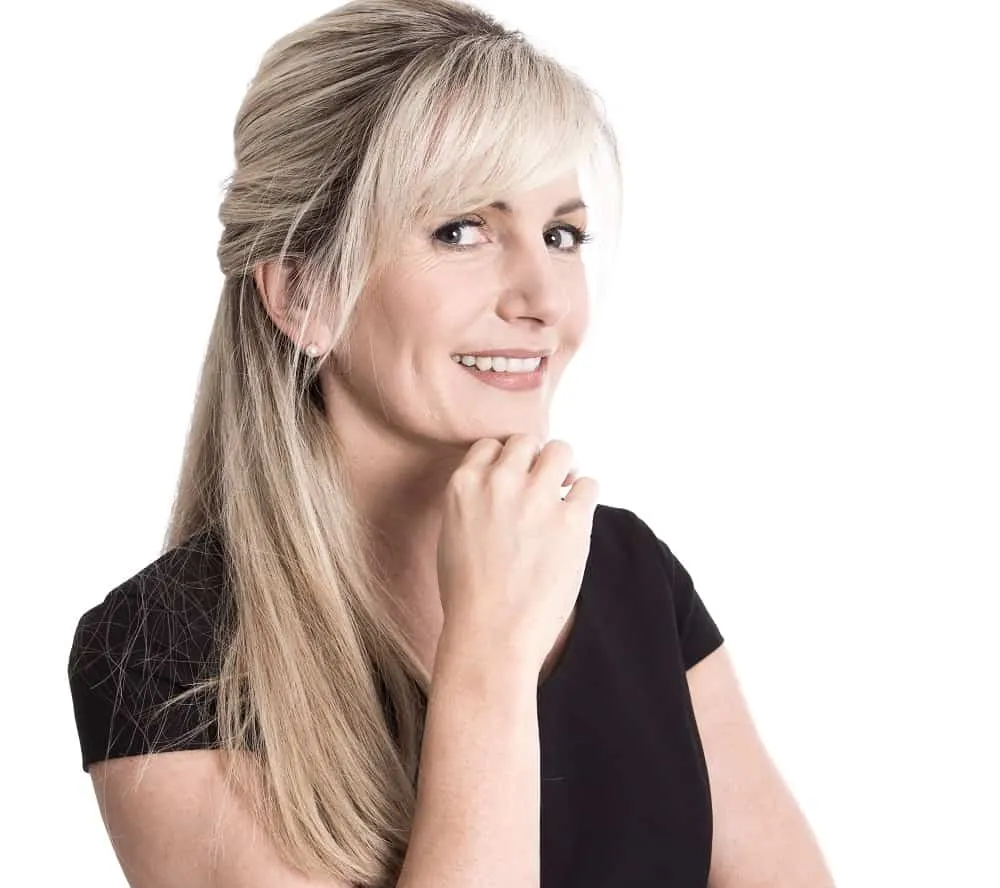 A blonde balayage will give your hair that high definition we all want. Brush your hair with a rotative comb to make it look flawless and create a half up half down hairdo. Spare a few strands from your longer bangs and wear the fringe on your forehead.
A warmer color like a dark honey blonde or a light brown with blonde reflexes will make older women look fabulous. Opt for a layered hairstyle, and using a round rotative brush, turn your tips outwards.
11. 60's Look
Such grace and style! If you love being a fancy lady, your hairstyle must keep pace. Create volume, choose a ravissant light blonde color, and style some loose curls. Build dimension and set this impressive hairstyle with setting spray.
12. Messy Half Up Half Down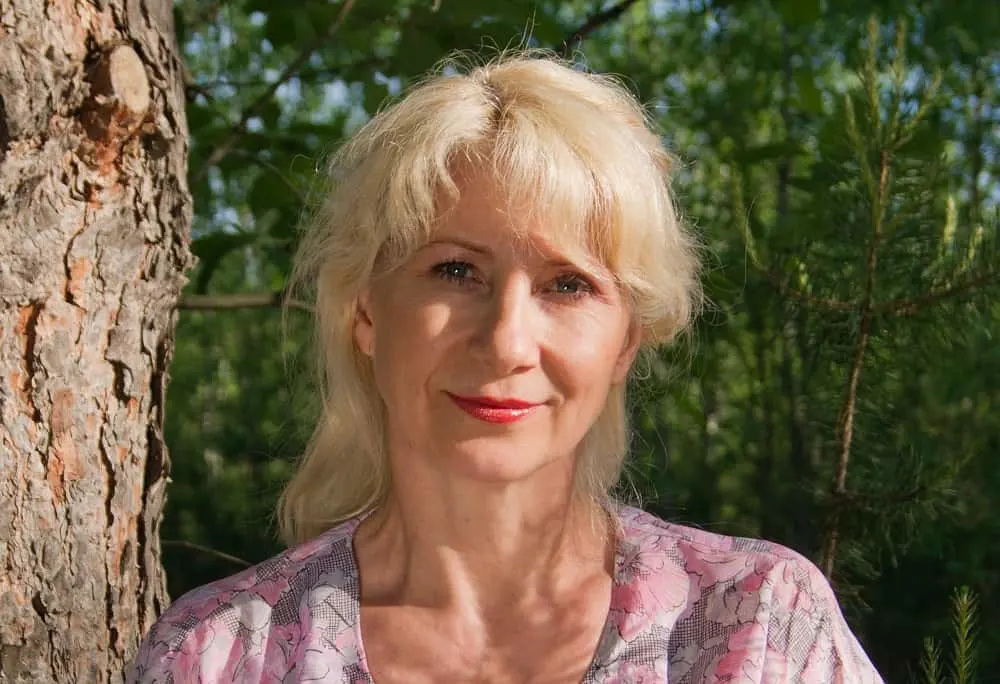 Messy looks transform you into a romantic girl, especially if your hair is slightly wavy. Pin the top strands in the back and wear the remaining hair on your back. Choose a platinum blonde hair color if you love to sport an angelic look.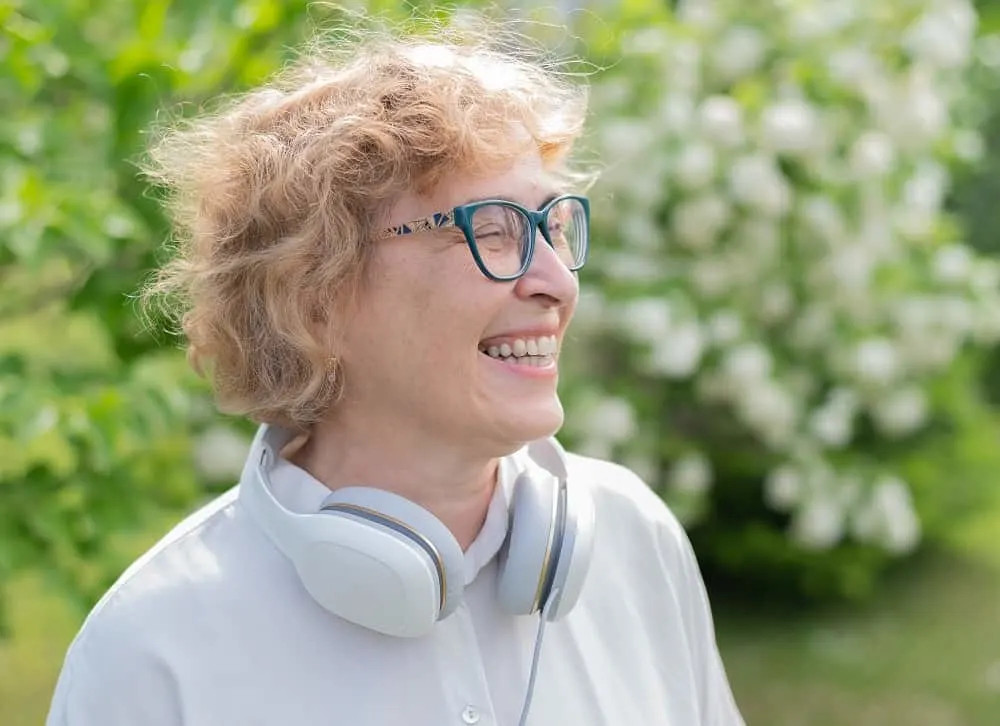 As an older woman, a layered blonde hairstyle with numerous blending shades and a messy shape will look so stunning. Opt for a wavy perm and if you want to look trendy, choose glasses with colored frames.
14. Platinum Blonde Quiff
A platinum blonde color will easily hide all the white threads. Style a gorgeously blonde pixie for older women and lift up the top. Your hair will have height, volume, and style. Nobody will be able to guess your age by looking at your cool youthful look.
Curtain bangs are a good way to complete a layered short blonde hairstyle for older women. Cut the fringe into a rounded shape and create a middle part. Tousle the rest and whenever you need, wear your glasses on the head top.
Blonde hairstyles for older women are exactly what you need if you want to look fashionable trendy and cute. A proper haircut can totally change the vibe you're sending, so the next time you choose your hairstyle, pay more attention to the color you're applying.
The examples provided above will help you decide what you need to wear for a cool look. Let us know in the comments section which one you would love to pick.