Wearing your wavy hair with bangs can look cute, no matter what your age is. If you have healthy hair and you want to spice it up in the best way possible, get some wavy bangs, low-lights, and you will be all good to go!
We have gathered 30 stunning bangs hairstyles for wavy hair.
1. Wavy Long Bangs
Wavy long layered hair will make your face stand out more and will give you a lot of dimensions. Women who love sensual and romantic looks will definitely achieve that with this bangs hairdo on long wavy hair.
A shoulder-length wavy hair with bangs will suit moms or women who are always on the go. This style will also look the best on women who have lighter skin complexions.
Show off your cute style with these baby bangs and embrace your natural hair color. This bangs style for wavy hair will look the best on mature women, or those who prefer simplicity.
Fluffy bangs will hide away any other minor imperfections that you might have going on your forehead. Make sure you wear them long if you want to focus all the attention on your eyes.
5. Blonde Hair with Bangs
Yellow blonde hair can look great on those with pale skin, but once paired up with these wavy curls it can look good on anyone! The length is practical, and it won't take you longer than 10 minutes to style your wavy hair bangs on an everyday basis.
A bob can look sexy if you add enough of creams, gels, and styling products. If your hair is quite curly on its own embrace your curls and seal the deal with some wavy hair bangs.
You can rock with this style basically anything! This bangs on medium wavy hair, looks very chic and is a great example which shows that sometimes less is truly more.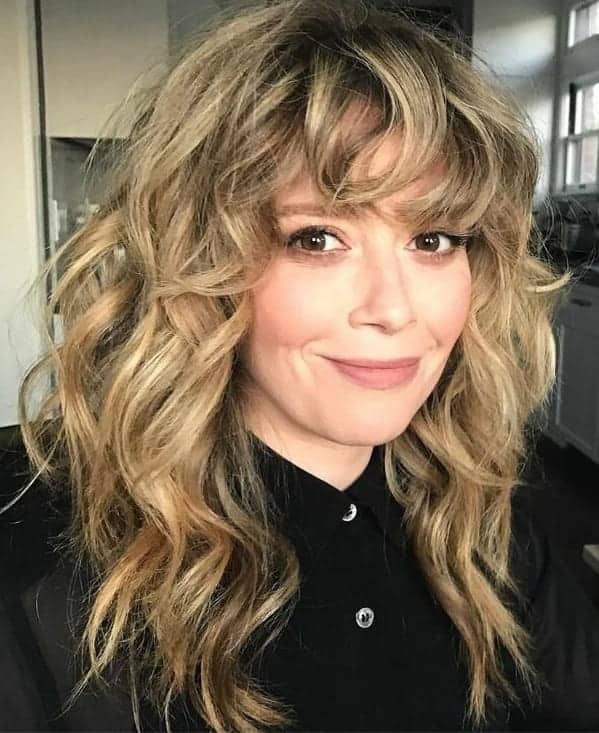 Long wavy hair is easy to maintain, and it looks great on those who prefer bangs hairstyles which are often spotted on Hollywood sweethearts. Bleached hair with platinum highlights looks a lot like the hair that Shakira used to wear back in the day, and she obviously knew her trends.
9. Bun with Bangs
You can wear your hair up in a bun if you need a practical, yet glamorous & quick & easy solution for the day. This wavy bangs hairstyle is the best choice for women with thin and brittle hair type.
A beautiful hairstyle with long beach waves and bangs. If you have blue eyes and black hair know that this is a killer combo. Guys love this style and they find women like this super cute.
If Rihanna is your idol make her proud by rocking this short curly hair with wavy bangs! It is a timeless hairstyle which will suit women who prefer exotic curls the best.
Fringe bangs are very bold and super-fun, and if you are a dare-devil you should get them. Also, those who prefer easier to maintain hairstyles will love this bangs style on wavy hair.
This super short wavy hair with bangs will be a hit this summer! Women who want to feel comfortable and mobile in their skin and especially around their face when running around and doing errands on +35 degrees Celsius will love this shorter hairstyle.
14. Curly & Wavy Hair with Bangs
Frizzy hair looks very flirty, and plenty of guys love redhead women! If you are still in school this long wavy hair haircut with bangs might look the best on you.
15. Thick Bob with Asymmetrical Bangs
You can add dimension and depth to your face by going for this voluminous and fluffy short wavy hairdo with bangs. It is ideal for women who have square faces, or tiny heads.
If you want to look cute, approachable, and yet you want a comfy hairstyle this half-up-half-down style will get the job done in no time! This bangs and wavy hairstyle can be your daily choice if you are at uni, or if you are still in school.
Women who prefer super short hairstyles should add a touch of 'them' to their hairstyles and finish off the look with some side bangs. These are cute and feminine, just what your pageboy cut might need.
Jennifer Lopez is one of those actresses which looks beautiful even in a hoodie, and she is a great example that this bangs hairstyle for short wavy hair can look practical even on your days off. Get a shorter cut if you are a sporty gal, or if you like to jog often.
19. Wet Hairstyle with Full Bangs
Dramatic wet bangs on long wavy hair will drag a lot of attention to your face, especially once you pair them up with cute bangs. Make sure you are aware of that before getting this boho-chic cut.
If your hair needs a touch of that 80's vibe this side-swept style is for you. This wavy hairstyle looks very high-end with bangs but is actually quite easy to achieve, as well as maintain.
Bella Thorne is only 21 years old, but she is an excellent example of a woman who can rock a simple, yet a flirty cut. If you are still in school know that some voluminous side-swept bangs on wavy locs can look cool, just look at her!
22. Messy Bob with Highlights and Bangs
Messy and uneven waves are your cup of tea? Say no more and simply say yes to this bangs style. It has bleached highlights and will look super cute on women who are in their 20s.
If your hair is naturally wavy do not destroy its natural curling pattern and simply embrace it. Get some short & curly bangs, and wear your hair high in a bun since this is so sleek & simple!
Orange or red hair looks very rustic & fiery, and often women with this hair color have a fierce attitude. If this sounds like you don't forget to add some waves on bangs to get that ultimate chic & unique vibe!
Guys love natural beauty, and this shorter bangs with waves look like you simply didn't invest a lot of time, effort, or even hair-styling products into the whole thing. If you are a minimalistic lover this might be your jam.
26. Voluminous Blonde Hair with Straight Bangs
If Zendaya can rock this amazing cut so can you! Women who love simple and easy to maintain looks but with a bit of an attitude will simply enjoy this wavy cut with bleached out ends and flat bangs.
27. Naturally Wavy Hair with Long Bangs
If your hair is naturally this wavy and you want to spice it up by getting a set of long & loose bangs. A classic bangs option for short wavy hair. These are optimal for women who prefer feminine & at the same time bold looks, and who are on a lookout for something that can focus all the attention to their eyes & their makeup.
There is just something so cute about your hair being tucked behind the ear, right? This bangs on short wavy hair look is very young-looking and innocent, so make sure you are still a kid at heart before you get this short cut, and before committing to it.
A slight ombre transition has a huge impact on women who are into simple & easy haircuts. If you are not that brave, bold, or you simply prefer low-impact waved bangs cuts know that this is a full strike for you.
30. Shaggy Hair with Long Bangs
The last ideas for wavy hairstyle with bangs is, this long shag hairdo with very wavy while being ideal for everyday life situations. It is not too long, yet it might make a few heads turn due to its fluffy bangs.
FAQs
Can You Try Bangs on Wavy Thin Hair?
If your hair is super thin and it lacks some texture no worries since you can still rock a wavy hairstyle with bangs. Women with thin hair should add a lot of texturizing spray to their bangs, since this way they will create volume and dimension which is what their hair type needs.
Once you do that you can also add a hair accessory to make a distraction, or you can always wear some beanies or hats which will even out your fluffy bangs, yet thin strands.
Curly Bangs Or Wavy Bangs – Which Looks Better?
This is different for every woman, and you should go for whatever suits your taste the most. Curly bangs are super defined and easy to spot because they look very voluminous and exotic, while wavy hair bangs are ideal for everyday life situations since they look a lot more tamed down.
You can wear curly bangs if you don't mind stepping out of your comfort zone, and you don't mind all the attention, while bangs with waves are ideal for women who prefer simple styles.