There are lots and lots of different anime girls characters, but those with white hair are particularly rare. Their looks, appearances, and white hair color & styles make them different from any other anime girlss and that is why they have caught our eye.
Top Anime Girls with White Hair
This is the list of the best 20 anime white hairstyles for anime lover  girls to draw inspiration.
1. Alisa Iiiinichina Amiella
Alisa is a fighter and a warrior. Like that, she is expected to have a signature look or some signature piece. In this case, her white hair is always accompanied by the red checkered bus boy hat.
Her hair is medium length and layered. She constantly wears her hat and lets the hair fall freely from down under. It looks a little bit unkempt.
Angel Sorano has two personalities – one cruel and one soft. The cruel one comes from her troubles in the past. But with both personalities, her look and hairstyle is exquisite.
Her long, thick and white hairs fall all over the sides. It is neat, and the cut is perfect and straight. The bangs are blunt and short. In her soft personality, she likes wearing a headband.
Most Popular Anime Girls with Pink Hair
Canaan is a dark-skinned anime girl that has white hair. Her hair and skin tone comes in a very interesting contrast. Canaan wears her white hair short to medium-long.
It resembles a bob, but with uneven length line. The fronts are a bit longer than the rest of the hair. The bangs are thick, cover the forehead and pointy.
Chaika is a 14-year-old anime girl with fabulous hair. Her white hair is long, going a bit over the shoulders and layered. The layers have different length. At the front, they reach a chin-length. The ends are slightly styled inwards.
The length of the bangs is also uneven. She wears a cute headpiece resembling bandana that makes her and her hairstyle even more beautiful.
5. Hanbei Takenaka – Pigtails
Hanbei is a character that can easily be mistaken for as a little child. However, she is a big girl. The white ashy hair looks very cute on Hanbei, especially because she wears in it two side ponies. The entire hair is layered with longs bangs framing the face. This cute hairstyle fit her small height.
6. Iiiyasviel Von Einzbern
IIIyasviel is the daughter of Irisviel Von Einzbern. She has long white blonde hair. It is soft, parted in the middle and fall to the sides, over her shoulders. The bangs come only from the larger side part of the hair.  In many cases, she looks like her mother, especially when wearing a specific kind of hat.
Cutest Anime Green Hairstyles to Look At
On a first look Index Librorum's appearance associates with a look of a nun. Her anime character has this specific and unique look.  Her white hair comes covered under a headpiece. It is long, white, and the bangs can be seen on the forehead.
8. Irisviel Von Einzbern
Irisviel is a very trendy and modern white haired anime girl. Her signature look involves a large and high hat that always goes in combination with the long and straight hair. The hair is white, shiny and going lower than her back. The ends are sharp and minimally layered.
9. Kanade Tachibane – Half Pony
This anime character comes from the Angel Beasts anime series. Kanade is sweet and calm with a fabulous long white hair. the deep big eyes and the extraordinary long hair come as her distinctive look. in the series, she wears her hair long, let down.
The straight hair is almost without layering, but the bangs ask for it on the front, where these parts blend. The bangs are long, sharp, and fall over her eyes. The middle part is discreet and divided the bangs too.
Koyomi has straight white hair. Her length reaches just a little bit over the shoulders. It is layered from all the sides, with a hidden part. The bangs are deep and long, starting somewhere around the middle of the head.
Funky Anime Girls with Blue Hairstyles
Leonmitchelli is a 16-year-old anime girl that is also a princess. She is a leader of a nation and she is a warrior. Her appearance is mostly defined by her white hair. It is long and goes all the way to the waist. It is straight and smooth, with bangs on the front. There is a subtle layering that is only visible to the sides.
Lissana Strauss is the younger sister of Marijane Straus. Like her sister, Lissana also has white hair, but she does not wear it long. Her hairstyle is short and layered, the longest parts reaching the neck at the back.
The entire hair is layered in sharp ends and the middle parts give direction. The bangs are long and they fall over the eyes. The entire layered short hairstyle suggests thin hair.
13. Menma
Menma is a character that appears in both of her child and adult version. Both versions of her are very alike and similar. The distinctive part of her look is the hair. It is long, straight, silvery-white. The length goes a bit over her shoulders.
She also has bangs that are cut short and come on top of her forehead. The color of her hair makes her blue eyes pop out. The only difference regarding the hair in both versions is the length. In the adult version, Menma's hair is so long, going over the waist.
14. Mirajane Strauss
From the anime movie Fairy Tail comes the personality Mirajane Straus. This lovely and sweet girl has a nice personality and also a nice hairstyle. She is so sweet that her hairstyle matches and describes her.
Her white hair is long, with a straight cut. Like other anime characters with a signature look, Mirajane also has her own – she always wears her white bang in a small top pony.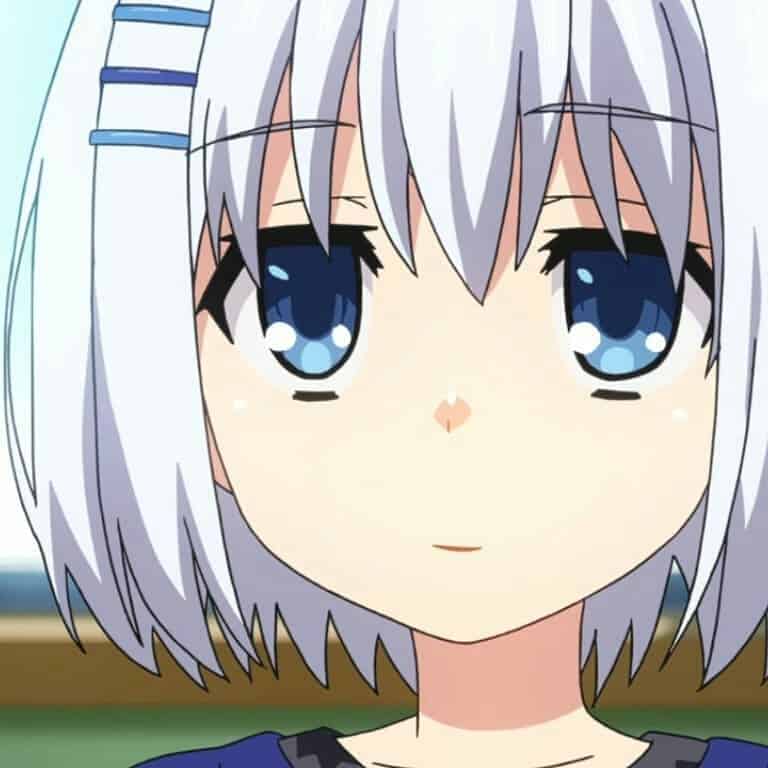 Origami has white silvery hair. She is beautiful and flirtatious and her hairstyle is chic and modern. She wears her hair in a short bob. The length comes somewhere between the ears and the shoulders. Her signature look includes 3 blue hair pins positioned on the front right part of the hair.
More Related Articles
Seintenshi is a character in the anime Black Bullet. She is also known as the ruler of Tokyo. Her cheerful personality goes well with her appearance. The white hair and the blue eyes present and extraordinary character. Her hair is long and layered, finishing is sharp and visible ends. She is usually presented with a nice hat that shows her uneven bangs.
17. Shiro
Shiro is a silly and funny anime girl character, also having a wonderful white hair. The direction of the hair starts at the top of the head, and fall over to the sides.
It is long, thin, and ends in sharp points that make it look even longer. Some strands of the hair fall over the face. It is sharp and the ends naturally style themselves inwards.
18. Suiguntou
Suigintou is a female anime that comes with a completely different style than other girl characters. Her hair is silver-white which makes the character even more unique and original. What is especially visible about this anime is the gothic hairstyle. It is also present in her hairstyle.
Although her hair is shiny and long, she always wears a gothic-inspired black headband. In comes just where the bangs start. Her hair is smooth, and the bangs are longs, covering the entire forehead.
19. Tomoyo Sakagami
Tomoyo is the anime character with the longest white hair in the list. The length of her hair goes lower than her half. Her hair is straight, flowy and beautiful. The soft look is accompanied by side long bangs that cover the forehead and go from one side to the other.
There are a discreet side part and a hairband as an accessory. Tomoyo displays perfect hair that every girl wants to have.
Ulith is a rather violent character that enjoys pain and suffering. With this kind of personality, hair choice is more than obvious. Although she has white hair, she does not wear it long.
The cut is short, something like a variation of a pixie bob. The length of the bands as well the entire hair is uneven, sharp and layered.
Anime Girl Characters with Brown Hair
From warriors to princesses, every anime girl with white hair present a new and unique look that is in every way cool and trendy for modern times. They have a far more interesting appearance and different hairstyles that the other female animes. White hair is interesting, and it really does suit every length and different hair type.