If you're a black man with straight hair and you're looking for simple, yet great styles to try on, we've got news for you! We're about to show you 21 straight haircuts and styles that you can copy, even if your hair isn't naturally super straight. Let's begin.
Hottest Straight Hairstyles for Black Guys
These are the 21 top straight hairstyles that black men can wear.
1. Straight Hair with Strong Waves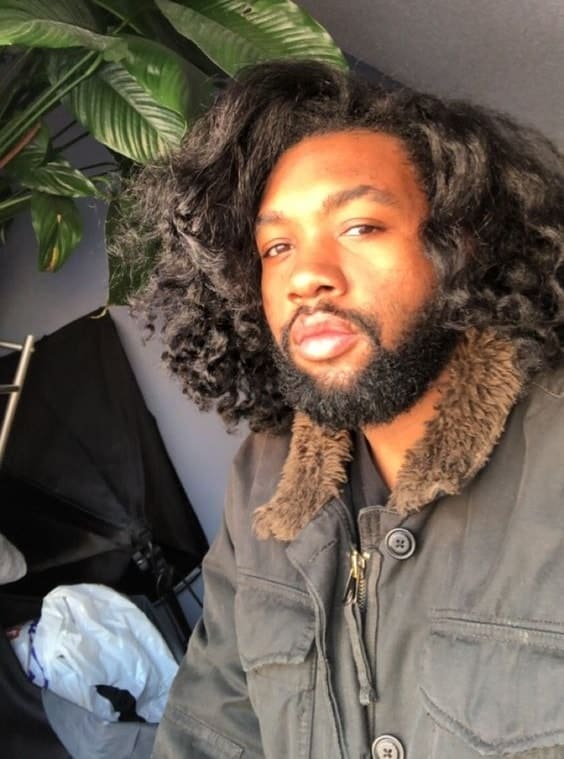 Waves are extremely common amongst straight hairstyles for men, simply because it's very common for your hair to have a little wave at the tip as it reaches down to your neck
All you have to do if you want to accentuate this natural wave is to leave the top straight part untouched and then, with the help of your finger and some hair gel, twist around just the ends of your hair.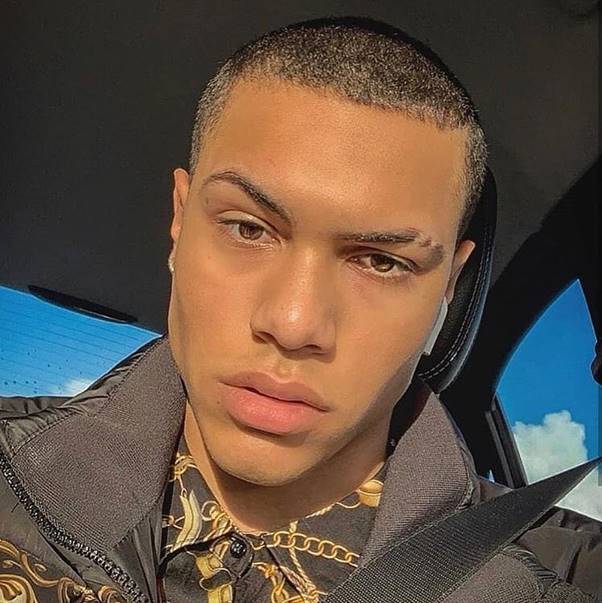 This particular short hairstyle works great if you're a black guy with straight hair (or straightened hair) and you're trying to grow back your natural curls. It's very low maintenance, and your hair will grow out stronger than before.
To get it, ask your barber to shave your hair with the lowest setting possible, however, don't completely shave your hair! You want to make sure to have actual hair covering your head, not go completely bald.
Bold Taper Haircuts for Black Guys
This is also a classic hairstyle for black men. But, unlike the previous ones, you will have to help yourself with a blow dryer, a comb, and hair gel.
We recommend you to wash your hair and then blow dry it as you comb it slightly to the back, and then, to give it that 'messy' touch, grab some hair gel and run your fingers through your hair to give it some shape and form.
Having straight hair as a black guy is already a fashion statement, but dying it icy blonde is truly for the bold ones. To do this, you'll have to bleach it first and then apply a very light blonde on top.
Make sure to apply hair moisturizer after you've finished dying your hair and use a blow dryer if you feel like you need to give it some more shape after you're done.
5. Buzz Cut with Low Fade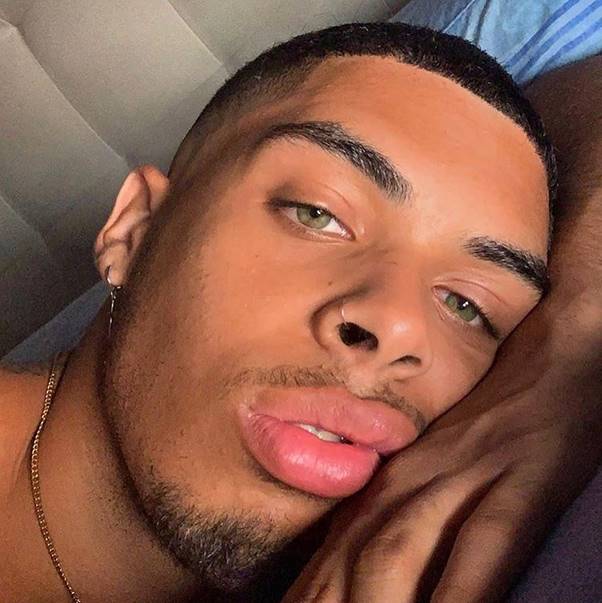 This low fade hairstyle is very similar to the one we showed you before, however, the top part of your hair should be slightly longer than the bottom part so the fading of the straight haircut can actually be seen.
6. Long Straight Down Hair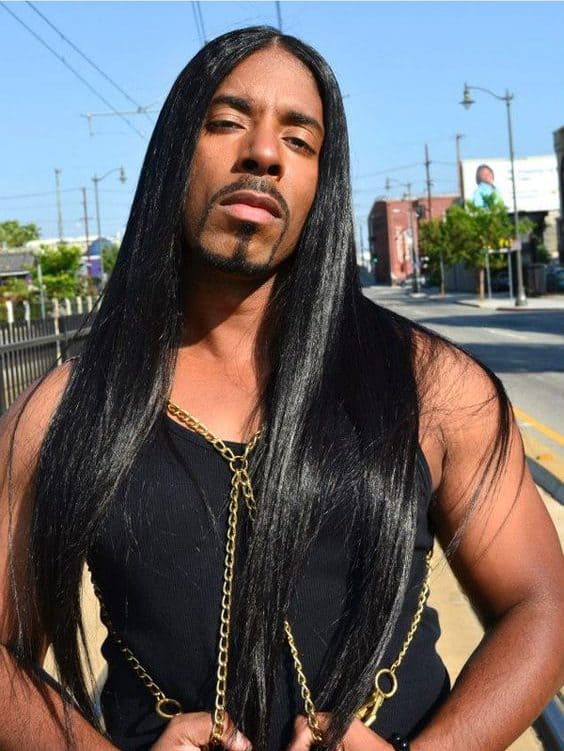 Believe it or not, there are men who can style their straight hair to get to be this long. If anyone wants to achieve this long hairstyle for black guys, they can either let your hair grow or get extensions. Remember to part it down the middle and let it fall naturally to the sides.
This is a great style if you are a black guy and you want to play around with the natural straight texture of your hair. Simply grab some hair gel and push your hair from the back to the front of your hair and then comb it a little bit upwards.
Remember, you're trying to give some texture to your hair, so don't be scared of puffing it up with the gel.
8. Offside Part Hairstyle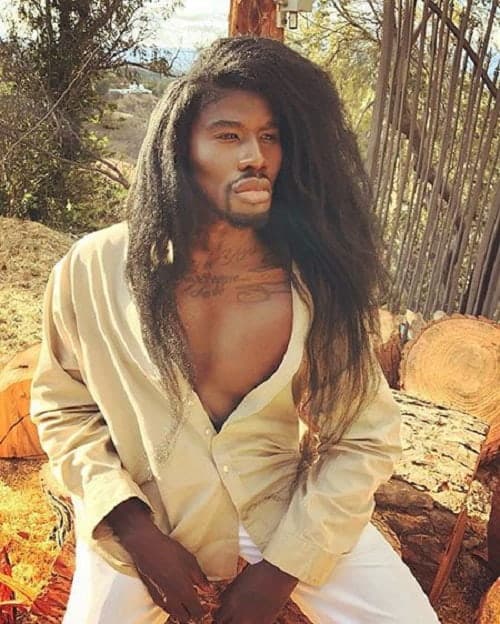 If you're a black man with big afro hair and you want to go for a classic straight hairstyle, you can try this one.
To get it, you'll have to straighten your hair and part it slightly to one side and then comb the other with the help of a blow dryer and a round comb. Make sure to push the longer side of your hair to the back and there you go!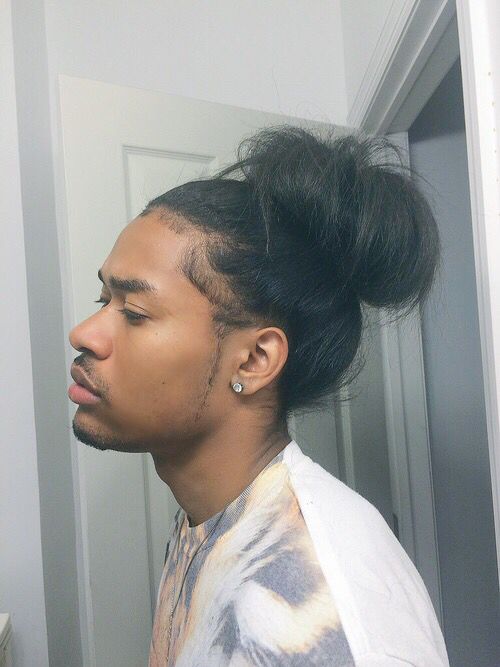 This is one of those classic hairstyles that are very easy to do for any man. To get it, you will have to push your hair to the back and then twist it around until you get a very big bun.
Make sure to tie it all together with a hair tie and hide it using your own hair so it isn't visible. Also, you can try and pull out your bun a little bit to make it even bigger.
This is way more of a risky straight hairstyle, and yet is very easy to do. To get it, you will have to part your hair down the middle first and then start braiding each side into a boxer braid.
Make sure to incorporate each strand of hair into the braid as you go down, however, leave the edges untouched so you can later on style them and laid them as seen in the picture.
Coolest Braided Hairstyles for Black Guys to Rock
You don't have to have extremely curly hair if you want to get deep cut lines on your haircut, you can also do it with straightened hair.
All you have to do is ask your barber to give you a sharp square haircut and then, with the electric razor, mark some lines that cut from the top of your hair all the way to the back.
Black men can also get regular man buns with their straight hair! And it's actually easier to do with straightened hair.
We recommend you to slightly comb your hair and then push it to the back and up as if you were to do a ponytail, but instead of putting your hair in a ponytail, tie it into a bun!
This black men hairstyle is one of those low maintenance haircuts that everyone can get. It's basically your own straight hair laid down, but this time the edges should be lowered enough that you can see the difference between the two parts of your hair.
If you have already straightened your hair, you can give it a little twist and part your hair in the middle and then braid it into two man braids and them on the back. Make sure the sides and lower part of your hair are short enough that you don't have to pull them into the braid.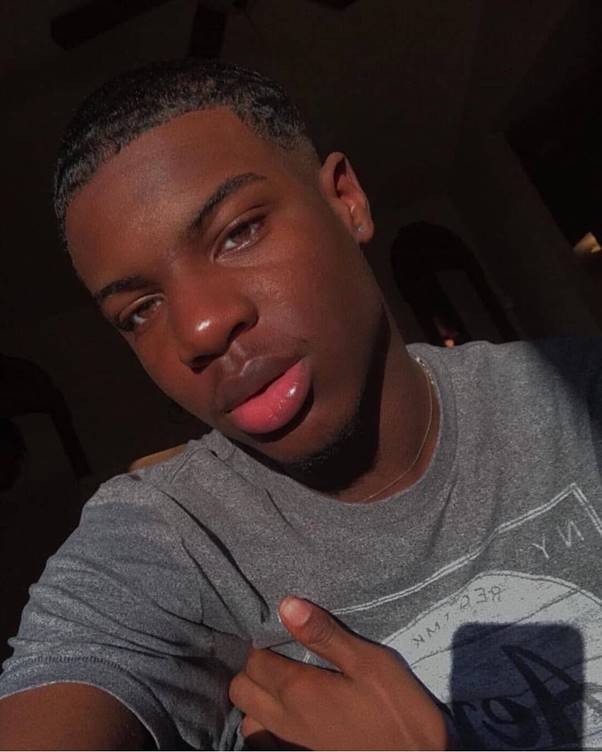 If you remember the very first hairstyle we showed you, it was similar to this one, with the exception this particular one is way shorter and comes in a square clean cut.
However, you'll still have to put your hair on a wave cap throughout the night, if you want the waves to be shorter we recommend you to apply less pressure on it.
16. Soft Waves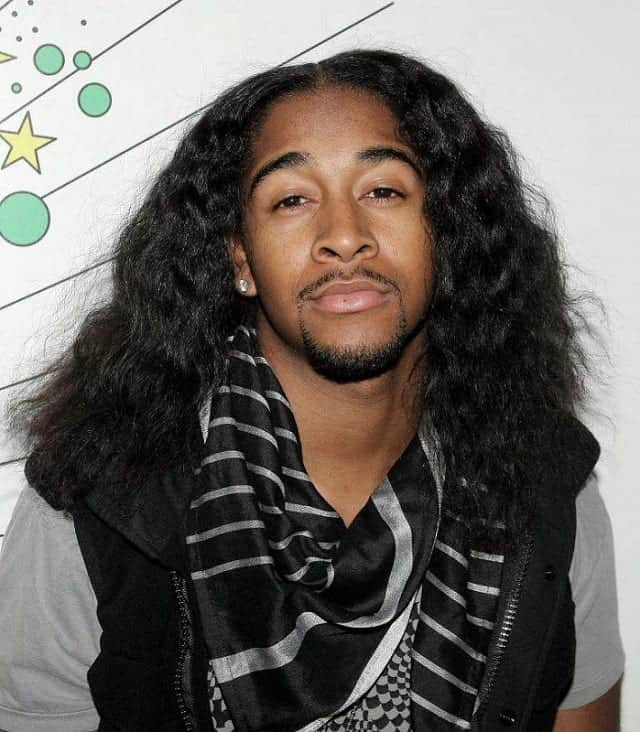 Remember we told you men's straight hairstyle could get waves too? Well, this is a way to do so.
First, you have to make sure your straight hair is parted down the middle and then wet it or damp it a little bit to scrunch it with your hands (using some hair gel to help you do so) and get the wave hairstyle for black men you see in the picture.
This comb over is one of those classic straight hairstyles for black men that are very easy to get. You will have to ask your barber to give you a subtle shading on the sides and leave the top part longer.
Then simply part it off to one side and use a comb to style it up and to the side to achieve the same hairstyle.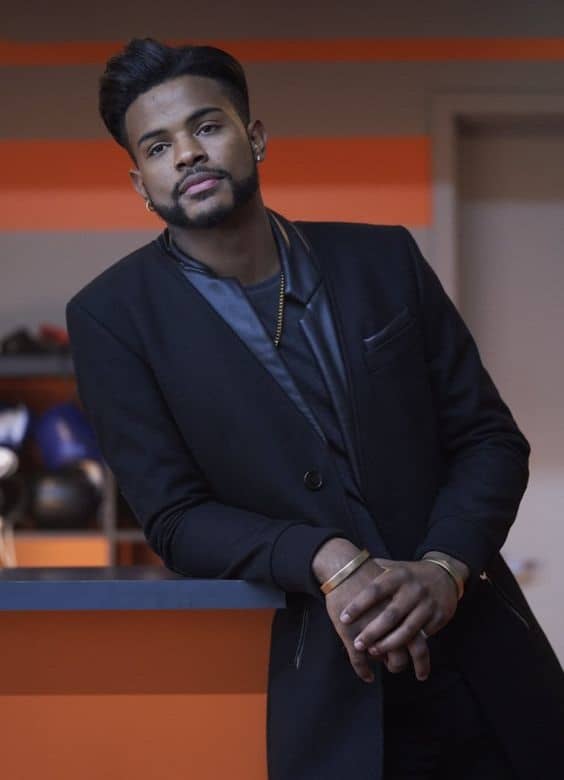 To get this hairstyle to make sure to part your hair in the middle and, with the help of some hair gel and your own fingers, style upwards and then use the blow dryer to really achieve the volume you want.
Unusual Conk Hairstyles That Black Men Love
This is another classic style for black men's straight hair, and all you have to do is push the top and longest part of your hair to the back with the help of the blow dryer and a tiny round comb. You can run your fingers through your hair if you want to give it some texture.
20. Long Layered Hair
Last, but not least, you could leave your straight hair down in a middle part hairstyle and simply let it fall. Of course, to really mimic this particular long layered hairstyle for guys you'll have to let your hair grow down to your chest and not cut it for at least three years.
This short straight haircut itself is very simple one for black guys since all you need to do is ask your barber to leave the top part longer and cut down the sides. However, to really get the messy top part you will have to blow dry it and push it upwards with a big, round comb.