21. Color fun
These Dutch braids can be created by highlighting your hair. If you chose the strands the right way, you'll end up with a brown mane and blonde braids. You can use any colors you see fit.
22. Braid with Criss Cross Pattern
In this hairdo, two big braids are created over each side. The entire hair is parted into two sections from the middle and weaved into braids.
These braids are then interconnected with each other while forming a criss-cross pattern in between. The intricate pattern looks neat and flawless. This hairdo needs a proper setting spray to keep the hair in place.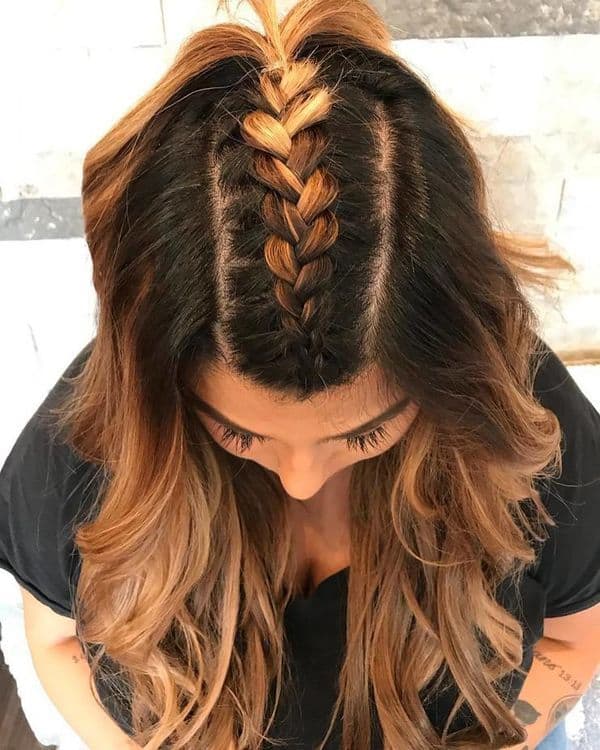 Section the hair from the temple of your head to the crown part. Tie the remaining hair into a ponytail to avoid tangling.
Start weaving the braid from the sections that you created to create the Dutch hair braid over the center. Now untie your ponytail and leave the rest of your hair hanging loose to flaunt this beautiful hairdo.
24. Classical Braid
For this elegant style just brush all of your hair to the back so that they fall back over your shoulders. Now pick some hair from your front hairline, dividing it into 3 sections. Weave the braid bypassing each side section over the middle section of the braid.
Once you are done braiding, secure the end of the braid with an elastic band. Flaunt this stylish Dutch braided hairdo at workplace, parties or other events.
The hair is sectioned in this style over one side to create the braid till the nape of the neck. This braid is then continued with the rest of the hair to form a ponytail. The braid with ponytail hairdo looks extremely romantic.