Fohawks have been popular for decades. There are so many different fohawk haircuts out there that it's easy to get lost. Every year brings us new variations of the simple old fohawks and Mohawks. Each year guys and even girls are going out of their way to create unique fohawk styles.
If you are ready for a new dose of stunning hairstyles in 2022, take a look at these 40 fohawks and make an appointment at your favorite salon. Show your hairstylist one of these pictures to get the perfect fohawk hairstyle you have always dreamed about.
Best Fohawk Hairstyles for Men
Take a look at the fohawk haircuts that are popular in 2022. You can start preparing yourself for the new haircut today. Take some time to think about how much maintenance you are ready to give your new cut and choose the best one based on your face shape and personal choice.
1. The Red High Fade
High fade fohawk hasn't gone out of style for ages and this year won't be an exception. This is a good option for guys with straight hair that would like to give their locks some volume.
This fohawk haircut looks truly impressive but will require serious maintenance. If you are ready to give your hairstyle at least 10 minutes of care each day, then this amazing choice is for you.
Difference Between Fohawk & Mohawk
3. Highlighted Peak
Highlights for men are not a new trend but a subtly highlighted top part of a fohawk style is. Make it look larger and more voluminous with the help of the right dye. Ask your stylist for further advice.
4. Messy Tresses
The longer you like your hair, the better mess you can make with it. Fohawks look great with messy locks but make sure to keep it from being too outrageous by using a few drops of hair gel.
Classy Mohawk & Fohawk Fades You Can Try
5. Subtle yet Trendy
Guys with short hair will really appreciate this new and subtle fohawk haircut. It will be a real art making such a fohawk on short and curly locks, so make sure that your stylist is up to it.
6. Add the Beard
Outline your new fohawk with a well-suited beard. Consider making the same lines on your beard as you do on the sides of your head. This combination will look flawless.
Simple spiky fohawks will never go out of style. So if you don't feel up to an image change, you can easily stick with the classics and no one will blame you for it.
Leaving enough hair in the back to make a ponytail is a good way to get the best 2022 fohawk style. Don't be afraid of experimenting with other elements of this trendy fohawk.
This fohawk haircut borders with a Mohawk. However, an inch of hair on the sides allows it to stay in the fohawk group. This is a great choice for men with round faces since it visually elongates the shape.
10. Ocean waves
Looking for a new and improved way to style your old fohawk? Consider going with the ocean waves. This can be arranged with the help of a special brush or an appointment at a hair salon.
11. Long Tresses
Long hair fans will love this new and windblown fohawk style. All you will need to do is spike up the top part of your hair and your fohawk is ready. A great choice for young men!
Cool & Trendy Faux Hawk Hairstyles
Corners and lines are becoming more and more popular. Make your fohawk haircut unique by using these geometrical tricks in all the different places of your hairstyles. You will love the result!
This fohawk hairstyle with fringes is another brilliant choice for those who do not have very lustrous or thick hair. It works brilliantly in camouflaging all that you don't want to showcase. Coupled with the thin full beard line, it exudes a subtle rugged machismo.
14. Fohawk with Silver Highlights
The hair on the front part of this fohawk haircut is styled in lines of a loose pompadour. Though it is not that firm, the silver highlights add a sense of drama to the whole style.
This is another way to manage the slightly longer hair at the center top. The fohawk fade gets a brand new dimension when combined with the braids on the top. The braids also string the whole look together in one common theme. The beard and the mustache complement the style and add a sense of rugged and subtle machismo to the personality.
The slick back fohawk with tapered undercut takes on a striking avatar in the silver shade. Stunning and intense at the same time, this is the type of style that will always keep you a pace ahead of your peers in terms of style quotient. This is also a fairly low maintenance hairstyle on the whole.
17. Artistic Lines and Razor Fade
If you are interested in some fun and games with your hair, this is a style that will surely appeal to you. The razor fade, the artistic lines, and the fohawk haircut all work simultaneously to create a stunning new impact. It is stylish, rugged and absolutely classy.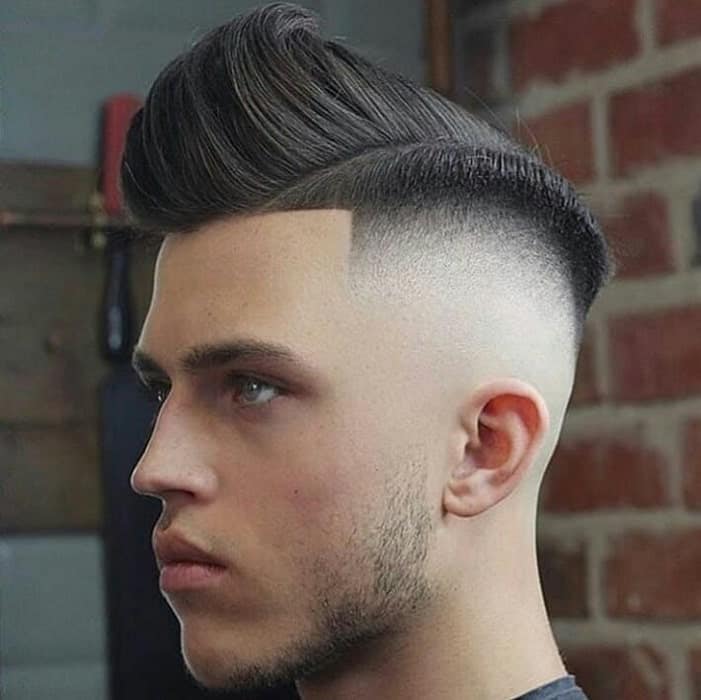 These modern fohawk styles can help you make a decision about the next image change. You can start with simple fohawks and go on to more complicated ones if you feel you'll feel comfortable with this hairstyle.