When you first hear about fohawk fade or a mohawk fade you might think that such hairstyles are too extravagant. Over the years these haircuts helped boys and men make real statements. If you are one of those guys who keep an eye
Starting with a high crest and ending with small spikes, the variety of the fohawk fade hairstyles are amazing. Any man can choose the one he likes the best.
A fohawk is a lighter version of a mohawk and will not have you shaving any hair. However, the fohawk fade can look dashing. If you are afraid to go for the men's unique haircuts, you can start with something less extravagant. There are even hairstyles you can easily wear to the office. All you need to do is make the choice that suits you best.
Men's Mohawk & Fohawk Fade Hairstyles
Getting a fohawk (Faux Hawk) or a mohawk hairstyle requires a little bravery. Not every man is ready to cut his hair to create something out of the ordinary. Young men are usually bold and are ready to try the unique hairstyles. Older men can also find a hairstyle to suit them while staying young at heart.
We handpicked a list of 70 most interesting mohawk and fohawk fade hairstyles for you to consider and maybe even try. It is important to remember that making a statement with your hair is always satisfying and does wonders for lifting your mood.
1. Ponytail crest
This mohawk hairstyle is a great way to keep long hair neat. Some men prefer leaving hair on top long in order to have the freedom to create different outrageous styles. But for everyday wear, you can tie it into a ponytail. The end of the ponytail is held by the same elastic band as its root.
2. High fade mohawk
This original hairstyle is created by making a high fade and leaving a lot of hair on top. The fade makes this haircut very special since not all the hair on the sides is shaved. The top can be lifted upwards and secured with hair gel.
Whenever you shave your hair, there is always room for designs. Men don't usually go for something extravagant in the design area. Simple lines and geometrical figures can do the trick. Adding a neat beard will make the image even more unique.
Related posts you may like:
4. Short classical fohawk fade
This fohawk or faux hawk haircut is considered to be a short classic for black men. The hair on the sides is trimmed as short as possible and a thin line of hair is left on top. The hair starts at the top of the forehead and runs down to the neck. No styling needed!
5. Long fohawk with faded sides
This is one of the simpler fohawk hairstyles that can be sported by men of all ages. The hair on the sides is tapered and left long on top and the back. The faded sides are very low. This creates a very light fohawk version.
Faux Hawk Fade Haircuts Trending Right Now

6. Impressive mohawk
This impressive mohawk is easy to make but hard to maintain. It will suit men who know that looking fabulous takes time and effort. You will need to first grow your hair long enough to fall down your neck and then shave the sides. You can make the look neater by braiding some strands in the back.
A neat way to arrange the top of your fohawk is to make a pompadour. In order to create an impressive top part, you will need to keep your hair about 5 – 7 inches long. You can go further by creating some nice designs on the back.
8. The real deal
80% of the people who hear about a mohawk imagine this one. You will need a lot of patience and even more hair gel to create it. This hairstyle is good for special occasions but might damage your hair if you make it on a daily basis.
9. Curly fohawk
This fohawk is great for guys with curly hair who don't want anything too impressive. The hair on the sides is faded low and the top is cut short enough not to need any daily styling. While this haircut is easy to maintain, the fohawk in it is often overlooked.
10. High and spiky fade
This fohawk fade hairstyle is actually a high fade. The hair on the sides is faded so the hairline is about 2-3 inches above the ears. The hair on top is left short in order to minimize the care but long enough to make small spikes if needed.
11. Fun designs
If you are brave enough to go for an extravagant hairstyle then getting interesting designs definitely won't scare you. Consider getting something special like the one on the photo. You can go further by spelling out words.
Want to boost the effect your mohawk makes? Add some colors to it. You can start by creating natural highlights and go further with dyeing your hair something outrageous like blue or pink. Use temporary hair color if you are not sure you are ready for this look to become your permanent image.
Tutorial: Burst Fade Mohawk Haircut
13. High pompadour crest
High mohawk crests vary greatly. One of the impressive ways is to make a loose pompadour shown in the photo. You will need a lot of hair gel and styling imagination. If you are not sure you can do it on your own, ask a professional stylist to give you a master class.
14. Spiky fohawk
This spiky fohawk haircut is quite popular nowadays. All you will actually need to do is cut your hair a little shorter on the sides and leave it a little longer on top. Spike the top part with your fingers to create a crest and secure it with hair gel.
15. Messy fohawk fade
A messy fohawk fade is a great choice for guys with thick and straight hair. The hair is faded on the sides with a rather high hairline. The locks on top are left long and require just a bit of hair spray to keep them high in front.
16. Medium crest
If you are not ready for a high pompadour crest but a short spiky haircut is not for you, get a medium-sized fohawk crest. The hair on the sides is trimmed very short. The top part is left about 3 inches long and styled into a crest with some hair gel.
17. Quick fix
If you've always wanted a fohawk hairstyle but very never brave enough to try it, you can use this quick fix. You can turn your bob into a nice fohawk by spiking up your hair with hair gel starting from the front and ending at the base of your neck.
18. Windblown fohawk
This long windblown fohawk haircut is very simple to make. All you will need to do is spike up the top part randomly and apply some hair gel. This natural looking messy hairstyle is great for guys with fine and straight hair.
19. High, green and impressive
If you are into color experiments, you can make this impressive fohawk. The hair on the sides is kept very short, not more than ¼ of an inch thick. The top part is left about 5 -7 inches long. It is styled upwards in a pompadour and then dyed dark green.
20. Colored Fohawk
If a high-crested fohawk is not making a big enough statement then you can dye it outrageous colors. Don't go for regular blue or red options. Consider creating something out of the ordinary by trying emerald or sapphire shades.
21. Add a beard
Mohawks look amazing with a beard. If you are ready to take care of a large and voluminous mohawk then you will have no problem dealing with a full beard. Grow some facial hair to make your statement even more exciting.
22. Very high mohawk
The higher the mohawk is, the more impressive it looks. Consider growing the hair on top of your head to be about 8-10 inches long. Use some hair gel to spike it up and you will definitely turn some heads your way.
Comb over fohawk hairstyle is not just impressive, it is also easy to take care of. You will need to leave hair very short on the sides and about 3 -4 inches long on top. The top part should end where your neck starts. The locks need to be combed over to the back.
24. Small and cute
Such small mohawks as you see on the picture are actually quite popular among men. They don't require much maintenance and look really unique. You will need to leave just a thin line of hair on top of your head and none in the back. Shape a crest with some hair gel and you are done.
25. Soft and spiky
If you have thick and straight hair, this soft and spiky fohawk is for you. The hair on the sides is left about half an inch long and the top is about 4 – 5 inches long. The top part is spiked up into a messy pompadour.
26. High comb over
This high comb over haircut is terrific for men who can't allow themselves to wear an outrageous hairstyle but still want something that looks like a fohawk. The sides are short and the top long part is arranged into a high comb over.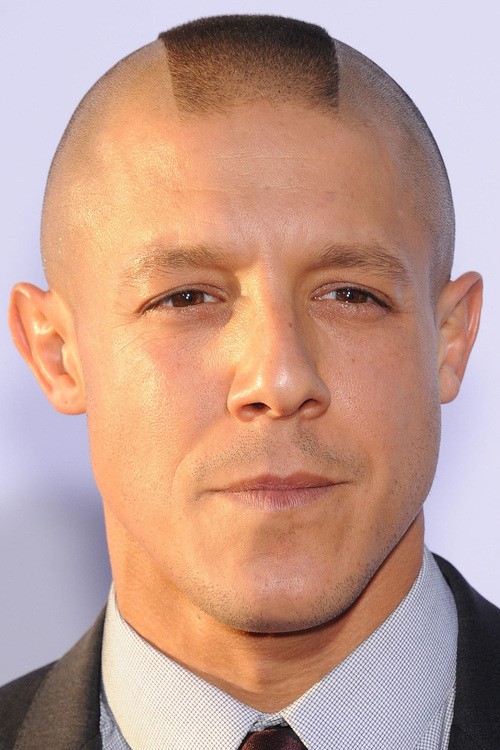 Want a mohawk hairstyle without any hassle? Go for the military mohawk. It is created by shaving your head and leaving just a thin line of hair on top. The hair should be left short as well. Such hairstyle will stay intact for a long time.
28. Wet and textured
Guys with fine hair can go for this wet and textured haircut. The hair on the sides is kept short and all the same length. The top part is longer and textured. It is swept upwards by applying a lot of hair gel. Keeping it intact will require some touch ups during the day.
29. Curly Mohawk
Black men with really curly hair can go for this impressive mohawk style that will require no maintenance. The top part is left as long as you wish. Thick curly hair will not even need any gel to stay up.
30. Spike it up
If you are not ready for wild hair solutions, you can just settle for spikes. If your hair has grown long enough on top then you can make all types of interesting spikes with some hair gel. Textured spikes look especially interesting.
31. Fade rows

Consider this unusual way to go about making a faded fohawk haircut. Each level is separated by a shaved line. The top is arranged into a pompadour. This is a wonderful hairstyle for a guy who is not afraid to take care of his hair.

32. Dark porcupine

Turn your simple fohawk into something special by arranging the spikes to look like porcupine needles. In order to achieve this look, you will need some serious practice. Ask your stylist for some help if you are not sure that you can get it done right from the first time.

33. Easy game

Another easy way to go about a fohawk is to make a very short one. The contrast between the side hair length and the top part will make your trimmed hairstyle look like a great fohawk. You will just need a little gel to keep it standing upwards.

34. Colorful fade

If you have decided to opt for a fohawk with faded sides, you might want to consider highlighting your hair different colors. There is no need to go for something outrageous. You can just make the top part lighter than the rest.
Tutorial: How to Cut Faux Hawk or Fohawk Tail Bald Fade
35. Low fade with a spiky pompadour

A low taper fade with a spiky pompadour will make an impression of a mohawk for anyone who is afraid of shaving his head. This fashionable hairstyle will definitely be a hit whenever you go. It is neat enough to go to the office and wild enough to make a statement.

36. Consider facial hair

If you are not ready to bother with your hair too much, think about your beard. Growing a voluminous full beard will make just as big of an impression as a high mohawk. If all the attention is focused on your beard, hair on your head will be upstaged.

37. Windblown spikes

You don't need to go to the hair salon to make this hairstyle. All it needs is some spiking up. Guys with long hair can create amazing fohawks just by shaping the hair on top into a crest with the help of some hair gel.

38. A solid mohawk

This solid mohawk is easy to make and easy to take care of. However, some men forget that mohawks like that need everyday styling. The hair care will only take a minute. But without it, your unique hairstyle will turn into a disaster.

39. Shoulder length fohawk

Some guys prefer long hairstyles but they don't like all types of problems that come with it. So, why not make a long mohawk? The hair hassle will be limited to daily brushing and a bit of hair gel application. And you can sport long locks without any worries.

40. Hairy fohawk

Not all men are looking for ways to get rid of as much hair as possible. Some like their locks and want to flaunt them. This hairy fohawk is a great way out for guys who are not ready to cut their hair short. Both the sides and the top are quite long.

41. Messy curls

If your hair is curly and you want to flaunt it, a messy curly fohawk will make your day. Cut the sides very short, so you won't have to deal with them. The top can be left as long as possible. Don't forget to use hair gel to shape the curly part.

42. It's a start

If you are contemplating getting a mohawk or a fohawk hairstyle but are not sure how well it will suit your image, you can start by spiking up the existing hair on your head. No matter what the result will be, it is a good start. Go forward by making the sides as short as possible.

43. Asymmetrical spikes

Your faded fohawk will look even more impressive if you do asymmetrical spiking. There is nothing hard about it. Start with making a crest on one side instead of keeping it in the middle. You will really stand out of the crowd.

44. Wide fohawk

Depending on the amount of time and patience you have, you can choose the width of the top part of your mohawk haircut. The wider the crest is, the more impressive the fohawk can look. Just don't forget to keep it neat or it might lose its charm.

45. Romantic look

Romantic images are often achieved by leaving your hair long. Men with thick hair can keep it as long as they wish. The only requirement is for the top to be longer than the bottom. Sweep your hair froward and use some hair spray to keep it intact. Don't overdo the hair products.

46. Creative image
Get creative with your current haircut to make it look as much as a fohawk as possible. The sides are brushed forward and kept intact by hair gel. The top is spiked up and textured. Make the spikes neat on the sides and messy on top.
47. Thin pompadour
You've got fine hair but still want an impressive hairstyle? No problem. The pompadour on top of your faux hawk or a mahowk haircut doesn't have to be large and voluminous. You can leave a thin strip of hair and make a high but fine pompadour.
48. Textured and highlighted
Spikes on your fohawk will look especially well if you do a good highlighting job. Consider dyeing the top part with two colors. You can either highlight every second strand or make roots lighter than the top. In any case the effect will be unique.
49. Lines and shapes
Working with fine lines and geometrical shapes is always fun. Ask your stylist to shape up your fohawk or mohawk by adding some interesting geometrical shapes or sharp lines. Take this photo with you as an example.
50. Low and neat
This fohawk haircut doesn't look very impressive from the back. But the front can be made quite interesting by adding some lines. Lines can be created on both sides to outline the crest. This way even the low spikes will appear stunning.
51. Patterns in front

Front patterns are not very widespread. So, if you make a mohawk with one of them, your hairstyle will definitely be unique. Let your imagination run wild. Come up with some interesting ideas or ask your stylist for advice.

52. Wide mohawk

This wide mohawk hairstyle is a great option for guys who love sports but still want to retain a respectable office look. The wide strip of hair left on top allows this mohawk to look quite solid. Spike up the top part neatly and you are ready to charm the ladies.

53. Ocean wave style

Make your faded fohawk even more unique by creating ocean waves on the top part of your hair. This is not a simple task, so ask for some professional barber help. This is a great hairstyle for an occasion when you really need to make an impression.


This low fade with curls makes an impressive fohawk hairstyle for guys who don't like shaving off the hair but are tired of the curl hassle. Now all you'll need to do is deal with the top part. You can leave it a little messy for a windblown look or subdue it with hair gel.

55. Fohawk with Beard contrast

Beards are very popular nowadays so why not grow one? Once your beard is long enough, you can go for contrasting it with your hairstyle. The hair on your head can be styled into a neat mohawk, while the beard is bushy and curly.

56. Shaped up short fohawk

This short fohawk hairstyle is a great idea for guys who want to forget about the barber's chair for a while. All the hair is cut pretty short. The top part is left about an inch longer. A shape up around the hairline is always a good idea.


Undercut fohawk haircut looks really impressive. Instead of shaving the hair in the back as the modern fohawk rules might dictate, just shave the sides as you would do in an undercut. Leave the top and the back part long to outline the contrast.


This mohawk haircut is a great idea for guys who play soccer or are into some other sports. The shaved sides are helping keep the hair out of your face, while the long top and back leaves a lot of room for styling imagination.

59. Mohawk With Colored Tips

Dyeing tips of your mohawk or fohawk will make the spikes look even more interesting. Consider making the top part lighter than the bottom or vice versa. You will definitely make a statement with such a hairstyle.

60. Braided fohawk

A very creative way to make a fohawk is to braid it! Guys with long hair can go for cornrows to make an impression of a fohawk. A good hairstylist can make any cornrow pattern in accordance with your wishes.

61. Messy hawk
In earlier times, a messy hawk was all about severe and stiff spikes. In 2021, we see that it has changed from that to a much cooler look. A fun new way of styling hair is long and messy Mohawk of disheveled hair set perfectly.
62. Gelled faux hawk fade
Using some gel can go a long way when going for a faux hawk fade. Get a little fade at the sides and use gel for more serious aesthetics.
Get a Fohawk with longer fades which start with a few inches of length and slowly go shorter down the hairline. Taper fade adds some extra edge to your style.
64. Short mohawk hair
Even your edgiest friends will envy you after you get this haircut. Dye your hair a version of steel ombre and blow dry them on the sides downwards and then raise them on top.
65. Styled mohawk
You can bring some pop to your Mohawk with the help of some styling products. Twist and curl your 'hawk and then secure it where you feel best, to show off a unique look.
66. Curly mohawk with frosted tips
You can get inspiration from anywhere. This hairstyle is inspired by a skunk, yes. Leave the roots dark and get the tips bleached. Trim your hair towards the sides for more style.
67. Side mohawk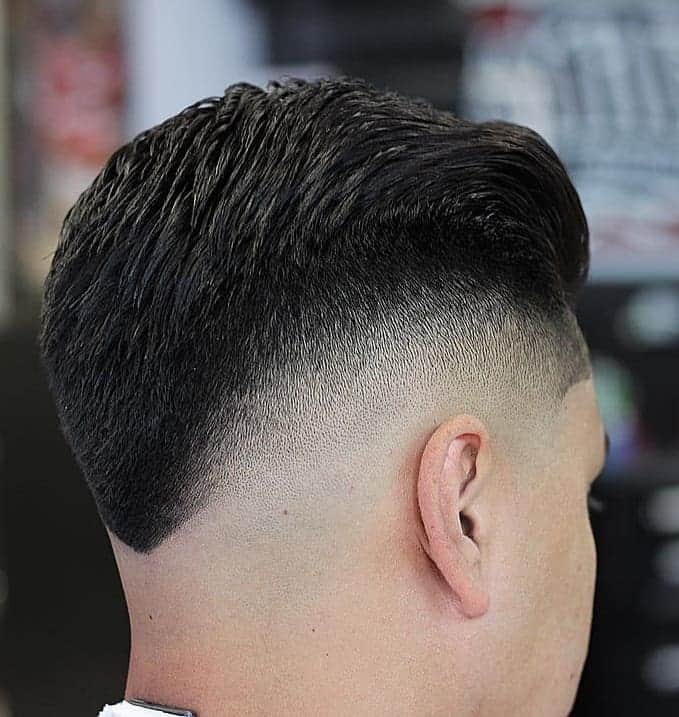 Whimsical and fun, side Mohawk really brings out your creativity. You can also experiment with various designs and angles to spice up your new haircut.
68. Wavy undercut Mohawk
Wavy undercut Mohawk fade is undoubtedly a cool trend to follow. Undercut adds contrast to the top hair and waves give the impression of added volume.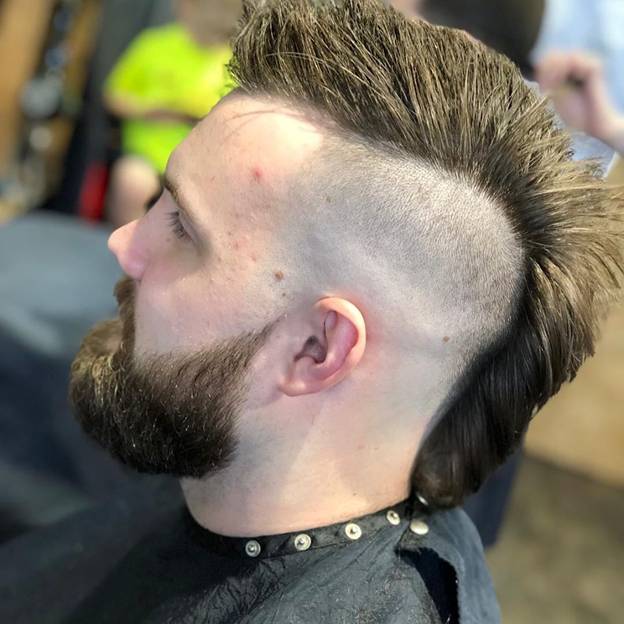 To make your hair look more approachable, get the cut, and the lift to your style will come with it. Working your fingers through your hair will add to the style while keeping your hair soft.
For a refreshing and low maintenance haircut without getting your head shaved, you should opt for faux hawk fade. You can either pick low fade or high fade, your choice.

Mohawk and fohawk hairstyles are a great way to diversify your image. Don't be afraid of trying something new, even if it is a little outrageous. Take another good look at this list. You just might find the haircut you've been looking for.