Beyonce is one of the most popular artists on the planet. Beyonce's blonde hairstyles are what's been conquering the fans' hearts for years. This vibrant diva is an object of affection and envy for men and women all over the planet. The way Beyonce chooses her haircuts and hairstyles are stunning.
Of course, she probably has a huge team of hairstylists working on her hair while the majority of her fans don't. However, it doesn't mean you can't take advantage of the blonde hairstyles Beyonce sports. All you have to do is check out a few options and copy them.
Best Blonde Hairstyles Beyonce Would Recommend
Do you want to look awesome without spending hundreds of dollars on your hairstyles? You can become a celebrity copycat. There is nothing strange or shameful in copying the diva styles. In fact, it's a sure way to sport an amazing hairstyle without any effort. We collected 7 magnificent blonde hairstyles Beyonce would recommend.
She looks stunning using all these shades of blonde and you would too. Check out how natural these options are. Even though Beyonce has dark skin, blonde hair look amazing on her as it would on many women with various skin tones.
Blonde Hairstyles on Dark Skin
If you have dark skin, you most likely have dark hair. Black girls often overlook the option of using blonde hairstyles since they are afraid of looking unnatural. However, many such dark-skinned celebrities as Beyonce or Rihanna are proving them wrong every day.
Remember, there are many shades of blonde to take advantage of. You don't necessarily have to bleach your locks. Consider soft honey and golden shades as well as dark blonde options. They might completely change the way you view blonde hair hues.
1. Blonde highlights
In this blonde hairstyle, Beyonce is mixing various shades of blonde. Here come the honey and caramel tones mixed with platinum strands. In order to achieve this vibrant hair color, you would need to bleach your locks.
2. Yellow blonde
Dark yellow blonde hair looks very attractive with black or olive skin. It also looks good with dark roots since the contrast is not as obvious as with lighter shades. Try this hair color as highlights or ombre.
3. Shade mix
Have fun with a mixed blonde hairstyle just like Beyonce. Add some light brown strands and complement them with honey and dirty blonde highlights. Anything goes when you are brightening up your image.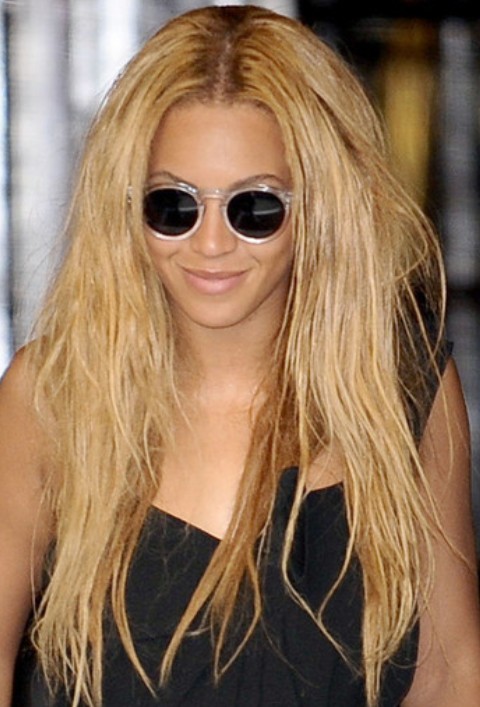 If you already made a decision to bleach your black locks, consider going for the lightest shades of blonde. Yes, they don't look too well with dark roots, but you can allow yourself to become a truly blonde princess for a few weeks.
5. Dark roots
Beyonce is sporting blonde hairstyles because she isn't afraid of showing off her dark roots. Thankfully, the current hair fashion allows the roots to be visible. In fact, they add the overall image some special style.
If you are going for a platinum blonde hairstyle, you need to get ready for plenty of maintenance. If you don't have an opportunity to constantly pay visits to the hair salons, consider doing the dyeing on your own.
Golden is one of the most beautiful blonde shades on the market. If you are ready for some hassle, you can try to achieve this shade. Remember, it will require frequent touch ups in order to retain the shine.
These blonde hairstyles are a wonderful choice for women with dark skin. Girls with lighter skin types and lighter hair tones can have an easier time achieving these Beyoncé images. Give one of them a try today!