Women over 50 oftentimes fall into the trap of thinking there aren't any stylish updo hairstyles for their age group.
On the contrary, there are numerous amazing updos for women over 50 with long hair, whether it's a wedding you're attending or just a night out with your best friends.
Older age doesn't mean you can't still have gorgeous style! When choosing the right updo hairstyle for yourself, consider how much time you're willing to put in. The looks we've pulled together are a mixture of low and high hair skills.
Some of them you can pull together in minutes, and others may need a little bit more time. One thing is for sure: all of the below updo hairstyles for women over 50 are guaranteed gorgeous!
Chic Updo Hairstyles for Women Over 50
No matter what your hair's texture, color, or length is, you're sure to find a gorgeous updo hairstyle for women over 50 in our list of 25!
1. Twist and Clip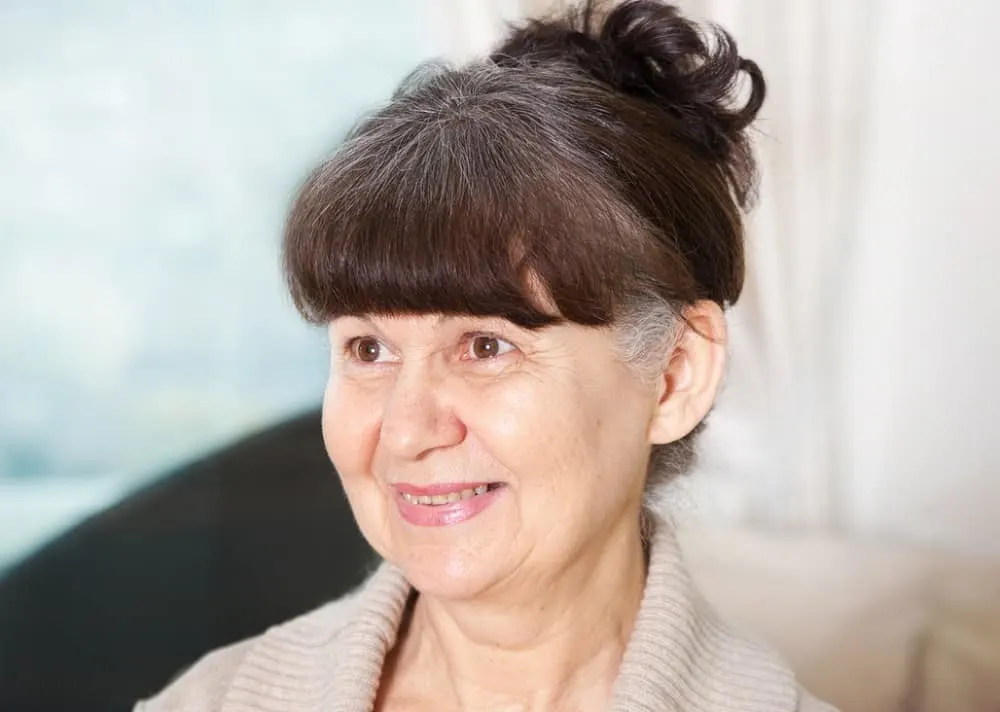 One of the easiest hairstyles for women over 50 involves just gathering hair in a ponytail, then twisting it up and clipping it in with a hair claw. With or without bangs, this style is low maintenance and stylish at the same time.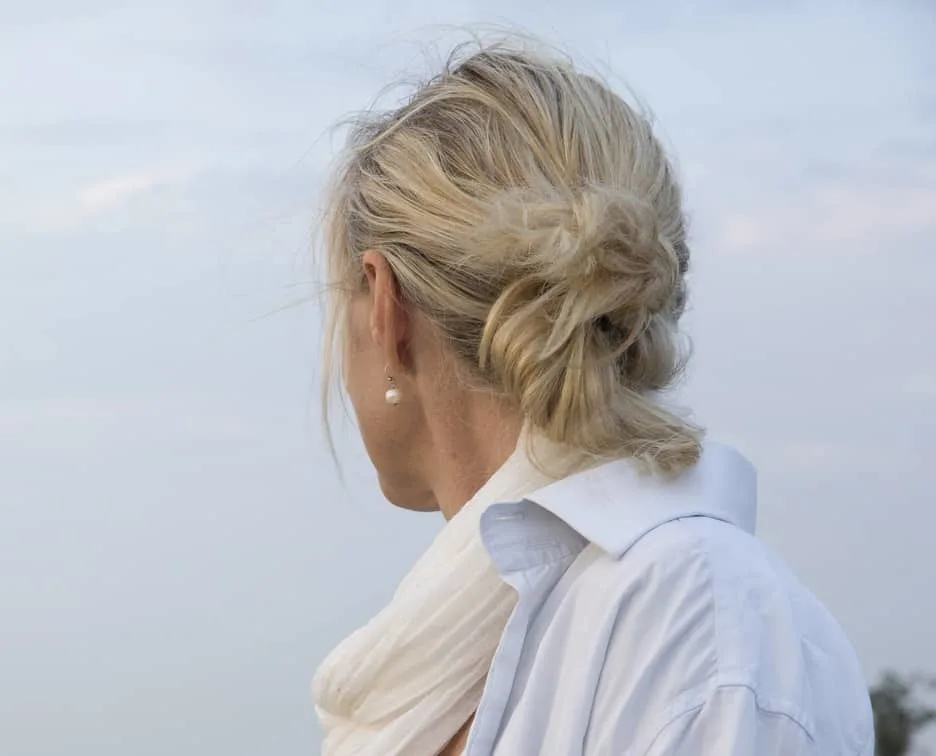 When you're in a hurry or just going to run errands, you can get things done efficiently knowing your hair is stylish in a half ponytail.
Start with a simple ponytail, but pull the ponytail halfway through instead of all the way. A few loose flyaways around the face will help with soft face-framing.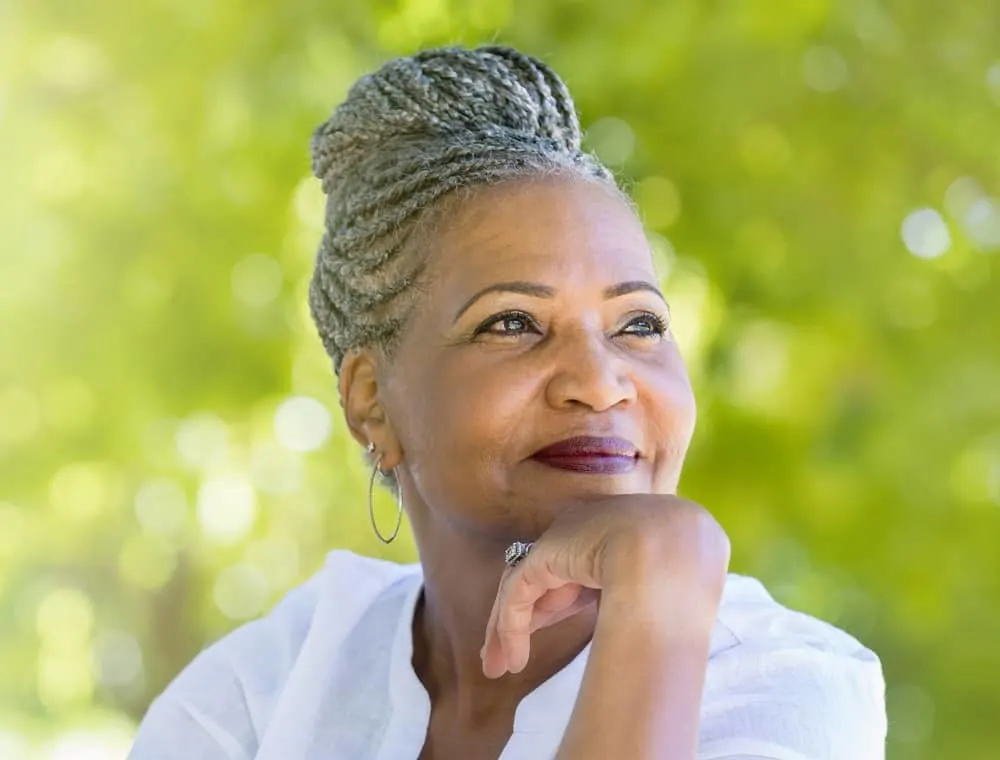 If you're a woman over 50 with natural black hair that is braided or in twists, gather it up neatly into a high ponytail updo, then wrap the hair around the base and secure. This style is great for ladies with thick hair, especially, because a jumbo bun makes more of a statement.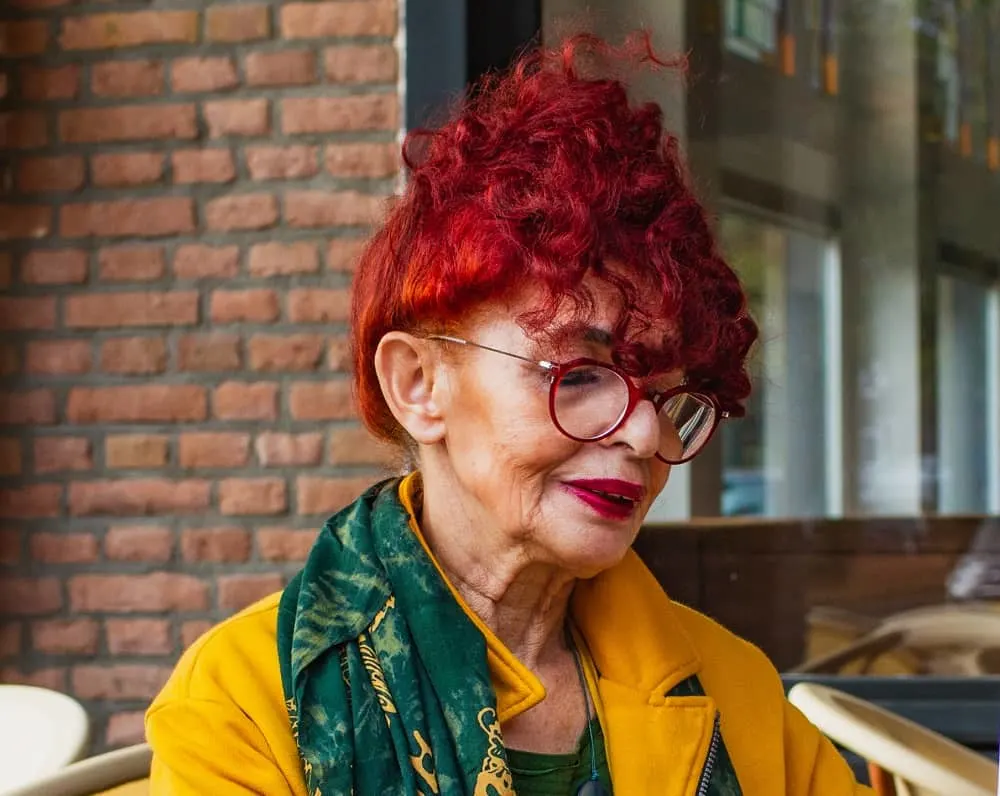 Even women over 50 can pull off the cute messy ponytail! Get your hair off your shoulders easily by gathering this updo together right at the top of your head. You can either let the hair droop over the forehead or let your bangs do that part.
5. High-rolled Chignon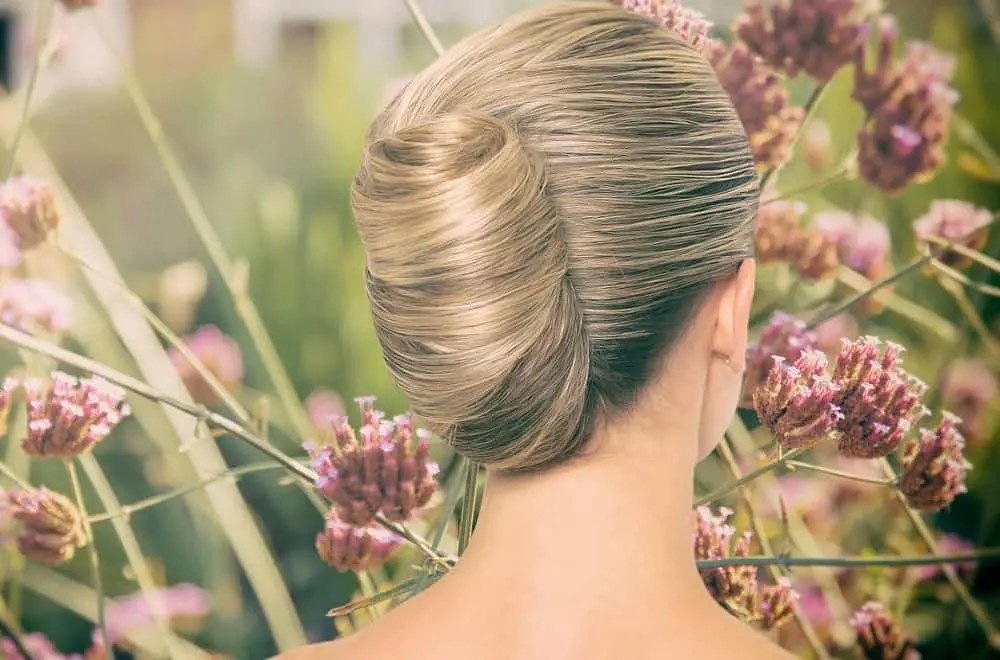 Elegance and beauty come together as one in a smooth high rolled chignon. This women's updo hairstyle is a common choice for weddings and proms for its youthful beauty. Women over 50 will love it!
6. Piecey Bun Updo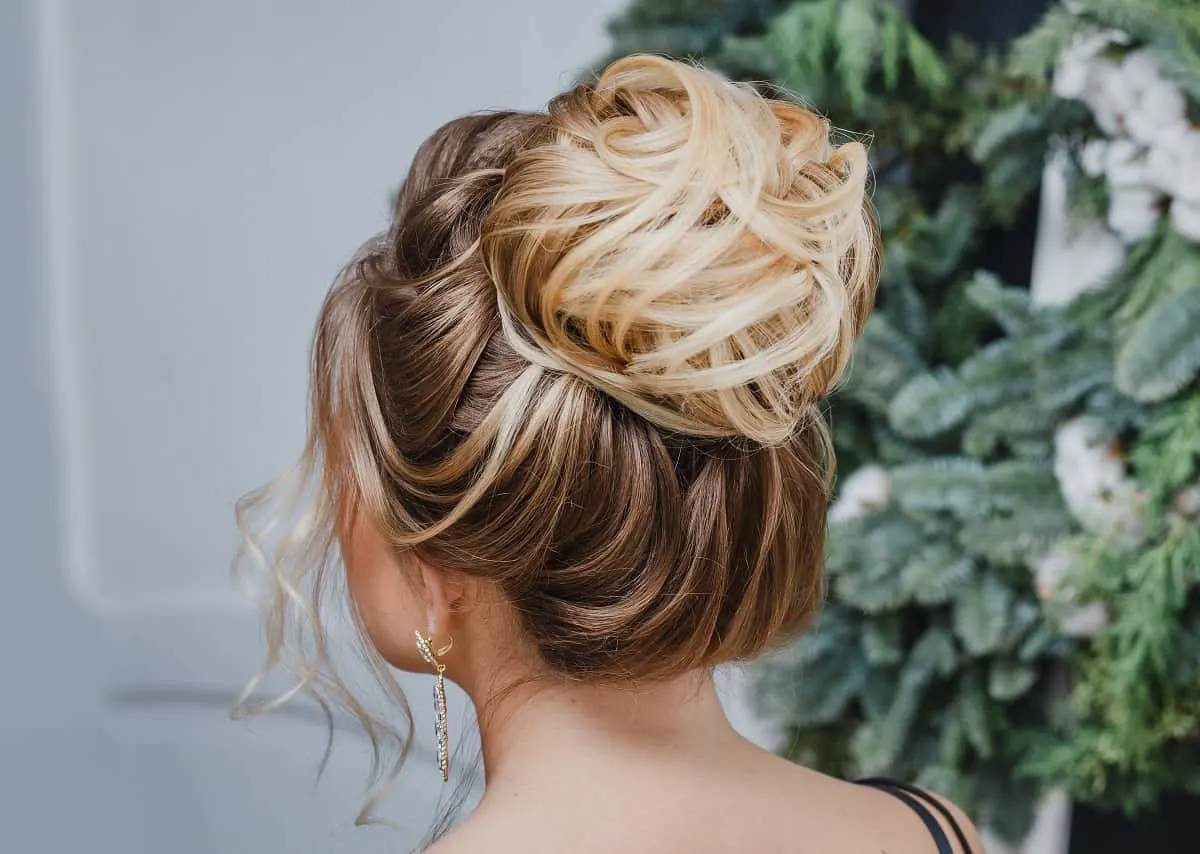 An ideal romantic updo hairstyle for women over 50 is this loose piecey bun. The criss-crossing strands of hair at the bun are a beautiful pattern full of detail. The loose wavy tendrils around the face complete the soft style.
7. Combed Back Low Bun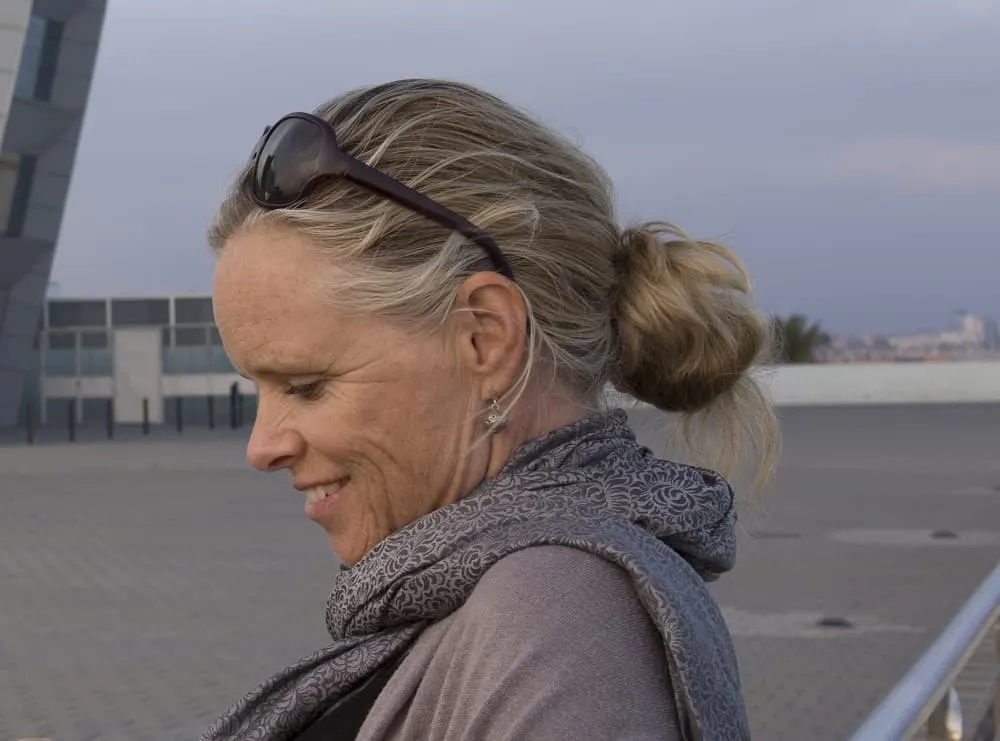 At the beach or on the go, a low bun updo is super easy to pull together for women over 50. No need for a comb to sweep your hair back, just use your fingers to finger comb hair into that low bun.
8. Bun for Thick Hair

For natural hair in large braids or for women over 50 sporting dreadlocks, a jumbo bun updo is an easy hairstyle. Simply gather it all up either at medium height or at the crown for more statement.
9. Twist Chignon for Thin Hair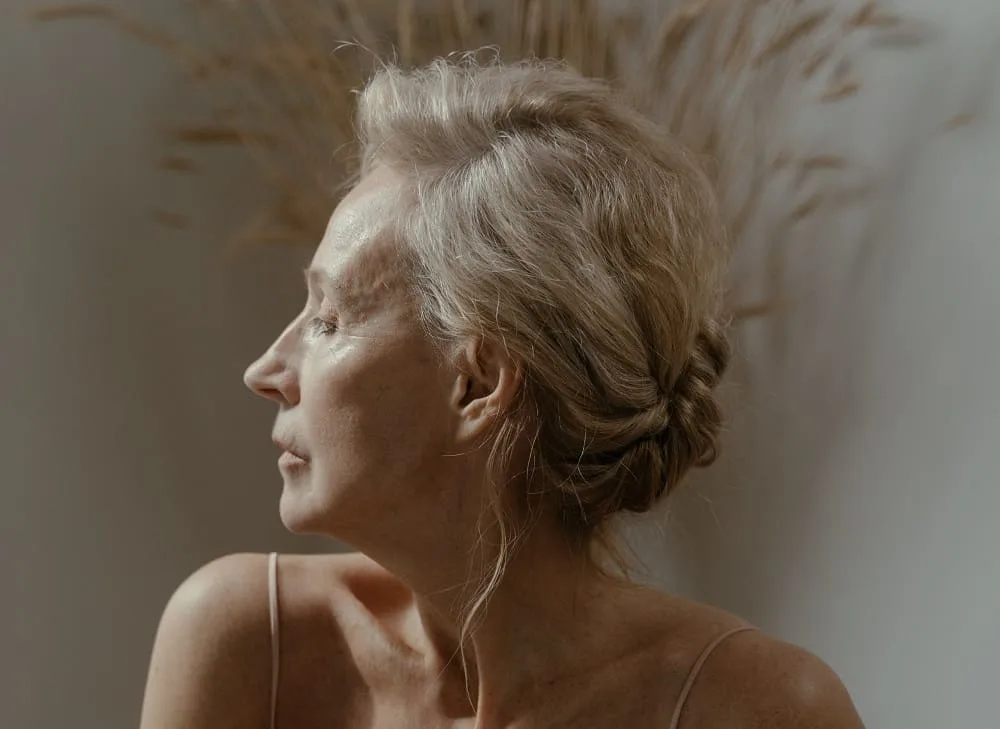 If you're a woman over 50 finding that your hair is thinning, you can still have a gorgeous updo hairstyle! Just loosely gather hair at the neck, then twist and clip up off the shoulders in a chignon style or just with a hair claw.
10. Loose Sectioned Bun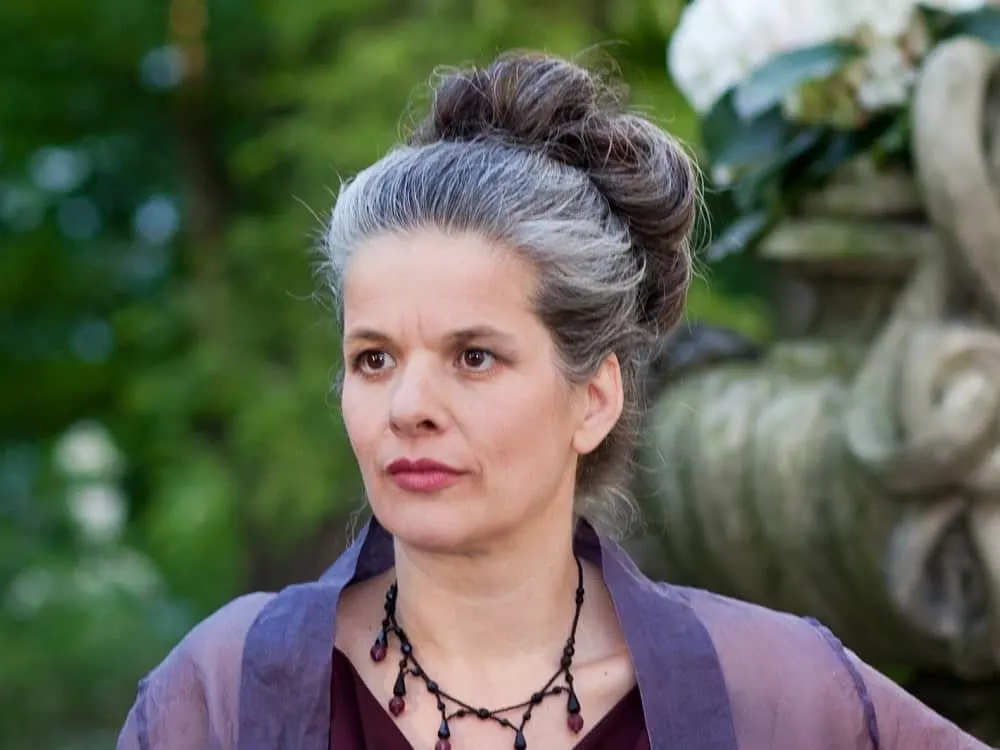 For women over 50 with thicker hair, a high bun with loose pieces that are sectioned off is an elegant choice of updo. It takes a bit more securing with bobby pins to get the billowy shape, but the regal result is worth it!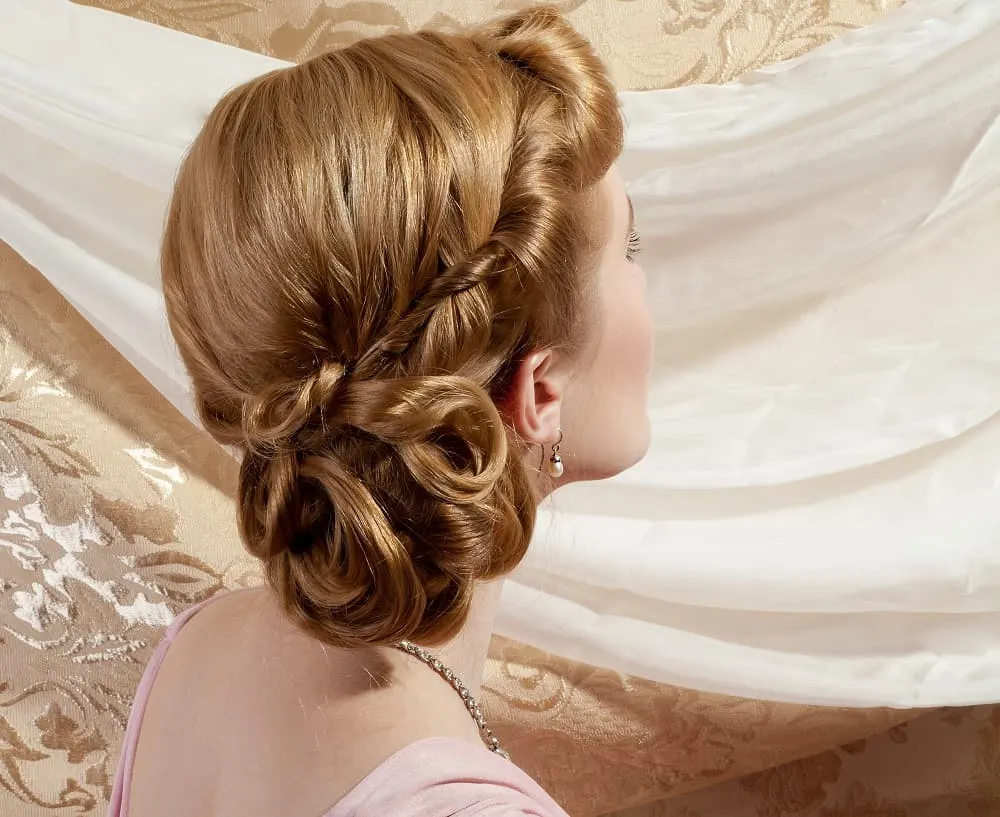 The twists and rolls detailing of this low-side updo hairstyle for women over 50 is what makes the style soft, romantic, and elegant. All qualities you want in a hairstyle! Securing your braided or twisted bun at the side of your head will provide a new dimension.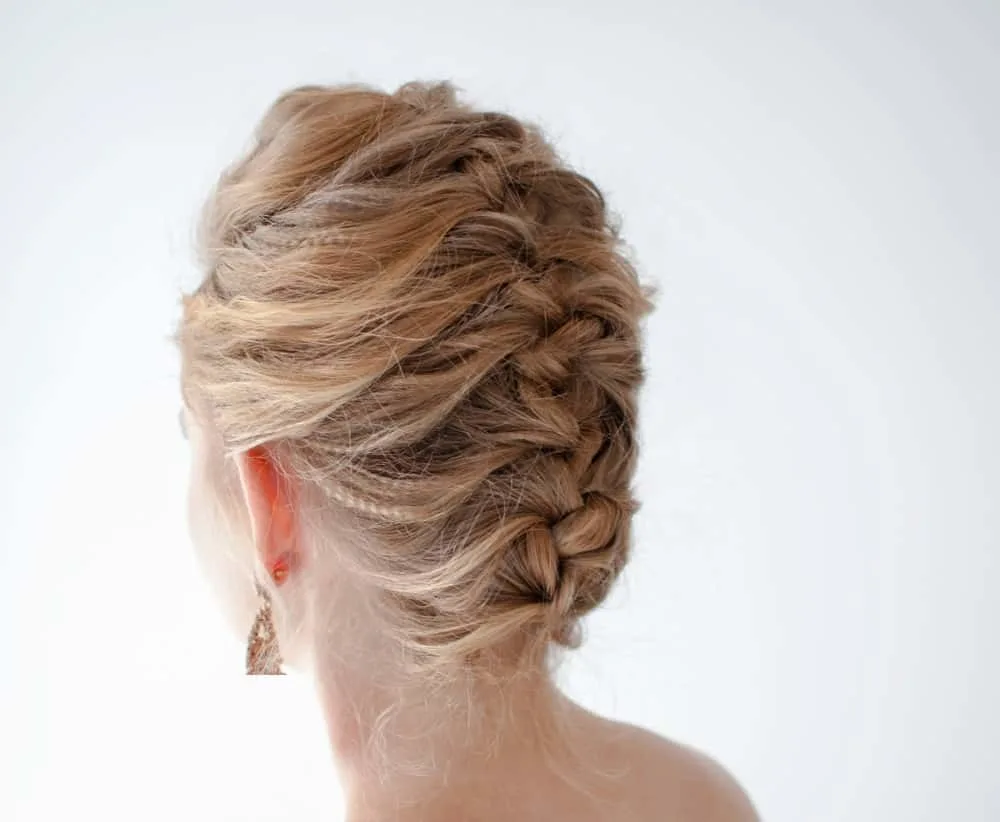 As we mentioned, the key to a statement updo hairstyle is details! If you're a woman over 50, you'll appreciate the youthful and timeless vibe of a fishtail French braid. With or without the soft crimped sections of hair, this updo is always a winner.
If you're lucky enough to still have curls or waves in your thick hair, you shouldn't hesitate to try a beautiful updo like this. Start with a ponytail, twist it a few times, then pin it in place loosely.
14. Double Rolled Chignon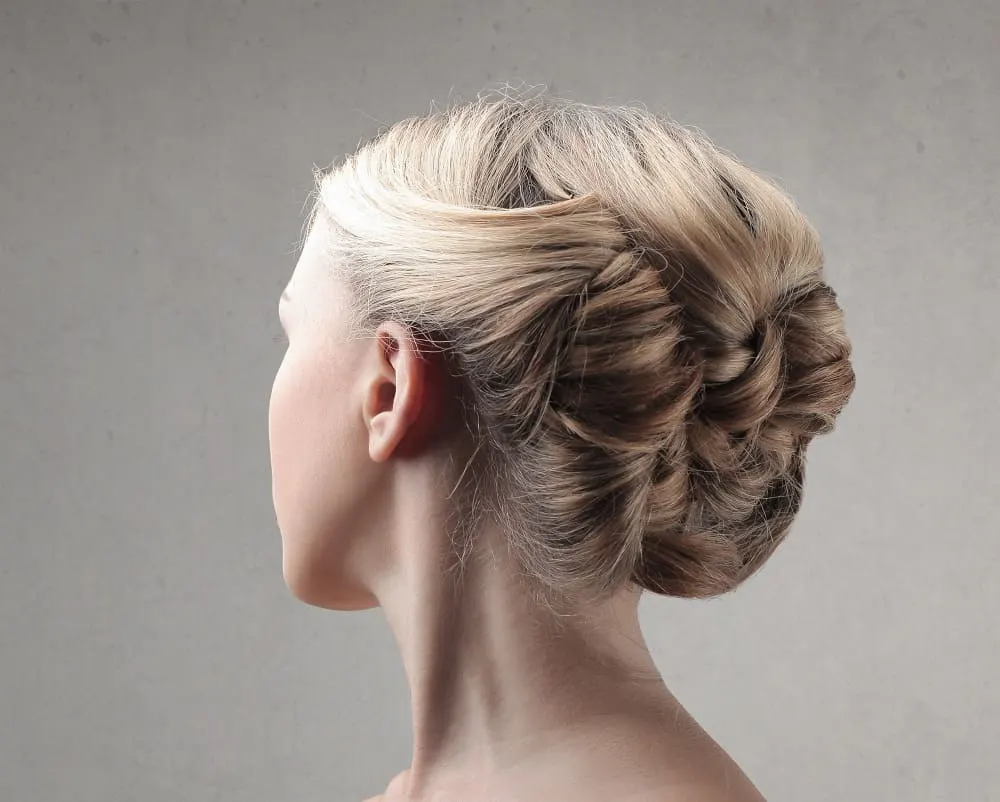 If a simple rolled chignon isn't enough detail for your updo hairstyle, go for a double chignon! One small chignon is very pretty with a larger rolled chignon. To finish the style, tuck in a few small flowers for romance.
15. Low Rolled Chignon
The French twist updo is a very popular hairstyle for its chicness. The classic style works on any woman and any hair texture. Wear it by itself or pair it with your favorite tea hat!
16. Large Boho Bun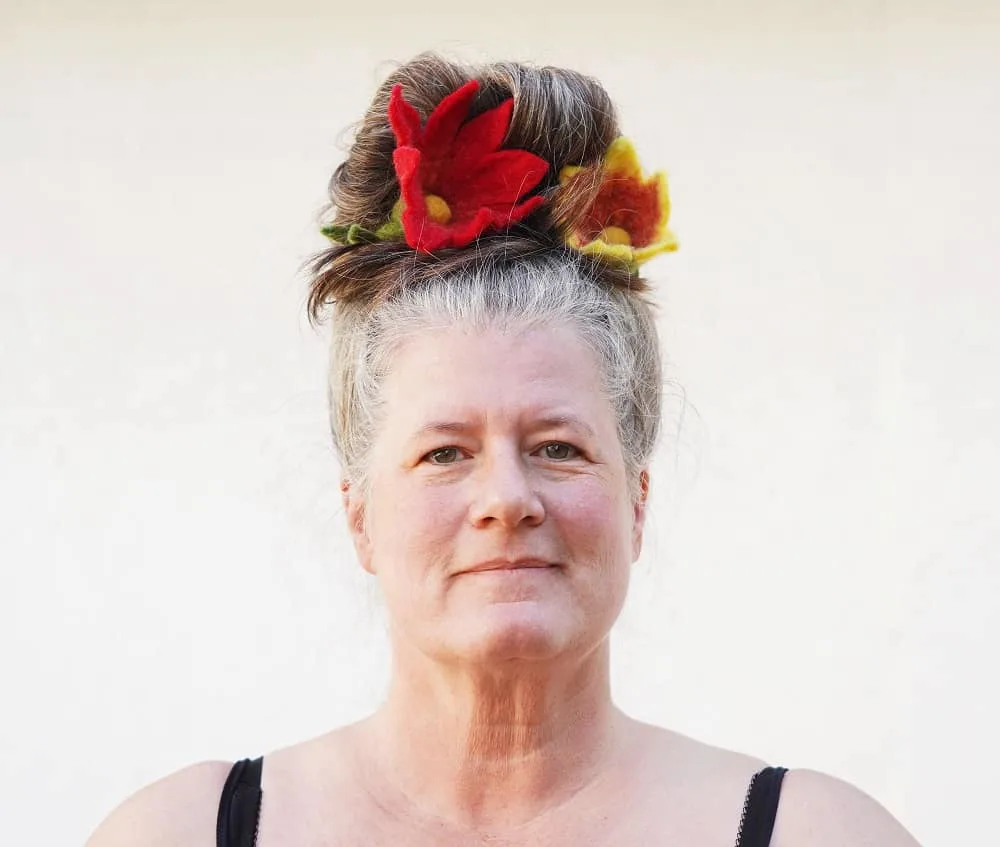 Are you totally into the boho vibes when it comes to your personal hairstyle? Try a jumbo top knot bun secured at the very top of your head. A couple large flowers will balance it out while also adding vibrant colors.
17. Low French Braided Chignon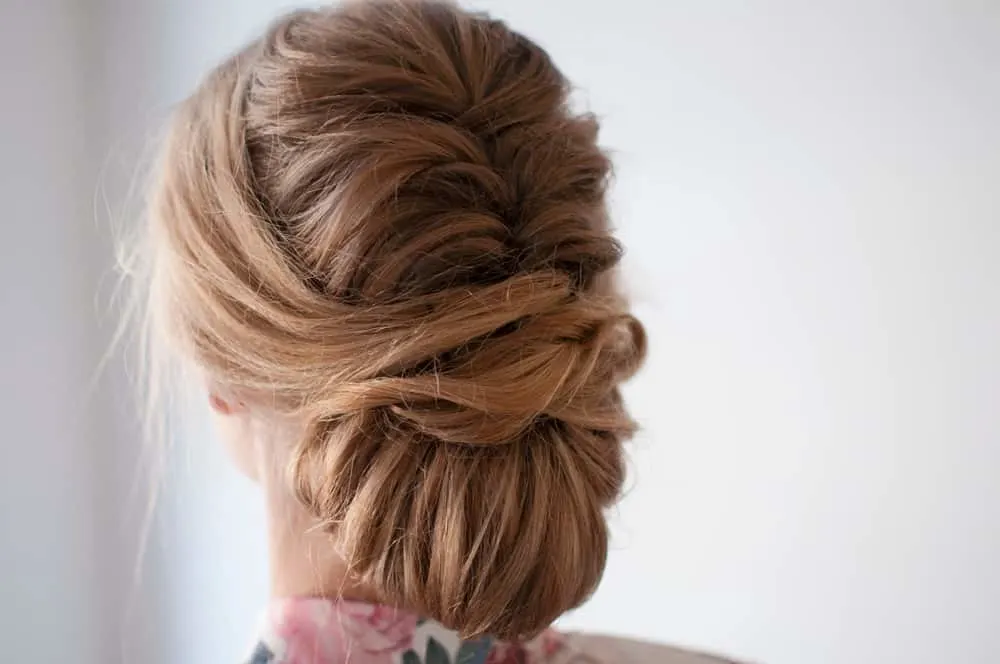 Low updos are often popular hairstyles. For women over 50 who prefer a subtle updo, try this low French braided bun secured right at the neck. The piecey-ness of the style and the braids ensure it has plenty of texture.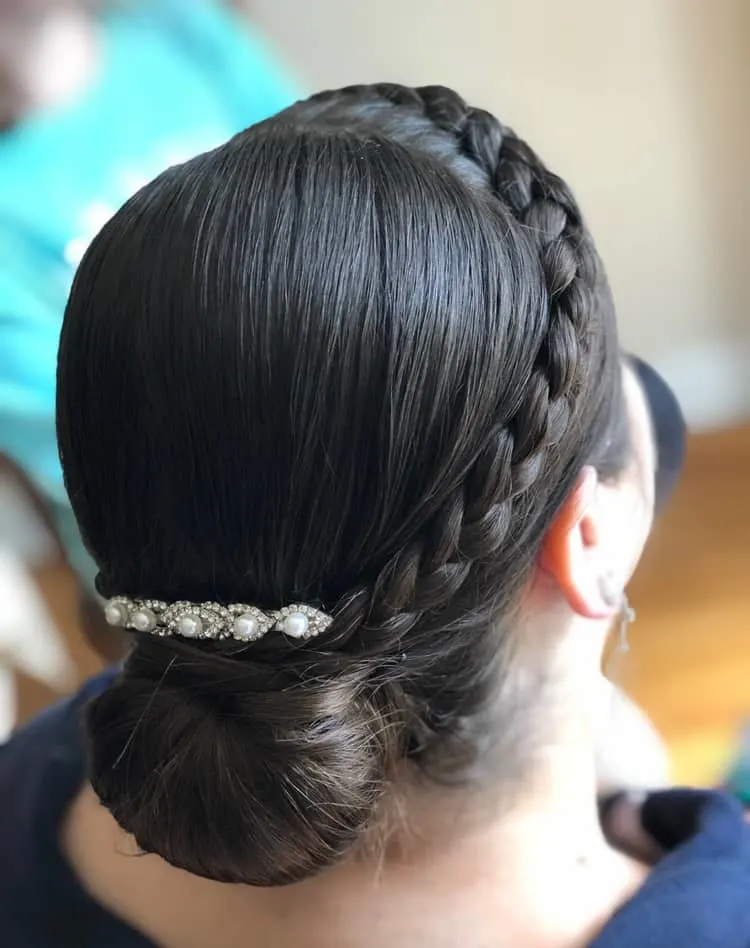 A crown braid or a side braid that starts from the temple can wind around the head and secure in a small bun clipped together at the neck. Use your favorite hair barrette for the big day or even a cute flowered clip for a casual or informal setting.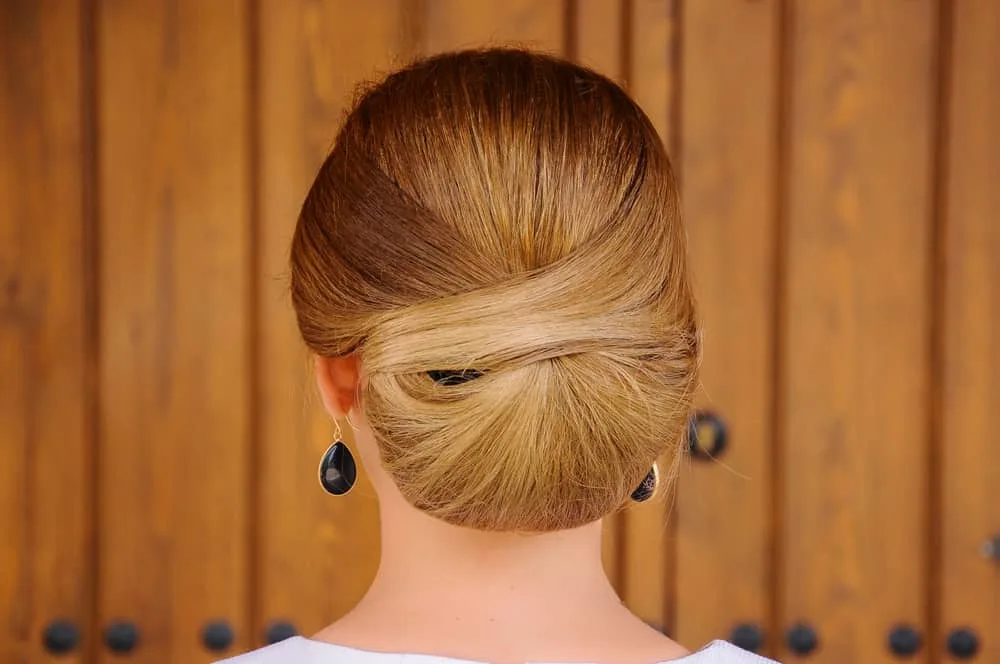 For a sleek updo hairstyle that will look great on your over 50 self, first straighten the hair for smoothness. Separate the front pieces of your hair.
Then form your low chignon bun above the neckline and overlap the remaining pieces for that sleek finished-off look. The criss-cross/overlap of the hair is very pleasing to the eye.
20. Bun Updo with Ringlets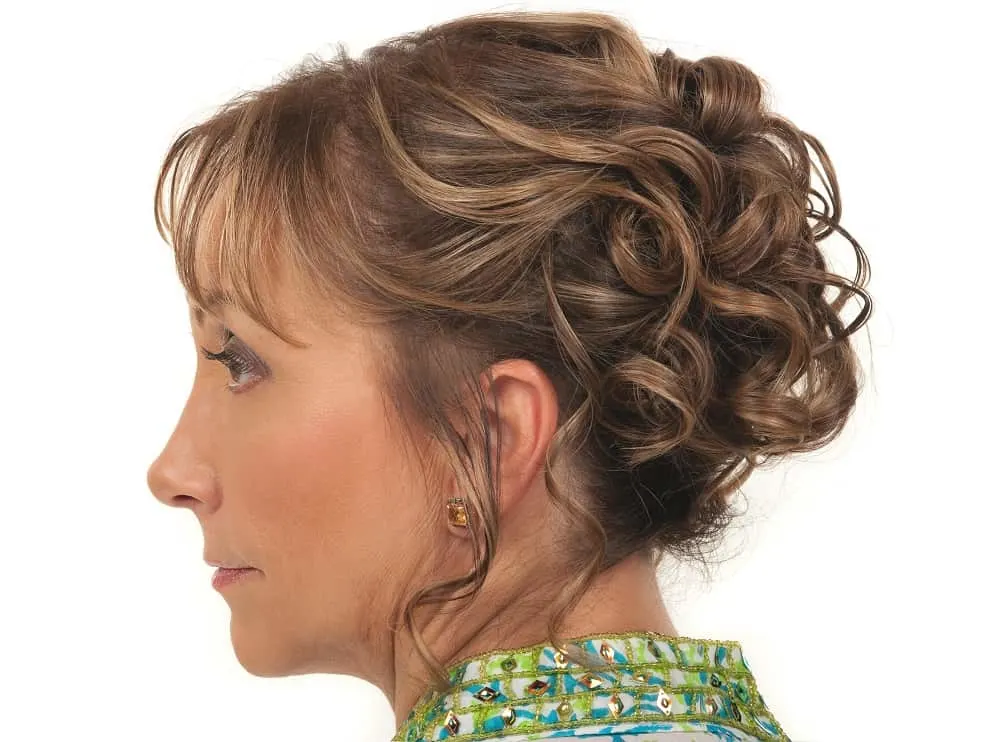 For women over 50 with thin or fine hair that is short, a low bun secured loosely will make hair appear thicker. The ringlets also add a nice elegant touch and are easy to do with a curling iron.
21. Double Crown Braid Updo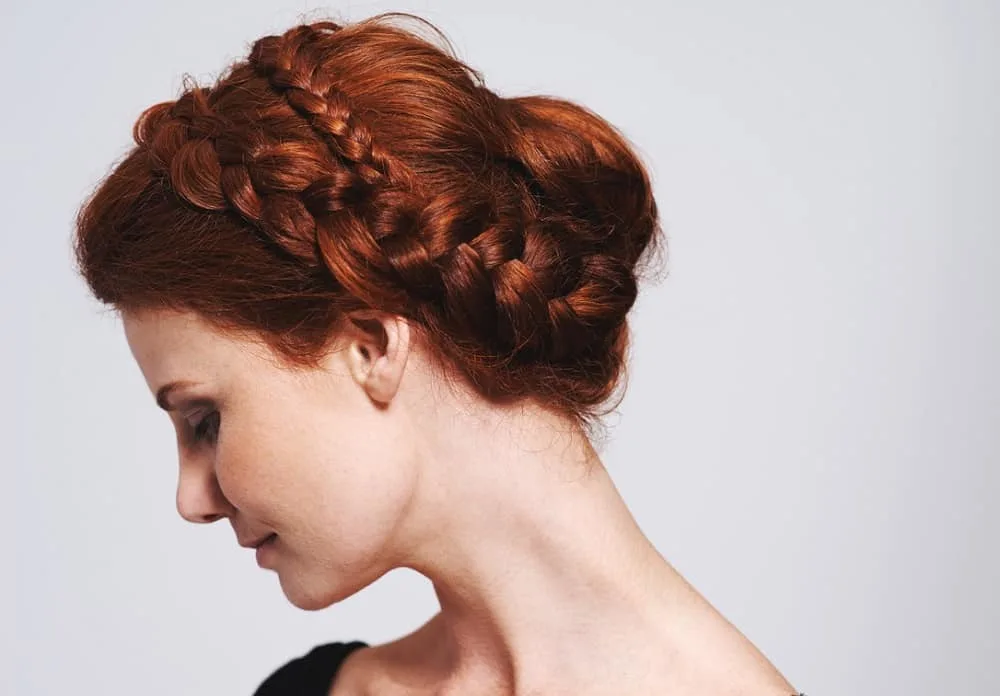 If you have long hair, you can secure a low bun halfway through before creating two braids that wind around the head.
You can also secure just the middle section of the hair in a bun and then make the two braids on either side that wind around.
22. Smooth Bun for Thin Hair
If you're above 50 with medium length thinning hair, you can still make a beautiful bun updo. Smooth it back with a little styling product but leave one section of hair to comb to the side. It will keep the style from being too slicked back and shapeless.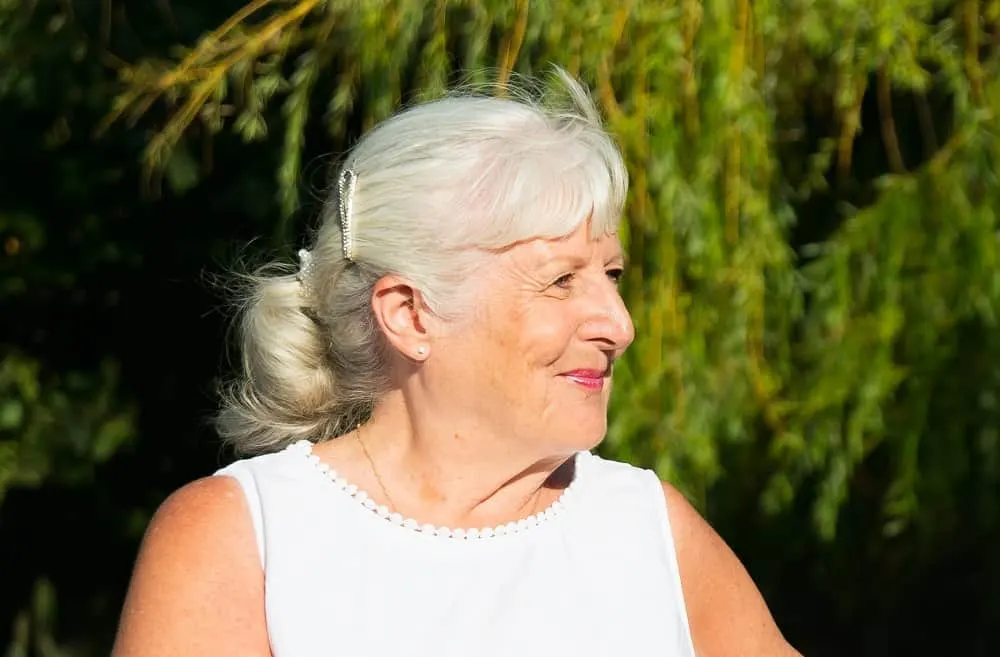 For casual errand-running on the weekend or when you're heading out for a nice evening walk, gather your hair into a low ponytail updo for a quick style.
If you have bangs, just brush them neatly or blow dry them for some lift. You can leave the ponytail plain or use a few barrettes for accents like the style above.
Part hair at the side to make a sophisticated side bun for women over 50. The off center part switches up the dimension of your face and also adds volume to the face-framing curly coils.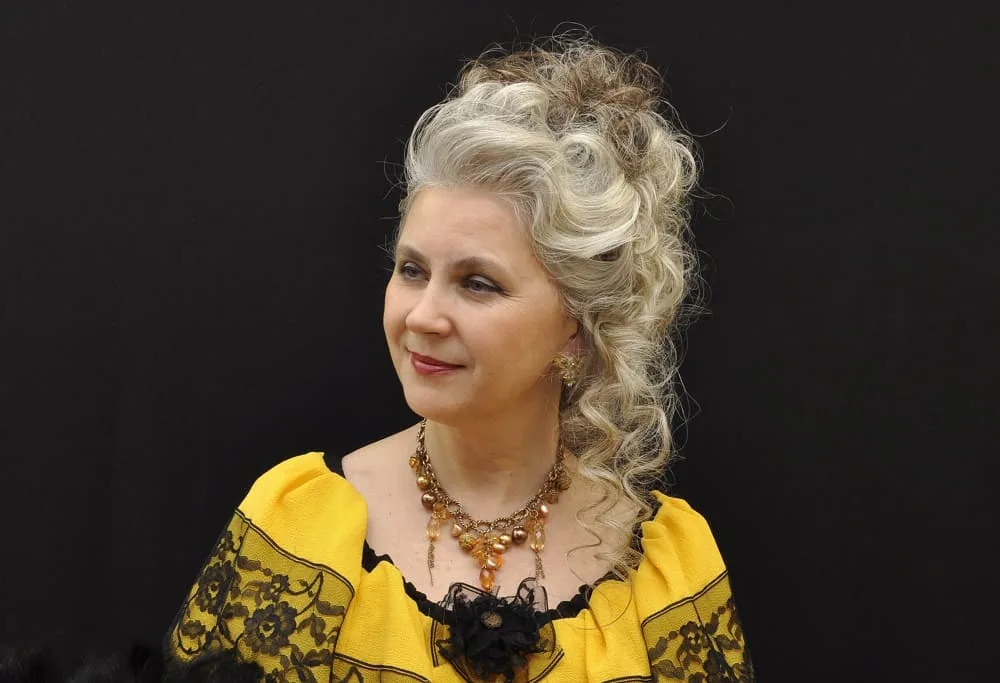 Transport yourself back in time with an updo hairstyle that is both regal and royal! Whether you have naturally long curly hair or you opt for extensions, this half up bun hairstyle is youthful and a total style statement for women over 50.
Tips
Always make sure you have nice accessories handy to finish off any style if it's what you like.
Curl your hair if you don't already have curly hair for a beautiful and easy updo, whether it's by setting or curling iron.
Blow drying your hair will help with a more sleek finish to most chignon styles.
Adding body to your crown area will add some height if your hair is thinning, to any of the above styles.
So which updo hairstyle are you feeling inspired by? Style doesn't have to end just because you get above 50 years old! If you're not feeling up to getting into a detailed updo hairstyle, try your hand at a simple low bun with loose tendrils around the face. It takes only minutes and is always a classy style.