Undercut hairstyles have recently become very popular among men. Mainly because it gets styled pretty quickly within no time. The undercut is surely the most trending hairstyle of 2016-2017. It gives a very comprehensive look at the face by far it is the most wanted and trending look for men. The best thing about Undercuts is that it comes in many variations you can style or choose an entirely dynamic look for you along with an undercut. The undercut hairstyle mainly comes from the sharp look of 1940's, but it is not limited only to short hair you can always create a brand new according to your face and personality along with an undercut.
Coolest Undercut Hairstyles for Men
The best thing about undercuts is that they get along with any type or texture of hair. An undercut is a haircut with short sides and a long top. Undercut comes along with a broad range of style like faded undercut, disconnected undercut. Check out the most trending undercut style for men that can totally enhance your personality.
#1: Faux Hawk with Undercut
This faux hawk undercut hairstyle has to be the look you can count on because of its easygoing. Takes a less time to style yet looking classy as it seems, even giving a messier look to it won't hurt and good to go in no time.
Hottest old school haircuts in 2018
#2: Dramatic Layering
This haircut exactly what it sounds like various sizes of layer gives a very smart look to the hair. A slight Undercut on both sides gives it an absolute elegance. The hair on the crown and back has a slightly short length making a look of thick volume. You can also check these stunning trendy boy's haircuts.
#3: Sleek Mohawk
A clear Undercut on the sides makes Mohawk very prominent and a voluminous look in the middle portion, creating a sexy Mohawk on the top.
#4: Shades Full of Layers
Although this style gives a quite intricate look, in reality, it is much easygoing. If you add a subtle touch of color along with the entirely random length of layers, it will be amazing; most importantly don't forget the classy undercut that brings the look all together.
#5: Side Parted with Undercut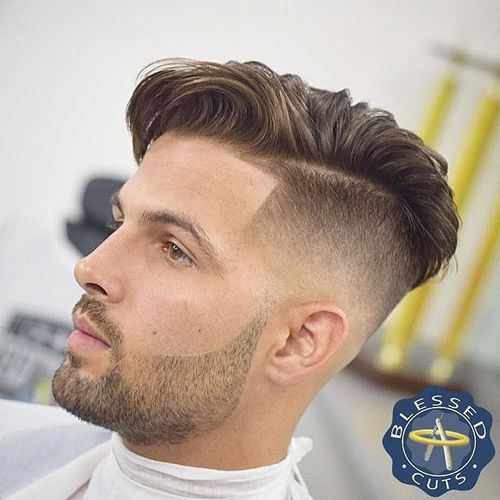 Side parted is one of those looks that never lose its charm and men of particularly all ages prefer this style. But only if you spice it up with a side Undercut then it can look splendid.