The taper fade is the coolest shaved haircut that gives a modest finish to your hair length. And especially when we talk about men's haircuts, no other haircut gives such fine and fresh texture than the fades do. With a bit arduous and skilled job, you can get an impressive taper fade haircut.
Trendy Taper Fade Haircuts for Black Men
There are two types of fade haircuts that African American black men usually opt for.
The first one is the high fade haircut that involves completely fading of hair from the back of the head and the natural lines of hair growth at the temples.
The second one is the low fade haircut that involves the disappearing of hair about one inch above the lines of hair growth.
There's also another type of fade haircut that lies in between the high and low taper fade cuts that we recommend to you while having your first fade.
Below are some trendy and popular black men hairstyles with high & low taper fades.
1. Low Taper Fade for Black Men
A low taper fade perfectly works for black guys. Use jam to define your curls or use the sponge when you need to style your ringlets easily. You can place the conditioner directly on your hair or on the sponge before using it.
2. High Taper Fade for Short Hair
Any black guy with a high taper fade will look heartbreaking. Go for a buzz cut if you want a low maintenance hairdo that will make you look sharp and fresh all the time.
3. Taper Fade for Afro Hair
A taper fade for black men styles perfectly with Afro hair, especially if you use a twist sponge. It is affordable, easy to use, and you can buy it from any drugstore. Facing the hair, start creating circled motions with the sponge to build the curls.
4. Taper Fade with Top Braids
A high taper fade makes real magic when it comes to highlighting black men's top hair. You can either wear it loose or create braids using Jumo hair. Complete the look with a medium beard.
5. Low Fade With Line Design
To recreate this fantastic look, get a low taper fade for the sides and a bald fade in the back. Create a double line design over the ear and use plenty of jam to give your coils texture and form.
6. Taper Fade with Rolled Coils
High taper fades can be a great low maintenance hairstyle for men with coarse hair. Keep the sides short and for the top, create twisted braids. Before you start creating the twists, apply some moisturizer or leave-in conditioner to make your coils easy to work with.
7. High Taper Fade with Dreadlocks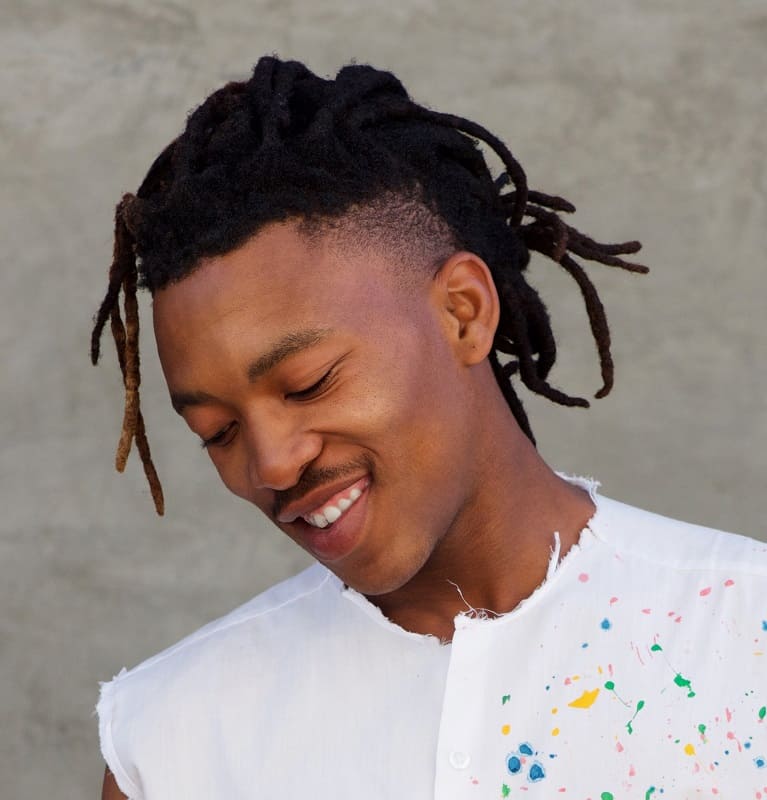 A high taper fade will gorgeously highlight your top hair. You can create dreadlocks that you can wear free or pinned in a ponytail. The look is ideal for young black guys who need a low maintenance hairdo.
8. Low Fade with Line Design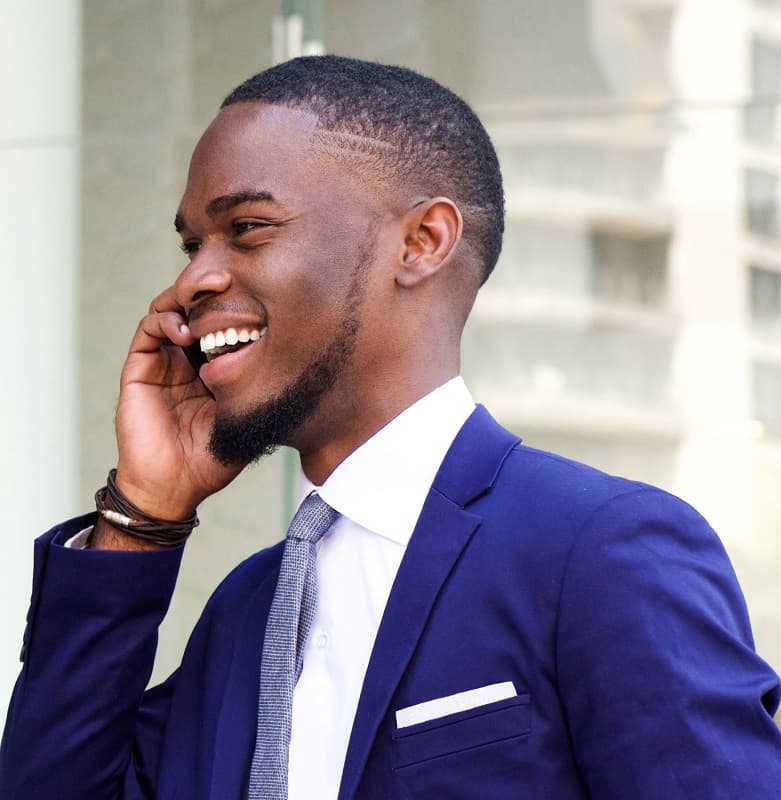 When you want a fresh look that is ideal for formal occasions and can also be a great choice for casual outfits or parties, a buzz cut with a taper fade on sides and a double hard part is an excellent option for you.
9. Taper Fade with Pompadour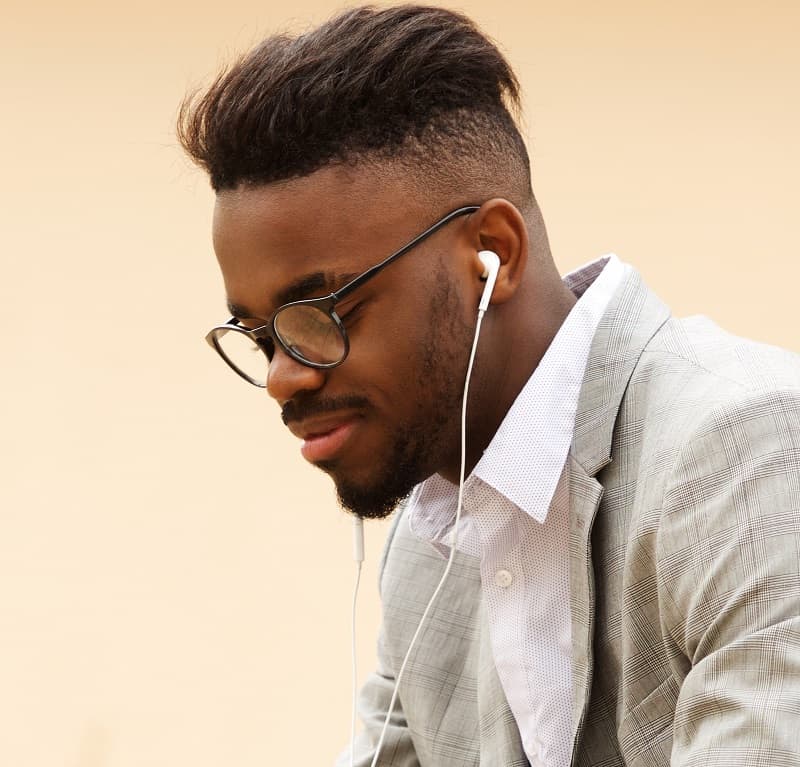 Black guys who want to look professional can opt for a high top with a taper fade on sides. Style the longer hair in a Pompadour shape by lifting it and slightly combing it back. You can even add a pair of glasses.
10. Temple Fade for Black Guys
A temple fade will maintain the hair around your ears short, while your top and sides get a lot of volume. If you have Afro hair, you can use jam to define your coils and get a fresh look.
11. High Taper Fade with Blonde Tips
A high taper fade will accentuate the rich top, distributing all the attention on your coils. Bleach only the tips of your hair and dye them in bright blonde color so that the contrast will be eye-popping.
12. High Fade With Beard
Here comes another bad boy look. The hair length is too short, and the fade gradually disappears even before reaching the ear. The combination of fade haircuts with a beard that is higher in volume gives a boost to your look.
13. Low Fade Haircut With Shaved Sides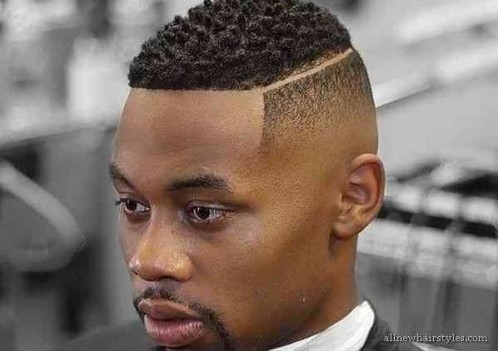 This low fade hairstyle involves a gradual reduction in the length of side hair till it fades into invisibility towards the temples. This taper fade haircut for black men can be a perfect option for those who are looking for the convenience plus style and uniqueness as well. Know about the differences between taper vs fade here.
14. Low Fade With Afro Texture On Top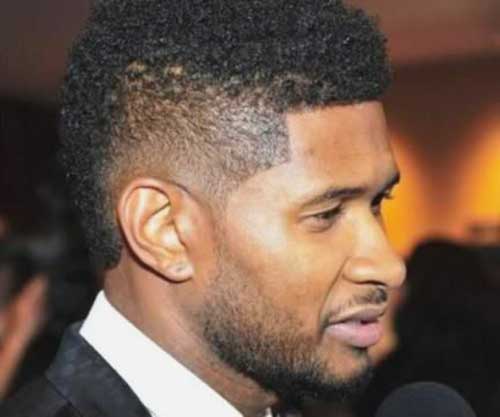 This fade cut gives a soft and decent look. With the Afro texture on top and the side edges, this haircut provides neat and clean sides and back. This haircut is easy to carry both at the party and the work.
15. Mohawk-Style Fade
It's a blend of fade and Mohawk haircuts. With this haircut, you can get both neatness and a cool texture. The sides are fading gradually but continue to appear until their end near the ears.
16. Groovy High Top And Fades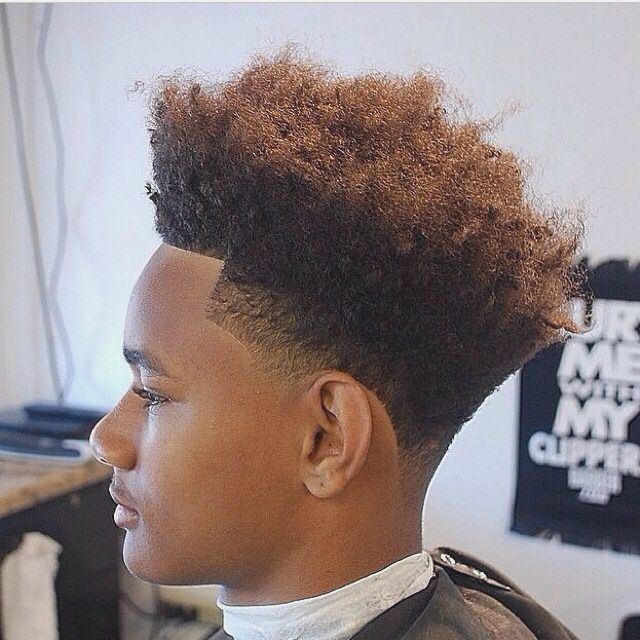 The guys with curly hair can opt for this haircut because it let the real hair demonstrate their texture with an edgy finish. You can try different styles on your back hair such as a shaved back or a fading hairline.
17. A Wavy Low Fade Haircut
You can give your simple fade haircut a perfect finishing touch with a wavy line on the side of the head. This wave moves from the crown area to the back and circles the middle head area. You can try different designs to style this line.
Boldest undercuts styles to get new look
18. Low Fade Style With Beard
Here comes another creative fade haircut. You can make use of your thicker facial hair to demonstrate the disparity of texture. Align the beard with the haircut and it will give you a bad boy look.
Tutorial: How to do a taper fade
19. High Top Fade Haircut
Nothing can be friskier for curly hair than the high top. This amazing black men hairstyle is an example of how you can try different fade techniques with the top, for instance, a shaved design or a fading hairline down the back of the neck.
20. Labyrinth Fade
Now this one is a fade that really needs a skilled professional to make it. The middle hair is given the Mohawk style, and the rest of the hair is trimmed in a labyrinth design.
21. Curly Classic Fade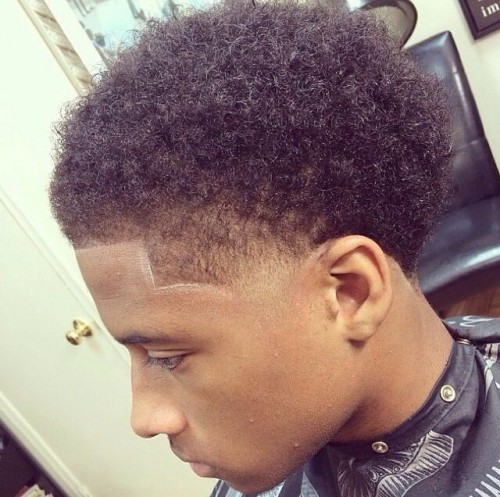 This fade starts from the very beginning of the forehead and ends till the neck. The front hair length is lesser than the hair at the back of the head. This is something that makes this haircut different than the rest.
22. Wavy Low Fade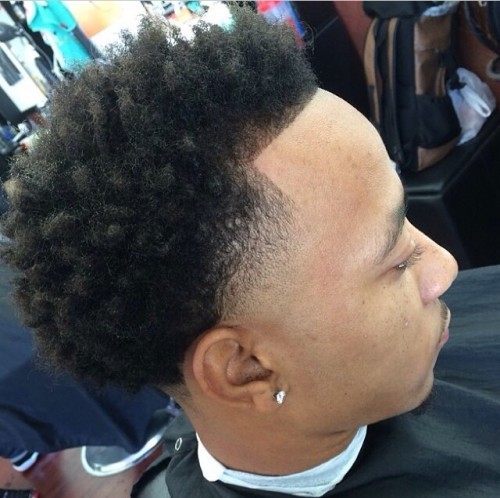 Just like the previous haircut, this haircut also emphasizes on your front side. The sides are not shaved and the volume of the back hair is not muddled as well. The hair from the forehead area and the back of the neck are trimmed to give a neat look.
23. Backwash Fade
This one is another tricky fade haircut for black men with various waves. The haircut can be the best substitute to a complete bald. This haircut gives you a tough but a trend-setting look.
24. Round Fade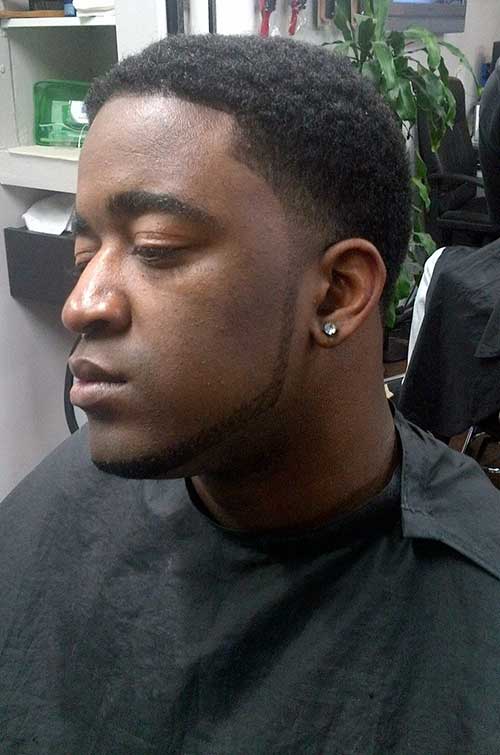 This stylish haircut is especially for teens as it gives a soft look. The hair is trimmed in almost equal proportion from the top head to the neck. You can pair your haircut with a well-trimmed beard for a classy look.
25. Taper Fade with Ocean Waves
Ocean waves have been popular for almost a century and they are becoming more and more stylish. The hair length for this hairstyle must be quite short. Hair gel is applied and the waves are made with a special comb. The result is fantastic!
26. Edgy Fade Haircut With Beard
This black men haircut is equally suitable for the formal and informal looks. The side hair is shaved to make them fade at the temples. The beard and mustache are well-trimmed giving a look classy enough for the office.
27. High Fade With Shaved Edges
Here comes another combination of fade with the beard but the thing that is complementing this haircut is the shaved edges. The crown area hair have natural curls enhancing the look and boosting volume.
28. Trimmed Low Fade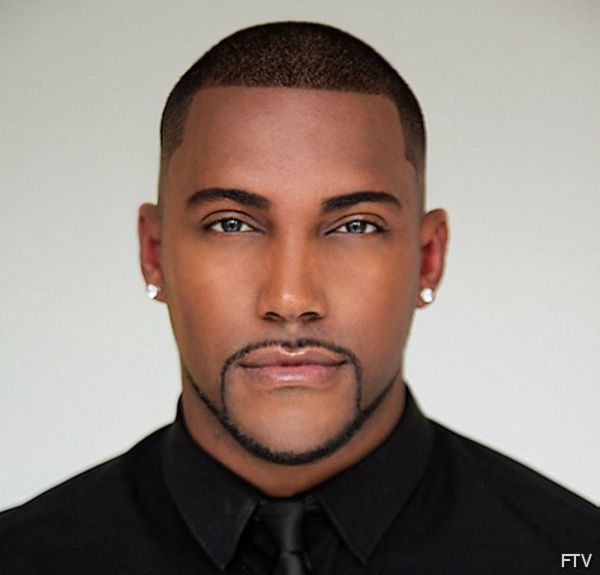 This haircut takes in neatly trimmed middle hair and the tapered side hair. The fades start from the temples and end before the ear. The beard is well-trimmed making a perfect combination to this haircut.
29. Flower-Patterned Fade
This fade hairstyle requires skillful work. A flower-patterned razor-work is designed on low fade haircut. No doubt, this haircut can give your personality a boost and make you stand out from the crowd.
30. Afro Low Fade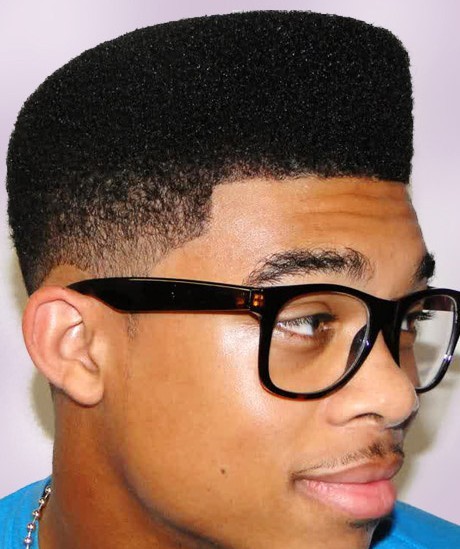 This African style low fade with high top let the naturally curly hair show off its texture. This black men hairstyle gives a cool look to your face and personality, and it's equally suitable for teens and older.
31. Bald Fade Cut
A bald fade is much better than the typical bald and it looks more appealing if combined with a well-trimmed beard. A decently managed quality fade haircut will certainly add style points to your personality.
32. Temple Fade
Here comes another cool fade haircut that can give a boost to your charming personality. The fade starts from the corner of the forehead and near the temples. The hair on top remains long enough to reveal the Afro texture, and the back hair is tapered towards the back of the neck.
33. Artsy Bald Fade
A bald fade is the best haircut to try some coolest things on your head like a razor-work or something like that. The Afro texture and faded temples give a neat look that suits most black men.
34. Short Fade With Tapered Temples
This haircut is one of the most conservative black men haircut. The short fade and tapered temples are an upgrade for everyone's favorite haircut. A French beard can be a decent pair with this haircut.
35. Locks Low Fade
The natural curly hair and the African texture can give you a perfect men's fade hairstyle. There's no need to go for a shorter fade with this well-trimmed low fade. The fading temples are an addition to this haircut that highlights your style.
36. Dodgy Extra Short Fade
Here comes another short fade hairstyle involving razor-work on the head. The smooth fade effects on the temple and the outlines give a boost to this style. An attractive and skillful razor-work can add points to your style.
37. Short Haircut With Tapered Temples
Tapered temples and short haircuts give a neat and classy look, and it's one of the most favorite and suitable haircuts for black men. If combined with a well-trimmed beard, this fade looks more appealing.
38. Classic Short Fade Haircut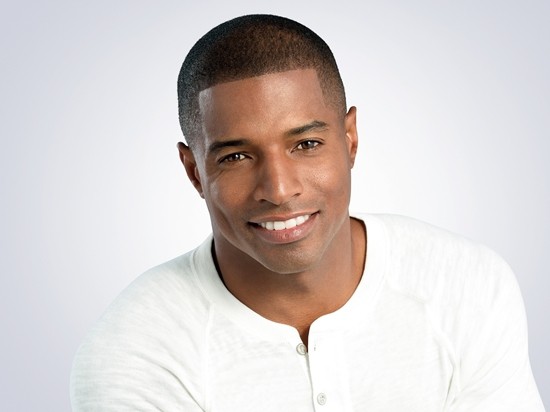 The classic short fade with barely visible tapered temples gives a neat and stylish look. This haircut is paired with the square forehead line. The simplicity of the shapes and lines of this haircut ad points to your style.
39. Shaped up Taper Fade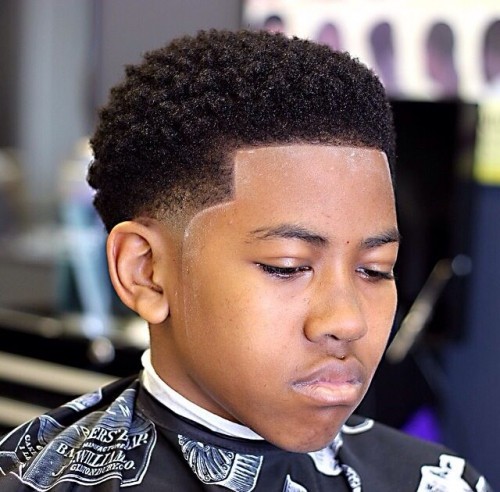 Shaping the hairline is very important for creating a neat taper fade haircut. Ask your stylist for a shape up in order to outline your great taper fade. Outline the facial hair as well to get a stylish look, which will make you stand out of the crowd.
40. Taper Fade for Straight Hair
Taper fades look very neat on straight hair. All you'll need to do is shave the bottom part and make the fade on the top visible. Leave the hair on top long enough to create short bangs. Such style needs no special maintenance, except regular barbershop visits.
41. Taper Fade Mohawk
Taper fades are quite diverse. So, if you want to go a little wild, opt for some special styling such as mohawk. Make a regular taper fade, while leaving enough hair in the middle for a spiky style. You'll need a lot of hair gel to keep it in place.
42. Neat Taper Fade
This neat taper fade haircut can also be considered classical. The top hair is trimmed very short, which allows you to avoid any maintenance. This haircut will look great when you just get out of bed or right after you wash it. A great choice!
43. Spiky Taper Fade
A spiky taper fade will look great on afro black men with hair, which is hard to manage. Cut the hair as short as possible on top, while maintaining a fade on the sides. Leave enough hair to create a high spike. If you get tired of the spike, the style will be easily turned back into a regular taper fade.
44. High Taper Fade Hairstyle
This is a variation of the classical taper fade. Leaving the hair a little longer is a great idea for men with square or round face shape. Volume on top will visually elongate the face while keeping the taper fade hairstyle intact.
45. Creative Taper Fade
Tired of the classics? Turn your taper fade into a real masterpiece. This creative hairstyle is hard to make at home, but any professional stylist will be able to assist you. This style is easy to manage and makes a great impression.
46. Taper Fade Art
Whenever there is shaving, there is always room for art. Since shaving of the sides is often a compulsory part of a taper fade hairstyle, some art can be in order. Get creative lines or geometrical shapes to make a special statement.
47. A Very Short Taper Fade Style
If you really want to forget about hair brushes, go for the short taper fade. Cut the hair short leaving about a quarter of an inch on top and shave along the hairline. When the hair grows out a bit, it has all the chances to turn into a classical taper fade.
48. Military Taper Fade Hairstyle
This hairstyle can easily be called military due to its minimalist qualities. Most of the hair is shaved off, while just a tiny bit is left on top. The military taper fade is neatly shaped up to make an impression of a taper fade.
49. Outrageous Taper Fade
This taper fade is really quite outrageous. Mohawks are always a bold way to go. So, if you are ready for a change, take a chance on this style. If you don't like the result, turning it into a military taper fade will take several minutes.
50. Highlights
Highlights are always a great idea, which helps you diversify any hairstyle. Choose the colors you like best and go for it. They can range from soft blond to outrageous pink. Give some of them a try and you won't regret it!
51. Accessorize
Tired of the boring taper fade, but not ready for experiments? Choose some accessories to diversify your look. Earings are a great start.
52. Taper Fade with a Cowlick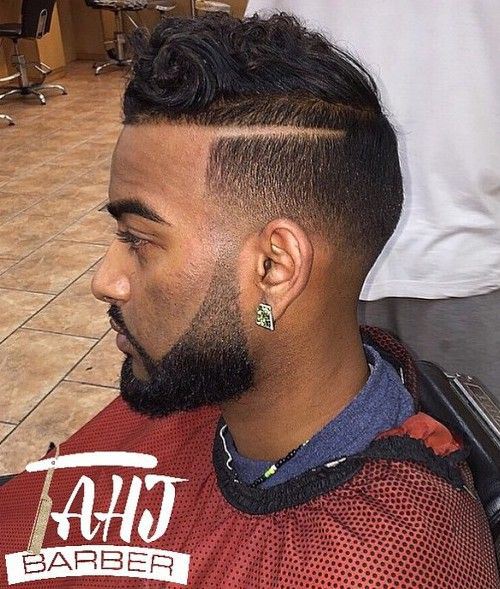 This is one of the unique hairstyles for black men. Cowlicks are always fun and look great on many men. Make a creative taper fade hairstyle by leaving the bangs long enough to be styled into a cowlick. It is quite easy to do at home with the help of a flat iron and some hair gel.
53. Short Taper Fade with a Beard
A great way to outline a taper fade is to add a voluminous beard. However, neat beards need just as much care as the hairstyles. So, while you will save time on styling a taper fade, be ready to spend some on your beard.
54. Outlined Taper Fade Hairstyle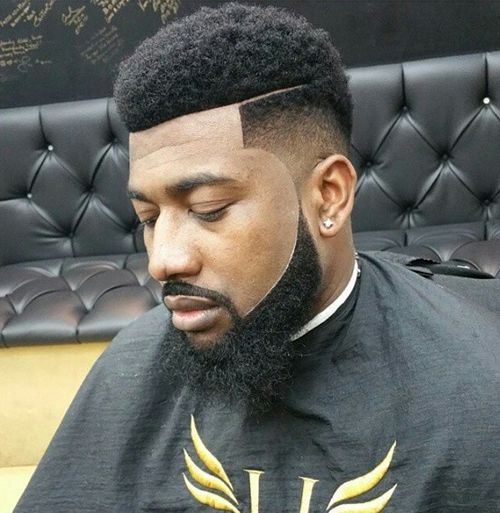 Want your taper fade to be very noticeable? Do what you can to focus the attention on it. Strict outlining will do the job. Not enough? Add some interesting designs to the shaved part and you will keep some pretty heads turning your way.
55. Go curly
Black men have curly and often hard to manage hair. So, most of the taper fades are designed to hide that fact by cutting the hair as short as possible. However, there is no reason to get rid of all the pretty curls. Leave at least some on top to create a neat look.
56. Waves
The taper fade is usually a very sharp hairstyle, so make it a little softer with some interesting designs. If you don't want to be too outrageous, go for some nice waves to make your taper fade look special and fabulous.
57. Messy Taper Fade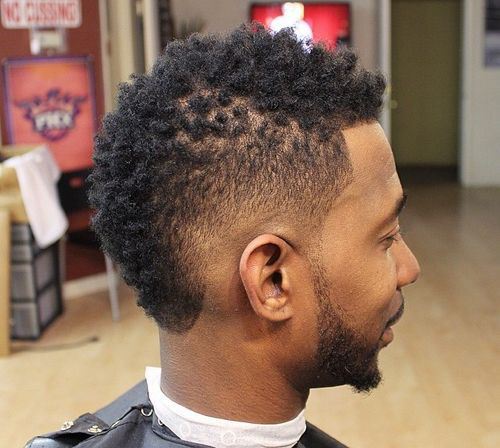 This is a great option for men who don't like regular barber shop visits. Let your taper fade grow however it wishes. However, make sure not to overdo it. Otherwise, the "cute and messy" can turn into a complete disaster.
58. High Taper Fade with Thin Whiskers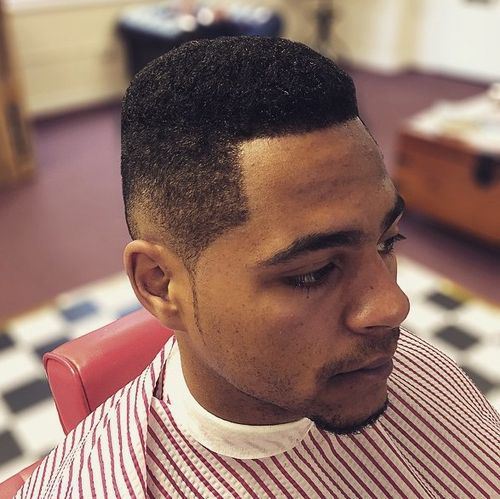 Thin whiskers look very adorable on any man's face. They will also help elongate the face shape, just like the high taper fade does. Mix them together and you will get a stylish look for a square or a round face shape.
59. A Very High Taper Fade
This very high taper fade style might look fantastic but is pretty hard to achieve. Styling the top part of the hair will take some time and a lot of hair cosmetics. This style is great for special occasions but will be a hassle for everyday wear.
60. Upper Designs
Taper fade doesn't just look great with temple art. Go for upper designs to make your look even more special. Straight lines or creative waves will really make you stand out of the crowd. Make sure to keep the designs updated.
61. Will Smith Taper Fade
Will Smith is a big taper fade fan. So, learning how to make his hairstyles is a great idea. Choose the Will Smith fade you like best and go for it. Most of them are appropriate for any face shape and hair type.
62. Beard and Long on Top
Teaming a fade haircut up with a beard is great for guys who want a modern look. Keep things long on top for an added cool dimension.
63. Short Dreads
Short dreads are a great style for guys with African-textured hair who want to celebrate their cultural heritage. Short dreads look great on guys with a professional dress sense.
64. Fade with Tramlines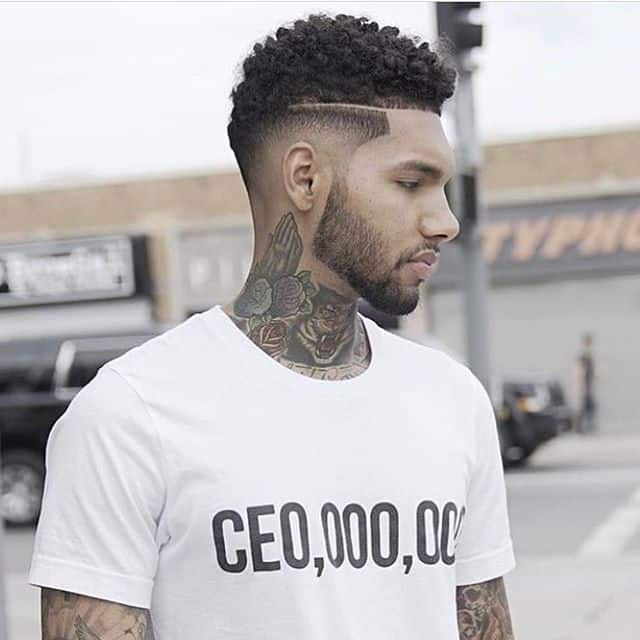 Create a clear border between your hairline and your fade with a straight tramline. The crisp divide helps to keep things looking fresh and neat.
65. Teddy Boy
Style your fade haircut with a retro look by fluffing up your hair into a quiff. This works best on hair that has been chemically softened to relax it.
66. Close Shave
For a clean hairstyle for black men, choose a fade that segues into a close shave cut. This look is perfect for guys who want a low maintenance look.
67. Natural Style
For a low maintenance look, allow your curls to grow out untamed. Create a gentle fade in the lowest parts of your haircut to accentuate your style.
68. Curved Tramline
Cutting a curved tramline into a fade haircut is actually a great way to change your look. A curved line creates an optical illusion which changes the shape of the face and bone structure.
69. Spiked-Up Style
Spiked up hair looks really cool on guys with fade haircuts. The fade sections help to accentuate the different spiked-up levels of the hair. Use gel to keep spikes in place or leave things soft and natural.
70. Blue Rinse
Give your fade hairstyle an extra dimension by adding a touch of color. Dark blue and electric blue colors look really great on black guys.
Hope you have liked our collection of black men's tapered fade haircuts & hairstyles and get the idea for yours. The naturally locked hair with African texture can give a fab look in these tapered fade haircuts.
We have shown you various ways to diversify your fade haircut. Just pick your favorite one and show the picture to your hairstylist. And don't forget to share your experience with us about your haircut.