Bob with Bangs for Black Hair
Here are 15 of the best bob hairstyles with bangs for black hair.
Straight one-length bobs are a huge fashion trend nowadays since the hair at the back and the front is of the same length. The ends of the bob are slightly curved inwards and give off a dramatic and chic look.
The golden blonde highlights compliment this black bob with bangs so well that you just have to give them a shot.
This curly lob is a fun addition with bangs hairstyle. The curly locks are cut in unequal strands and make a more mysterious and enchanting look. Wear this black girl's bob with bangs looks to your work or to any party, it will work perfectly well for all situations.
This is a fun and funky hairstyle with a short wavy bob with bangs that has all the right feels for a bold and confident black woman of this era.
You can add some highlights to this hairstyle to show your creative and bold side to the world. To top it off, you can make the waves looser so that you get to flaunt your African American hair in style.
This purple bob with bangs hairstyle is perfect for black women who love experimenting with new colors and styles. You can have as many shades of purple in it as you like and still look super cool and classy at the same time. Just don't forget to dye the bangs purple too.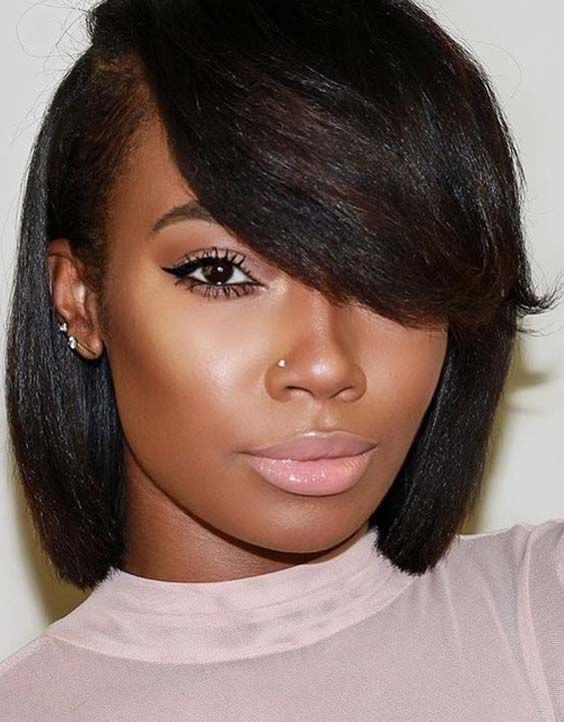 This sleek black bob with bangs is worth giving a try, isn't it? The hair is cut in all the right angles and has just the perfect thickness for an exquisite short bob. The stylish curvy bang at the front is so chic and stylish that it is worthy of a front page.
The black women usually do not go for blonde hair, but blonde suits them too if styled in the right manner. This short blonde bob with bangs is the best way of going for blonde hair for the first time.
If there is a bob that looks intense and oddly comforting at the same time, it is this blunt bob. The hair is cut to the same length and is straightened to achieve that perfect blunt bob with bangs on black hair.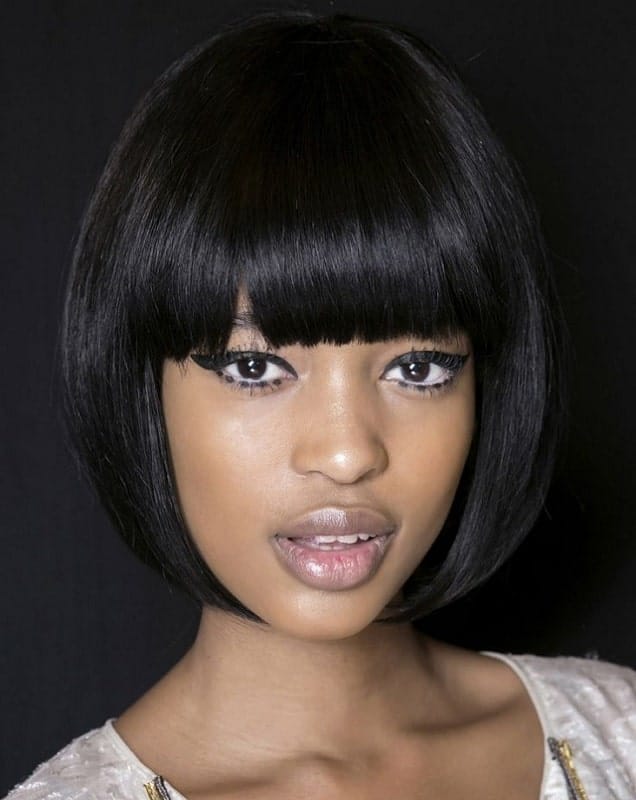 French bangs have a charm of their own which makes everyone adore them. This lovely bob is worth a shot this season with the cute bangs at the front.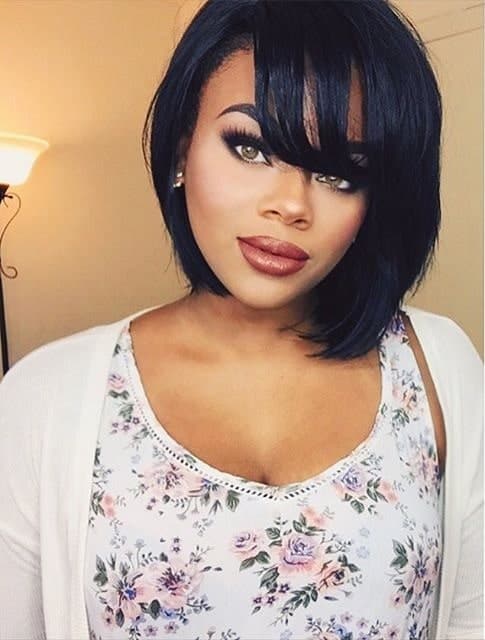 The natural short bobs are the cutest ones for black women, aren't they? This natural bangs on bob hairstyle gets classier and more impressive with the gentle and soft bangs swept to a side at the front.
Who said that bangs always must be cropped short? Nobody did! So, why not have an adorable short bob with some long bangs for black girls to show the fun and unbridled side of yours?
This is an intense and sexy hairstyle for Afro-American women who love to look as hot as they can be. The black hair with bangs is quite short which makes you look even more intense and stylish. You can cut your bangs slightly longer if you want to, but the bob looks fine in this blunt style.
This black bob with bangs is absolutely worth falling in love with. The hair is cut in all the sharp angles and falls down the sides of your head in gentle waves with curled bangs swept to a side.
Well, if you cannot decide a black hairstyle with bangs you do not have to worry. This is the bob which suits every face cut and every face shape, so you can confidently go for this one if you have any reservations or hesitations.
If you want to go for a super funky and bold hairstyle for black ladies then this colored bob weave with bangs weave is perfect for you. The bangs are all sleek and straight with just the right symmetry to them that you cannot help liking.
15. Pixie Bob with Colored Bangs
This is the pixie bob on black hair with bangs done right since the bob is all angles and short messy hair with the bangs colored olive green.
These are some of the best bobs with bangs for black hair that we have hand picked for you. Have fun trying them on!