Irrespective of the season, going for two-strand twist styles on natural hair provides that personal touch that sets you on an elegant path. There are several natural hairstyles for women who desire cool and chic hairdos.
Twists, also popularly known as two-strand twists, is a hairdo made with two-strand in any section of the hair around each other till the ends. The 2 strands twist out in various parts of the hair may range from small to large.
Often when women want these twists on natural hair over other traditional hairstyles, it always implies taking a break from to enjoy a two-strand twist out.
While some 2 strand twist out may take a very different look regarding design, volume, etc., you can always find a style that suits you.
How to Do Two Strands Twist with Natural Hair
To do two strand twist styles, the following step is taken.
Prepare your hair to twist
Create and arrange each section
Divide the organized section in two
Start twisting and continue down the section
Keep your tension even and working on the ends
Curled ends and add finishing Product
Watch this following video about How to Do Two Strand Twist on Natural Hair
How To Style 2 Strand Twist
To style two strand twist, long or short, there are several styles to try out. We have the big to small braids and more. But, notwithstanding the number of incredible interlaced looks, there are some twisted natural hairstyles we find to be much better and sophisticated than others.
From the plaited pigtails to extra elaborate two strand twist out, there is no limit to the natural hairstyles for women and you to create!
Popular Two Strand Twists on Natural Hair Ideas
Whether you are only on the lookout for something new or a bit fancier, this list has got you honestly and well covered.
1. Half Up Half Down
Two strand twists can upgrade your natural hair look in a glimpse of an eye. We know coarse hair can be hard to manage, but these twists do a really fine job keeping your hair protected and tied down. They also allow you to create various hairstyles like this half up, half down hairstyle.
2. Rope Braids
Wanna get that spicy Latina look? It's gonna take you more than a cool outfit and some jewelry; you need some stylish twists to get a fancy appearance. And rope braids are definitely the key to a hairstyle that expresses your glamorous style and personality.
3. Two Strand Twists Bob
Twisting your natural hair will give those coarse locks more definition and shape. Get them the right cut, but make sure you know how tighter your curls get once you trimthem. You definitely don't want to end up with hair that is too short.
4. Curly Twists for Medium Hair
To recreate this effect on your twists, here's a tip you might find in handy: loosely roll each strand when getting twists for your natural hair. It will preserve the curls and make the braids seem intricate.
5. Knotless Two Strand Twists
Knotless braids work best for hairstyles that are built using hair extensions. The technique used to secure them involves dipping the tips into hot boiling water so that you won't need any elastics for the ends. Twist them loosely to gain that messy aspect.
6. Bumpy Top
Not many women have this amazing texture and hair volume, and if you're not one of them, hair extensions can certainly help you gain that fabulous dimension. On natural hair, it will probably take you a good couple of hours to create these two-strand twists, but when talking about extensions, things are easier. You can find already braided bundles and you just need to attach them.
7. Cornrows and Twists
Combining two types of braids is always a great styling for a woman with natural hair. Firstly, for the hairline, create cornrow braids, knot them and continue with two stranded twists. Dye the tips in a brown nuance if you don't think this is not fancy enough for you.
8. Thick Twists for White Women
Always loved those black women hairstyles? Then this is your way to shine! Buy two or more packs of rope braids and attach them close to the roots. Also, make sure your natural hair has the same color as the extensions to create a full black look.
9. Twisty Dreadlocks
Did you know that you can create a hairstyle resembling dreadlocks using the two-strand twists technique? Well, here's how you do it! Make sure your hair is washed and combed. Take a section, twist it a little and rip it to the roots. Repeat the procedure until you have your dread. Do the same for another section and use the dreads to build the twists.
10. Twisted Braids with Side Part
For these Marley thin braids, you should search for hair extensions that have a kinky texture, but also elasticity. When attaching the hair, use gel on both extensions and natural hair, part the section in two and wrap each on the Jumbo or Kanekalon hair. Keep twisting each individual as you turn.
11. Loose Two Strand Twists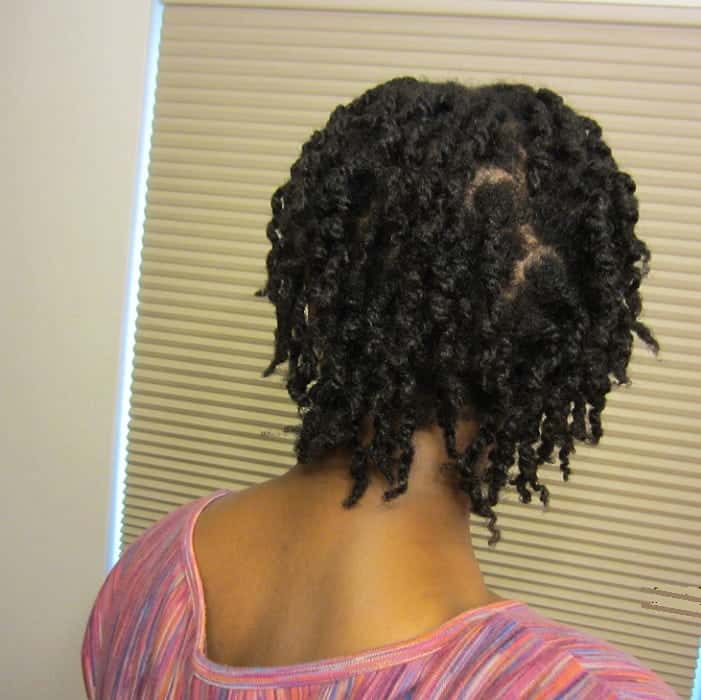 The use of two-strand create twists that would make your natural hair resemble a great swirl. The usage of thicker strands offers a more jumbo twist, which appears to be more fashionable than thin ones.
12. Low Bun
With the low bun, you get a two-strand twisted hairstyles that give a stunning appearance when worn!
The low bun offers more inspiration whenever you run out of ideas. It is a handy 2 strand twist out that work well for school/work or special occasion. It is always a great natural hairstyle to keep under your radar.
The milkmaid braid style is our favorite amongst all hairstyles. Women with afro hair can rock this natural hairstyles by 2 strand twisting the anterior sections of hair back into two strand twist out with layers over each of them.
To get more sleekness and polished finish, all that is required is to perform a smooth through the locks before styling.
In case you missed the memo, women can also rock pigtails, too! For a two-strand twist style on women's natural hair, the plaited pigtails give an edgy two strand twist out that works well on all hair lengths!
To manage the lookout for the playground and add a more mature vibe, try binding 2 strand twist out collectively at the base to create a chunkier twist.
Seeking natural twist hairstyles for some date night? Well, nothing is more romantic than the side braids hairstyle!
This hairstyle is ideal whenever you find yourself struggling with the trickier French and Dutch braiding techniques. Side braid to give a better appeal as they become messier, so you get the chance of dragging this hairstyle out for days!
16. Single Two Strand Braids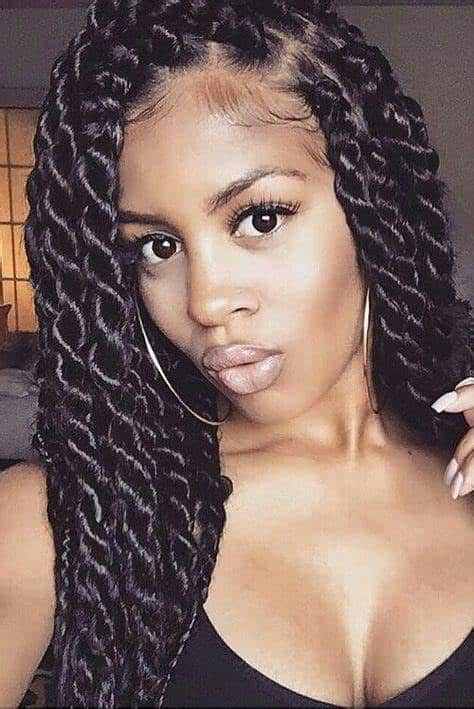 If you enjoy the practicality attached to woven styles, yet wholly fed up of standard box braids, then you can make some changes by applying the two-strand flat twist approach.
With this two strand twisted natural hairstyles, you get to preserve your hair length, with a bonus of exploiting definition and texture.
17. Short Twist Black Hairstyles
The short twist hairstyle is a superb style common amongst black women with short hair. The two-strand twist styles on natural hair appeal more to the women folks for being fashionable and fabulous.
One notable feature of this 2 strand twist out is that it offers flexibility. Irrespective of your hair texture, you would always get a fantastic look and not strand stretching.
Got a formal event to attend? Then let the twisted updo uses its 2 strand twists to leave a lasting impression on you and other guests. With the elegant finish that neatly tucks away all tresses, this natural hairstyle remains a perfect companion for any outfit you plan to rock.
Long and Beautiful Kinky Twist for Women
Teeny Weeny Afro (TWA) is a consistent performer and has remained a top favorite amongst women. The bold and flattering natural hair look with this two-strand twist styles can afford you more delight and unique challenge in scalp protection.
There is no doubt that these twist styles seek to solve a lot more. Its small profile makes it suitable for warm seasons.
A ponytail is a simple but superb style for long or medium two-strand twisted natural hair. It's best suitable for any casual party.
FAQs
Q1. What Is A Protective Hairstyle?
Ans. The protective hairstyle is a term associated with natural hair women, or pretty much all women hear on a regular. The right protective hairstyle in basic terms is merely a style that protects hair ends, while aiding you to reduce breakage, shedding, and tangling.
Q2. How Long It Needs to Lock?
Ans. The time it takes to can range from six to twelve months. Several factors influence this duration.
Q3. Can You Sleep with A Hair Twist?
Ans. Yes, you can.
While two strand twist natural hairstyles work well on various textures, they work better on full natural hair as it usually holds collectively without extra assistance. These hairstyles can also be combined with other hairstyles, like afros, braids, and flat twists.