If you want a rough manly look and brave enough to show your passion for both beards and tattoos, go for the boldest manly look.
Bold tattoos are hot for 2022, and they look amazing when paired with a bold beard style. To create a cohesive personal style, choose a beard style that complements your ink. This is a way to stand out from the crowd and let everyone know who you are.
Manly Beards and Tattoos to Wear
Choose a pairing to let beard style complement your tattoos and vice versa. Here are 17 examples of beards and tattoos styles that will inspire your ideas.
1. Short Beard with Hand Tattoos
Build your own style with a long hair with beard and tattoos. That sun-kissed hair is messy and looks fabulous if you keep a short beard. Show off your tattoos, and you'll get a badass look that will make all the girls fall for you.
2. Short Beard with Full Sleeve Tattoos
If you love colors, why not wear them on your hands? Japanese inspired designs like dragons and tigers will allow you to play with all the shades you want. For a more stylish look, go for a medium-short brown beard.
3. Long Gray Beard with Hand Tattoos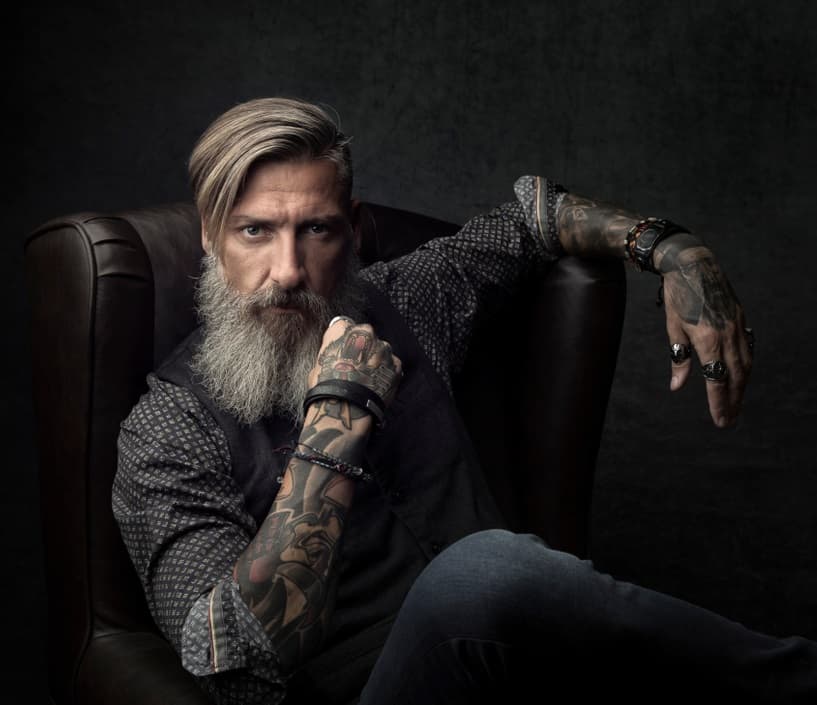 If your hair starts losing its pigment, it's time for a significant change. Opt for a hair dye that will make those gray strands beautifully blend. An ashy silver blonde color will do the trick.
Think about keeping the top hair long enough to toss it on one side. That long grey beard and dark tattoos will complete the whole image, and you will look so hot!
4. Ducktail Beard with Face and Arm Tattoos
A viking beard and tattoos will certainly get any girl's attention. Use a faded trim for the sides and back and style thin dreads or recreate the look with loc hair extensions. The tats are always welcomed and can instantly transform you into a sexy man especially if the black color is intense.
5. Short Groomed Beard with Hand Tattoos
Opt for a simple look with faded sides and a longer top that can be worn on one side. A well-groomed beard will undoubtedly make you look impressive, and the tattooed will complete the whole styling.

If you wear classic, biker-inspired black tattoo, pair it with a tough, full beard. This creates a look that is totally masculine. Let your beard grow in fully and wear at a not-too-short length to create a look that is low maintenance but still declares your personal sense of style.
7. Full Sleeves Tattoos with a Mustache

Are full sleeves your ride or die? Wear your sleeves with a full, traditional mustache for a classic look that says, "tough but with a soft side". You can opt for a beard or not with this look, but let your mustache be the focal point. You can even wax it to style for special occasions. If you have both beard and mustache, go for some hipster tattoos.
If you are a fan of beards and tattoos who also love manly flowery patterns, this one is our highly recommended style.
Best Hairline Tattoos for Men and Women
8. Medium Beard with Neck and Arm Tattoos
When you love tattoos so much, why not take advantage of every inch of your skin and turn it into your canvas. Get tattoos an both of your hands and even draw on your neck. Wear a ducktail beard, and you'll look fabulous.
9. Brown Beard with Half Arm Tattoo
Opt for a medium brown beard that frames your mouth, use beard wax to style it and you will look amazing. Also, if you go to the gym and already have strong muscular arms, why not make a few tattoos?

If you have a hip, rocker chest piece that you want to show off, point to it, literally, with a shaped, pointed beard. This beard style works on many face shapes and gives you a cool, hip look.
11. A Short & Full Beard with Random Colored Ink

If your tattoo style includes lots of gorgeous colors, choose a more subtle beard style. You don't want to draw attention away from your ink. Instead, let your ink be the focus by choosing a more clean look created by a neatly trimmed beard. This is a beard style that can work even if you have rather sparse facial hair.

A neck tattoo like the above with a chinstrap beard can make you look real punk. Highlight your neck with a tattoo pattern that complements your neck piece, rather than competing for attention. You've put a lot of pain into that ink. Show it off with a neat, trimmed, oiled beard that supports it.
13. Full Beard + Full Sleeves Tattoo

Want to go for a hipster looking beards and tattoos look? You may want to choose a full beard with squared off corners. This is a more definite style than a natural beard but still reads as sexy, virile and masculine. If you have "tough" tattoos, this style can work well for you.
14. The Stubble Beard + Full Sleeve Tattoo

You may want a neater, more trimmed beard style. This is a good option for the tattooed professional who needs a beard style that can work for the office but pairs with ink on the weekend.

A natural 5-o'clock shadow is always a winner. This may be the lowest maintenance option of all, allowing you to have facial hair after hours and be clean-shaven for the office. You can transition easily between one style and the other.
16. A Religious-Inspired Beard and Tattoos Look

Do you have a religious-inspired tattoo? Choose your beard and hairstyle accordingly. Go for the monastic beard style. This is a way to show where your heart really lies.
17. Long Full Beard + Gangster Tattoo

Do you have classic Americana tats? Pair your stars, roses, and "Mom" tattoo with a classic natural beard. For this look, the trick is not to look too clean. Let your beard grow naturally without worrying too much about shaping it. You may want to clean up along your neck; other than that wear your full, natural beard proudly.
Related Posts:
No matter which beard style you choose to complement your tattoos, you are sure to find a winner here. Consider the style of your ink and choose a beard that works with that style.