Faded red hair is a huge pain in the neck for anyone who loves their red hair bright, bold, and fiery. Having to tone your hair every two weeks can be a real never-ending nightmare. That is why a great solution is simply going with the flow and embracing your look.
Now, if you want to wear red hair, it is very important to think about what it is going to look like once it fades a little bit and to find the best option for yourself.
Gorgeous Faded Red Hairstyles
A messy bob is a great solution to cover up everything that is going on, especially if parts of the base underneath the red color were bleached, and other parts were not, which created the mix of your natural hair color at the roots, a bright red underneath, an orange-yellow color underneath the red, and a caramel blonde on the ends.
In this natural and textured hairstyle, that chaotic mix will look like that was precisely the look that you were going for.
Ideal for: Round and heart-shaped faces and warm skin tones.
How to style: If you have naturally wavy hair, just add a little bit of hair mousse on your wet hair and blow dry it. If not, you can use a flat iron to curl a few strands.
A balayage is probably the most ideal option if you consider dying your hair red because even when your hair grows out at the roots, the transition between your natural color and the red highlights was already smooth, to begin with.
Ideal for: Square and oval-shaped faces and all skin tones.
How to style: Use a thicker curling iron size to curl your hair strand by strand to emphasize the beauty of the balayage.
3. Long Faded Hairstyle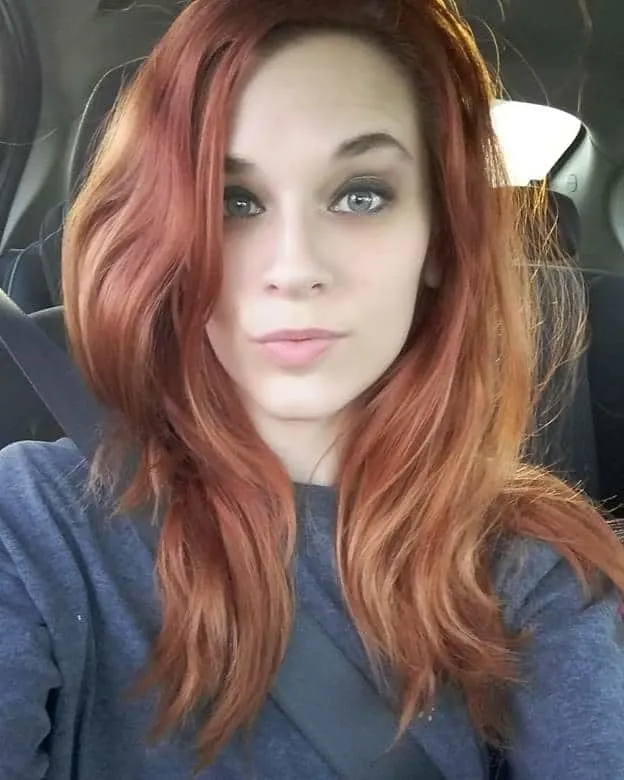 This hairstyle is probably the most universal and common hairstyles that we see in girls that look like they were born to be redheads. Their faded red hair color looks so great against their face that you won't even notice the imperfections.
Ideal for: All face shapes and all skin tones.
How to style: No styling is required.
This red ombre hairstyle is perfect for girls who want to keep a bright, bold look even after their fiery red hair has faded away and their natural hair has grown out.
Ideal for: Round and oval-shaped faces and cool skin tones.
How to style: Be patient when growing your hair out and let it grow out until the red parts are in line with your eyes. Then cut your bangs an inch above your eyebrows. Use a thin styling brush to curl the bangs slightly inward for a retro look.
5. Faded Red Hair with Highlights
If your hair was bleached before it was toned red, chances are that after a few weeks it won't be red anymore, but rather blonde. These strawberry blonde highlights are so stunning that a lot of girls would go for this exact hairstyle on purpose.
Ideal for: Heart and square-shaped faces and warm skin tones.
How to style: Use a curling iron to curl your hair gently and then spray it with some hair spray.
Not only is faded red hair, not a nightmare, but if you choose your hairstyle wisely, it can become your favorite asset that you would start loving even more than you love your hair when it's freshly done.