Lavender ombre hair can send you in a glimpse of an eye in the middle of a mauve flower field that smells absolutely delightful. You can make this Unicorn colored trend your signature hairstyle, and everyone will admire your stunning hairdo, mainly because this ravishing hue is on top of color trends.
Lavender Ombre Hair Ideas
Whenever you want a breath-taking look, the lavender ombre hairstyle is here to convince you that you are grabbing with both hands one of the most beautiful mixes and matches.
1. Short Lavender Ombre Hair
In order to reproduce this enchanting hairstyle, you need to keep your roots in their natural color and create a mesmerizing pale lavender ombre for short hair. A bob haircut with highlight this stunning balayage and waves will add volume to your locks.
2. Black Hair with Lavender Ombre
Create a stunning contrast with a gorgeous transition from a black top hair with bangs to a pale mauve lavender hue. Cut your bangs in a rounded shape to achieve an outstanding face frame.
3. Violet Lavender Ombre Hair
This hair transformation will help you express your fantastic personality. Start with a bright violet crown hair and create a lavender ombre hairstyle. This gorgeous mix is ideal for women who wear glasses every day.
4. Lilac Lavender Ombre Hair
No one will be able to not stare at this fascinating lilac lavender ombre for medium hair. Get a straight bob haircut and style some smooth waves to give your ombre even more value.
5. Lavender Ombre with Curly Ends
When it comes to ombre, we usually go for super striking hues in order to make sure our hairstyle is noticeable.
But, what happens when you don't want it to be noticeable that much? Dark-haired girls may want to try sophisticated ombre in pastel lavender hair color that involves a subtle hue that easily blends with your beautiful locks.
6. Braided Lavender Ombre
Braids are always IN, and millions of girls across the globe are rocking them. A great way to wear lavender ombre hair is to include it in your braids for a cute new look. This type of ombre gives your braids even more edge. To complete the braided hairdo opt for a purple eyeliner that matches your ombre.
7. Lavender Edges on Blonde hair
Champagne blonde and lavender ombre are a good match. Besides the vibrant lavender you can use at one point or another, you may also want to consider a subtle shade. In fact, blonde and subtle lavender will give a unique look you've been dreaming of.
8. Luxurious Lavender Waves
Long hair with luxurious waves is unbelievably sexy. Decorate your long locks with nice ombre with lavender shade for a cute yet so powerful and chic appearance. As you're already aware, lavender gives more structure to your locks and emphasizes them with ease.
9. Colorful Lavender Ombre
Edgy girls who love to try out new things and experiment with different hairstyles may want to try colorful ombre. This particular style calls for longer hair with ombre sections that involve different colors including ombre style. This is a fun, yet powerful look you'd love to rock.
10. Wavy Lavender Purple Ombre Hair
The truth is that lavender purple hair shade as dark and curly hair ombre is a perfect match as they complete each other so beautifully. If you have long dark hair, you may want to try lavender ombre coupled with stylish waves. In fact, ombre will accentuate the beauty of your locks and enhance the fullness of your hair.
11. Light Lavender Ombre Hair
Blonde and lavender are a good match, although that's not what we'd expect. One way to rock ombre in the lavender shade if you're blonde is to opt for a lighter hue. Light lavender will blend with the gentle blonde color and give you a romantic yet playful vibe.
Unconventional hair colors are ideal for brave girls who love to stand out. If you're one of them, then a combination of purple and lavender for ombre will take your hairstyle to a whole new level, especially if you also experiment with different 'dos, waves, and other cute things you can make with your locks.
When ombre comes to mind, we immediately picture it on long hair where it gently accentuates your locks. Sure, that's the most common way to rock this hairstyle, but it's not the only one. Combine short platinum blonde bob with lavender ombre hair color, and you'll get a unique haircut fit for an It-girl like you.
Here's a cute hairstyle you may want to try – a combination of ash brown hair with lavender ombre. Ash Brown is a timid, subtle color while lavender is on the wilder side. Together they make a perfect match and blend with one another easily.
Dark lavender has longer wear time than other types of ombre meaning this style is ideal for girls and women who don't want to get their hair redone frequently. The style is even more effective when dark lavender color ombre is combined with mid-length or short bob. Make sure your bob is wavy or messy for the best effect.
16. Subtle Lavender Ombre
The striking shade of lavender may not be suitable for all girls or women and in different situations. If you're looking for a style that features lavender sombre, then this is the one. Bring more life to your dark hair by adding a hint of lavender. Looks lovely, doesn't it?
17. Wavy Ombre with A Hint Of Lavender
You know, lavender ombre hairstyle does not necessarily call for entire hair to be dyed in this color. Instead, you can opt for colorful ombre with lavender in the mix. This combination of different colors adds more depth to your curls. Subtle and sophisticated lavender will mesmerize even the strictest minds.
Ashy and grey hair colors look great when combined with ombre. If your hair is long, you have the liberty to go one step further. Use a few strands to create a nice updo such as a topknot and let the remainder of your hair loose. This playful hairstyle is fun for everyday wear, but it also further accentuates ombre strands. You can also try lavender grey hairstyles.
19. Lavender Ombre Ponytail
The high ponytail is probably the most practical hairstyle ever. Us girls wear it every day. Sometimes you make a super hot ponytail that you rock outside, at work, or on a night out. In other cases, it's just a way to prevent your hair from bothering you while working, reading, doing something else. Ombre in lavender shade looks perfect when picked up in a high ponytail.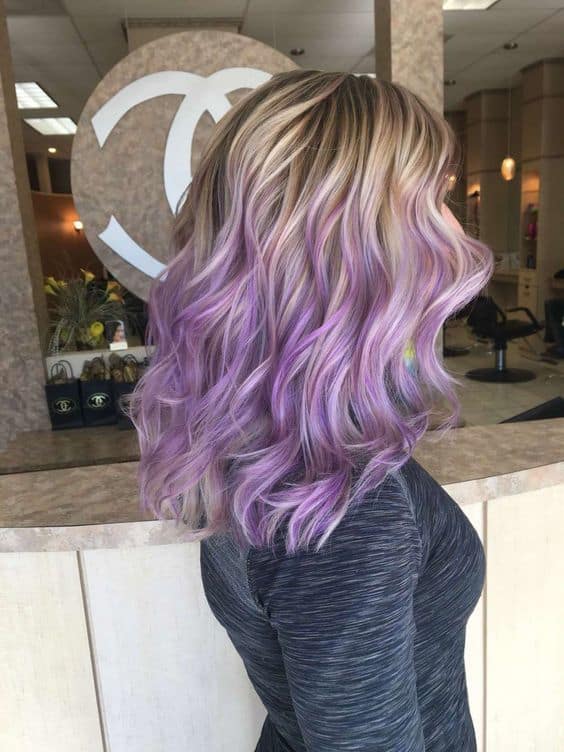 There's something irresistible about dirty sand blonde and lavender ombre hairdos. A unique combination of the two colors is best styled with sexy, long beachy waves fit for spring and summertime. Festival season is just around the corner, and you're ready for it.
21. Silver to Lavender Ombre Hair
Grey or silver hair is a major trend lately, but when left on its own it can be quite dull. That explains why many girls opt to add some other color into the combination. Liven up your silver hair with vibrant lavender ombre. Add a headpiece or bandana to the mix for a Boho-chic vibe.
22. Muted Lavender Ends
Here's yet another great lvender ombre hairstyle for all the lovely ladies who want to try ombre, but in a subtle manner. Muted lavender ombre style agrees well with any hair color including ashy blonde and chocolate brown. This particular hairstyle has a mysterious yet fun vibe you'll emulate with ease.
Women who want to achieve sultry ombre may want to try with dark lavender or faded purple hair color. This particular style starts high up on your hair leaving roots in the natural black shade. Hair is curled to add more dimension and structure to your style.
If your goal is to combine both wild and feminine touch, you may want to consider this light brown style with a dash of lavender colored ombre hair. The look is completed with sexy curls.
25. Vibrant Pink to Lavender
Here's a wild lavender ombre hair color you may want to try if you're into experimenting with your hair. Pink hair shades gradually turn to a lavender shade that starts off light and finishes as darker and more vibrant and noticeable.