For all the ladies who need inspiration about the blonde highlights for curly hair, you've come to the right place. There is no better way to bring a fresh change to your mane, than upgrading it with highlights.
They are so huge right now, that even the biggest celebrities such as Beyonce, Olivia Wild, Jessica Alba and many more are including them in their looks. And guess what?! They work wonders with curly hair. In other words, you can get creative if you already have natural curls. If not, it will only take you 10 minutes to get popular beachy waves or luscious curls.
Enchanting Blonde Highlights for Curly Hair
Make sure to take a look at the examples below to know which type of blonde highlight is perfect for your next hair transformation. There is an array of options for the blonde highlights curly hair you can choose from without ever being bored with your hairdo.
Ash Blonde Highlights on Curls
There is a new way to wear the ashy hair color. Whatever you do, don't forget to add some blonde highlights to it. Beauty bloggers are completely obsessed with this look, so why not give it a try.
Whenever you feel like your current hair color is way too boring, you can opt for this fabulous hue. The best thing about it is that you won't have to bleach your hair too much, unlike platinum or any other shade of blonde.
If you already have darker hair, all you have to do is schedule an appointment at the salon. They will take care of your mane and give you the prettiest highlights ever to the trendy dark ash hair tone. Curly hair is actually the perfect texture when it comes to this look.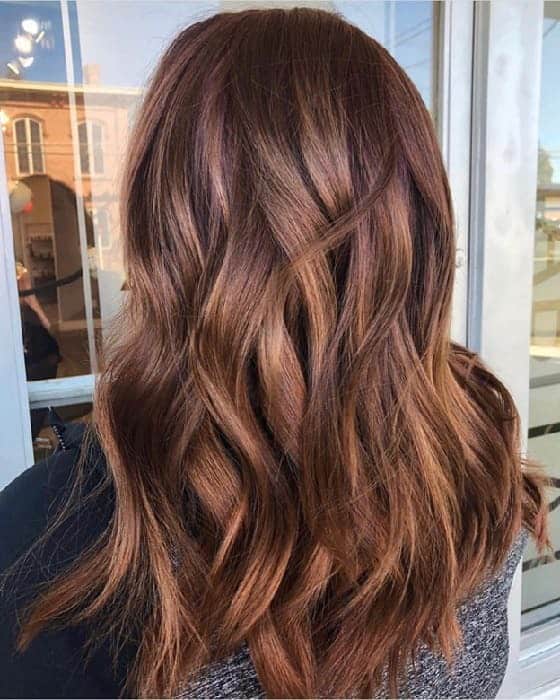 Red, fiery, hair tones are getting an upgrade this fall. The beloved autumn hue will appear so much more on trend once you add highlights. This way the mane will be fresher and cooler than ever. The highlighting technique will add a whole new dimension to the hairdo.
Many ladies doubt whether they should color their hair red or not. This style will completely convince you that the answer is 100% yes! It doesn't even matter which shade of red you are opting for. It can be a dark, rich wine, medium real red, or bronze. Soft curls with blonde highlights are a match made in heaven.
This tone of blonde will never be boring again thanks to the latest trend. When you elevate honey hues with brighter shades you get the best blonde highlights for curly hair. The frizzy moment is a must, so get ready to embrace your curls.
If you think that these light colors are not appropriate for fall, you are completely wrong. All types of blondes are already trending this season.
Ice Platinum
This cold hue is taking over Instagram at a fast pace. It does require a lot of attention, but once you get that ice platinum with blonde highlights on your curly hair, you won't trade it for anything else. Your new curly hairdo will be your best feature.
If hairstyles could speak, this one would say "WOW"! Think of a super icy mane that attracts attention in all the good ways. The length is not even important. Short, messy, wavy lobs are so versatile and easy to style.
Brown Curly Hair with Blonde Highlights
All brunettes with frizzy mane can enjoy this fabulous look. Double the fun by including highlights in several different shades of blonde.
This is actually the most common type of highlighting since a lot of brunettes want a change but are not bold enough to do a more dramatic one. That's why they decide to stick to the good old brown and add some lighter tones. Even the darkest range of brown tints will become red carpet-ready when you add a final blonde touch.
You may also like blonde highlights on dark brown & red hair.
Blonde Baby lights
Yes, baby lights are a thing once again. Gals who are not ready for a dramatic change can opt for this do, that is ideal for curly hair at the same time. Even if you don't have those natural twists, you will want to recreate the full look when you see this picture.
The whole point of this coloring technique is that women get very gentle, subtle highlights that won't stand out too much from the natural hair hue. In other words, your curly mane will be sun-kissed in the middle of fall. It is all so elegant, glamorous and perfectly put together.
This is one of the safest options of blonde highlights for the curly hair. When you have a frizzy hairstyle, it can be a bit hard to find the best colorist who actually knows what they are doing. Since the contrast is minimal with this type of highlighting, the chance of a mistake is minimal.