African fishtail braids are different from the rest of similar hairstyles. They are huge, thick and so appealing, you can't avoid craving them. A fishtail braid by itself is a complicated hairstyle, which looks unique. If you have thick and unruly hair, such braid can make you forget about touchups for the whole day.
These braids are often chosen for such special occasions as weddings in order to make sure the style stays intact until the evening. A fishtail braid made out of box braids looks even more stunning. It can shock you with the amazing volume and make you want to wear it for months to come.
How to Do an African Fishtail Braid?
Making an African fishtail braid is easy if you follow the simple instructions. The steps don't change whether you do the braid on natural hair or on box braids.
Make a low ponytail that should start at the nape of your neck. Make sure to use a hair accessory you don't care for since you'll have to cut it away later.
Divide your ponytail into two equal sections. If you have box braids, try to have the same number of braids in each section.
Use one of your fingers to take a small section of the hair from the outer edge of the ponytail and pull it to the opposite side. Overlap the sections like you do in a regular braid. Do the same with a small section of the second part.
Repeat the third step while going down and making the braid. Try to make the small pieces equal. If you have box braids, your task is much easier since you can just count the braids and use the same number every time.
Make sure to tighten each weave in order for the braid to last as long as possible.
Secure the end of the braid with an elastic. You can use large hair accessories for box braids or you can take one braid and pull it over the elastic to make it seems as if the fishtail braid is tied with a box braid.
Get the scissors and carefully cut off the elastic band that holds the top part of the braid at the nape of your neck.
Beautiful African Fishtail Braids for Black Women
When you make a decision to create box braids, you know you have plenty of hairstyles to experiment with. Unfortunately, African fishtail braids are often overlooked. Surprisingly enough, it's much easier to create a fishtail braid using box braids than just regular hair.
You don't have to worry about stray strands or apply a lot of hair gel to keep the hairstyle in place. A fishtail braid can take some volume out of the large box braids and allow them to look neat for days at a time.
1. Natural beauty
This natural fishtail braid is easy to make both with your own hair and with hair extensions. If you are planning a photo shoot or a special occasion, consider making a side braid and hanging it over your shoulder.
How to Get Black Hair With Blue Tips
2. Double fun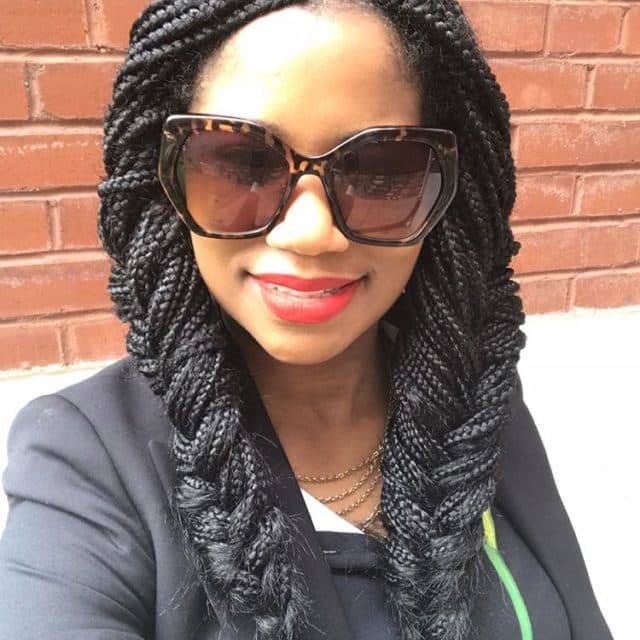 If you have box braids an African fishtail braid might be really thick. Consider creating one on each side to take the volume out. In the end, you'll get an amazing hairstyle, which is suitable for just about any occasion you can think of.
3. Braid mix
If you have partial box braids, you can create a stunning fishtail. The braided part on top and the loose hair on the bottom contribute to the braid looking very neat. Use some hairspray to make sure the low part stays intact longer.
100 Best Black Braided Hairstyles to Explore
4. Easy way out
This is a simple fishtail hairstyle for women with hair extensions. You don't have to make the fishtail too tight, otherwise, you might get headaches. Allow the strands to be loose since the box braids won't let them unravel anyway.
5. Low braid
A fishtail doesn't necessarily need to start at the nape of your neck. If you have box braids and don't need to worry about the neatness, you can start at the shoulder area. Such braids also look wonderful and stay intact long.
Short Curly Hairstyles for Black Women
We hope these simple African fishtail braids gave you a good idea of the hairstyle. They are fast and easy to make no matter what type of hair you have and the kind of extensions you use. Follow the easy steps and make the fishtail braid of your dreams today!