Simple medium hairdos are extremely popular nowadays since medium locks are the easiest to deal with. The main advantage of shoulder length hair is the lack of hard maintenance that comes with long manes. Meanwhile, medium hair can be styled just as beautiful as the long locks. So, we get the best of both worlds. The only disadvantage of medium hair is that sometimes you might feel like getting it out of the way. That's where the easy hairdos come in. Taking care of your medium locks can be enjoyable when you know a few simple tricks.
Shoulder Length Medium Hair Styling Tips
Whether you want to take advantage of our easy hairdos for medium hair or go for complicated styling, you can go over these useful tips. They will make your next styling session more interesting.
Use bobby pins to secure the ends of your braids. Medium length hair can provide you with short braids. So take advantage of bobby pins to make them appear longer and more stylish.
When making waves on your shoulder length hair, make sure to do them along the whole length. Curling just the bottom half won't look too good. Leave this style for long manes.
Use a section of your hair to cover up the elastic band you use to secure the ponytail. Pin the section of the hair underneath the ponytail with a bobby pin. Your hairstyle will look natural.
Use eyeshadow, which is the same color as your hair, to outline the part. This will make your hair look thicker at the base.
When making special braids, such as a fishtail, start by making a ponytail so the braid is well-secured at the base. This will prevent the braid from unraveling.
Make your ponytail appear higher by propping it up with bobby pins. Such ponytails look more prominent.
Make your hairstyle appear longer by creating two ponytails. Make one on top of your head and the second one at the base. One will look like the extension of the other.
Make fast waves by braiding your hair and then heat the braid up with the curling iron. After you unbraid the hair, you'll get perfect waves with zero hassle.
Best Hairdos for Women With Medium Length Hair
Having fun with your shoulder length hair is one of the bonuses that comes with it. That's why we are offering you 12 simple hairdos for shoulder length hair to keep in your beauty arsenal. If you are not a big fan of hair care and hate spending extra minutes on styling in the morning, these hairdos will definitely become your favorites. Sometimes, women need to skip a hair wash or feel as if they are having a bad hair day. That's when the easy hairdos can save the day.
Below are some of our most favorite medium hairdos for women we have collected for you.
1. Low Twist
This low hair twist can look especially stunning if you slightly curl the hair. This way you can add is some volume. When you are done twisting the lower part, make sure to secure it well with bobby pins and hair spray.
2. Medium Pin-up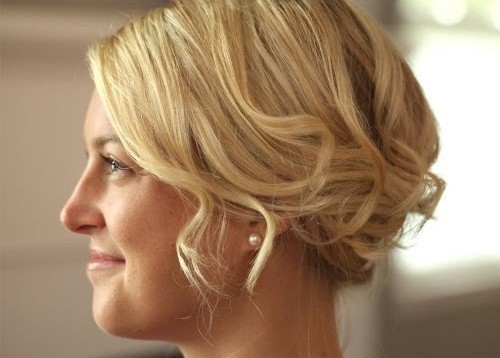 If you have layered shoulder length hair, neat updos are hard to come up with. This hairdo gets you the best of both worlds by keeping the hair up and some locks down in the process. All you have to do is pin the back strands up.
Stunning Medium Haircuts for Women
3. Smart trick
This hairdo for shoulder length medium hair looks complicated, however, it's rather easy to achieve. All you have to do is divide the hair into 3 sections and twist each one into a small bun on the bottom. Secure the buns with bobby pins.
Bridal Hairdo Tutorial
4. Awesome braids
Since shoulder length hair is not long enough to create stunning braids, you can start by braiding your hair from the front and going toward the back. This way you get a long braid and some hair for the ponytail on the bottom.
5. Loose twisting
This hairdo looks appealing but it might need constant touchups. It's a good choice for people with shorter hair, who can't achieve any stunning updos but still want their hair secured in the back.
6. Style mix
If you want to make an impression with your hairdo for medium hair, you can take advantage of the style mix. Take a look how dreadlocks are mixed with simple braids. You can achieve this with hair extensions.
20 Magical Updos Dedicated to Medium Hair
7. Loose braids
Loose braids are always a wonderful idea when you want to add some volume to your hair. You can make one asymmetrical braid or a couple on each side. The bottom part can be twisted upwards and pinned loosely for extra volume.
8. Large pin
If you have an a-line bob, it's hard to come up with a hairdo to accommodate it. Don't go too far with your imagination. Collect as much of the front hair on the back as you can and clip it to the stacked mane with a large pin.
9. Twist and turn
This hairdo for shoulder length hair may be hard to achieve on your own. It involves dividing your hair in at many sections as you can and twisting each one together with the opposite to create an appearance of an inverse braid.
70 Artistic Medium Length Layered Hairstyles
10. High hair
Girls with shoulder length hair can still enjoy some long hair tricks. For example, you can achieve a slight high hair look by pumping up the volume on top and outlining it with curls.
11. Hair gel
Whatever hairdo for medium hair you are planning, hair gel should become your best friend. This hairstyle is achieved thanks to the right application of the hair gel. The hair is curled, brushed backward and secured with the hair cosmetics.
12. Loose bun
If you have thick hair, you can create this stunning loose bun. All you need to do is make a low bun and curl the ends around the base. Loosen up as many strands as you can for voluminous curling.
Light & Dark Brown Hair Colors
We hope these simple hairdos for medium shoulder length hair can give you an idea of what to try for your next special occasion or trip to the school or office. Make sure to try them all at least once. Good luck!