Women's medium shoulder length haircuts come in all shapes, sizes, and colors. All you have to do is make the right choice. It sounds easy, but is it really so? Shoulder length hairstyle is the simplest way to go about your hair because of the versatility. The hair is long enough to be arranged into various interesting styles while short enough to avoid too much hair care. So if you believe you are ready to get a medium length hairstyle, where do you start? Women all over the world are looking for new ways to make their hair stylish and easy to maintain. Join them!
How to Care for Medium Length Haircuts
If you make a decision to stick to a medium shoulder length haircut, you can join thousands of women who are doing the styling every day. These easy tips can help the hair care easy while making you realize how much you've been missing out on.
1. Wear it down
Most women dream of longer locks in order to wear them down. But in reality, they stick to simple ponytails and braids. Battle the wish to create a simple updo. Wearing your hair down might take some delicate care but it will make you look beautiful. In order to avoid scooping up your mane and twisting it into some hassle free updo, consider a layered hairstyle or something like an a-line bob. Such cuts will force you to take care of them since you just can't collect them into a neat ponytail.
2. Add some volume
Unless you have voluminous wavy or curly hair, don't forget to add your medium should length haircut some volume. Make friends with hair gel and hair spray. They'll allow you to lift the ends up slightly. Use the hairdryer to guide your hair upward and secure it with the hair gel.
3. Consider Upward Styles
Whenever you skipped a hair wash or just feel too tired to deal with your hair but want to avoid an updo, think about upward styles. They involve leaving at least some of your hair down and playing around with upper and side strands. You can start with side braids, which you sweep backward or just a simple high ponytail. Always leave some locks touching your shoulders for a beautiful appearance.
4. Carefully Study the Hair Products
Make sure you have a full arsenal of hair products for your shoulder length hair. Depending on your hair type, get a shampoo, a conditioner, hair gel, and heat protection cosmetics for the times you just have to use a hair dryer or a flat iron. If your locks are dyed, make sure you have products that seal the color inside.
Best Medium Shoulder Length Hairstyles for Gutsy Women
If you think that there is nothing special about medium shoulder length haircuts, you just haven't found the right one for yourself. If you are one of those women who are so busy in the mornings that they can't fathom spending one extra minute in front of the mirror, there are a few options that can accommodate your busy lifestyle. We collected 25 interesting haircuts that might seem complicated at first, but in reality, can make your life much simpler. Whether you have shoulder length locks or just thinking of growing them, these styles are for you.
1. Windblown simplicity
If you have straight hair, this simple shoulder length haircut can be very appealing. In order not to make it too simple, consider this messy style. Brush the hair from one side over to another and secure it with hair gel.
Stunning Medium Hairstyles for Women with Round Faces
Tutorial for Medium Length Hair
2. Eye-reaching Medium Length bangs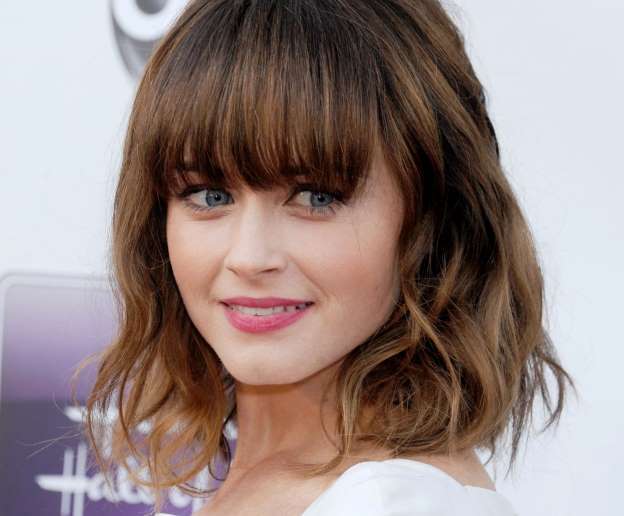 Straight eye-reaching bangs are always a wonderful addition to a hairstyle, which is slightly curly on the ends. The only downside of this option is that the bangs need to be styled at least every other day.
3. Low Waves
If you have straight hair but want to add it some volume without spending a long time with the flat iron, you can create low waves. The contrast between the straight top and the low waves looks very stylish.
4. Medium a-line bob cut
This medium length haircut is a great choice for women with straight and fine hair. It allows you to sport long locks while adding some volume in the back. Meanwhile, it's hard to use this hair to make a ponytail.
Best Medium Length Layered Hairstyles for Women
5. Middle part
A middle part is simple unless you add some creative waves to make side swept bangs. Unless your hair is very curly, this hairstyle is readily available for you to experiment with. Play around with the color as well.