If you are a fan of medium hair like many of us you'll be happy to know you've plenty of hairstyle options to go for! Shoulder length hair come in all shapes, sizes, and colors. All you have to do is make the right choice.
Shoulder length hairstyle is the simplest way to go about your hair because of the versatility. The hair is long enough to be arranged into various interesting styles while short enough to avoid too much hair care.
So if you believe you are ready to get a hairstyle for your medium hair, where to start? Women all over the world are looking for new ways to make their hair stylish and easy to maintain. Join them!
How to Style Your Medium Hair – Some Tips
Whether you want to take advantage of our easy hairdos for medium hair or go for complicated styling, you can go over these useful tips. They will make your next styling session more interesting.
Use bobby pins to secure the ends of your braids. Medium length hair can provide you with short braids. So take advantage of bobby pins to make them appear longer and more stylish.
When making waves on your shoulder length hair, make sure to do them along the whole length. Curling just the bottom half won't look too good. Leave this style for long manes.
Use a section of your hair to cover up the elastic band you use to secure the ponytail. Pin the section of the hair underneath the ponytail with a bobby pin. Your hairstyle will look natural.
Use eyeshadow, which is the same color as your hair, to outline the part. This will make your hair look thicker at the base.
When making special braids, such as a fishtail, start by making a ponytail so the braid is well-secured at the base. This will prevent the braid from unraveling.
Make your ponytail appear higher by propping it up with bobby pins. Such ponytails look more prominent.
Make your hairstyle appear longer by creating two ponytails. Make one on top of your head and the second one at the base. One will look like the extension of the other.
Make fast waves by braiding your hair and then heat the braid up with the curling iron. After you unbraid the hair, you'll get perfect waves with zero hassle.
How to Take Care Of Your Medium Hair
If you make a decision to stick to a medium shoulder length haircut, you can join thousands of women who are doing the styling every day. These easy tips can help the hair care easy while making you realize how much you've been missing out on.
Wear it down
Most women dream of longer locks in order to wear them down. But in reality, they stick to simple ponytails and braids. Battle the wish to create a simple updo.
Wearing your hair down might take some delicate care but it will make you look beautiful. In order to avoid scooping up your mane and twisting it into some hassle-free updo, consider a layered hairstyle or something like an A-line bob. Such cuts will force you to take care of them since you just can't collect them into a neat ponytail.
Add some volume
Unless you have voluminous wavy or curly hair, don't forget to add your medium should length haircut some volume. Make friends with hair gel and hair spray. They'll allow you to lift the ends up slightly. Use the hairdryer to guide your hair upward and secure it with the hair gel.
Consider Upward Styles
Whenever you skipped a hair wash or just feel too tired to deal with your hair but want to avoid an updo, think about upward styles. They involve leaving at least some of your hair down and playing around with upper and side strands. You can start with side braids, which you sweep backward or just a simple high ponytail. Always leave some locks touching your shoulders for a beautiful appearance.
Carefully Study the Hair Products
Make sure you have a full arsenal of hair products for your shoulder length hair. Depending on your hair type, get a shampoo, a conditioner, hair gel, and heat protection cosmetics for the times you just have to use a hair dryer or a flat iron. If your locks are dyed, make sure you have products that seal the color inside.
Best Medium Length Haircuts for Women
If you think that there is nothing special about medium shoulder length haircuts, you just haven't found the right one for yourself. If you are one of those women who are so busy in the mornings that they can't fathom spending one extra minute in front of the mirror, there are a few options that can accommodate your busy lifestyle.
Whether you have shoulder length locks or just thinking of growing them, these styles are for you. There is a shoulder-length hairstyle for every taste, so take a look at our best suggestions.
We have listed 57 stunning medium hairstyles for women that might seem complicated at first, but in reality, can make your life much simpler.
1. Voluminous Afro
Women with naturally curly afro hair know the difficulty of finding the right haircut. However, the shoulder length is the most recommended hair length for this type of hair. The beauty of the afro curls is well presented with the shoulder length hairstyles. The hair is usually parted in the middle, and the sides are layered which gives the hair nice form.
This mid-length hairstyle is appropriate for every occasion – both casual and elegant ones. There is always the possibility to add some hair accessory that can complement the entire look. This hairstyle is popular among the younger generation, although many women who love to show off their natural curls go for this look.
The braided bob is a hairstyle that is very interesting and can be done on both curly or straight hair. The box braids are shoulder length as well as the hair too. The entire hair is separated and divided into equal parts. From every part, the hair is braided to the ends.
The hairstyle is separated by the main and middle part which gives direction to the entire look. Braiding can also be done with the addition of colorful hair accessories. This is a typical girly look and is best for casual and every day occasions.
Half buns are always a great choice for spicing up a look and making it more fashionable and cooler. The braided half bun comes from an already braided hair. For the bun to look more beautiful it is better for the braids to be thinner.
Depending on the length of the hair, some braids will be longer, some shorter, but they will provide a nice shoulder-length hairstyle. This look is very popular among IT-girls, fashionistas, and bloggers.
The medium curly hair can be pulled up in a pony. The pony, however, will be short, curly and round. A nice addition to the high up pony is the bandana. Bandanas are popular as hair accessories and although they are fashionable, their practical use is to keep the hair on the front in place.
Bandanas are casual and relaxed styled and can be worn by women of all ages. Their popularity and use are extremely accented during the summer season as a beach accessory.
The half braided updo on a shoulder-length hair comes as a combination of two interlocking braids. The hair can be or doesn't have to be parted, it can only be pulled to the back. From both sides, two wide braids come interlocking right in the middle at the back. The ends of the braid are curled in soft locks, as well as the rest of the hair.
The updo can be accented with hairspray that will give it more volume. This romantic hairstyle is perfect for any occasion, especially for weddings and celebrations. It suits all ages.
The ponytail is a hairstyle that looks good on all hair lengths and faces shapes. The ponytail is the hairstyle that is appropriate for all ages and events. The hair is pulled back and it is sleek. The pony is positioned high on top, and it is curled for a more voluminous look.
From an everyday look to the most elegant ones, a high pony is a reliable option. For a greater effect, accent the sleek front with some fixating hair product that will make the hair shinier. As for the pony, hide the headband with a piece of hair and fixate it with a pin.
The long bob is also a popular medium hairstyle for women of all ages. It suits all face shapes, as well as hair colors. Also, any coloring technique will make the bob even more beautiful. The long bangs come as a nice addition and accessory to the hairstyle.
If you want the bangs to dominate the look, they should start somewhere around the central part of the head. The long straight bob with bangs a perfect hairstyle for every day and is work appropriate.
The low bun can come as a low messy bun or low ballerina bun. Whichever it is, the hairstyle is chic and trendy. Suitable for official and elegant occasions, this hairstyle is appropriate for all women. If the mid-length hair is layered, then the hairstyle is even more beautiful.
Part the hair in the middle, with the short strands falling to the sides. With an addition of some fancy jewelry, the hairstyle will stand out. Women of all ages can try it as a timeless hairstyle.
The medium bob is a length that comes somewhere between the shoulders and the ears. It looks good on straight or wavy hair. The bangs on this hair length can appear as a blunt or curtain bangs.
If the hair is thicker, the look will be more voluminous. The best way to wear this bob with soft or medium beach waves – great for everyone, anywhere.
For those who are bored with the bob, the medium layered hair is another great option. This hairstyle presents a look of a gradual layering of the hair, from top to bottom.
The bangs are styled to the side and are also layered to follow the face line. This hairstyle looks great on those who want to give their face a more elongating effect.
The neck undercut is popular lately among the younger generation of women. It is an edgy and bold look, that comes as a contrast to a medium length hair. For the undercut to show, the hair is usually worn pulled up in a bun, pony, or a top knot.
The shaggy haircut is appropriate for women with thick and dense hair. With proper layering and styling, the shoulder length shag can look very trendy and modern.
The bangs are also layered, with different length in the middle and on the sides. The direction of the shag is led by the middle part.
The accent in this look are the baby bangs. They are straight, short and blunt. They come over the forehead and continue to the sides while blending with the rest of the hair.
The curly hair, in this case, is pulled back in a curly messy pony. The baby bangs are a choice for the younger generation.
The medium-length hair is also a great base for creating dreadlocks. Dreadlocks, as an inspiration from the Afro-American community, have become a trendy hairstyle for women of all ages.
They can be worn just plainly let down. They present a Boho and casual style and they can also come in the faux dreads version too.
Ombre, as one of the most popular hair coloring techniques for the past few years, comes on all hair lengths. The mid-shoulder length is also a perfect hair length for showing off some interesting ombre.
For a better effect, the hair can be cut shorter at the back and longer on the front. With subtle waves and vibrant hair color, the hairstyle will be fabulous.
Another very popular hair coloring technique is the upgraded version of the ombre – the balayage. The gradual change of color with vertical highlights fits the mid-length hairstyles greatly because it visually presents them as long.
The balayage is a perfect hairstyle for women who want to make a trendy and fashionable change. The soft beach waves will accent the balayage evermore.
Adding a big side braid in the hairstyle is a lovely addition for the boring everyday looks. The braid is an accessory that makes every hairstyle more beautiful. On the shoulder-length hair, the side braid comes only from one side and ends hidden under the rest of the hair. Any hair accessories can make the side even more dominant.
Like the neck undercut, the shaved side is also a bold and daring haircut for women. The shaved part starts just above the forehead and opens to the side and continues to the back.
The bald shave is high and then, almost at the top, starts the curly medium hair. This is a look for the women who want to leave an impression of a strong, daring and fierce attitude and personality.
Twists are a combination of braids and dreadlocks. They look like dreads but they are braids done like twists. The entire hair is braided and the hairstyle suits women with curly hair who want to save time in everyday styling.
The twists can be worn just let down, in a half bun or a pony. These type of hairstyles are mostly chosen by younger women.
20. Two-toned Medium Hair
This two-toned hairstyle comes with the vertical separation of color. The border that divides the two colors is the middle part. The more eccentric the colors are, the more dominant the hairstyle is. This current option presents a color combination between blonde and green, but you can easily try any other color.
These kinds of shades tend to fade very quickly and lose their color, so you will need to have in mind that touch-ups are more than required and they must be regular. If the hairstyle features French bangs, they also blend in the entire look – each half comes in a different color.
21. Windblown Simplicity
If you have straight hair, this simple shoulder-length haircut can be very appealing. In order not to make it too simple, consider this messy style. Brush the hair from one side over to another and secure it with hair gel.
Stunning Medium Hairstyles for Women with Round Faces
Tutorial on How to Style Medium Length Hair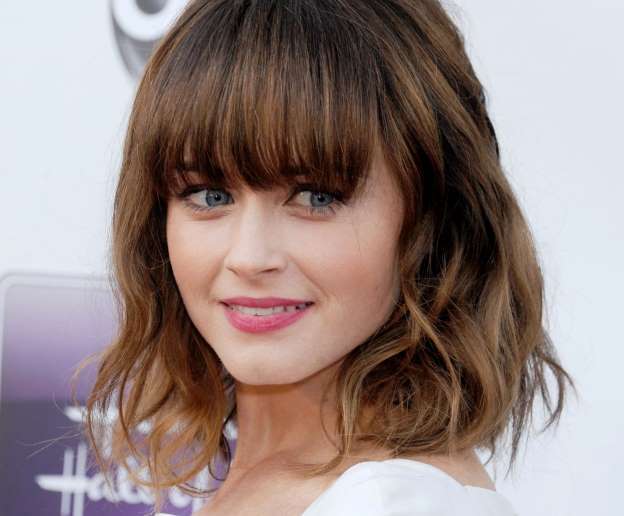 Straight eye-reaching bangs are always a wonderful addition to a hairstyle, which is slightly curly on the ends. The only downside of this option is that the bangs need to be styled at least every other day.
23. Low Waves
If you have straight hair but want to add it some volume without spending a long time with the flat iron, you can create low waves. The contrast between the straight top and the low waves looks very stylish.
This medium length haircut is a great choice for women with straight and fine hair. It allows you to sport long locks while adding some volume in the back. Meanwhile, it's hard to use this hair to make a ponytail.
A middle part is simple unless you add some creative waves to make side swept bangs. Unless your hair is very curly, this hairstyle is readily available for you to experiment with. Play around with the color as well.
Try Some New Hairstyles Today:
Long layers are a simple way to add your shoulder length haircut some volume. Meanwhile, they make it hard to create an updo that can ruin your wonderfully womanly look. Use the flat iron to give this haircut some volume.
27. Smartly Layered Shag
This shag is a perfect haircut for women who are not big fans of styling. All you need to do to make this hairstyle look fresh every day is brush it. The downside is that you have to touch it up at least once a month.
28. Highlights
If you don't want to bother with some special haircuts and just want to flaunt the length, any simple haircut will do. However, if you still want to stand out, you can go for various highlights. All they need is monthly or bimonthly touchups.
29. Stack'em
This amazing haircut for shoulder length hair is a big favorite among women with thin locks. If you can't make them thicker, why not make them look this way? Ask your hairstylist to add some asymmetry to the layers.
30. Romantic Waves
Anytime you feel you need to add some romance to your image, the waves can do the job. Whether you do them along the full length of your hair or just on the bottom, the result is bound to impress.
31. Let Them Down
Sometimes in order to make your medium length hairstyle shine, you just have to let it down. If you have thick but straight hair, it's enough to style the bangs, if any. The rest can flow freely for your enjoyment.
32. Become a Redhead
Rich and boisterous red color looks magnificent with any shoulder length haircut. Redhead women have always been popular due to that special twinkle in their eyes, this color seems to bring.
33. Asymmetrical Bangs
Asymmetry is conquering the planet and it's time you got onto the bandwagon. If your hair is not as impressive as you wish it to be and making it striking and voluminous takes too much effort, settle for making your bangs shine.
34. Smart Dyeing
Shoulder length hair looks striking if you go the right way about dyeing it. Take a close look at the way the hair is colored on this photo. Sometimes it's enough to just dye the ends to create a voluminous appearance.
Wispy bangs are always a great addition to any hairstyle if you style them the right way. The longer the bangs are, the harder they are to take care of and the more interesting and appealing they look.
Beautiful Shoulder Length Hairstyles for Women
Simple medium hairdos are extremely popular nowadays since medium locks are the easiest to deal with. The main advantage of shoulder length hair is the lack of hard maintenance that comes with long manes.
Meanwhile, medium hair can be styled just as beautiful as the long locks. So, we get the best of both worlds. The only disadvantage of medium hair is that sometimes you might feel like getting it out of the way. That's where the easy medium length hairstyles come into play.
36. Pump It Up
Sometimes it's better to spend a couple of minutes with the flat iron at hand than go around all day worrying about the lack of volume. Make a little effort to make your layered medium length hair more voluminous.
This hairstyle might be hard to achieve at home if you've never tried it before. Ask your hairdresser to complete the look for a special occasion. The key to this image is the volume on top and straight strands on the bottom.
38. Hidden Bangs
If you have fine and straight hair and decided to go for long bangs, they might frustrate you at times. When you feel like coming up with something special, hide the bangs under the side strands.
39. Round'em Up
This is a great shoulder length hairstyle for women with long or heart shaped faces. Rounding up the hair on the sides and the bottom allows your face to look closer to oval. Consider crisscrossing the strands on top for extra volume.
40. Eye-covering Bangs
Long eye-covering bangs are exactly what you need to create a romantic and appealing impression. You might not be too comfortable wearing them this way all the time, but sometimes the effort is worth the effect.
Relevant Medium Hairstyles for Women:
41. Beautiful Blonde
Blonde hair color is a big hit among women of all ages. If you are looking for a way to spice up your medium length haircut, consider various shades of blonde. Blonde can help pump up the volume and make you look younger.
42. Teased Waves
The secret to making teased waves look beautiful instead of messy is to keep the top of the hair straight. If you have wavy locks, use a flat iron to straighten out the top. If your locks are straight curl up the bottom.
43. Outline The Tips
A simple straight bob can gain a beautiful look with just a dash of a hair dye. The best combination is brown and blonde but you can play around with any mix of colors. The best part is the lack of frequent touchups.
44. Asymmetrical Strands
A couple of long strands looks fantastic with a medium length bob. This haircut doesn't need too much maintenance. It looks special no matter how you style it. Sometimes a couple of thin strands can make a huge difference.
45. Smart Subtlety
Subtle layers on your shoulder length locks don't just give you the volume and the freedom of various hairstyles, they allow you to keep the hair care to a minimum. This is a wonderful hair experiment for women with all hair types.
Hairstyle Ideas for You:
More Hairdos for Women With Medium Length Hair
Having fun with your shoulder length hair is one of the bonuses that comes with it. That's why we are offering you 12 simple hairdos for shoulder length hair to keep in your beauty arsenal. If you are not a big fan of hair care and hate spending extra minutes on styling in the morning, these hairdos will definitely become your favorites. Sometimes, women need to skip a hair wash or feel as if they are having a bad hair day. That's when the easy hairdos can save the day.
Below are some of our most favorite medium hairdos for women we have collected for you.
46. Low Twist
This low hair twist can look especially stunning if you slightly curl the hair. This way you can add is some volume. When you are done twisting the lower part, make sure to secure it well with bobby pins and hair spray.
47. Medium Pin-up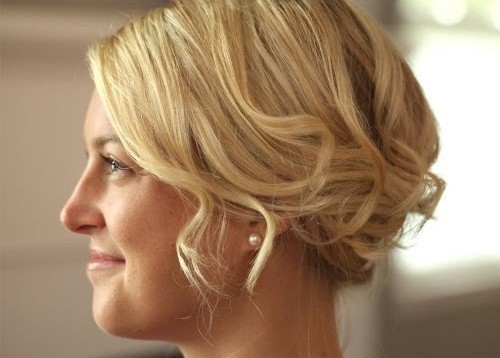 If you have layered shoulder length hair, neat updos are hard to come up with. This hairdo gets you the best of both worlds by keeping the hair up and some locks down in the process. All you have to do is pin the back strands up.
48. Smart trick
This hairdo for shoulder length medium hair looks complicated, however, it's rather easy to achieve. All you have to do is divide the hair into 3 sections and twist each one into a small bun on the bottom. Secure the buns with bobby pins.
Bridal Medium Length hairstyle Tutorial
49. Awesome braids
Since shoulder length hair is not long enough to create stunning braids, you can start by braiding your hair from the front and going toward the back. This way you get a long braid and some hair for the ponytail on the bottom.
50. Loose twisting
This hairdo looks appealing but it might need constant touchups. It's a good choice for people with shorter hair, who can't achieve any stunning updos but still want their hair secured in the back.
51. Style mix
If you want to make an impression with your hairdo for medium hair, you can take advantage of the style mix. Take a look how dreadlocks are mixed with simple braids. You can achieve this with hair extensions.
Magical Updos Dedicated to Medium Hair
52. Loose braids
Loose braids are always a wonderful idea when you want to add some volume to your hair. You can make one asymmetrical braid or a couple on each side. The bottom part can be twisted upwards and pinned loosely for extra volume.
53. Large pin
If you have an a-line bob, it's hard to come up with a hairdo to accommodate it. Don't go too far with your imagination. Collect as much of the front hair on the back as you can and clip it to the stacked mane with a large pin.
54. Twist and turn
This hairdo for shoulder length hair may be hard to achieve on your own. It involves dividing your hair in at many sections as you can and twisting each one together with the opposite to create an appearance of an inverse braid.
55. High hair
Girls with shoulder length hair can still enjoy some long hair tricks. For example, you can achieve a slight high hair look by pumping up the volume on top and outlining it with curls.
56. Hair gel
Whatever hairdo for medium hair you are planning, hair gel should become your best friend. This hairstyle is achieved thanks to the right application of the hair gel. The hair is curled, brushed backward and secured with the hair cosmetics.
57. Loose bun
If you have thick hair, you can create this stunning loose bun. All you need to do is make a low bun and curl the ends around the base. Loosen up as many strands as you can for voluminous curling.
Light & Dark Brown Hair Colors
Shoulder length hairstyles are much easier to maintain and to style than the long hairstyles. This season the shoulder and medium length hairstyles are especially trending and the most popular fashion bloggers and celebrities are wearing this hairstyle. Although the hair is not particularly long, it is just enough for many hairstyle changes and various styling options.
With shoulder-length hair, you will always look neat and trendy. These hairstyles offer women a great chance to play around with your locks. You can try any of the above hairstyles to give yourself a chance to appear stunning while keeping the care to a minimum.